Solitaire du Figaro British rookies
Soon to conclude its third season, the arbitrators at the Artemis Offshore Academy have this year chosen Jack Bouttell and Ed Hill as the beneficiaries of the Edinburgh-based investment house's scholarship scheme for budding British solo offshore racing sailors.
Both Bouttell and Hill, plus Irish sailor David Kenefick (at 21, the youngest sailor in this year's Solitaire) are among the seven rookies ('bizuths'), sailing their first Solitaire du Figaro. As is normal with the AOA, both Hill and Bouttell spent the winter undergoing the Academy's now well established training process for newbie Figarists down at the Centre d'Entrainement Méditerranée (CEM), the training centre in La Grande Motte, under the tutelage of French coach Franck Citeau.
Despite a difference in their ages – Bouttell is 22, Hill 30 – both are highly experienced keel boat sailors.
Born in Australia, Bouttell has lived in the UK all his adult life. His family lived in various places around the UK before ending up in Warsash. Although his father was a keen 14ft skiff sailor and a boatbuilder, Bouttell wasn't fussed about boats until at school he was forced to pick between sailing and rowing as sports. He chose sailing because it was an afternoon activity, whereas rowing was early morning – and since then he has not looked back. Bored with school, he left aged just 16 and despite his parents moving back to Australia, he stayed on in England to walk the docks, subsequently establishing himself as a pro sailor despite his tender age.
Bouttell's biggest stint has been the two years he spent working on the Ker 46 Tonnerre de Breskens, belonging to one of ocean racing's keenest owner drivers, Piet Vroon. During his time on the blue Dutch boat, Bouttell says he worked in "every position". Last year his tenure on board for the season resulted in his winning the RORC's prestigious Duncan Munro Kerr Youth Challenge Trophy. While Tonnerre was his main sailing, Bouttell has also mixed this with competed in 18ft skiffs in the UK and across Europe.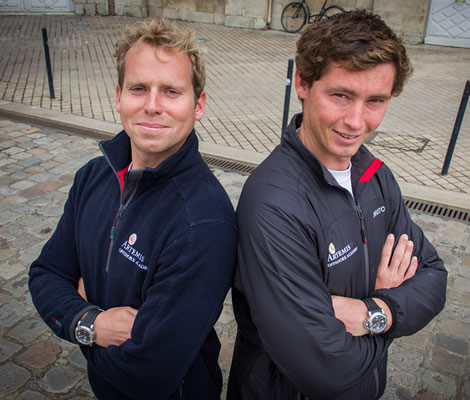 Ed Hill's background is rather different, originally heralding from London, where he learned to sail in Docklands (the Hill family subsequently moving to Stoke before Ed ended up in Southampton via an Art History degree at Bristol University).
In terms of his sailing, Hill came through the RYA system. Starting a little later than many, he sailed Laser Radials until he was 18. He then switched to match racing and was part of fellow Solitaire du Figaro competitor Nick Cherry's crew on one of the four occasions Cherry won the UK National Match Racing championship. Hill subsequently sailed with Aussie ace and Alpari World Match Racing Tour card holder Keith Swinton and his Black Swan Racing crew.
Professionally Hill has been part of the marine industry as a sailmaker, first for Quantum Racing and most recently with North Sails UK. He was involved working on the sail wardrobe for Delta Lloyd during the 2008-9 Volvo Ocean Race. Through his job, he has raced on a wide variety of big boats.
No longer in his early-mid 20s, as are most of his Artemis Offshore Academy peers, Hill has had to give up more in order to focus on the Artemis Offshore Academy training, but he views it as being an amazing opportunity: "It has been great. Being a bit older, it was a big decision to make to sack off a whole load of sailing where you are making an income and having a nice life, as opposed to the hard graft which is the Academy. It has been a very tough six months in a lot of ways, but I have always looked at my sailing and felt that if I don't keep on improving and getting better and I don't keep pushing myself, then it is time to get out of the sport and do something else. Also an opportunity like this is very rare: to run your own race program with the fantastic backing and support Artemis has given us."
Prior to La Solitaire, Bouttell and Hill competed in anger in three singlehanded Figaro races. The first was the Icom Med Cup, a two leg race from La Grande Motte along the coast to Marseille and back. In that there were 13 boats and Bouttell finished fifth overall and was first rookie. Off France's Atlantic coast, in the Solo Arrimer out of Les Sables d'Olonne he finished 16th out of 26 boats and was again top rookie. All was going well in the Solo Concarneau until he admits he made a tactical blunder and ended up going the wrong way along with half the fleet. "It was still a good race, but I was 17th out of 30 starts and 23 finishers."
Meanwhile Hill admits he had a "bit of a shocker" in the Icom Med Cup, his first ever solo race. "It was a three part race and I had two very good legs - one I ended up on the podium - but then I made a classic rookie error: My laptop went down and instead of staying close and not panicing, I left the rest of the fleet. As soon as you leave the fleet it is so hard to stay on the pace, unless you are really experienced. You can just see that groups of boats drag themselves along and make themselves go quicker. So I learned a lot from that.
"Then we did the Solo Arrimer, there I was second rookie, which was okay, but again I let myself down towards the end of the race - I made a few stupid errors, which is a bit frustrating. Then in the Solo Concarneau I was 20th out of about 30. Again it was a disappointing result because I was 10-14th for a lot of the race, but I had some bad issues with sleep management. I had two 10 minute naps in a 48 hour period, which is nowhere near enough...and I started hallucinating. It's ridiculous - I have done heaps of offshore sailing, but it is such a different sport when you are on your own. It is so much more of an endurance sport, compared to fully crewed offshore."
For both Bouttell and Hill this first leg of La Solitaire is an additional 200 miles, or an extra day, longer than their personal longest ever singlehanded race. Bouttell also observes that the solo racing they have done to date has all been coastal, whereas this opening leg of La Solitaire has seen them crossing the open waters of the Bay of Biscay en route to the northwestern most point of Spain, only then rejoining the Spanish, then Portugese coasts as the Solitaire fleet makes its way down to the finish in Porto.
The biggest challenges of singlehanded offshore racing are most notably the lack of sleep and trying to keep oneself fed.
Bouttell says that he finds the sailing and keeping himself motivated easy enough. Where he currently falls down is on the boat and personal management. He also believes he is short of experience on the navigation and tactical sides: "I can sail the boat fairly fast, but the way to go – that is the kind of thing I haven't done much of. So I am on quite a big learning curve. If it is windy and straight lining, I'll be fine."
On the topic of sleep Hill adds: "There are certain times when you decide you don't want to sleep, because it is a tough part of the race, but you have to look at what's happening in 100 miles' time - is it going to be tougher? It is about understanding that you can sail the boat at 90% and you might lose a place or so if you put the pilot on and go down and sleep, but that is a lot better than losing 10 places further down the line through making some bad judgement calls. That's where it comes down to experience, but hopefully I am getting better."
As to the Solitaire, itself Bouttell said he wasn't sure what to expect. "I haven't raced against half of the guys here," he admitted before the start. But he is fully taken in by the unique and far reaching challenges singlehanded offshore racing represents and grateful to Artemis and the Academy for giving him the opportunity to train. "This year has been unbelievable. I'm just loving doing it and the whole atmosphere. I hope I get a good result."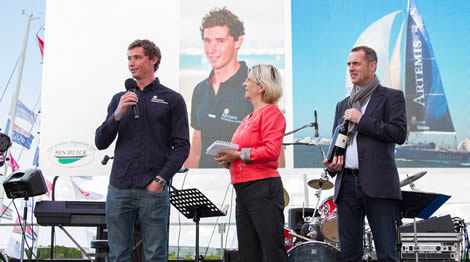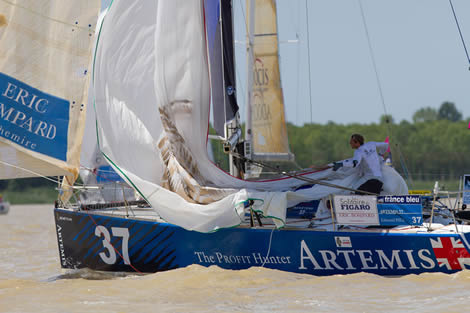 The level in the upper echelons of the Figaro fleet is, without exaggeration, Olympic level high. One of the most talented offshore sailors of his generation, Yann Elies, for example, last year finally won the Solitaire, but only on his 13th attempt. Another top French offshore sailor, Cercle Verte skipper Gildas Morvan, has competed 17 times and while he has podiumed in four of these, he too has yet to win the big prize.
Despite some of the UK's top talent having taken part in past years including Sam Davies, Phil Sharp, Conrad Humphreys, Nigel King, etc - no 'roast beef' has finished better than 17th in the event's recent history (back in the day, Clare Francis finished third...)
As Hill points out: "It is such a tough fleet. There are no idiots here at all. That is quite hard for the British public to recognise - you can be a National champion in various classes and have won heaps of stuff and you come into this class and you get it handed to you by the French. It just about staying in the pack and not making mistakes. It is so hard to gain one place and it is so easy to lose them – it is about making small gains, keeping your head switched on and not being stupid. You just don't get this kind of racing in the UK - it is such good racing on a boat that is 10 years old. The one design nature makes it fantastic.
"It is a big step and a bold move to go into the Figaro circuit because it is so demoralising when you get pumped by the French and you are basically learning to sail again, solo sailing. It is a complete new sport almost."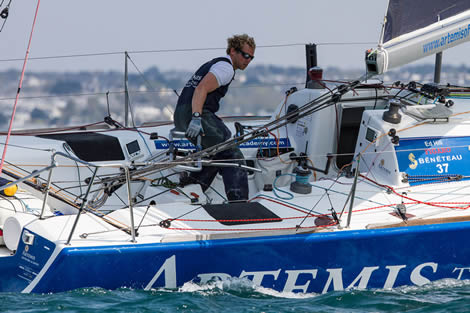 Because of this much store is placed on the results of the 'bizuths', the Solitaire first timers, and it is this prize Bouttell and Hill are gunning for.
Among the rookies, Bouttell reckons that Simon Troel is the favourite. "He has done three Figaro seasons before, and the two handed transat, but not the Solitaire. He'll be quite hard to beat."
Hill has set himself the target of podiuming in the rookie division. "That has to be my main aim. Saying that, whenever I have done any Figaro racing I have never looked at the other bizuths, I try to stay with the pack and race with everyone. Realistically, I think you'd be pushing it if you were ever expecting to be top third - I think that is an unrealistic expectation first time out."
In terms of his personal strengths and weaknesses Hill adds: "Strength-wise, I think am lucky in the fact that I have quite a lot of experience of sailing a lot of different boats and setting boats up, etc as part of my sailmaking experience. I don't think I struggle for pace and I am quite good at changing gears and all of that side of it. I think that is pretty critical in the Figaro.
"The biggest weakness for me is the mental side of it and keeping going and managing myself, whether it is looking after how much food I'm eating or the amount of sleep I'm getting. I think I have up until now underestimated how important that side of it is, knowing where your limits are - I think I have pushed them too far."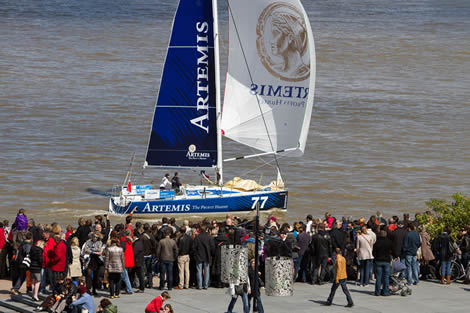 Back to top
Back to top