British rookie winner
British solo offshore sailing took a step in the right direction this weekend, as three Anglo-Irish Figaro skippers conquered the Rookie podium.
Storming the 305-mile Solo Arrimer finish line at around 23:30 BST on Friday 12 April, 22-year-old Artemis Offshore Academy sailor Jack Bouttell claimed the top spot on the Rookie podium, finishing 16th overall out of field of 26 sailors packed with talent.
The next Artemis Rookie over the line was Ed Hill, who stepped up on the podium behind comrade Jack to take second, a great achievement and confidence boost for both British Academy sailors in only the second solo race of their careers. Completing the trio was Irish Figaro sailor David Kenefick, who finished 21st overall behind Ed in 20th. The British and Irish invasion left no room for the French on the up-and-coming Rookie podium, and with six fresh faced and eager to prove Anglo talents now racing on the circuit, could the French-dominated tide of the Figaro Class slowly be on the turn?
"I think my race went well. I had good boat speed at times and in general I'm happy with my performance and result," reported Bouttell after finishing the race, his happiness breaking through the exhaustion. "My highs for the race were finishing, of course, and just launching the boat downwind over the big Bay of Biscay waves in 30-40 knots of wind."
"Jack sailed a consistent and intelligent race the whole way round the course" said event coach Marcus Hutchinson. "He told me afterwards that the way he keeps going and motivated in the darkest moments is to eat more. I think Jack consumes three or four times as much food on these races than anyone else. But if it works for him, then we'll find the food!"
Conditions for the 36-hour race were heinous and the course starting and finishing in Les Sables d'Olonne was shortened slightly to 305 miles. Wind speeds built from 6 knots for the start to a howling 40+ knots through the night combined with a 3 to 4 meter swell, ensuring that the sailors' first Atlantic race of 2013 was a real solo offshore challenge.
"The weary, but crazed eyes of all the skippers as we tucked into soup and crepes after the finish just said it all," reported Academy graduate Henry Bomby. "We all knew we had experienced something pretty cool during this race, something that not everyone will get to ever experience." Read the Academy sailors' war stories here.
Five British sailors lined up for the Solo Arrimer alongside a festival of Figaro rock stars. Academy graduates Henry and Nick Cherry, along with Ed, battled it out to finish within minutes of one another, with Henry just pipping them both to the finish line in 18th, improving on his 2012 result by 10 places. Now in his third year in the Figaro Class, Sam Goodchild was the first British boat over the line, just missing out on a top ten spot in 11th, to finish 50 minutes behind winner Morgan Lagraviére, and just ahead of the 'Professeur' himself, Michel Desjoyeaux, who makes his return to the Figaro after four years away.
"The race was a lot of fun, but at the same time incredibly challenging," Sam admitted. "We had some of the worst weather conditions I have ever seen in a race. But I put up a good fight and I'm happy with my result. It's encouraging to know I'm not too far off the pace."
Solo Arrimer winner Morgan Lagraviere finished the race in 1 day, 9 hours, 40 minutes and 43 seconds, just 13 minutes ahead of second skipper Thierry Chabagny. Yann Eliés, 2012 Solitaire du Figaro winner, came through the harsh Atlantic conditions to take third.
"During the Solo Arrimer all of the skippers proved they can safely get their boats around the course, race, navigate and bring it home in terrible conditions, there is no need to be too clever when being intelligent is enough," continued Hutchinson. "The strong winds and white water battering the sailors and their boats for the duration of the Solo Arrimer were not only a test of the solo skippers' metal, but of their stamina, performance and self management. This weekend's podium results will come as a huge morale and psychological boost for both Ed and Jack in training and ahead of their next race, but that was just 30 odd hours, we've still got a lot of work to do in preparation for the 1,938 miles of intense racing that is the Solitaire du Figaro."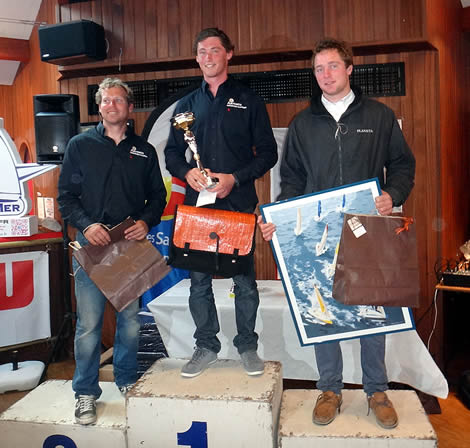 After celebrating his first Figaro Rookie class win by popping his first bottle of Pol Roger on the pontoon, Bouttell, along with Hil and Cherry set sail straight away for Concarneau where they will now spend the next three weeks training and preparing with Hutchinson for the Solo Concarneau starting on 6 May, as well as their boats getting a refit so they are ready, if selected, to be on the Solitaire start line in June.
Jack Bouttell added: "It was an interesting race, we had a lot of wind last night with 30-40 knot and it was very wet, everything I think I own is now wet! I didn't have the best start, but once I got myself into an alright position, I just got my head down and sailed as fast as I could until the finish.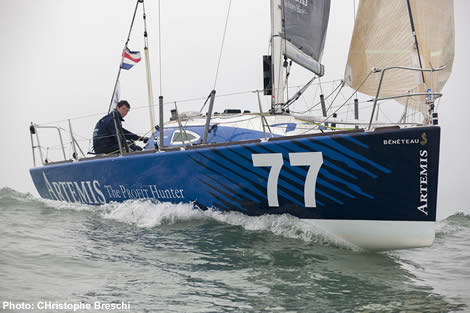 "My highs for the race were finishing, of course, and being a handed a bottle of Pol Roger champagne at the finish – it was the first time I have popped a cork! In terms of the sailing, it was probably launching the boat and sailing downwind over the big Bay of Biscay waves, in 30-40kts of wind on the way back from Belle Ile."
"I think the race went fairly well, I sailed consistently and didn't really make any mistakes, well at least I can identify the mistakes I made, like silly sail changes that cost a bit of time. Other than that, I think my race went well, I had good boat speed at times and in general I'm happy with my performance."
Ed Hill gave his take: "The first half of the race was really good, as the strategy we'd worked on with coaches Nico Berenger and Marcus unfolded to the letter, I'd had a good start and was in the mix. I did a nice little jib peel shortly after the PA buoy and then after that I just couldn't get the boat speed up and was overtaken the whole way around the rest of the course and didn't pass a another boat. A gap in the fleet meant there weren't any other boats to measure up against or look at to determine why my boat speed wasn't great. That was pretty frustrating.
"Moving forward, although there is still heaps to work and improve on, I really think I can be competitive. We have two weeks now to the next event, the Solo Concarneau and I just need to learn from this last race and then put in the performance on the race course. It is my aim to be mixing in with the best of the Figaro skippers for as much of the next race as I can."
And Nick Cherry added: "It was good to get back out on the boat and really blow and wash away the cobwebs, I really enjoyed the race. Although I can take some positives from the race, like a good start and mostly good boat speed, I was a bit rusty. I was quite disappointed with my result (19th) as I know I can do better, but then that is what you get for going into a race cold.
"The highlight of the race for me was the longest 90nm leg through the night, reaching in a howling 30 to 40knots of wind with water flying everywhere. The lowest point was probably knowing that I was reaching about a know slower than all the boats racing around me at this point."
"I got about three hours sleep during the race and I ate plenty despite the conditions. When I got to the end, I felt I could've done another lap, maybe that is where I went wrong, I didn't exhort myself enough and slept too much, but I feeling pretty knackered after a enjoyable downwind and sunny delivery to Concarneau, where we start to prepare for the Solo Concarneau in three weeks time. I think I'll be a lot more relaxed, prepared and ready for the race in May."
Sam Goodchild skipper of Shelter Box, as the top Brit said: "The race was a lot of fun but at the same time incredibly challenging. We had some of the worst weather conditions I have ever seen in a race. There was a period of 12hours when the wind was over 35 knots and regularly gusting over 40. The waves were a constant wall of water trying to wash us off our boats, we got a thorough thrashing.
"I found the night sailing extremely difficult, as despite having eight layers of clothing on, I got cold. This really affected my concentration, which made it difficult to stay focused on going fast. This tired me out pretty quickly but I managed the whole race on a total of an hour's sleep up on deck.
"Overall I'm really happy about the race, I put up a good fight and it's encouraging to know I'm not too far off the pace."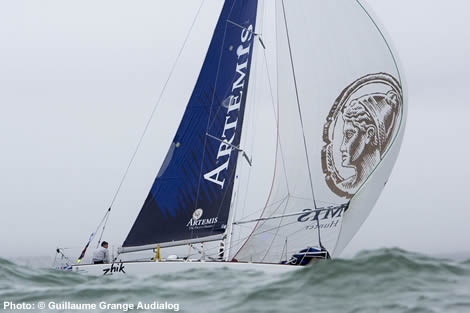 Henry Bomby skipper of Zhik – Made for Water said: "During the race I saw the most wind I have ever seen while at sea – a hefty 52 knots! It was amazing to be racing in that stuff, I was side by side with five boats, all of us sending it and pushing the boats to the max. With every single wave we charged over, rolling white water poured over the decks.
"The Figaro turns boys into men, fact. Nights like the one in the race toughen you up a notch or two without a doubt. Just safely getting a boat through those conditions on your own is a big job and with the element of competition in the mix as well, you can see why they call Port La Fôret (where I train in Brittany) the valley of fools!
"The Solitaire du Figaro will come around quickly now and I can't wait. It's great fun having a British crowd on the circuit here. The French are talking about having three podiums from now on, a winners podium, a rookie podium and foreigners podium for us!"
Solo Arrimer overall results
Position/Skipper/Nationality/Boat no./Boat name/Time at sea
1. Morgan Lagravière/FRA/1/Vendée/1d 9h 40' 43"
2 .Thierry Chabagny/FRA/5/Gedimat/1d 9h 53' 45"
3. Yann Elies/FRA/10/Group Queguiner Leukemia Hope/1d 9h 55' 14"
4. Nicolas Lunven/FRA/3/Generali/1d 10h 0' 38"
5. Jeremiah Beyou/FRA/40/Maitre Coq/1d 10h 02' 0"
6. Xavier Macaire/FRA/8/Skipper Hérault/1d 10h 4' 40"
7. Armel Le Cléac'h/FRA/64/Banque Populaire/1d 10h 19' 5"
8. Frédéric Duthil/FRA/7/Sepalumic/1d 10h 26' 56"
9. Alexis Loison/FRA/28/Group Fiva/1d 10h 27' 25"
10. Jean-Pierre Nicol/FRA/68/Bernard Controls/1d 10h 27' 27"
11. Sam Goodchild/GBR/85/Shelter Box/1d 10h 30' 45"
16. Jackson Bouttell/GBR/77/Artemis 77/1d 10h 50' 31"
18. Henry Bomby/GBR/19/Zhik – Made for Water/1d 10h 57' 23"
19. Nicholas Cherry/GBR/23/Artemis 23/1d 11h 14' 29"
20. Ed Hill/GBR/37/Artemis 37/1d 11h 33' 35"

Rookie results
Position/Skipper/Nationality/Boat no./Boat name/Time at sea
1. Jack Bouttell/GBR/77/Artemis 77/1d 10h 50' 31"
2. Ed Hill/GBR/37/Artemis 37/1d 11h 33' 35"
3. David Kenefick/IRE/45/Full Irish/1d 11h 48' 26"
4. Claire Pruvost/FRA/55/Port de Caen Ouistream/1d 12h 36' 35"
5. Jean Ahrweiller/FRA/14/Region Basse Normandie/1d 12h 38' 24"
6. Benoit Hochart/FRA/-/Aquarius/1d 13h 55' 55"
Back to top
Back to top