Vendee Globe: Mike Golding up to fifth
Tuesday January 15th 2013, Author:
James Boyd
, Location: none selected
Vendee Globe race leader, MACIF, is set to cross the Equator today, while further down the Atlantic, Mike Golding has technically overhauled Jean le Cam to claim fifth place and Bertrand de Broc's Votre Nom Autour du Monde and Tanguy de LaMotte's Initiatives Coeur have both passed Cape Horn.
Image above courtesy of Expedition with GRIB files from Predictwind
Positions at 0800 UTC
Pos
Skipper
Boat
Lat
Long
Spd
Crs
VMG
Spd
Dist
DTF
DTL
1 hour aver
24hr aver
1
François Gabart
MACIF
01°19.60'S
29°41.30'W
10.4
5°
10
14.3
344
3262
0
2
Armel Le Cléac'h
Banque Pop
05°22.64'S
29°50.25'W
15.1
22°
15.1
15.4
368.7
3494
232.1
3
Jean-Pierre Dick
Virbac
12°59.31'S
30°38.86'W
14.8
359°
14
16
382.9
3942.4
680.4
4
Alex Thomson
Hugo Boss
14°50.92'S
35°07.43'W
14.2
9°
13.9
13.1
313.8
4134.7
872.7
5
Mike

Golding
Gamesa
34°42.13'S
35°17.10'W
10.2
41°
9.4
10.2
245.5
5258.8
1996.9
6
Jean Le Cam
SynerCiel
33°00.95'S
41°27.76'W
10.9
0°
10.1
8.8
212
5274.9
2013
7
Javier Sanso
Acciona
37°30.98'S
37°06.89'W
9.9
335°
7
13.8
332
5447.6
2185.6
8
Dominique Wavre
Mirabaud
37°45.43'S
41°31.71'W
6.7
46°
6.1
9.6
230.6
5537.9
2276
9
Arnaud

Boissières
Akena Verandas
38°04.39'S
43°10.33'W
2.9
13°
2.8
8.8
211.1
5586.4
2324.4
10
Bertrand De Broc
Votre nom
55°37.49'S
62°48.62'W
11.1
107°
4.1
12.2
291.8
6894.1
3632.1
11
Tanguy

Delamotte
Initiatives Coeur
55°58.48'S
66°40.32'W
15
46°
14.9
12.9
310.3
6993.3
3731.3
12
Alessandro Di Benedetto
Team Plastique
57°02.82'S
91°20.05'W
12.9
88°
12.8
13.1
314.7
7802.7
4540.8
RET
Bernard Stamm
Cheminees
Ran out of fuel after hydrogenerator problems (9 Jan)
RET
Vincent

Riou
PRB
Damage to hull and lower shroud after collision with drifting buoy (24 Nov)
RET
Zbigniew Gutowski

Energa
Autopilot failure (21 Nov)
RET
Jérémie Beyou
Maitre CoQ
Broken hydraulic ram (19 Nov)
RET
Sam Davies
Saveol
Dismasted (15 Nov)
RET
Louis Burton
Bureau Vallee
Rammed by a fishing boat, rigging damage (14 Nov)
RET
Kito de Pavant
Groupe Bel
Rammed by a fishing boat, hull damage (12 Nov)
RET
Marc Guillemot
Safran
Titanium keel broke (10 Nov)
At 0800 this morning, MACIF had 78 miles to go before reaching the Equator, the next significant milestone on her path to the 2012-13 Vendee Globe finish line. As excepted, conditions have lightened for the race leader, but not significantly enough for second placed Armel le Cleac'h on Banque Populaire to take more than 27 miles out of her lead in the last 24 hours. However more will come for le Cleac'h who is currently sailing 5 knots faster than his rival, plus tomorrow Gabart will be entering the Doldrums - which currently seem to be spanning 2-4°N where he is lining up to cross.
Yesterday Gabart commented: "The trade winds are pushing us. We're getting ready to sail through the Doldrums. I'm not complaining, the conditions are great and stable, despite some showers last night. We're progressing fast, it's nice. You need to be able to enjoy such good times. Right now everything is going just fine for me. If I really wanted to complain, I'd say it's too hot, but I know some people wouldn't like me to say that! I've been resting a lot lately, so days go by quite fast. I need to be rested because the very end of the race is going to be decisive, I need to be ready. MACIF is currently in a very favourable position because I got into good wind first, so it was great for a couple of days. But Banque Populaire will get that wind soon, too, so she will come back."
Armel le Cleac'h added: "I'm doing my best to close the distance with François but it will all depend on the conditions. Let's see what type of conditions he faces in the near future, that will be important information for us. We'll continue fighting until the end, giving all we have: that's our objective. The boat is totally ready for that. I've checked everything on board and it's all good. She can give 100% of her potential. Four years ago, the end of the Vendée Globe was very difficult because of bad weather and strong winds, so we know anything can happen until the very end. We all need to be careful!"
In the fight for third place, Jean-Pierre Dick on Virbac Paprec 3 has continued to put miles on Alex Thomson's Hugo Boss, having gained an extra 50 miles in the last 24 hours, his lead up to 192 at the latest sched. Hugo Boss remains more pressed than Virbac, however over the last four hours, she has only been a knot slower than her rival. Hugo Boss currently is approaching the latitude of Salvador de Bahia, still a day's sail away from passing Recife.
Good news for Mike Golding and Gamesa, who overnight have taken fifth place off Jean le Cam' SynerCiel. Over the last 24 hours the boats have definitely slowed but don't seem to have parked as the GRIB files yesterday suggested they would. However the road ahead remains a tricky one as the two boats have separated with Gamesa currently some 325 miles to the east of SynerCiel.
East worked for Francois Gabart and it looks like it is having the same effect for the British skipper. For what they're worth the GRIB files indicate that both boats are still in the breeze circulating around the area of high pressure currently lying off Argentina. However on a northeasterly course Golding appears to be heading for the trough between the high and the main area of South Atlantic high pressure to the east, and if this is indeed the case, then it is likely that she will slow allowing le Cam to recover the lead. Meanwhile le Cam is heading directly for Rio with no trough ahead of him, but the prospect of ending up in the same position as Hugo Boss was towards the end of last week, stuck in the meteorological 'dead end' south of Rio.
This morning Golding reported of his claiming fifth place: "It feels good, but to be honest he might get ahead again, but it is really about the east-west separation at the moment and not distance to finish which is a bit arbitrary. It is lovely to be ahead, but really we have both been forced where we are by the separation in the breeze. I am happy where I am. Jean may have some more pressure just now and come back, but longer term I am looking at being at the rotation of the high earlier. I don't like the idea of being on the coast, it always feels like you are in a corner and if anything changes you can get stuck.
"Meantime it is good on board. The wind is up and down. I am starting to get my head round what the weather files are doing even if there is a little agreement between the models yet. But it looks complicated for both of us for sure. I made two gybes during the night and both times the heading turned out to be horrible and I went back. The seas were not big, but really horrible and the boat was just stopping. In effect mine and Jean's destinies are shaped by the wind we had last night. I could not do anything other than what I did and I don't think he could either. In the end we were divided by having to sail on our favoured gybes respectively.
"And as far as being ahead of him goes, what is going to matter is getting to the breeze first rather than where we are just now. I am happy on this right side of the course where I should get to the rotation first and the breeze will be more to the right for me. On the coast I always feel like if you get headed at all you are stuck, and it is always upwind, a battle right up to Recife. It has been good for me just now. I have sat behind a line of cloud and rain and seem to have a tow from it. It was there last night and the sun is not yet up and I can see it is still there, so that has been nice to get a little tow."
Behind, the easterly route of Javier Sanso on Acciona 100% Ecopowered has reaped dividends. From being a lowly ninth yesterday morning, Sanso is up to seventh at the latest sched and is the only one of the trio chasing Golding and le Cam to have made inroads into them over the last day (currently 188 miles behind Golding compared to 289 yesterday). All three boats - Acciona, Arnaud Boissieres' Akena Verandas and Dominique Wavre's Mirabaud - are at roughly the same latitude, only that Acciona is some 280 miles to the east of Akena, which is the furthest west. Like the duo ahead of them they are all currently in the winds circulating the high, only that Acciona is considerably further away from the high's centre, in stronger breeze, and as a result over the last four hours has been sailing five knots faster than his rivals.
Congratulations to Bertrand de Broc and Tanguy de LaMotte who have been the latest to round Cape Horn, leaving just Italian backmarker Alessandro Benedetto as the sole competitor still in the Pacific.
De Broc's Votre nom autour du monde avec EDM Projets rounded the Horn at 1800 UTC last night. "This is the end of a difficult sea that is not a gift," De Broc wrote. "We're happy to finish and return to the Atlantic because it means a return home. It is a mythical passage that keeps the memory of the great periods of maritime conquests and racing, even if today we can cross it at breakneck speeds aboard our boats. I am proud to pass."
In 11th place Tanguy de Lamotte's Initiatives cœur, rounded Cape Horn at 0503 UTC this morning.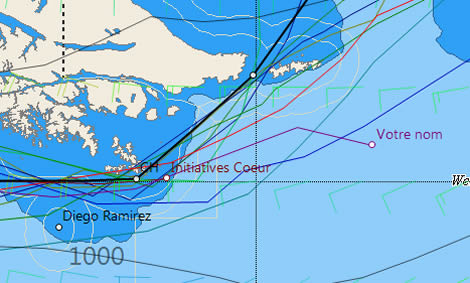 Back to top
Back to top