Vendee Globe: Alex Thomson up to third
Friday January 11th 2013, Author:
James Boyd
, Location: none selected
On the fast lane closer to the Brazilian coast, Alex Thomson on Hugo Boss overhauled Jean-Pierre Dick and Virbac Paprec 3 by yesterday's final sched to move up to third place in the Vendee Globe.
Image above courtesy of Expedition with GRIB files from Predictwind
Positions at 0800 UTC
Pos
Skipper
Boat
Lat
Long
Spd
Crs
VMG
Spd
Dist
DTF
DTL
1 hour aver
24hr aver
1
François Gabart
MACIF
25°50.07'S
28°45.31'W
16.9
352°
15.6
11.2
269.5
4651.8
0
2
Armel Le Cléac'h
Banque Pop
28°11.29'S
29°26.69'W
12.3
355°
11.5
9
216.7
4797.7
146
3
Alex Thomson
Hugo Boss
27°21.55'S
41°52.14'W
8
46°
7.4
15.7
377.9
4972
320.3
4
Jean-Pierre Dick
Virbac
33°42.53'S
27°30.45'W
6.8
42°
6
10.4
249.5
5094
442.2
5
Jean Le Cam
SynerCiel
46°04.33'S
53°09.74'W
10.5
54°
9.6
12.3
295.8
6216
1564.3
6
Mike

Golding
Gamesa
48°32.48'S
53°50.39'W
5.7
68°
4.6
12.4
298
6357.2
1705.4
7
Dominique Wavre
Mirabaud
52°36.51'S
57°41.84'W
14.4
89°
8.3
10.3
246.5
6641.9
1990.1
8
Javier Sanso
Acciona
53°19.69'S
58°34.71'W
12.9
76°
9.7
11.5
276.3
6695.5
2043.7
9
Arnaud

Boissières
Akena Verandas
53°23.87'S
58°52.94'W
13.3
82°
9.1
9.8
236.2
6705.2
2053.4
10
Bertrand De Broc
Votre nom
53°01.69'S
96°13.23'W
12.1
116°
12.1
12.3
294.1
8023.9
3372.2
11
Tanguy

Delamotte
Initiatives Coeur
52°50.45'S
104°11.57'W
12.5
127°
12.2
11.4
274.3
8294.8
3643.1
12
Alessandro Di Benedetto
Team Plastique
46°53.08'S
122°43.03'W
12.3
85°
9.3
14.4
345.9
9091.1
4439.3
RET
Bernard Stamm
Cheminees
Ran out of fuel after hydrogenerator problems (9 Jan)
RET
Vincent

Riou
PRB
Damage to hull and lower shroud after collision with drifting buoy (24 Nov)
RET
Zbigniew Gutowski

Energa
Autopilot failure (21 Nov)
RET
Jérémie Beyou
Maitre CoQ
Broken hydraulic ram (19 Nov)
RET
Sam Davies
Saveol
Dismasted (15 Nov)
RET
Louis Burton
Bureau Vallee
Rammed by a fishing boat, rigging damage (14 Nov)
RET
Kito de Pavant
Groupe Bel
Rammed by a fishing boat, hull damage (12 Nov)
RET
Marc Guillemot
Safran
Titanium keel broke (10 Nov)
After a prolonged period heading into the western side of the St Helena high, yesterday mid-afternoon race leader Francois Gabart and MACIF gybed north, followed mid-evening yesterday and to the west of MACIF by Armel le Cleac'h on Banque Populaire. Both boats are now on a course a shade to the west of due north allowing them to clear Recife and over the course of today, as they pass the latitude of Rio, the wind will start to veer lifting them further.
With MACIF tacking earlier, so he has been able to make better VMG up the course and as a result this morning, Gabart's lead has extended to 146 miles, the biggest it has been throughout the course of this race. And there is more to come as Banque Populaire appears to still be more headed, sailing four knots slower than MACIF.
For British fans, the good news is that we currently have Alex Thomson and Hugo Boss on the podium, as the golden route, in following winds closer to the Brazilian coast, have continued to reap dividends. Hugo Boss moved into third place at the final sched yesterday and at the latest sched Hugo Boss has eeked out a 122 mile advantage over Virbac Paprec 3, the big numbers happening not just because Thomson has been sailing in stronger following winds, but also because Virbac Paprec 3 has been going slowly and off course as she heads into the western side of the high.
However can Thomson hold on? Unlikely. At present, 272 miles miles SSE of Rio, Hugo Boss has slowed as she tackles a NNW-SSE orientated ridge. Thomson must negotiate this and once through he will then find himself having another 500 miles, possibly more, directly on the wind, which certain to drop him back to fourth place as Virbac Paprec picks up speed once she has tacks out of the high in the wake of the race leaders.
Yesterday Dick reported: "The wind is less gusty now, after an intense night. We are getting closer to the transfer point. According to the software, my journey will be quite similar with the leaders' one. Alex is taking a great option and everything must be reconsidered. My strategy was good, but, because of my little problem, I'm not in the right timing anymore. But it's interesting; it's going to be a great fight.
I must remain rigorous. First of all you need to have a global view of the situation and the strategies. Then you try to do everything to sail as fast as possible. And you also have to take some time to sleep and eat."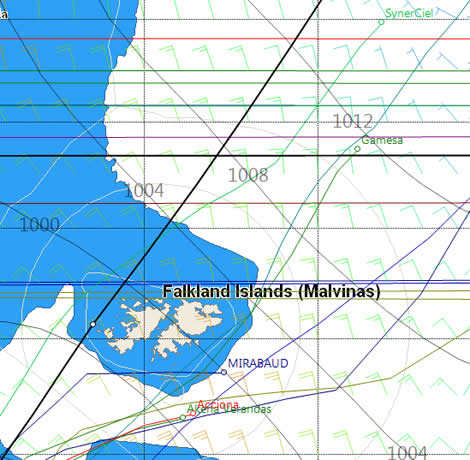 Further down the south Atlantic, both Jean le Cam on SynerCiel and Mike Golding on Gamesa have slowed as the wind has veered into the NNW preceeding a front associated with the next Southern Ocean depression. Over the last 24 hours Golding has taken 8 miles out of the Frenchman's advantage on him, now down to 141. Both boats are currently following a track similar to Alex Thomson suggesting that they may be following similar tactics, staying closer to the Brazilian coast over the next few days. In the shorter term, the wind should back and build as the front rolls over them in the early hours of tomorrow morning. However the wind should turn favourable for them on Saturday night with strong southerlies building between a depression centred due east of Buenos Aires and an area of high pressure to the south.
Dominique Wavre on seventh placed Mirabaud has taken a big hit over the last 24 hours, losing 91 miles to Mike Golding over the last 24 hours. After taking a course that looked like he was going to leave the Falkland Islands to starboard, he instead changed course and left them to port, probably to cover Arnaud Boissieres on Akena Verandas and Javier Sanso on Acciona 100% EcoPowered both of whom chose not to pass through the Strait of Le Maire and were making good speed to the south.
Mid-afternoon yesterday Acciona once again overhauled Akena to take eighth place, the two boats having been locked in their personal match race for several days now. Acciona is currently only 53 miles astern of Mirabaud so this will prove to be an interest race up the Atlantic.
Back to top
Back to top