Vendee Globe: Leaders back into the Atlantic
Wednesday January 2nd 2013, Author:
James Boyd
, Location: none selected
Early yesterday evening Francois Gabart and MACIF led the 2012-3 Vendee Globe fleet past Cape Horn, setting a new record time significantly faster than that of the young French skipper's mentor Michel Desjoyeaux in the last race (read more here).
Image above courtesy of Expedition with GRIB files from Predictwind
Positions at 0800 UTC
Pos
Skipper
Boat
Lat
Long
Spd
Crs
VMG
Spd
Dist
DTF
DTL
1 hour aver
24hr aver
1
François Gabart
MACIF
54°25.54'S
63°36.17'W
12.7
74°
10.4
12.4
297.4
6854.6
0
2
Armel Le Cléac'h
Banque Pop
54°30.65'S
64°07.77'W
13.3
74°
10.9
12.9
309.6
6870.1
15.5
3
Jean-Pierre Dick
Virbac
55°36.52'S
75°11.39'W
16
90°
15.8
16.1
387.6
7275.6
421
4
Alex Thomson
Hugo Boss
55°48.10'S
87°52.30'W
15.7
92°
15.6
18.8
452.2
7698.4
843.8
5
Jean Le Cam
SynerCiel
50°31.76'S
120°40.20'W
15.1
112°
15
14.9
357.6
8918.7
2064.1
6
Mike

Golding
Gamesa
53°25.96'S
133°48.46'W
16.2
126°
13.7
15.2
364
9374.4
2519.8
7
Dominique Wavre
Mirabaud
52°55.42'S
136°15.38'W
15.3
129°
12.9
13.9
333.2
9465
2610.4
8
Javier Sanso
Acciona
52°32.18'S
137°58.41'W
14.2
134°
11.6
13.7
328.5
9530.1
2675.5
9
Arnaud

Boissières
Akena Verandas
49°15.86'S
139°01.00'W
12.2
122°
11.9
14.3
342.7
9617.8
2763.1
10
Bernard Stamm
Cheminees
50°40.92'S
140°34.32'W
13.6
132°
12.3
11.4
275.1
9649
2794.4
11
Bertrand De Broc
Votre nom
53°00.44'S
165°56.36'W
16.2
106°
15.5
16.7
401
10659.4
3804.7
12
Tanguy

Delamotte
Initiatives Coeur
51°56.92'S
179°19.10'W
8.1
119°
7.7
6.8
162.8
11151.2
4296.6
13
Alessandro Di Benedetto
Team Plastique
51°31.42'S
156°11.92'E
14.1
103°
14.1
12.9
310.6
12053.6
5199
RET
Vincent

Riou
PRB
Damage to hull and lower shroud after collision with drifting buoy (24 Nov)
RET
Zbigniew Gutowski

Energa
Autopilot failure (21 Nov)
RET
Jérémie Beyou
Maitre CoQ
Broken hydraulic ram (19 Nov)
RET
Sam Davies
Saveol
Dismasted (15 Nov)
RET
Louis Burton
Bureau Vallee
Rammed by a fishing boat, rigging damage (14 Nov)
RET
Kito de Pavant
Groupe Bel
Rammed by a fishing boat, hull damage (12 Nov)
RET
Marc Guillemot
Safran
Titanium keel broke (10 Nov)
MACIF passed Cape Horn at 1820 UTC yesterday and was followed by Armel le Cleac'h on Banque Populaire at 2035 UTC. Banque Populaire's time from the start in Les Sables d'Olonne was 52 days 7 hours and 33 minutes, significantly faster than Le Cleac'h time in the last race when en route to finishing second aboard BritAir, he had passed Cape Horn after 58 days 22 hours and 43 minutes at sea. During the last 24 hours Banque Populaire has once again closed on MACIF, her deficit down from 38 to 15 miles this morning.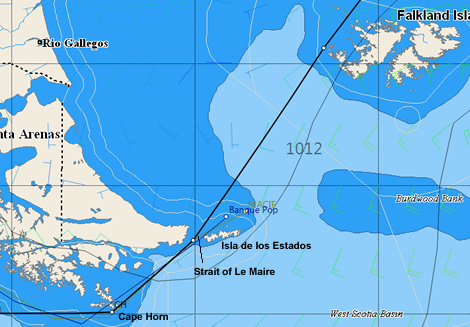 Since passing the Horn both boats have since turned on to a northeasterly heading and, with the wind from the southwest and the sea state calming in the lee of the Horn, they have taken the option to sail up the Strait of Le Maire, between Isla de los Estados and mainland Tierra del Fuego. After a busy night gybing down the Strait they now appear to be heading on a more easterly course that will take them east of the Falkland Islands. The reason for this is that there is a giant area of high pressure currently extending from Tierra del Fuego to Rio in the north and at present there is no wind to the west of the Falklands while later today the wind is due to fill in from the north. Meanwhile to the east of the Falklands the wind will be lighter but still from the southwest.
For the rest of the week the weather for the frontrunners will be dominated by the high, which is shrinking north-south and centring itself off the River Plate estuary (between Argentina and Uruguay) and moving east over the next few days. As the high moves east its leaves a solid band of northeasterly headwinds in its wake which the boats will be having to tackle over the weekend.
Back in the Pacific third placed Jean-Pierre Dick on Virbac Paprec 3 is following a similar route towards the Horn as the leaders and is staying well north to avoid the ice threat around the Diego Ramirez island south west of the Horn. Virbac has 268 miles to go to the Horn which she will pass this evening. If conditions were tough for the race leaders passing the Horn, it is likely to be more so for Dick as he is caught by a front that will shift the wind from the northwest into the NNE around the time he is due to pass the Horn. This shift will only last a few hours before the wind returns to the northwest by tomorrow morning, but it will kick up an awkward seastate in addition to the horrific sea that develops at the Horn thanks to the seabed shelving up from 3km deep to less than 100m over a distance of just 30-40 miles.
Over the last four hours Alex Thomson on Hugo Boss has been making the best progress in the fleet, averaging 17.8 knots. Hugo Boss is currently 690 miles out from the Horn. While Thomson will see the wind veer into the north today the shift will be less extreme for him than it appears to be for Virbac and Thomson looks set to cover the last miles to the Horn (which he should reach tomorrow afternoon/evening) in solid northwesterlies with a final 30-40 knot shunt tomorrow afternoon. Thanks to Hugo Boss sailing a more direct route towards the Horn, so she has managed reduce his deficit on Virbac by 70 miles, down to 422 miles at the latest sched.
Now 1,220 miles behind Hugo Boss, Jean le Cam on SynerCiel continues to take a relatively conservative route to the north towards the final Pacific East icegate, 409 miles away at the latest sched. Meanwhile Mike Golding on Gamesa continues to lead the charge to the south still with Dominique Wavre's Mirabaud and Javier Sanso's Acciona 100% EcoPowered following him.
Gamesa currently has 865 miles to go to reach the new icegate. At some point Gamesa will have to gybe to make this and if he leaves this too late Golding may once again find the wind failing to co-operate as with a giant area of high pressure unusually encroaching into the Roaring Forties to their WNW is forecast to cause the wind to severely back into the SSW.
Back to top
Back to top