Vendee Globe: Tentative approach to the Horn
Tuesday January 1st 2013, Author:
James Boyd
, Location: none selected
The leaders in the Vendee Globe are to due at Cape Horn late this afternoon/early evening, but are taking a more northerly route there in order to minimise the opportunity for encountering ice.
Image above courtesy of Expedition with GRIB files from Predictwind
Positions at 0800 UTC
Pos
Skipper
Boat
Lat
Long
Spd
Crs
VMG
Spd
Dist
DTF
DTL
1 hour aver
24hr aver
1
François Gabart
MACIF
55°49.40'S
71°55.59'W
19.5
71°
17.8
18.8
451.1
7164.6
0
2
Armel Le Cléac'h
Banque Pop
55°26.51'S
72°58.70'W
12.4
85°
11.8
18.1
433.2
7203.3
38.7
3
Jean-Pierre Dick
Virbac
56°16.96'S
86°40.57'W
15.8
91°
15.7
12.7
305.2
7654.7
490.1
4
Alex Thomson
Hugo Boss
54°47.89'S
101°00.86'W
19.4
99°
19.2
15.4
368.6
8148.4
983.8
5
Jean Le Cam
SynerCiel
51°19.60'S
130°02.84'W
14.2
122°
13.2
15.1
363.2
9253.7
2089.1
6
Mike

Golding
Gamesa
50°28.30'S
142°24.56'W
14.3
138°
12.3
10.6
255.1
9719.7
2555.1
7
Dominique Wavre
Mirabaud
49°57.72'S
143°48.05'W
13.7
140°
11.7
10.5
251.8
9780
2615.4
8
Javier Sanso
Acciona
49°09.29'S
144°48.11'W
14.3
151°
11
14.1
338.5
9832.9
2668.3
9
Arnaud

Boissières
Akena Verandas
50°55.52'S
147°32.44'W
16.4
74°
16.4
17.5
420.9
9971.2
2806.6
10
Bernard Stamm
Cheminees
50°35.83'S
147°48.20'W
16
68°
15.8
18.6
446.5
9976.3
2811.7
11
Bertrand De Broc
Votre nom
51°34.63'S
176°37.42'W
15.5
98°
15.4
15.3
367.1
11056
3891.4
12
Tanguy

Delamotte
Initiatives Coeur
52°06.12'S
176°16.67'E
14
97°
13.9
14.6
349.3
11312.9
4148.3
13
Alessandro Di Benedetto
Team Plastique
51°09.30'S
147°55.70'E
13.2
94°
12.8
13.1
314.5
12356.9
5192.3
RET
Vincent

Riou
PRB
Damage to hull and lower shroud after collision with drifting buoy (24 Nov)
RET
Zbigniew Gutowski

Energa
Autopilot failure (21 Nov)
RET
Jérémie Beyou
Maitre CoQ
Broken hydraulic ram (19 Nov)
RET
Sam Davies
Saveol
Dismasted (15 Nov)
RET
Louis Burton
Bureau Vallee
Rammed by a fishing boat, rigging damage (14 Nov)
RET
Kito de Pavant
Groupe Bel
Rammed by a fishing boat, hull damage (12 Nov)
RET
Marc Guillemot
Safran
Titanium keel broke (10 Nov)
Francois Gabart and MACIF have been slowly extending away from Armel le Cleac'h on Banque Populaire, with the young blade now 38 miles ahead of his rival. This is mainly because le Cleac'h has taken a more northerly route towards the Horn and it seems likely that the two boats will close on the Chilean coastline before they gybe south to the Horn, hugging the coast.
The concern is ice. This has been spotted on satellite pictures around the Diego Ramirez islands which looked set to be on their route to the Horn yesterday.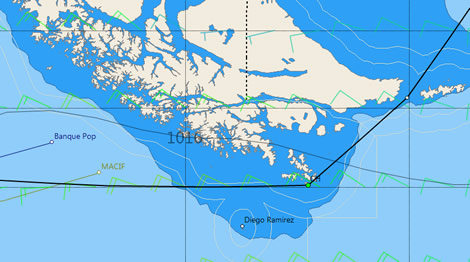 Yesterday Armel le Cleac'h commented about the ice: "Icebergs and growlers are making the situation very unusual. We'll sail into the unknown, especially with growlers that can be very unpredictable. We'll have to be very careful, there's nothing else we can do. It's not like we can sail to the north or anything, we have no choice. Last time, four years ago, we hadn't had to deal with all that, it was a very different race, a very different state of mind. Four years ago, at that stage, we were rescuing Jean le Cam! This time ice has been detected very close to Cape Horn, making for a very tricky 200-mile zone. I hope there won't be fog because right now, the visibility is pretty bad, I hope it will be different.
"Cape Horn is a mythical cape, I'll round it for the second time in my life. I hope I get to see it again this time. Last time was very emotional, because it marks the end of the Southern ocean, and the end of the second third of the route. It's a very special moment in the race and a very special moment period for every sailor."
Ice and Cape Horn have to be dealt with first, but it will be interesting to see what the skippers' tactics will be once they are into the Atlantic. Over the latter stage of this week a substantial area of high pressure is rolling east off the South American continent and come Friday there are headwinds all the way from the Falklands to Rio!
Over the last 24 hours Jean-Pierre Dick on Virbac Paprec 3 has given up waiting for a shift to get him south and instead put in a hitch south, gybing back on to starboard to head the east morning, now following a similar track to the race leaders. However the gybe south cost him and after doing so well over the weekend, Dick has lost 167 miles over the last 24 hours.
Yesterday Dick reported: "Conditions aren't that great, the sky is gray and the weather is basically terrible. It's raining, the clouds are really dark, but I have two nicer things coming soon: Cape Horn and New Year. But given the circumstances, I don't really feel like celebrating. I'm getting a little tired of not getting enough sunlight and always having gray clouds. I'm looking forward to rounding Cape Horn because the Southern Ocean has been very frustrating for me, I haven't been able to do what I wanted to do and use my boat at 100% of her potential. I hope I can enjoy myself more now. Eventually we'll tell you about the problems we've all faced at one point or another. As you know, I've had a problem with a halyard, but still, my boat is in good shape. There are always things you don't want to talk about because you don't want the other skippers to find out and get all excited, thinking they can catch up on you. It's professional sport, you know, every detail counts."
As expected Alex Thomson and Hugo Boss dived south after passing the Pacific East icegate yesterday morning. Ahead of a front they are currently making the best speed in the fleet at the latest sched. Cape Horn remains 1140 miles away at the latest sched. Hugo Boss should maintain the strong breeze most of the way to the Horn only that the forecast has a secondary depression forming along the front just before the Horn causing the wind to veer into the northeast and no doubt kicking up an evil seastate. Hopefully Hugo Boss will head north to avoid this. Hugo Boss' ETA at the Horn looks set to be sometime on Friday morning.
In the next wave, Jean le Cam on SynerCiel continues to play the shifts en route to the Pacific East icegate, still 744 miles away at the latest sched. Behind there has been a busy time at the western end of the Pacific West icegate. Mike Golding and Gamesa passed through the icegate at around 2100 UTC last night followed by Dominique Wavre and Mirabaud at around 0400 this morning, while the latest round has been Spain's Javier Sanso on Acciona 100% EcoPowered.
All have speared off to the southeast since passing through the gate to stay in the strongest breeze.
On the approach to the Pacific West icegate are currently Arnaud Boissieres on Akena Verandas and Bernard Stamm on Cheminees Poujouat, with Stamm closing on his French rival, now just five miles behind.
Back to top
Back to top