Vendee Globe: Dick and Thomson close on the leaders
Friday December 28th 2012, Author:
James Boyd
, Location: none selected
The slow progress of the leaders in the Vendee Globe has proved to be more prolonged than we thought it would be in our update yesterday as the stronger pre-frontal winds have still to catch up with them. This has allowed both Jean-Pierre Dick on Virbac Paprec 3 and Alex Thomson on Hugo Boss in particular to make substantial in-roads into their lead.
Image above courtesy of Expedition with GRIB files from Predictwind
Positions at 0800 UTC
Pos
Skipper
Boat
Lat
Long
Spd
Crs
VMG
Spd
Dist
DTF
DTL
1 hour aver
24hr aver
1
Armel Le Cléac'h
Banque Pop
54°19.44'S
115°14.79'W
9.5
97°
8.6
10.8
259.9
8736.1
0
2
François Gabart
MACIF
54°28.96'S
115°14.67'W
9.1
87°
8.9
11.6
279.6
8738.8
2.7
3
Jean-Pierre Dick
Virbac
50°37.89'S
127°27.00'W
18.7
93°
18.4
18.1
433.5
9166.8
430.7
4
Alex Thomson
Hugo Boss
50°03.28'S
138°10.27'W
14.5
139°
12.4
15
360.5
9571.6
835.5
5
Jean Le Cam
SynerCiel
49°20.33'S
164°00.35'W
15.1
84°
14.8
15.1
362.3
10587.4
1851.3
6
Mike

Golding
Gamesa
52°07.11'S
174°52.06'W
13
64°
11.8
12.8
307
10989.1
2253
7
Dominique Wavre
Mirabaud
53°01.69'S
175°45.41'W
13.8
73°
13.8
13
311.5
11028.4
2292.3
8
Javier Sanso
Acciona
51°26.45'S
175°09.74'E
12.3
102°
12.3
12.6
301.7
11358.3
2622.2
9
Arnaud

Boissières
Akena Verandas
52°39.16'S
169°17.21'E
13.4
92°
13.4
17.5
427.4
11567.4
2831.3
10
Bernard Stamm
Cheminees
45°54.43'S
170°43.85'E
1.9
150°
1.5
0.1
1.9
11623.5
2887.4
11
Bertrand De Broc
Votre nom
49°45.59'S
149°27.71'E
13.6
125°
13.2
10.4
250
12329.9
3593.8
12
Tanguy

Delamotte
Initiatives Coeur
49°30.31'S
140°55.77'E
17.4
67°
11.9
13.2
316.6
12642.5
3906.4
13
Alessandro Di Benedetto
Team Plastique
51°03.13'S
119°44.15'E
13
152°
6.2
14.1
338.4
13426.9
4690.8
RET
Vincent

Riou
PRB
Damage to hull and lower shroud after collision with drifting buoy (24 Nov)
RET
Zbigniew Gutowski

Energa
Autopilot failure (21 Nov)
RET
Jérémie Beyou
Maitre CoQ
Broken hydraulic ram (19 Nov)
RET
Sam Davies
Saveol
Dismasted (15 Nov)
RET
Louis Burton
Bureau Vallee
Rammed by a fishing boat, rigging damage (14 Nov)
RET
Kito de Pavant
Groupe Bel
Rammed by a fishing boat, hull damage (12 Nov)
RET
Marc Guillemot
Safran
Titanium keel broke (10 Nov)
A combination of the secondary depression to the north of the leaders and the eastward progress of the main depression way away to their southwest has prevented the stronger NNWerly winds ahead of the front associated with the main depression from catching up with the leaders. As a result the lead duo have only managed to average around 11 knots over the last 24 hours, allowing almost all of the boats behind to play catch-up.
Last night the leaders gybed as they still have to get north of the Pacific East icegate. At the latest sched the western end of this is 234 miles from Banque Populaire. At present the boats are heading due east and the skippers are waiting for the wind to back into northeast, which should come tonight, that will allow them to get north to cross the gate.
Yesterday Banque Populalire skipper Armel le Cleac'h reported: "The sun is rising, it's been the shortest night since the beginning of the race, I barely saw any darkness. It looks like François [Gabart] and I just can't stay away from each other, the gaps are tiny, we've had quite similar routes so far. It's been a great fight pretty much since the start of the race and because there aren't that many different options possible because of the weather, we should stay close to each other for a while, unless something unexpected happens. There's been very few possibilities for us to make choices, except maybe for one gate, but strategy hasn't been that decisive because of that. But we still have another month to go, so maybe we'll have more opportunities at one point.
"The fight has been intense since the Indian Ocean, we've actually seen each other while passing the last gate. It was nice to get to see François, to have a visual contact, and it's a interesting point of comparison when it comes to speed and all, because our boats are quite similar."
As a result of the prolonged downturn in speed for the leaders, the skippers of Virbac-Paprec 3 and Hugo Boss have been relishing the opportunity to regain some lost miles. Over the last 24 hours Virbac has pulled back 185 miles, Hugo Boss 145. Both boats have been eating up the miles in the strong northwesterlies that the leaders are awaiting and will stay in these today, continuing to close on the leaders. They are also able to sail a more direct route to the next icegate.

Yesterday Dick reported: "Right now I have a 28-32 knots of wind, but I know it's going to go up to 40 knots so I'm ready to go out there and trim my sails for whatever comes. There's so much noise on the boat! Right now my speed is 19-20 knots, it's pretty good. But the waves are quite rough. It's tough but it's still better than yesterday, when the wind was much lighter than the weather files had predicted. I'm glad things changed and I think Gabart and Le Cléac'h will slow down so hopefully I can catch up with them a bit in the next few days. It's hard for me to say what the maximum gap between me and the leaders could be at Cape Horn for me to still have a chance… I just can't answer because I know my boat and her current state very well but I have no idea how their boats are doing. So many things can change and evolve before we get there…"
Hugo Boss crossed the Pacific West icegate late yesterday evening (UTC) and has since gybed south. Thomson reported: "It was really tough last night, gusting up to 40 knots and big seas. 40 knots down here feels like 50 knots in the high latitudes you have to continually ease the sheets in the gust making it impossible to get any decent rest. Despite the tough night I'm pleased to be making ground on the leading pair, I think I've gained around 150 miles on them in the past 24 hours, but with the forecast for the next day and a half I'm really going to be survival mode. Down in these Southerly latitudes anything above 30 knots puts you into survival mode, so when it gets up to 40 knots you really are living on the edge and objectives are to keep the boat in one piece.
Behind, the oldies in the next group have been experiencing lighter winds around the southern perimeter of the high to the east of New Zealand. Leader of this group, Jean le Cam on SynerCiel, has continued on his northerly track towards the Pacific West icegate, the western end of which is still 750 miles away.
Behind le Cam, Mike Golding on Gamesa and Dominique Wavre on Mirabaud have gybed north heading for the New Zealand icegate, but this has taken them into lighter winds. Gamesa as just crossed the icegate and will be ducking south again to stay in the stronger breeze.
This morning Golding reported: "It is just steady sailing just now. The wind is building again and coming round nicely but I am not entirely happy with how I optimised my route to the gate. I should have taken a bit more pain and gone more south, but it is hard not to point to the gate and go fast when you have the chance."
Dominique Wavre said yesterday: "The weather's nice here, I'm waiting for the right time to gybe. The moon is beautiful, but the sea is quite agitated. Mirabaud is doing great, and so is her skipper! I had time to check the boat, and everything's working fine, except maybe for a few bolts to screw tighter, nothing more. It's a very pleasant feeling. I'm getting closer to Mike Golding, and my southern route may help me to catch up with him, I'm very excited, it makes the situation even more interesting. It's going to be a tough fight once we round Cape Horn and sail in the Atlantic. It's great to have someone so close to compete against!"
Bernard Stamm on Cheminees Poujoulat remains at anchorage to the east of Dunedin, and as a result has plummeted to 10th place in the Vendee Globe. Stamm's team has indicated that their skipper is nearly ready to leave.
Stamm has been protested by the Race Committee, due to his going alongside a Russian survey vessel while Cheminees Poujoulat was sheltering in a tight anchorage in the Auckland Islands. When his anchor became stuck fast in the kelp beds in Sandy Bay, the refuge in the east of the Auckland Islands where he initially tried to make his first repairs, Stamm sought permission to lie alongside a Russian scientific survey vessel which was anchored in the same location. Now the exact way in which this operation was undertaken is under scrutiny by the Race Committee who have raised a protest which is now in front of the International Jury for hearing, which is under way. The race rules under Notice of Race 3.2 preclude any form of outside assistance. With very limited power Stamm will complete his repairs and then is expected to provide required information to the hearing.
Javier Sanso on Acciona 100% Eco-Powered is to the southwest of the high and looks set to continue in northwesterlies that will get him to the New Zealand icegate.
Yesterday the Spanish skipper recounted his trip aloft mid-Southern Ocean. "I finally went up the mast today, just before it got dark, with the main sail and fractional spinnaker up. The truth is that I was almost at the limit of my strength as there was quite a big swell, but I finally made it up to the first reef and was able to check the nylon part of the main sail track which had simply come unstuck from the track. There was nothing wrong with the rail and none of the screws had come out as I had imagined. It was simply a faulty part; the one I had already changed in the Canary Islands.
"Yesterday when I lowered the main sail the nylon part that goes inside the track and makes the friction when it goes up the rail was missing, so the aluminum from the track was rubbing against the aluminum from the rail. The nylon piece that was in the track didn't fit very well with the part I had changed in the Canaries, so I had to make something up and change the one that was there for the one I had already changed. I had to cut a pin with the radial saw and invent something that I hope will last.
"I would ideally now have been a lot further south but with this setback I had to come up a little higher to find better weather, so I am now sailing with lighter winds whilst everyone in front of me is full-on with 17 and 18 knots. This situation is frustrating but at least I am going in the right direction and will once again be able to sail faster."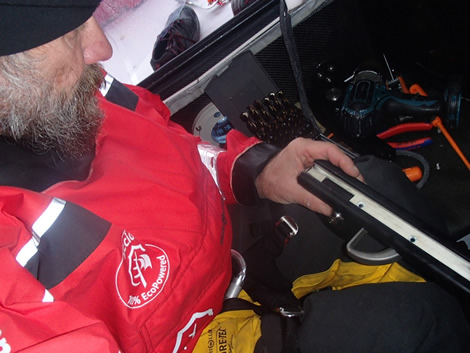 Back to top
Back to top