Vendee Globe: Leaders slow...briefly
Thursday December 27th 2012, Author:
James Boyd
, Location: none selected
To the south of a (relatively) small depression half way across the Southern Ocean en route to Cape Horn, MACIF and Banque Populaire have slowed allowing those behind to make small closures.
Image above courtesy of Expedition with GRIB files from Predictwind
Positions at 0800 UTC
Pos
Skipper
Boat
Lat
Long
Spd
Crs
VMG
Spd
Dist
DTF
DTL
1 hour aver
24hr aver
1
Armel Le Cléac'h
Banque Pop
54°10.06'S
122°39.53'W
11.6
135°
6.5
15.6
373.2
8982.6
0
2
François Gabart
MACIF
54°00.67'S
123°10.97'W
9.7
137°
5.4
15.6
374.8
8999.1
16.6
3
Jean-Pierre Dick
Virbac
49°08.52'S
138°26.06'W
17.7
100°
17.5
14.5
348.1
9598.8
616.2
4
Alex Thomson
Hugo Boss
50°28.59'S
147°33.26'W
19.4
83°
19.2
17.9
430.4
9965.3
982.7
5
Jean Le Cam
SynerCiel
49°34.36'S
173°17.60'W
14.6
94°
14.5
14.6
349.6
10944.8
1962.3
6
Mike

Golding
Gamesa
52°23.33'S
176°46.88'E
16.3
101°
16.1
14.8
355.8
11295.5
2312.9
7
Dominique Wavre
Mirabaud
53°34.38'S
175°35.92'E
14.7
95°
14.5
14.9
358.2
11339.5
2356.9
8
Bernard Stamm
Cheminees
45°52.78'S
170°42.51'E
0
90°
0
0.3
7.4
11625
2642.4
9
Javier Sanso
Acciona
51°14.39'S
167°07.00'E
9.4
86°
9.1
11.9
286.5
11656.9
2674.3
10
Arnaud

Boissières
Akena Verandas
53°16.94'S
157°29.44'E
22
91°
21.7
17.7
425.1
11985.3
3002.7
11
Bertrand De Broc
Votre nom
49°04.91'S
143°08.39'E
15.6
90°
14.3
14.6
351.5
12573.6
3591
12
Tanguy

Delamotte
Initiatives Coeur
49°39.97'S
132°47.46'E
15.1
96°
15.1
16
383.5
12930.4
3947.8
13
Alessandro Di Benedetto
Team Plastique
47°04.87'S
113°36.89'E
14.1
94°
13.6
16
383.4
13707.4
4724.8
RET
Vincent

Riou
PRB
Damage to hull and lower shroud after collision with drifting buoy (24 Nov)
RET
Zbigniew Gutowski

Energa
Autopilot failure (21 Nov)
RET
Jérémie Beyou
Maitre CoQ
Broken hydraulic ram (19 Nov)
RET
Sam Davies
Saveol
Dismasted (15 Nov)
RET
Louis Burton
Bureau Vallee
Rammed by a fishing boat, rigging damage (14 Nov)
RET
Kito de Pavant
Groupe Bel
Rammed by a fishing boat, hull damage (12 Nov)
RET
Marc Guillemot
Safran
Titanium keel broke (10 Nov)
The wind has backed into the southwest and dropped for the lead duo, but those astern will be cursing that this downturn in their usually blistering performance is only going to be brief as the northwesterlies ahead of the next depression catch up with them in the next few hours.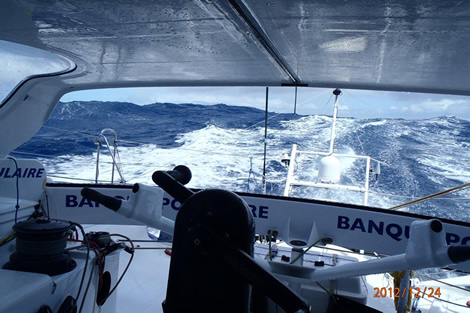 Both MACIF and Banque Populaire have dropped a long way south of the great circle to the next icegate and with the arrival of the new breeze the boats will gybe on to port to lay it. The western end of the Pacific East icegate is currently 473 miles away for race leader Banque Populaire. They look set to stay in these northwesterlies most of the way to Cape Horn. While there is an uncharacteristic area of high pressure setting up over the tip of South America over the weekend, this is forecast to have mostly dissolved off the north by the time Banque Populaire and MACIF arrive there early next week, yet another example of the leaders 'getting lucky' with the weather.
Third placed Virbac Paprec 3 is already riding the northwestlies the leaders are awaiting. At around 0400 this morning she passed the Pacific West icegate and has since turned her bow south. Unlike the race leaders, who crossed this icegate at its western end, Virbac has crossed half way along the gate and this will leave her track towards the next gate to the north of that of the race leaders.
Among the front runners the boat to recoup the most miles on the race leaders over the last 24 hours has been Hugo Boss, down from 1076 miles to 982 at the latest sched. Hugo Boss has also taken 80 miles out of her deficit on Virbac, now down to 366 miles. Like Virbac, Hugo Boss is on course to cross the eastern part of the Pacific East icegate. While the GRIB files indicate that Hugo Boss should have dropped into lighter winds, this doesn't appear to be the case in reality with Hugo Boss recording the highest speed among the frontrunners. Hugo Boss looks set to stay in the strong breeze over the weekend with the front catching up with her over the weekend at some point causing the wind to back into the southwest.
Among 'the oldies' two games are playing out. Leader, Jean le Cam on SynerCiel, is way up to the north at 49°S while Mike Golding on Gamesa and Dominique Wavere on Mirabaud are considerably further south at 52 and 53°S. Le Cam is currently to the north of the New Zealand icegate. With the area of high pressure off to the east of South Island shifting east over the next 24 hours, so it is likely he will start heading southeast again as Golding and Wavre are waiting for the wind to veer into the northwest allowing them to gybe up to cross the gate (currently to their northeast). Both Gamesa and Mirabaud have closed a little on SynerCiel over the last 24 hours with Gamesa down from being 381 miles behind to 350 at the last sched.
Over the last 24 hours Gamesa and Mirabaud have both overtaken Bernard Stamm's Cheminees Poujoulat, which is still moored off Dunedin on the east coast of New Zealand's south island. Stamm is not having much luck with the weather to enable him to carry out repair work and been forced to change anchorage once again in building northeasterly winds and swell, moving from Murdering Beach to between Allan's Beach and Wharekakahu Island to the east of Dunedin.
Stamm has been the subject of considerable local interest, steadfastly refusing all offers of food, drink and any kind of outside assistance that would break Vendée Globe race rules. He was interviewed by 3News and The Otago Daily Times which reported their encounter with the Swiss skipper: "When asked if he had had a shower since his departure, he shook his head and pointed to the sea before making scrubbing motions. He often dreamed of having a cold beer. He said: ''A beer would be nice now, but it would taste better at the end.'
"Being at sea alone was lonely at times, but he was grateful he could communicate via his laptop with his wife and two children. However, the damaged hydro-generator meant he has had to cut back on the amount of communication with his family. He was looking forward to finishing the repairs so he could make contact with them more often. He hoped to be back on the high seas some time today, he said."
Behind Javier Sanso on Acciona 100% Eco Powered is currently due south of New Zealand on the opposite tack to Gamesa and Mirabaud.
Sanso faces another mast climb after discovering this morning that his mainsail track is, he believes, damaged again. He reported that he can move the mainsail headboard car but it will not go up to full hoist. So he must sail temporarily with one reef and will wait for first light Wednesday morning (local) to make the climb and try to make a repair.
"It is stuck at the first reef and so I have to go up the mast again." Sanso explained, " I can lower the sail if I need to, but I cannot hoist it to full main. Something is stuck up there. Hopefully it is not the track again, so I don't know. I will have to go up tomorrow and check. It was starting to get dark last night when I realised there was a problem, and then this morning when I was going to go for full main with the wind down to 20-21kts I could not get it up to full main. It would go up but it would slide. There is a problem up there."
Behind it is Arnaud Boissieres (in festive mood below) on Akena Verandas that is eating up the miles and has been the fastest boat across the entire fleet over the last four hours.
Back to top
Back to top