Vendee Globe: Leaders mid-Pacific
Wednesday December 26th 2012, Author:
James Boyd
, Location: none selected
Over Christmas Day the leaders in the Vendee Globe have passed the Pacific West with Armel le Cleac'h on Banque Populaire retaking first place. They have also once again been piling on the miles over those following them as Bernard Stamm has been forced to leave the Auckland Islands and find shelter in New Zealand to effect repairs to Cheminees Poujoulat.
Image above courtesy of Expedition with GRIB files from Predictwind
Positions at 0800 UTC
Pos
Skipper
Boat
Lat
Long
Spd
Crs
VMG
Spd
Dist
DTF
DTL
1 hour aver
24hr aver
1
Armel Le Cléac'h
Banque Pop
51°20.02'S
131°49.12'W
18.6
109°
18.4
18.9
452.7
9318.8
0
2
François Gabart
MACIF
50°50.71'S
132°01.66'W
18
117°
17.4
18.4
442.6
9332.8
14
3
Jean-Pierre Dick
Virbac
50°06.70'S
147°16.18'W
4.2
96°
3.9
12.7
304
9948.8
630
4
Alex Thomson
Hugo Boss
51°45.01'S
158°48.73'W
15
81°
15
13.3
320.3
10395.7
1076.9
5
Jean Le Cam
SynerCiel
50°53.78'S
177°49.83'E
15.6
84°
15
12.5
300
11267.9
1949
6
Bernard Stamm
Cheminees
45°45.40'S
170°41.08'E
0.1
332°
0
6.4
154.1
11628.7
2309.9
7
Mike

Golding
Gamesa
51°35.39'S
167°13.91'E
15.7
108°
15.5
15.7
376.8
11649.2
2330.4
8
Dominique Wavre
Mirabaud
51°37.71'S
166°17.78'E
15.5
113°
15
15.6
373.9
11683.4
2364.6
9
Javier Sanso
Acciona
52°44.08'S
159°44.93'E
13
69°
11.2
14.7
351.8
11910.4
2591.6
10
Arnaud

Boissières
Akena Verandas
51°23.29'S
146°18.19'E
17.2
102°
17.1
14.8
355
12410.3
3091.5
11
Bertrand De Broc
Votre nom
49°12.47'S
134°10.90'E
16.5
86°
14.3
15.9
380.9
12888.9
3570.1
12
Tanguy

Delamotte
Initiatives Coeur
48°56.55'S
123°02.73'E
15.2
136°
12.7
13
311.2
13313
3994.2
13
Alessandro Di Benedetto
Team Plastique
46°09.14'S
104°24.22'E
16
85°
15.3
13.8
331.1
14089.1
4770.2
RET
Vincent

Riou
PRB
Damage to hull and lower shroud after collision with drifting buoy (24 Nov)
RET
Zbigniew Gutowski

Energa
Autopilot failure (21 Nov)
RET
Jérémie Beyou
Maitre CoQ
Broken hydraulic ram (19 Nov)
RET
Sam Davies
Saveol
Dismasted (15 Nov)
RET
Louis Burton
Bureau Vallee
Rammed by a fishing boat, rigging damage (14 Nov)
RET
Kito de Pavant
Groupe Bel
Rammed by a fishing boat, hull damage (12 Nov)
RET
Marc Guillemot
Safran
Titanium keel broke (10 Nov)
In the early hours of Christmas Day (UTC) the leaders passed the western end of the Pacific West icegate and helped by the front passing them and the wind backing into the west, so they have turned their bows south again. Going into Christmas Day so Armel le Cleac'h on Banque Populaire regained the lead but they and Francois Gabart on her sistership MACIF remain as close as ever with MACIF just 14 miles behind.
The lead duo is now half way across the Paciific with Banque Populaire having 2227 miles to go until she reaches Cape Horn. Before then they have to pass north of the Pacific East ice gate, the western end of which is 809 miles from Banque Pop at the latest sched.
Yesterday Francois Gabart reported: "Merry Christmas! I'm fine. It's dark night outside. It's a little complicated but I'm still sailing fast so I won't complain. I didn't see Armel passing in front of me.The game is still great. I believe the gates bring more technical things and increase the strategy. The weather conditions are still interesting."
As the leaders charge off into the distance, so Jean-Pierre Dick on Virbac-Paprec 3 has been caught in a ridge causing his speed to plummet to just 4.2 knots. Over the last 48 hours Dick has made substantial gains and losses, from 521 miles behind on Christmas, closing to 468 yesterday morning but back up to 630 this morning and with more losses on the card. At present Virbac Paprec 3 is 110 miles southwest of the west end of the Pacific West ice gate.
Yesterday Dick reported: "There is still some wind, but less than a few hours ago. It's dark night outside. Things come and go. I manage to come back a bit.I don't think we'll get to Cape Horn together at the same time. My objective is to arrive 200 miles after the first ones. I thing I still have a card to play. I hope I'll be able to play it, either in the Pacific or in the Atlantic. I could call my family yesterday. It was great even if here it's not exactly what you can hope for at Christmas. I dont see much wildlife But I have seen dolphins and even a whale which almost touched my boat."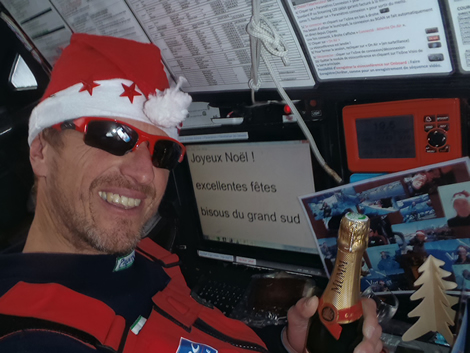 In fourth place, Alex Thomson and Hugo Boss is making solid progress and is for a good day as the northwesterlies fill in ahead of the next front. At present Hugo Boss is 552 miles from the western end of the Pacific West icegate.
Unable to carry out composite repairwork in the incessant rain Poor Bernard Stamm on Cheminees Pouloujat has been forced to up anchor in the Auckland and head for cover in Kaikai Bay, just to the north of Dunedin New Zealand 350 miles north to make repairs to his hydrogenerator. He dropped anchor at 0100 UTC this morning in a sheltered location and with warmer temperatures to be certain that the resin he is using will go off.
As a result lead 'oldie' Jean le Cam on SynerCiel pulled into fifth place at 1100 yesterday. Le Cam is just about to pass north of the New Zealand icegate and is making good progress ahead of the principle cold front associated with the depression due south of New Zealand.
Behind Mike Golding on Gamesa, with Dominique Wavre on Mirabaud close behind, has just passed south of Auckland Island. Over the last 24 hours Gamesa has closed from being 458 miles behind le Cam to 381 at the latest sched. This morning Golding reported: "I feel like I am out of the system a bit now which is good because it was pretty fruity at times with the squalls. I had more than 40 knots at one time with the A7 and two reefs and that was quite exciting. So it is difficult to set up for them, because in fact they represent something like 1% of the time and so you cannot set your sails for them or you are slowed all the time. And the seas are very big. You need the power. If you are underpowered and going slow then you are just carried by the waves and lose control.
"I have just past the Auckland Islands which are about 15 miles to the north and will pass Campbell Island to the south. I'm watching to see what happens with Bernard Stamm. He is going to a lot of effort to get things sorted, so he must feel he has a good chance of doing so. And he will come out with a lot of fire in his belly. With that boat he will always be a threat, though if we can get to the Atlantic ahead [of him] then I'd like to think we'd have a good chance.
"It is interesting to see the talk of the leaders finishing in under 80 days. It is fast and even here it feels fast. I was looking at it and if I can be at Cape Horn in ten days then that is pretty fast. And there can be some serious compression in the Atlantic. If the leaders get around into headwinds and we are approaching from the west at speed, that could be good. But it does feel fast. It feels like I am just starting to get used to being down here and it will be time to go north again. But in saying that I can't wait for Cape Horn."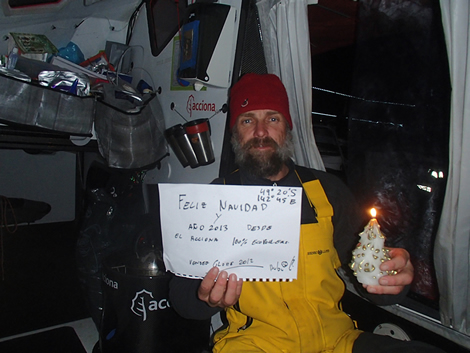 Javier Sanso on Acciona 100% Eco Powered is currently 261 miles astern of Golding and has gybed back to the north to line up for making the New Zealand icegate.
To the south of Tasmania, 10th placed Arnaud Boissieres on Akena Verandas has passed the Australia East icegate and is enjoying the strong northwesterlies ahead of the next depression on the conveyor (two systems back from the leaders). In the same northwesterlies, but further back Bernard de Broc on Votre Nom Autour du Monde is approaching the western end of the Australia East icegate with Tanguy de LaMotte on Initiatives Coeur 424 miles behind him in big breeze behind the front. Bringing up the rear, Italian Alessandro di Benedetto on Team Plastique has just crossed the Australia West icegate. Di Benedetto is currently 4770 miles behind the leaders, ie around the breadth of the Pacific...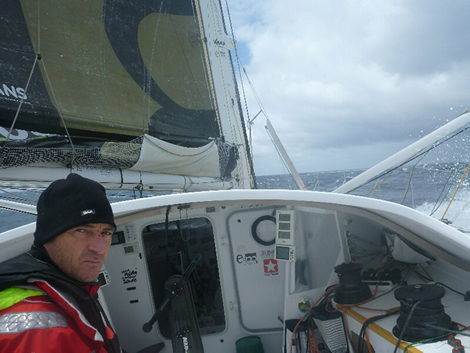 Back to top
Back to top