Vendee Globe: Jean-Pierre Dick on a charge
Sunday December 23rd 2012, Author:
James Boyd
, Location: none selected
In the strong northwesterlies ahead of a secondary depression and manoeuvring less, Jean-Pierre Dick on Virbac Paprec 3 has been making significant inroads into the two race leaders over the last 24 hours.
Image above courtesy of Expedition with GRIB files from Predictwind
Positions at 0800 UTC
Pos
Skipper
Boat
Lat
Long
Spd
Crs
VMG
Spd
Dist
DTF
DTL
1 hour aver
24hr aver
1
François Gabart
MACIF
52°52.19'S
164°01.46'W
16
80°
15.8
12.8
308
10589.9
0
2
Armel Le Cléac'h
Banque Pop
52°29.46'S
164°13.75'W
16.7
74°
16.1
13.2
317.6
10596.9
6.9
3
Jean-Pierre Dick
Virbac
50°29.41'S
175°31.95'W
20.1
75°
18.6
19.6
469.4
11022.3
432.4
4
Alex Thomson
Hugo Boss
52°21.12'S
172°58.97'E
17.1
122°
14.2
14.4
346.1
11434.4
844.4
5
Bernard Stamm
Cheminees
50°30.11'S
166°16.91'E
0
90°
0
6.4
153.1
11697.5
1107.6
6
Jean Le Cam
SynerCiel
49°10.91'S
151°15.02'E
14.1
90°
13.3
16.5
395.4
12276.1
1686.1
7
Mike

Golding
Gamesa
47°08.84'S
144°30.16'E
19.5
107°
19.2
12.6
308.1
12572.1
1982.2
8
Dominique Wavre
Mirabaud
47°25.12'S
142°08.06'E
12.5
85°
10.6
13.1
315.4
12652.5
2062.5
9
Javier Sanso
Acciona
45°52.48'S
139°06.63'E
11.3
124°
11.2
10.2
244.9
12805.3
2215.4
10
Arnaud

Boissières
Akena Verandas
47°01.46'S
120°56.37'E
16.6
88°
15.2
15.1
362.9
13428
2838.1
11
Bertrand De Broc
Votre nom
46°44.78'S
109°05.99'E
11.3
119°
11.2
12.5
300
13888.2
3298.3
12
Tanguy

Delamotte
Initiatives Coeur
45°42.08'S
101°42.72'E
11.9
71°
9.4
8.7
209.6
14196.5
3606.5
13
Alessandro Di Benedetto
Team Plastique
39°57.74'S
82°56.56'E
12.2
77°
9.1
14.3
343.4
15088.4
4498.5
RET
Vincent

Riou
PRB
Damage to hull and lower shroud after collision with drifting buoy (24 Nov)
RET
Zbigniew Gutowski

Energa
Autopilot failure (21 Nov)
RET
Jérémie Beyou
Maitre CoQ
Broken hydraulic ram (19 Nov)
RET
Sam Davies
Saveol
Dismasted (15 Nov)
RET
Louis Burton
Bureau Vallee
Rammed by a fishing boat, rigging damage (14 Nov)
RET
Kito de Pavant
Groupe Bel
Rammed by a fishing boat, hull damage (12 Nov)
RET
Marc Guillemot
Safran
Titanium keel broke (10 Nov)
Banque Populaire crossed the New Zealand ice gate yesterday morning at 0600 UTC yesterday morning, followed by MACIF at around 0900, second placed Armel le Cleac'h reaching it first by virtue of being to the northwest of the race leader. The duo then immediately gybed back to the southeast with Banque Pop gybing back to the ENE at around 1430 with MACIF making the same manoeuvre later at around 1800. Both boats are further ahead of the depression than Virbac Paprec 3 so are in lighter winds, but this situation will change as the depression catches up with them over the course of today. As ever MACIF seems able to sail lower than Banque Populaire, a distinct advantage in the Southern Ocean westerlies.
They are now heading for the next icegate which will again take them north, the Pacific West icegate having been moved up to 49°S.
But at present Virbac Paprec 3 is riding the express train, currently the fastest across the fleet, having averaged more than 20 knots over the last four hours compared to the lead duo's 17. Over the last 24 hours Dick has reduced his deficit on the leaders by 129 miles thanks to the bigger conditions he's been enjoying, but also because he hasn't put a hitch in to the south that the leaders have. At present Virbac-Paprec 3 is still ahead of the front but when it passes him the later today and the wind backs into the southwest he'll take the opportunity to gybe southeast. Finally Dick is 'in sync' with the weather after making huge losses to the leaders when he was nailed by the high to the south of Australia last week.
Alex Thomson on Hugo Boss will have been eyeing up Bernard Stamm's move to stop in the Auckland Islands to effect repairs to Cheminees Poujoulat, for he too has similar problems with his hydrogenerators. However the British skipper will be enjoying the opportunity to put some miles on his rival. Hugo Boss is now in the southwesterlies behind the front Jean-Pierre Dick is riding and is 260 miles west of the western end of the New Zealand ice gate. Thomson is likely to err to the south over the next 24 hours as although he has to cross the icegate, the high off the east coast of New Zealand's South Island is forecast to shift south (as it did for the race leaders, but not for Dick) so like them he will be targeting the eastern end of the ice gate.
Yesterday he reported: "The 24 hours prior to that were really quite tough. The sea has been rough and disorganised with strong gusting winds of around 30 knots or so. I hardly slept at all and was exhausted. Today things are still pretty rough, but a bit more manageable and I got a bit of rest and am feeling a lot better. It looks like the winds should die down quite a bit from tomorrow.
"The boat has been going fast and I am happy to have put some more miles between myself and the group of boats behind me so I am now over 1000 miles ahead. I have also started to pull out some miles on Bernard Stamm. It is easy in these situations to get sucked into racing with the guy next to you and forgetting about the bigger picture so I am concentrating on sailing my own race. I passed the half way mark of this race at 4.28am (GMT) on 21 December, so there is still a very long way to go!"
Behind them, Jean le Cam and SynerCiel have been on the ascent among 'the oldies'. Le Cam has passed the Australia East ice gate and is currently south of the Tasman Sea between Australia and New Zealand. He has made substantial gains on those chasing him over the last 24 hours - his lead over Mike Golding on Gamesa up from 193 miles yesterday at 0800 to 296 at the same time today. However at present it is Golding who is substantially the fastest of this group having averaged 18.3 knots to Le Cam's 15.8 over the last 4 hours. Golding is trying to keep his pedal to the metal to stay ahead of the front for as long as he can as this will enable him to put more miles on Dominique Wavre's Mirabaud and Javier Sanso's Acciona 100% Eco Powered which have both fallen into the lighter southwesterlies behind the front.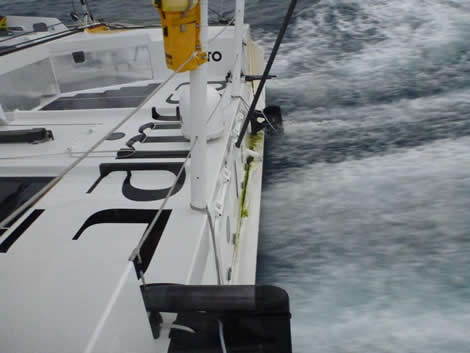 Back to top
Back to top