Vendee Globe: Le Cleac'h regains the lead
Tuesday December 18th 2012, Author:
James Boyd
, Location: none selected
In the match race for the lead of the Vendee Globe, Armel le Cleac'h on Banque Populaire has managed to sail a little lower than Francois Gabart on MACIF and in doing so has regained the lead of the race. Overnight both the VPLP-Verdier sisterships have cruised through the Australia East ice gate to the south of Tasmania and, perhaps surprisingly, from there have continued on on port gybe.
Image above courtesy of Expedition with GRIB files from Predictwind
Positions at 0800 UTC
Pos
Skipper
Boat
Lat
Long
Spd
Crs
VMG
Spd
Dist
DTF
DTL
1 hour aver
24hr aver
1
Armel Le Cléac'h
Banque Pop
49°42.98'S
146°51.94'E
16.1
72°
12.4
16.7
401.8
12424.7
0
2
François Gabart
MACIF
49°03.95'S
146°45.71'E
16.3
66°
11.3
16.5
395.9
12443.2
18.5
3
Jean-Pierre Dick
Virbac
52°37.51'S
136°31.34'E
15.5
47°
14
15.6
375.6
12836.6
411.8
4
Alex Thomson
Hugo Boss
43°26.54'S
127°54.95'E
16.2
124°
16.2
12.2
292.6
13288.1
863.4
5
Bernard Stamm
Cheminees
42°41.02'S
127°19.72'E
18.2
126°
18.2
12.5
300.8
13335.3
910.6
6
Jean Le Cam
SynerCiel
46°07.20'S
108°54.27'E
15.7
82°
13.6
16
385.1
13909.3
1484.6
7
Mike

Golding
Gamesa
45°28.57'S
104°21.82'E
10.5
119°
10.5
14.6
349.7
14099.4
1674.7
8
Dominique Wavre
Mirabaud
44°47.95'S
99°55.07'E
14.9
79°
12.1
13.4
321.9
14287.6
1862.9
9
Javier Sanso
Acciona
45°19.41'S
96°04.93'E
14.8
101°
14.8
13.4
322.1
14432.5
2007.8
10
Arnaud

Boissières
Akena Verandas
41°33.17'S
85°25.23'E
15.3
92°
14
15.5
373.2
14944.7
2519.9
11
Bertrand De Broc
Votre nom
38°06.37'S
76°41.65'E
12.2
84°
9.9
13.7
329.7
15396.5
2971.7
12
Tanguy

Delamotte
Initiatives Coeur
39°58.97'S
69°44.31'E
16.3
94°
16.3
15.1
361.9
15663.6
3238.9
13
Alessandro Di Benedetto
Team Plastique
40°25.09'S
55°14.02'E
7.6
116°
7.1
12.3
296
16325.1
3900.3
RET
Vincent

Riou
PRB
Damage to hull and lower shroud after collision with drifting buoy (24 Nov)
RET
Zbigniew Gutowski

Energa
Autopilot failure (21 Nov)
RET
Jérémie Beyou
Maitre CoQ
Broken hydraulic ram (19 Nov)
RET
Sam Davies
Saveol
Dismasted (15 Nov)
RET
Louis Burton
Bureau Vallee
Rammed by a fishing boat, rigging damage (14 Nov)
RET
Kito de Pavant
Groupe Bel
Rammed by a fishing boat, hull damage (12 Nov)
RET
Marc Guillemot
Safran
Titanium keel broke (10 Nov)
Some north-south separation has developed between the two leaders following their gybe north for the icegate yesterday morning. To the north MACIF was first to cross the Australia East ice gate late yesterday evening at which time Banque Populaire was some 33 miles to her south. Since then the boats have continued to diverge (their north-south separation now up to 38 miles), le Cleac'h seemingly able to sail a couple of degrees lower and making better VMG than his rival in the process.
The lead duo are still making good progress in the 25 knot westerlies to the north of the depression they have been riding since the middle of last week. Rather than diving back into the depths of the Southern Ocean having passed the icegate, both boats are continuing northeast on port gybe. This is because over the next 48 hours the depression is forecast to remain static while another depression to the north of it heads east and they are currently lining up to pick up the strong northwesterlies ahead of this which they will then ride to the next ice gate southeast of New Zealand.
This latter depression is the one which Alex Thomson on Hugo Boss and Bernard Stamm on Cheminees Poujoulat have picked up overnight, after a day spent waiting for it to arrive. They are now recording the highest speeds in the fleet and most importantly are making substantially better VMG than the race leaders, which should enable them to claw back some miles on them. Unfortunately the forecast has this depression moving east too fast for them to remain in the northwesterlies ahead of it (it's centre will be some 820 miles ESE of its present position by tomorrow morning at 0800 UTC and a further 670 miles to the southeast come Thursday 0800) but at least they should be able to remain in solid breeze until the weekend, with the psychological benefit that they will once again be riding the same system as the race leaders.
Meanwhile between them Jean-Pierre Dick on Virbac Paprec 3 is shortly to gybe north for the Australia East ice gate, following much the same track as the leaders. Unfortunately he has managed to get out of sync with the systems and as he approaches the gate tonight is going to find the wind veering into the northeast, bang on the nose for him. In fact the depression could pass directly over the top of him tomorrow morning.
Behind them, 'the oldies' are now to the north of the Australia West ice gate with all but Jean le Cam on SynerCiel having fallen off the back of the depression to their east. With le Cam keeping the breeze for longer he has managed to increase his advantage over Mike Golding's Gamesa by 33 miles over the last 24 hours, now up to 190. However behind Domnique Wavre on Mirabaud and Javier Sanso on Acciona 100% Eco Powered have lost more.
After a frenetic 48 hours in big winds and fierce cross seas, Golding is feeling split between disappointment and a measure of relief that he has had a chance to carry out a thorough boat check on Gamesa. "The thing is just now is that it looks like Jean Le Cam will be able to hold on to the system for two or three more skeds, I have just run his routing and that's how it looks. That is frustrating, but I can't do anything about it. I am under full main and Code 3, but at some point I hope there'll be a payback.
"Last night was pretty full on at times. I had the boat up to 30 knots on the surfs at one stage but the only trouble is you end up slamming into waves and that's not good for the boat. So now I have started to go around the deck and everything is OK. The windex at the top of the mast has slid around a bit, bit otherwise everything seems fine.
"It's interesting because one of the reasons the rig came down four years ago was that the runner tail slipped [the running back stay was ripped from the winch by a massive sudden 55kts gust]. I am now very careful putting a safety turn on and tying it off, but last night the runner ended up fully bar tight. Last time the rope cover was burned and here it has happened again. You live and learn.
"Meantime it is starting to feel pretty frustrating because we just never seem to have got going for any length of time. The weather behind is pretty slack. We will just have to look forward to the Pacific."
Snow on board MACIF: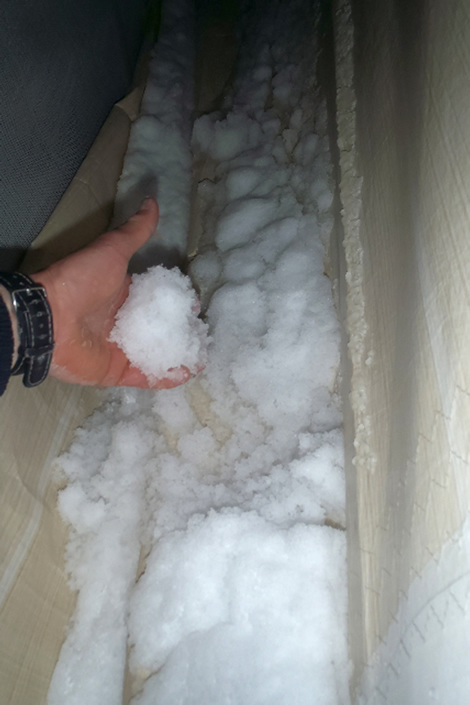 Back to top
Back to top