Vendee Globe: Leaders divide
Thursday December 13th 2012, Author:
James Boyd
, Location: none selected
An area of high pressure has split the lead group in the Vendee Globe. While the lead duo remain stuck together like glue, Alex Thomson on Hugo Boss bailed to the east early, a move that appears to have paid off as overnight he's taken fourth place off Bernard Stamm on Cheminees Poujoulat.
Image above courtesy of Expedition with GRIB files from Predictwind
Positions at 0800 UTC
Pos
Skiper
Boat
Lat
Long
Spd
Crs
VMG
Spd
Dist
DTF
DTL
1 hour aver
24hr aver
1
François Gabart
MACIF
44°56.51'S
98°07.00'E
116°
19
18.8
17.4
417.2
14253.4
0
2
Armel Le Cléac'h
Banque Pop
44°57.49'S
98°01.61'E
120°
18
17.6
17.9
430.1
14256.7
3.3
3
Jean-Pierre Dick
Virbac
45°01.78'S
95°06.95'E
115°
11.8
11.5
15.5
373
14374.8
121.4
4
Alex Thomson
Hugo Boss
39°38.84'S
94°04.55'E
92°
14.5
12.3
15.6
373.6
14564.2
310.8
5
Bernard Stamm
Cheminees
41°15.60'S
91°35.54'E
42°
11
2
10.3
246.8
14608.1
354.7
6
Jean Le Cam
SynerCiel
38°09.67'S
75°34.48'E
121°
11
11
9.4
225.8
15339.1
1085.7
7
Mike

Golding
Gamesa
36°15.45'S
75°26.98'E
91°
2.9
2.5
7.3
175.5
15404.6
1151.2
8
Dominique Wavre
Mirabaud
37°29.46'S
69°11.09'E
65°
3.6
2.3
4.7
111.6
15623.9
1370.5
9
Javier Sanso
Acciona
40°16.52'S
59°45.56'E
74°
10.1
9.5
15.9
380.9
16018.3
1764.9
10
Arnaud

Boissières
Akena Verandas
39°33.05'S
51°36.86'E
114°
13.7
13.3
13.6
326.8
16395.5
2142.1
11
Bertrand De Broc
Votre nom
42°14.14'S
43°25.75'E
63°
14.5
14.4
12.5
300.2
16831.8
2578.4
12
Tanguy

Delamotte
Initiatives Coeur
41°24.98'S
37°06.79'E
51°
12.7
11.1
11.2
268.1
17082.6
2829.3
13
Alessandro Di Benedetto
Team Plastique
43°07.55'S
22°31.29'E
72°
15.2
14.6
11.8
282.3
17736.8
3483.4
RET
Vincent

Riou
PRB
Damage to hull and lower shroud after collision with drifting buoy (24 Nov)
RET
Zbigniew Gutowski

Energa
Autopilot failure (21 Nov)
RET
Jérémie Beyou
Maitre CoQ
Broken hydraulic ram (19 Nov)
RET
Sam Davies
Saveol
Dismasted (15 Nov)
RET
Louis Burton
Bureau Vallee
Rammed by a fishing boat, rigging damage (14 Nov)
RET
Kito de Pavant
Groupe Bel
Rammed by a fishing boat, hull damage (12 Nov)
RET
Marc Guillemot
Safran
Titanium keel broke (10 Nov)
The biggest shake-up among the Vendee Globe frontrunners is currently taking place as a bubble of high pressure has filled in astern of the top five.
This scenario has greatly benefitted the lead duo of Francois Gabart on MACIF and Armel le Cleac'h on Banque Populaire, separated by just three miles at the latest sched, le Cleac'h having recovered his deficit on Gabart overnight (UTC). They have continued to pack miles on the whole Vendee Globe fleet over the last day. During this time the front they were ahead of yesterday morning has crossed them and the wind backed into the southwest but still blowing 20 knots. MACIF currently has 215 miles to go before she reaches the western end of the next ice gate.
Anticipating the onset of the high 48 hours ago, Alex Thomson on Hugo Boss wisely took avoiding action and is currently attempting with some success to sail between the two highs. While the leaders are heading southeast, Hugo Boss is on a due east course and as a result some 320 miles of separation has developed between the Hugo Boss' track and the two leaders.
However the boats between Thomson and the leaders are now suffering in the high. The high is catching third-placed Jean-Pierre Dick on Virbac Paprec 3, who's boat speed is down to 12 knots, compared to 18-19 for the lead duo. Bernard Stamm on Cheminees Poujoulat has been fully nailed by the high that is currently forming a SW-NE roadblock ahead of him. As a result Stamm has turned on to a northeasterly course towards Hugo Boss.
By this evening the lead duo will be on the final approach to the western end of the icegate with the southwesterlies having dropped to 15-20 knots, while the wind will be down to around 10 for Virbac. Meanwhile Thomson and Stamm are set to be making progress east in 15 knot northwesterlies.
By tomorrow morning the ridge is forecast to extend all the way to the northeast so that it is blocking the path of Alex Thomson and Bernard Stamm east. So they look set to be in for a light Friday before they pick up the strong northwesterlies ahead of the remnants of Cyclone Claudia which should allow them to once again regain some ground on the front runners. This should also provide them with an opportunity to get south.
This morning Thomson reported: "Overnight I have had very stable winds from the NE and it continues this morning with relatively flat water. Despite losing miles to the leaders I welcome the chance to go on deck without full wet weather gear, do my checks and hopefully get some repairs done today. I would like to try and get some laminate on the rudder cassette today but currently I have some rain so will have to wait until it is dry.

"My easterly route for the short term has proved to be correct with Stamm being overtaken by the ridge of high pressure and having to turn to follow my route. My plan is still the same, try and hook up with Claudia and head SE as quick as possible. The weather models are in agreement on the whole but some details are not the same and so I have to keep a careful eye on proceedings and adjust my course accordingly.

"I feel like normal now after getting a lot of rest over the last few days and managing to eat more than normal. I need to take the opportunity while the conditions are benign to get on with the jobs."
The second wave, 'the oldies', are currently due south of Claudia experiencing the 'calm before the storm'. There's currently 113 miles of north-south separation between Mike Golding on Gamesa and Jean le Cam on SynerCiel, the British skipper heading north in an attempt to reach the new breeze first. While Golding would very much have liked to get on to the favourable east side of the Claudia, this doesn't look like it is going to happen and it is possible that the system could pass straight over him.
This morning Golding reported: "It was going okay and I thought I had got through okay, but now the breeze has dropped completely and I am stuck. Until something changes I am stuck here. The frustrating thing is I can almost see the new breeze ahead, it is that close, I just cant get there. It is a huge disadvantage. My worry is Jean Le Cam will now step away as he can get back to the wind to the south of him and get back on starboard. It has been tough. The routing has changed all the time. My only hope is Jean has stopped and the north works."
Thankfully Claudia is moving extremely fast - from its present position it is forecast to head south so that her centre is 100 miles due north of Golding by 2000 tonight, then shifting a further 360 miles to the southeast by 0800 tomorrow and by a similar distance over the next 12 hours by which time its centre will be due west of Thomson and Stamm.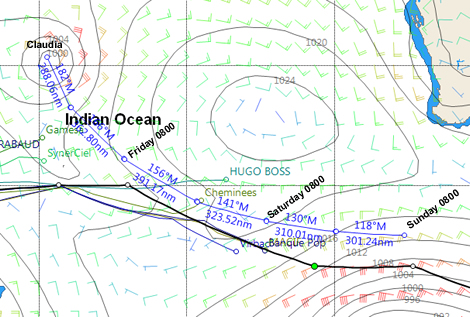 Behind them all the boats are making solid progress in more conventional Southern Ocean westerlies. Impressively in DTF terms, ninth placed Javier Sanso on Acciona 100% Eco Powered has recovered almost 400 miles on Dominique Wavre's eighth placed Mirabaud, the latter having come to a near stand still in the high. Arnaud Boissieres on Akena Verandas has passed the eastern end of the Crozet icegate as behind him Bernard de Broc on Votre Nom Autour du Monte and Tanguy de LaMotte on Initiatives Coeur are both on port gybe heading northeast for that icegate.
Back to top
Back to top