Vendee Globe: Big speeds continue for race leaders
Wednesday December 12th 2012, Author:
James Boyd
, Location: none selected
While they may not be making the 20+ knot average speeds of 48 hours ago, the leaders in the Vendee Globe continue to eat up the miles in the middle of the Indian Ocean segment of the Southern Ocean. Meanwhile in an attempt to stay with the front wave (and we hope it is not for any other reasons) Alex Thomson on Hugo Boss has speared off to the east.
Image above courtesy of Expedition with GRIB files from Predictwind
Positions at 0800 UTC
Pos
Skipper
Boat
Lat
Long
Spd
Crs
VMG
Spd
Dist
DTF
DTL
1 hour aver
24hr aver
1
François Gabart
MACIF
42°37.01'S
89°02.06'E
20.1
104°
19.8
19.5
468.8
14670.4
0
2
Armel Le Cléac'h
Banque Pop
42°26.40'S
88°44.14'E
20.1
100°
19.5
19
456.8
14686.8
16.4
3
Jean-Pierre Dick
Virbac
42°30.93'S
87°14.21'E
21.2
100°
20.7
19.5
469.2
14745.9
75.5
4
Bernard Stamm
Cheminees
41°46.81'S
86°08.56'E
19.9
102°
19.4
18.8
450.3
14808.2
137.8
5
Alex Thomson
Hugo Boss
40°12.58'S
85°59.13'E
20.9
88°
17.6
19.9
476.8
14858.5
188.1
6
Mike

Golding
Gamesa
37°03.66'S
71°56.65'E
11.3
67°
6.7
13.9
332.6
15521.3
850.9
7
Jean Le Cam
SynerCiel
38°33.92'S
70°48.13'E
9.5
70°
7.4
12.6
302.7
15528.9
858.5
8
Dominique Wavre
Mirabaud
37°46.80'S
66°51.85'E
7.5
77°
6.4
12.2
292.1
15720
1049.5
9
Javier Sanso
Acciona
40°37.14'S
51°25.61'E
11.3
103°
11.3
11.6
277.6
16395.1
1724.7
10
Arnaud

Boissières
Akena Verandas
40°27.31'S
44°35.98'E
17.8
72°
17.8
16.3
390.6
16739.2
2068.8
11
Bertrand De Broc
Votre nom
42°10.91'S
36°40.42'E
15.6
94°
14.9
15.1
363
17110.9
2440.5
12
Tanguy

Delamotte
Initiatives Coeur
42°36.02'S
31°18.74'E
14.2
98°
13.7
13.5
316.6
17349.1
2678.7
13
Alessandro Di Benedetto
Team Plastique
41°43.96'S
16°25.86'E
5.7
157°
2.7
6.6
158.4
18008.8
3338.4
RET
Vincent

Riou
PRB
Damage to hull and lower shroud after collision with drifting buoy (24 Nov)
RET
Zbigniew Gutowski

Energa
Autopilot failure (21 Nov)
RET
Jérémie Beyou
Maitre CoQ
Broken hydraulic ram (19 Nov)
RET
Sam Davies
Saveol
Dismasted (15 Nov)
RET
Louis Burton
Bureau Vallee
Rammed by a fishing boat, rigging damage (14 Nov)
RET
Kito de Pavant
Groupe Bel
Rammed by a fishing boat, hull damage (12 Nov)
RET
Marc Guillemot
Safran
Titanium keel broke (10 Nov)
The leaders continue to make speedy progress east ahead of the front as they head towards the next icegate southwest of Australia's Cape Leeuwin. Since yesterday morning Francois Gabart and MACIF have added a few miles to their lead over Armel le Cleac'h on Banque Populaire, but 16 miles so far into this singlehanded round the world race, could still fairly be described as a match race in oceanic terms. Not surprisingly we're back into an extension phase across the fleet with the leaders having made gains across all the other boats.
While the front four are continuing down a course heading for the eastern end of the next icegate (the western end of this is 632 miles away from MACIF at the latest sched), Alex Thomson on Hugo Boss has turned on to a course closer to due east. This is due to the rather scary weather scenario developing over the next 24 hours. Over the course of today (UTC) the area of high pressure currently to the south of 'the oldies' in the second wave is forecast to shift east, and by tomorrow morning has developed into a SW-NE orientated ridge crossing the breadth of the race course exactly where MACIF and Banque Populaire currently are. Unfortunately this looks set to entrap Hugo Boss, and presumably Thomson believes that his present easterly course the best to keep him in the breeze. However it will equate to a loss against the leaders who look set to ride the northwesterlies ahead of the front for longer.
Thomson explains his plans in his blog here
Meanwhile 'the oldies' in the second wave are once again having a torrid time, currently upwind to the north of the high. Some 80 miles of north-south separation has developed between Mike Golding on Gamesa in the north and Jean le Cam on SynerCiel in the south.
This morning Golding reported: "At the moment I am going upwind in the Southern Ocean, hard on the wind and full ballasted under main and Solent. I should probably change down, but I am getting away with it and the breeze should ease off.
"I am taking a punt to push north and hook into a low. I should slowly get a lift to get there and then get into the south quadrant of the system and then hopefully get a run with it. Overall there is just a better weather profile in the north. Really, as I see it, if you stay to the south, for us, it ends up being a case of waiting for whatever comes along.
"I already have 70 miles to the north of Jean but I can't see any other way. I have really set myself a latitude to sail at the moment. The worst case scenario is I get a bit of a boost from it, but that is better than just waiting for what comes along. I guess it can be seen as a punchy call, but it is better for me than just lolloping along in the south.
"Last night was difficult again, very unsettled wind and seas. I was pretty knackered by the end of it. There were a lot of sail changes and manoeuvres in the end. So I set the pilot to compass to get some sleep. That is not very efficient but I feel better for it now."
Golding is aiming for a band of northerlies due to fill in to the north of the next ice gate tomorrow morning. These are associated with the Cyclone Claudia (more about this here) currently mid-Indian Ocean that is fortunately diminishing in its power but is rapidly heading south and then southeast over the next 48 hours. By Friday lunchtime the GFS model has this being centred over the east end of the next ice gate. However Claudia is still likely to have some big teeth when Golding encounters her tomorrow.
Behind Acciona 100% Eco Powered is through the Crozet ice gate and is now heading off to the southeast ahead of a front, while Arnaud Boissieres on Akena Verandas is heading up to the Crozet gate.
Below, backmarker Alessandro Di Benedetto on Team Plastique has just passed the Cape of Good Hope.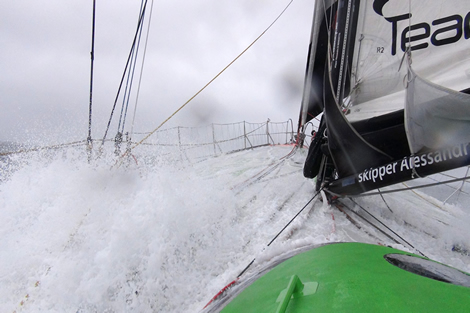 Back to top
Back to top