Vendee Globe: Banque Populaire's race winning move?
Thursday December 6th 2012, Author:
James Boyd
, Location: none selected
With the on-set of the high so all of the frontrunners have had to dive south to avoid being caught in its clutches...with the exception of race leader Armel le Cleac'h on Banque Populaire, who, in what could potentially be a race-winning move, at the latest sched has just cleared the western end of the Crozet ice gate.
Image above courtesy of Expedition with GRIB files from Predictwind
Positions at 0800 UTC
Pos
Skipper
Boat
Lat
Long
Spd
Crs
VMG
Spd
Dist
DTF
DTL
1hr aver
24hr aver
1
Armel Le Cléac'h
Banque Pop
38°59.95'S
42°04.00'E
11.7
80°
10.7
16.3
390.2
16836.6
0
2
François Gabart
MACIF
41°24.40'S
42°17.84'E
15.8
107°
12.6
17
405.5
16856.4
19.8
3
Bernard Stamm
Cheminees
42°46.85'S
42°01.90'E
12.9
112°
8
17
407.9
16901.7
65.1
4
Jean-Pierre Dick
Virbac
41°31.96'S
41°14.22'E
16.3
101°
14.3
16
383.6
16904
67.4
5
Alex Thomson
Hugo Boss
44°28.48'S
39°30.26'E
16
128°
5.7
17
409.1
17047.8
211.2
6
Mike

Golding
Gamesa
42°42.07'S
26°16.88'E
13.2
94°
13.1
8.6
207.5
17570.5
733.9
7
Dominique Wavre
Mirabaud
43°16.60'S
25°32.57'E
15
100°
14.5
10.7
257.9
17605.4
768.8
8
Jean Le Cam
SynerCiel
43°05.15'S
25°22.63'E
13.9
93°
13.8
10
239.3
17611.7
775.1
9
Javier Sanso
Acciona
41°01.10'S
12°28.78'E
15.9
91°
15.7
14.9
356.6
18190.8
1354.2
10
Arnaud

Boissières
Akena Verandas
42°21.56'S
06°47.33'E
16.6
98°
16.2
18
432.7
18450.9
1614.3
11
Bertrand De Broc
Votre nom
41°06.84'S
03°16.28'E
12.7
82°
12.6
15.9
381.4
18607
1770.4
12
Tanguy

Delamotte
Initiatives Coeur
39°34.70'S
01°08.12'E
9.2
57°
6.3
13.2
316.5
18716.3
1879.7
13
Alessandro Di Benedetto
Team Plastique
39°00.76'S
13°53.30'W
8.4
137°
7.1
11.7
280.2
19403.5
2566.9
RET
Vincent

Riou
PRB
Damage to hull and lower shroud after collision with drifting buoy (24 Nov)
RET
Zbigniew Gutowski

Energa
Autopilot failure (21 Nov)
RET
Jérémie Beyou
Maitre CoQ
Broken hydraulic ram (19 Nov)
RET
Sam Davies
Saveol
Dismasted (15 Nov)
RET
Louis Burton
Bureau Vallee
Rammed by a fishing boat, rigging damage (14 Nov)
RET
Kito de Pavant
Groupe Bel
Rammed by a fishing boat, hull damage (12 Nov)
RET
Marc Guillemot
Safran
Titanium keel broke (10 Nov)
The Vendee Globe frontrunners (with the exception of Le Cleac'h) will be cursing the race organisers for moving the Crozet icegate so far north, for while the race leader has been just far enough ahead of the high to avoid its clutches, the door has effectively closed for everyone else...
According to the GFS model, the centre of the high is currently around 550 miles WSW of the middle of the icegate, but this is due to have parked itself right over the icegate by tonight...and will still be there tomorrow morning. By tomorrow night the centre of the high is forecast to be over the eastern end of the gate, where it is still set to be on Saturday morning.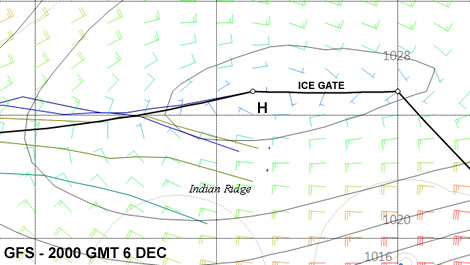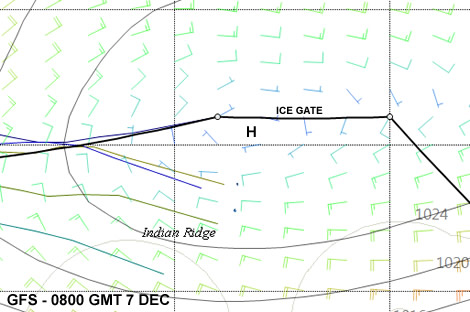 So while Armel le Cleac'h is speeding off to the south in breeze, bound for the next ice gate to the southwest of Cape Leeuwin, everyone else is going to be making slow progress as they attempt to somehow edge across this icegate. It seems very likely that we'll see all the boats behind playing catch up over this period with the 'oldies' closing in the lead pack (with the exception of Le Cleac'h who will be doing a horizon job - he could be 500 miles ahead this weekend).
Among the frontrunners, Francois Gabart on MACIF continue to hold second, but after his great progress over the last 48 hours, Bernard Stamm on Cheminees Poujoulat has overhauled Jean-Pierre Dick and Virbac Paprec 3 to claim third place. In terms of distance to the eastern end of the gate, Stamm is now 45 miles behind Gabart, with Dick two miles behind him, and Alex Thomson on Hugo Boss a further 150 miles back.
The oldies meanwhile have dropped back to being 580 miles behind Hugo Boss and at the latest sched are circumnavigating the southwestern side of the high. While Mike Golding on Gamesa is still leading this race-within-a-race, Dominique Wavre on Mirabaud overnight has taken seventh place off Jean le Cam on SynerCiel and of the three boats is still making the best speed.
This morning Golding reported: "The wind shifted and built and I really hung on as long as I could before I gybed, but in the end I had to bite the bullet and put the bow down. But is is fine now. Dominique Wavre has done well in the south now and is past Jean Le Cam and I think he will come back at me too, but at least now I can soak down and sail a bit lower to protect myself a bit. We will just have to see how it goes.
"Otherwise, everything is OK. It has been hard to catch up on sleep because even though it has been light, there is always something to do, to keep trimming the boat and pushing. It was never really settled and you are always trying to get the best out of what breeze you have.
"The forecast keeps changing and with it the routing. At the moment we are on the edge of this high pressure ridge and the gap to the lead is pretty horrible, but you really never know what will happen. The whole situation looking forward is really messy because there are a lot or light patches along the course. Previously we were much further south and so the high pressure areas would not have the same impact. It is difficult now, much more complicated."
Some 600 miles behind them back in the Atlantic, Javier Sanso on Acciona 100% Eco Powered has just passed the western end of the first ice gate, while he and the boats behind continue to make the best progress in the fleet in the strong northwesterlies ahead of a front.
Back to top
Back to top