Next steps for Sam Goodchild
A small flaw in the Artemis Offshore Academy is the exit strategy of those who pass through its ranks. For it would be relatively pointless if after spending two years of intensive shorthanded Figaro or Mini training and racing its graduates simply fell off the grid, unable to continue their programs.
At present Sam Goodchild, Nick Cherry and Henry Bomby, who all competed in la Solitaire this year, have all now left the Artemis Offshore Academy but are all intending to continue their Figaro campaigns in 2013 but lack the one vital ingredient that will make it happen: money.
To this end, Sam Goodchild, for example, the original Artemis Offshore Academy scholarship winner in 2011, has set up Sam Goodchild Racing. "It is just a way of searching for sponsors and to make it my own independent campaign, not through Artemis," he explains. "The aim of the Academy, as well as me, is to do it myself and to be on the start alongside an Artemis boats as opposed to being in an Artemis boat. I have had the opportunity for the last two years, so I can't complain."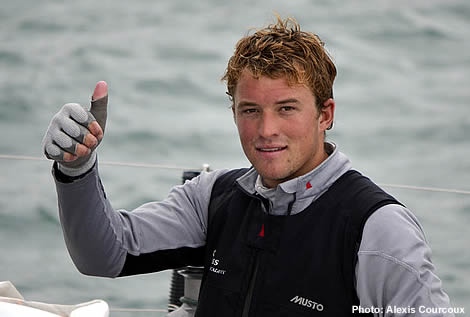 With the Figaro class and La Solitaire du Figaro offering little by way of media return in the UK, the chances of finding a company willing to stump up £50,000 or more for a year's campaign are slight to non-existent.
However Goodchild has been fortunate in teaming up with Mike Jaques, who's boat he has previously raced on in the 3 Peaks Yacht Race. Jaques recently sold his business Exploration Logistics, a provider of medical and safety services to company, governments and institutions around the world. Generously Jaques has bought a Figaro for Goodchild to campaign.
The new Figaro previously belonging to Portugese sailor Francisco Lobato and had some reasonable reasonable results, but significantly, Goodchild says "it comes with a lot of kit that will help us with our budget next year."
Jaques' backing goes as far as buying the boat, as Goodchild puts it: "The boat is his and it is a relatively low risk investment, so at the end of the campaign we can sell the boat or ideally I'll find a sponsor and we can buy the boat off him."
But almost importantly Jaques is becoming effectively a 'business angel' for Goodchild, a useful CEO-level ally with board room presence which could prove a significant bonus in helping him raise the necessary backing, in a Sir Keith Mills-Alex Thomson way.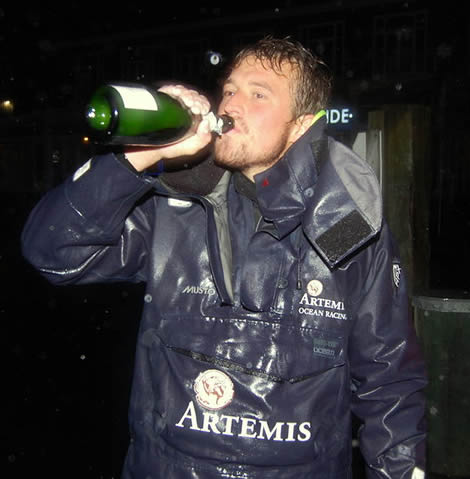 Fortunately they may still be able to tap into some Artemis Investment Managers resources for contacts, for one imagines that the black book of someone like CEO Mark Tyndall would be invaluable. OC are also on the hunt for them. "They are keen on getting me to the start line of the next Figaro," says Goodchild. "It is the aim of the Academy to help us progress, to kick-start our careers, not just doing a Figaro for one year and saying 'thanks, see you later'. They are looking for [money for] the Academy the whole time but they might come across a company where it would suit them to work with one individual - a sticker on one boat rather than the whole Academy. I am trying to chase any avenue possible, contacting any businessman who can introduce me to potential sponsors."
As a minimum they are looking for £25-30,000 which would cover running the campaign in a basic way for a season covering logistics, entry fees, taking corporate guest sailing, etc. "After that more money will deliver a higher return as well as making me more competitive," says Goodchild. It doesn't sound like there is a whole lot to live on within that.
To get the campaign going Goodchild is also putting in his own savings that will enable him to start training after they pick the boat up in January.
"And value in kind is quite big as well, especially on the Figaro. If you can get hold of a car or free foulweather gear - it is all a big help for your budget," he adds.
This will be Goodchild's third season in the Figaro class. Over the last 12 months he has been intensely busy competing not only in the Figaro class' Tranat AG2R and la Solitaire, but also with Ned Collier-Wakefield in the Transat Jacques Vabre in 2010 and with Conrad Colman in the Global Ocean Race this spring.
However, this season or at least for the first half of it, Goodchild says he will concentrate solely on training for the Figaro class' premier event, la Solitaire. "There is a singlehanded transatlantic race (the Tranat Benodet-Martinique) but it starts in April and also having done the Transat AG2R this year it is not very beneficial towards doing the Solitaire, so I am quite keen on focusing solely on training just for that. And it is a smaller budget."
One problem with the Figaro is that to be successful seems to require persistence and several years of trying. "If you look at Jeremie Beyou, he won it in 2005 on this sixth or seventh time. Also I spoke to him and he said that for six years prior to his wining it in 2005 he did nothing but eat, sleep and breath Figaro. That was his priority. He didn't do anything but sail Figaros or look for Figaro sponsorship. Only then did he win it. Even when he stopped for three years and came back it took him another three years to win it again. It doesn't happen overnight."
Goodchild adds that one of France's most talented singlehanded offshore sailors, Yann Elies, only won la Solitaire this year on his 13th attempt. "The top three spent their whole year focussing on the Figaro. They have done it enough times to know what to except."
The exception, the person who has launched in there at the highest level from the outset has been 25-year-old Morgan Lagraviere, who finished seventh in the 2011 on his first attempt, following this up with a second place behind Elies this year.
"He is pretty unique, pretty special," admits Goodchild. "He has probably the ideal background in that he has done Olypmic sailing [in the 49er], so he has the boat-on-boat side nailed, but he has also done loads of Tour Voiles and he lived in Reunion Island and was brought up on the water."
Growing up in Grenada Goodchild had a similar childhood only that, as he points out, he significantly missed out on the Olympic and Tour de France part of Lagraviere's experience.
"The other thing with the Morgan Lagraviere set-up is that he has a budget to allow him to just focus on the Figaro, with a good boat, a good preparateur, a good coach and the flexibility for the three of them to decide what is best for the campaign."
An intriguing problem would be – if someone like Goodchild did have good funding for a Figaro campaign, how could they be fast tracked towards winning the all-important Solitaire? Some top campaigns carry out sail development, get David Howlett in to look at the one design, but probably best would be to enter into a MichDes-Francois Gabart mentor-pupil type relationship with a recent winner – Yann Elies/Jeremie Beyou for example.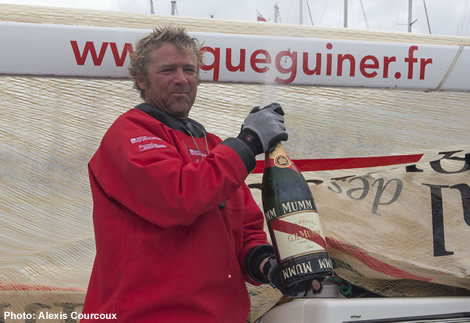 "I am hoping that by prioritising just the Figaro that will be good," says Goodchild. "I'm also trying to do other stuff, like match racing to touch up on the rules and fleet racing to touch up on the fleet skills and some weather routing stuff, as much as I can. I am trying to do some more fully crewed sailing. You learn a lot from sailing with five people, more than you do sailing on your own. You don't learn by trial and error, you learn by watching someone else doing it well."
He hopes to join the top Figaro training centre – the legendary Pol Atlantique in Port la Foret. Having bravely taken part as the only Brit in the Challenge Espoir (the French equivalent of the Artemis Offshore Academy training where you win a Figaro campaign for two years) he knows the instructors at Port la Foret and was invited to train there last year. Unfortunately it didn't work out then but he hopes it will this year. Another option is training with Tanguy Leglatin in Lorient.
In order to help curb costs he is talking to his former Artemis colleagues Nick Cherry and Henry Bomby about sharing resources next year where possible.
While he sights are set on a good result in La Solitaire this year, longer term he is aiming to be on the start line of the Vendee Globe in 2016. "The ideal circumstance for me would be to be able to co-skipper an IMOCA 60 in the Transat Jacques Vabre next year, but I don't whether that is realistic or not," he says.
More sensibly Goodchild hopes that he can introduce some bigger sponsors into his Figaro campaign in a small way as a taster. "I am not looking for one sponsor for the Figaro, I don't think that is realistic. I think it is more realistic that I'll find £5-10,000 from a variety of places although there is the potential to find £50,000 from one place." They might then be led into making a bigger investment into his Vendee Globe campaign.
While the ideal of course would be to find a MACIF scale company to back a fully-fledged campaign for line honours, Goodchild more realistically imagines himself entering the next Vendee Globe with a Sam Davies-level campaign with one title sponsor, supported by a number of smaller backers. "The idea is to use the Figaro to introduce a sponsor and depending on who they are, then ideally the Route du Rhum in 2014 on a 60 or that could be done on a 40 on a smaller budget. And then head for a Vendee Globe sponsorship for 2016.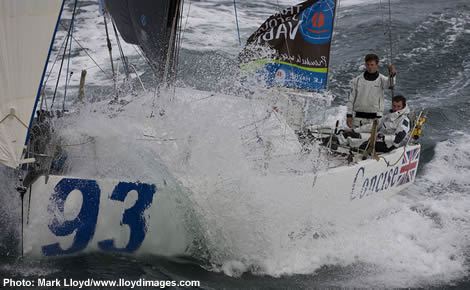 Back to top
Back to top