From Finn to Figaro
The Artemis Offshore Academy is no stranger to Olympic sailors wanting to try their hand at something different. 49er medallist Simon Hiscocks was selected in the first trials held in 2010. This year presently waiting to hear if he has got the nod is the rather taller Mark Andrews, part of Britain's elite Olympic Finn squad and perhaps best known as training partner to Ben Ainslie.
Andrews, 26, heralds from Largs in Scotland, although he has English parents, who moved north of the border when he was eight. He first started sailing aged 11 but admits didn't really get into it until he was 14 when he got into a Laser. However Andrews has always been tall - currently at 6ft 6.5 (or 199cm) he is taller even than his towering Finn squad teammate Giles Scott. Thus even as a teenager his time in the Lasers was going to be limited. "After competing in a light wind Youth trials, I felt 'the Laser is not for me' and I went and bought a Finn the following weekend," Andrews recalls of when he was 17, and even then weighed 90kg.
Equipped with his new boat he started competing on the Finn's UK circuit before moving up to do the European and World Championship (his first Finn Gold Cup was in Russia in 2005) eventually ending up, aged 19, in the British Finn transitional squad.
Racing in the competitive Olympic heavyweight men's singlehander has always been tough, but in 2010 and 2012 Andrews finished in the top 10 at the Finn Gold Cup and just prior to London 2012 was fifth at Skandia Sail for Gold.
Andrews' latest results were no doubt helped by being Ben Ainslie's training partner. After TeamOrigin wound up and the Olympic legend began focussing on the Finn again, he found the game had moved on, particularly with latest techniques for pumping. "At that stage I was wondering what I was going to do," Andrews says of this time. "I had obviously had great results and stuff, but was still humming and haring over whether to carry on and Ben came along and said he wanted a training partner. So it was a no brainer." This conversation occurred at the Test Event for Perth 2011 and Andrews remained with Ainslie for the next year and a half.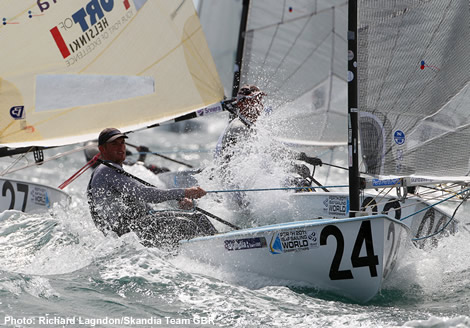 Only a few years earlier Ainslie had been something of an idol, as he was to most dinghy sailors. "When Ben won Gold in Sydney – that was when I started Laser sailing," Andrews recalls. "I remember our first squad when he turned up, with [Iain] Percy and Bart [Andrew Simpson] and we were introduced like these were normal guys on the street and they were absolute legends. You are only as good as the people you race against. You are training with these guys, and seeing the effort they put in and that's definitely why the Brits are so good at the moment. There is strength and depth and people aspiring to sail as well as their idols."
However with such depth - with Ainslie possibly exiting the class, Giles Scott waiting in the wings, plus former Gold Cup winner Ed Wright and Andrew Mills, the prospects of Andrews getting the British Finn slot at Rio 2016 are far from assured. He has not decided on whether he will continue in the Finn, but whatever happens is currently looking at his options.
"I'd love to do the Volvo Ocean Race. I am the right age – 26 – and with the Volvo there is that under-30 rule, so that would be half a foot in the door whereas if I wait another four years I don't have that option."
Already he has been racing keelboats and for the last couple of seasons has been a regular aboard Jonathan Goring's Ker 40 Keronimo including the RORC offshores, Rolex Fastnet Race and this year's Brewin Dolphin Commodores' Cup, where Keronimo was the big boat in the winning GBR Red team.
But Andrews has higher aspirations. "I want to do something professional like the TP circuit, but that is not what it was three years ago. I would love to be on an AC team, but that is pretty hard to get into and there aren't that many teams. I really enjoyed sailing on the Ker 40, but I don't want to be your classic Solent pro."
Another option is the Artemis Offshore Academy and Andrews is impressed by the broad skill set required to race competitively singlehanded offshore. He notes that most of Groupama's crew in the Volvo Ocean Race, including skipper Franck Cammas, cut their teeth in the Figaro class. "I have enjoyed offshore sailing, it is a bloody hard challenge, so why not?" as he puts it.
So having been selected as one of the 16 to take part in the trails for the third annual crop of Artemis Offshore Academy intakes, over three days at the beginning of last week Andrews was one of the first group of eight to be put through the gruelling selection.
These may have been the third time the trials have been held and while there are modifications to it each year, its over-riding principles remain the same: to test skills relevant for competing in the Solitaire du Figaro or the Vendee Globe. To score this, in every challenge candidates are awarded 'miles' towards completing a virtual Vendee Globe.
According to John Thorn, Performance Director of the Artemis Offshore Academy and also one of the selectors, this year they attempted to make the tests more physical. There was more emphasis on keeping the contestants awake over the two nights, with them typically getting no more than 1.5-2 hours of sleep (usually in 15-20 minute bursts) each night, during which on the hour every hour within the hangar inside the Weymouth and Portland Sailing Academy they had to shift 100kg of carpet tiles between two points to simulate stacking on a Beneteau Figaro 2.
The three day test started at the Wokefield Park hotel complex outside of Reading with some psychological profiling carried out by Ian Brown from OneSails, who is also a psychologist. The contestants then waded into some physical testing - strength, endurance, recovery, etc – with a program designed by Paul Wallace from Chichester University.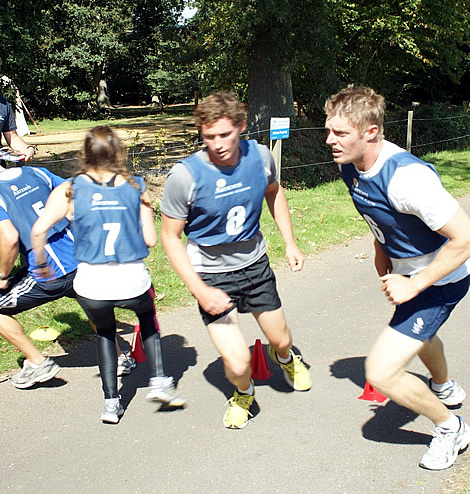 "It was strength testing, max press-ups, max supine chins – how many you can do in a minute, then there is a max bench press, how far you can row in four minutes and a 40 second sprint. So you are pretty tired by then," says Andrews.
Following this, in the afternoon, they took to Wokefield Park's 'high ropes courses'. "We simulated a solo mast climb so they had to climb a halyard to reach the top and then get back down again using ascenders, to see how they dealt with height," says Thorn. They also had a team task to climb a pole, some blindfold climbing and another in which they had to carry juggling balls to the top of a climbing wall. In this they were scored on the number of balls they successfully transported and the speed at which they managed this.
"I did pretty well on all of that," says Andrews. "I got the best scores out of our group on the fitness side, but I reckon I am a bit out of shape and could have done better. It definitely wasn't a push over."
At the end of the afternoon the contestants were driven from Reading down to the RNLI National Training College in Poole, but en route, to prevent them sleeping in the van, they were made to carry out an 11+ maths test before they were told about their next challenge.
In the RNLI pool over the first evening of the test, they were subjected to a sea survival course similar to the one the Volvo Ocean Race crews are obliged to do. "One of the first things they do is dress you up in all of the offshore clothing and they get you to swim two lengths without a lifejacket and we had people sinking basically and the divers having to pull them out," says Thorn. "There were three on the first trial and two on the second who had to be helped. But it was really good in that it shows that if you are fully togged up in offshore kit, you don't want to fall in without a lifejacket on."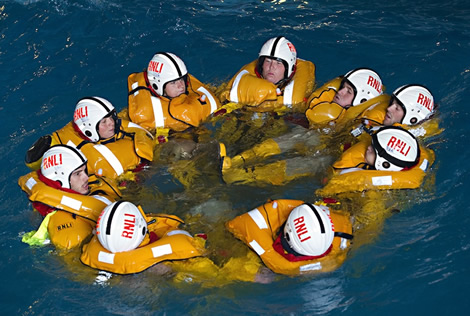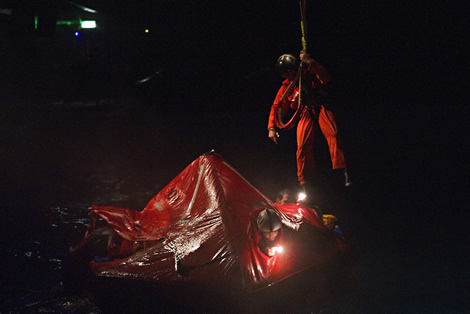 They were also given 'casualties' (10 stone dummies) to deal with in the water, and liferaft training, in the dark complete with real waves generated in the pool, plus sound effects, rain, thunder and lightning. This culminated in some of the contestants being winched out of the water as if by a helicopter. "We had one guy puke on the first one and a couple of people close to it – coming out looking very green," says Thorn. "And once again it all contributed to tiredness, because they were swimming around with lifejackets, in full kit with boots on, expending energy."
Once done, at around 2300 it was then back into the van bound for the Weymouth & Portland Sailing Academy. En route they were told about their own version of the 'Sikaflex challenge' to build a boat (a mini Open 60 ideally) on a limited 'virtual' budget of £1000 with materials and tools available from a 'shop' set up within the Academy (a slight change from last year when all the materials were provided). In addition, this year they also had to build sails for their vessels.
Midnight until 0800 they spent building their boats, painting them and sailmaking, while carrying out the virtual stacking every hour. If they finished early they could sleep more, but the better boat they built, the more Vendee Globe 'miles' they would gain.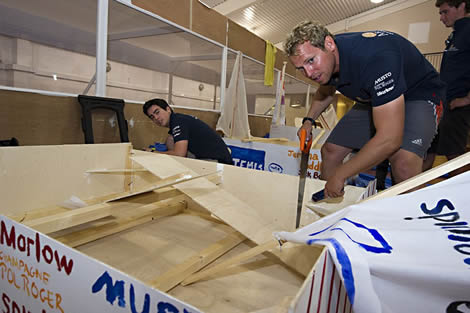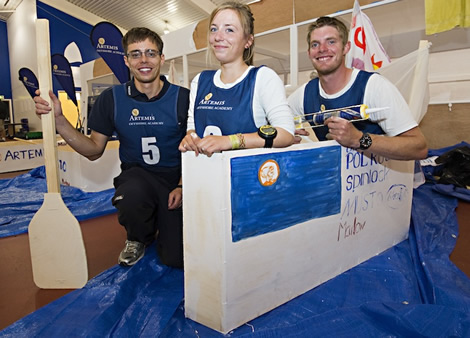 "You have £1000 and they have most expensive chandlery known to mankind!" said Andrews. "You are split into teams or two or three and you have to build this raft and you have to sail for the downwind leg and then you can paddle. But then it also has to be branded so it has to be painted white and you have to do all the artwork on it. So obviously you could build it as quick as you can and get some sleep or you could build a good boat and get more points.
"Most people people built a box, but I built an actual boat, having done boatbuilding before. It is meant to be a 'Vendee' challenge, so I thought it was best to do a monohull. It was a fat coffin shape, tapered at both ends a little bit. It was good."
To keep themselves going contestants were given a ration pack comprising largely freeze dried food, supplements and energy bars that was all they were allowed to eat for the three day duration of the trial. A hot water urn followed them around enabling them to reconstitute the freeze dried.
After an intense, sleep deprived and, at times, stomach churning first 24 hours, day two was more pleasant, out on the water sailing the Figaros. The first morning was spent training in four of the Artemis Offshore Academy's 32ft one designs. Then in the afternoon they were able to race them, sailing four short races doublehanded and two singlehanded.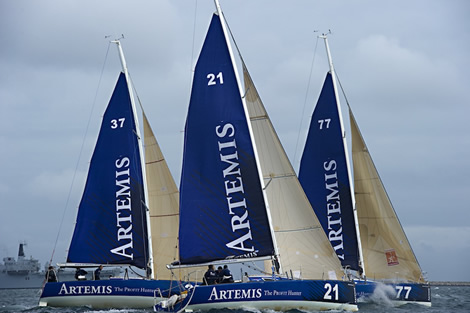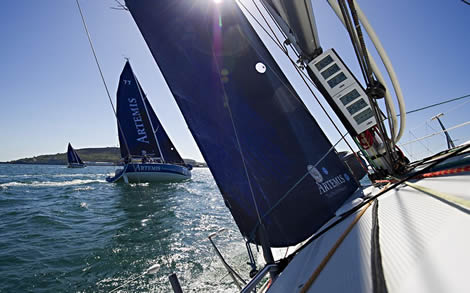 "That was the bit they enjoyed because that is what they think it is all about," says Thorn. "There were some close races and some near misses, some wraps with kites, etc."
Andrews was pleased with his performance. "I won the race when I was solo sailing and we had a couple of thirds and a couple of seconds (doublehanded). My tacks left a bit to be desired..."
For the evening of day two and on until lunchtime on day three it was back to the hard graft, with 35 challenges set, some of them compulsory, the contestants balanced between their lack of sleep but fired up as the more challenges they were able to complete the more 'miles' they would receive. Once again this was punctuated by the hourly stacking challenge through the night.
The physical tests were repeated and if they scored higher than on day one they would receive miles, similarly with a 'bleep' test and on the Concept 2 rowing machines.
There were lots of initiative tests, made all the harder by their lack of sleep. These included building things from Meccano, taking apart and rebuilding a Yanmar GM10 diesel engine or a three speed winch or a water ballast pump. John Thorn adds: "They had to send a message by flags – we gave them instructions and a message to send, but it was something they really had to concentrate on which is hard to do when you are tired. We gave them a soldering kit and got them to solder up a circuit board to create an electronic toy, like Simon."
One of the most entertaining was the speech they had to make to their peers...in French. "In the Solitaire everyone stands up to say something to the crowd," explains Thorn. "We gave them a dictionary and some idea of what to say and they then had to go up on the balcony in the Academy and speak to the rest of us in French."
Andrews, with his Scottish accent, admits he struggled with this. "Some people were good in French and then there were people like me who didn't speak any French and sounded like Rodney Trotter! Chateau Neuf du Pape, etc."
Some challenges were out on the water, where they had to complete some basic navigation tasks, plus tests on the ColRegs and the Yacht Master syllabus. On the final day they were also subject to a 10 minute formal interview with the selectors joined by Dee Caffari. This year they didn't have to make a formal pitch as they have in the past.
At lunchtime on the final day it was an opportunity to race the boats they constructed during the 'Sikaflex Challenge'. "We got some great ones," says Thorn. "Although the paddles left something to be desired." One boat in particular didn't make it far from the beach before the crew had to scramble back ashore, while one of the most successful was a catamaran. Teams were awarded if they stayed upright for 10 seconds and for 60 seconds and additional miles for making it around the course and winning.
"A couple resembled bookshelves and some did have some pointy ends," recalls Thorn. "The catamaran was also quite interesting but it worked and it won the last set of little races."
Mark Andrews was pleased with the results of his boat with its pointy ends. "We absolutely destroyed everyone else. We did the course had a chat and then went back out again! It was good."
Generally as to how he found the selection process Mark Andrews felt: "It went pretty good. I thought I would struggle a bit more with the lack of sleep and the lack of food, but it was not too bad."
According to John Thorn the effects of the prolonged sleep deprivation were interesting. "We were getting slurred speech towards the end and inability to concentrate and irritability - the usual things you'd expect."
Also new this year was testing reaction times and memory ability, which they did at the beginning and the end of the three days. "Some of them actually improved, which was not expected," says Thorn. "When we talked to them they were very anxious about the whole process at the beginning and they were finding it difficult to think straight because of that anxiety, whereas towards the end they didn't have that anxiety anymore and we think that maybe that affected their performance."
The decision on which of the 16 will make it through to the Figaro training and in turn the prospect of a free boat for the 2013 Solitaire du Figaro will be made towards the end of this week. The selection panel includes John Thorn, but also OC's own son Charles Darbyshire, Rod Carr and, if he has time, Mike Golding.
The winners will then kick off their training in Cowes/Southampton starting at the end of August before decamping to France for the winter. Thorn thinks that once again the fleet will be split between the beginners heading to their usual Figaro training camp in La Grande Motte in the south of France and the more experience hands heading for more advanced training in Brittany.
Gaining a place in the academy now seems to be a two year deal with the first crop of recruits from 2010, including Nick Cherry and Sam Goodchild, now having formally 'graduated'. "Those guys are working very hard to get their own boats and their own sponsors together for next year," says Thorn. "We are quietly hopeful that they are going to succeed in that. And if that is the case it means we have more resource for some of the new guys." Of course the graduates will still be able to return to train in the Academy's own Figaros on occasions when they are not being used.
Andrews is obviously keen to get selected, but has grander ideas for the Academy. He observes that the success of Skandia Team GBR as well as the French coming from the elite Figaro training centre in Port la Foret, derives from working together in big numbers, sharing information and generally the group effort.
"It would be awesome to have a centre like the Olympic set-up and have a big sponsor and have a MOD70, an IMOCA 60 and everyone is working together and a big information share, strength and conditioning set-up, nutritionalist, meteorologists, etc," he says. "Or get an even bigger set up and get some of the Olympic guys coming in and an America's Cup team, where the America's Cup guys come and sail offshore and the Olympic guys get involved. It would be amazing to have a GBR sailing team type thing with maybe different sponsors for the different sides of it."
While this might seem like a pipedream in the UK, it is not too far away from the set up Emirates Team New Zealand has, putting boats into the America's Cup as it has always done, but also now the Volvo Ocean Race and with fledgling teams on the Alpari World Match Racing Tour.
Back to top
Back to top