Half way stage
Tuesday July 10th 2012, Author:
James Boyd
, Location: none selected
The Krys Ocean Race has reached the half way stage this morning with the leaders continues to make their slow turn north in the strong southwesterlies ahead of a cold front with Yann Guichard's crew on Spindrift Racing now 42 miles ahead.
Chart above courtesy of Expedition/Tasman Bay Navigation Systems and GRIB (European model) from PredictWind
Positions at 0630 UTC
Pos
Boat
Skipper
Lat
Lon
Spd
Crs
DTF
DTL
1
Spindrift
Yann Guichard
44 28.120n
038 52.530w
29.9
47
1419.22
0
2
Gitana
Seb Josse
43 39.410n
039 25.310w
27.7
48
1459.53
40.31
3
Foncia
Michel Desjoyeaux
43 23.370n
039 19.180w
26.9
41
1461.85
42.62
4
Oman Sail
Sidney Gavignet
41 45.480n
041 10.270w
26.9
58
1577.67
158.45
5
Race for Water
Steve Ravussin
Yann Guichard and his all-star crew of brother Jacques, ex-Banque Populaire skipper Pascal Bidégorry and crewman Kevin Escoffier, sailmaker Jean Baptiste Levaillant and Léo Lucet have been extending away from the fleet over the last 24 hours, having extended their lead from 25 miles to 40 at the latest sched, with Seb Josse's team on Groupe Edmond de Rothschild having taken over second, while locked in a match race with Michel Desjoyeaux's Foncia. The two remaining boats are bringing up the rear with Musandam-Oman Sail and Race for Water, both crippled, the former sailing with no port foil and the latter with a damaged daggerboard.
In the 25 knot southwesterlies the boats have been maintaining an impressive pace, even putting VO70s to shame. For example over the last 24 hours Spindrift Racing has covered 690 miles or an average speed of 28.75 miles, but yesterday evening she had had a 24 hour run of 711.8 miles.
Guichard acknowledged this morning that he is pleased to have kept Spindrift racing at around one knot quicker on average despite what he said has been dark night. "We continue on the edge of the front on a long starboard tack with a stable 24 to 26 knots of wind, but it continues to be a struggle doing any manoeuvres. We are not really powered up fully and are taking care because it is the sea state is what determines how much sail we have up. We range between a having a one reef and using either the Solent or the genoa depending on the sea state. We try and limit manoeuvres to watch changes, which we do every two hours, but really it depends on the person helming at the time."
The fourth and fifth placed duo Musandam-Oman Sail and Race for Water continue at a pace which minimises their losses, no doubt hoping for some change in the weather before Brest. Stève Ravussin, the Race for Water skipper noted: "The daggerboard issue has not been great for morale. Now that we have fixed it we are sailing the boat as well as we can to try and catch up with our rivals. We have settled into to life on board after three days. It is still very damp and we all have bruises all over the place. Every time we nose dive we all get thrown forwards. In the bunks we find ourselves with our knees right up against the partition!"
At present the boats are to the northwest of the Azores high, still ahead of the cold front associated with the depression currently edging out from Canada into the Labrador Sea. But the forecast is still showing that in 24 hours time the depression starts to compress the high from the northwest and this will mean that the boats can sail a more direct route towards Brest. So the boats are going to continue on port for a while today, but later on we will see them gybing, effectively for the finish line, despite it being more than 1000 miles away. The moment they gybe is likely to be the most tactical move we're going to see in this race. This will also result in Musandam-Oman Sail getting back to speed, as on port she'll be able to use the intact foil in her starboard hull.
Michel Desjoyeaux gave a snapshot of life on board Foncia: "It's rather nice to be making headway so fast towards home. It's very exhilarating, but a bit stressful too. In these conditions, either you let her power up or you reduce the sail area when the wind picks up. However, you adapt to things by hauling on or easing the headsail sheet. That requires vigilance round the clock and that's the necessary condition to remain upright. At the helm we're wearing a helmet with a visor to protect ourselves from the plumes of spray which are breaking over the deck. You have to admit that since last night, the atmosphere has been reminiscent of a combat sport!
"Since the start, we've been holding two-hour watches, otherwise things would very quickly go pear-shaped. However, the amount of time spent at the helm is down to how you feel: one or two hours according to the sea state and how the automatic pilot is handling. As for the grub, we're getting by okay, though it's not easy. Sleeping is another matter entirely though… Jérémie Beyou, who's helming right now, has just racked up 36 knots… It's just as well we don't get points on our driving permits at sea!
"Between you and me, there's little between the boats. Aboard Foncia, we really feel that we're right on the pace. Since the start, we've been holding the same trajectories, and we spent a good part of yesterday with Spindrift Racing. On the other hand, the end of the race will doubtless become more strategic in terms of the choices we have to make…."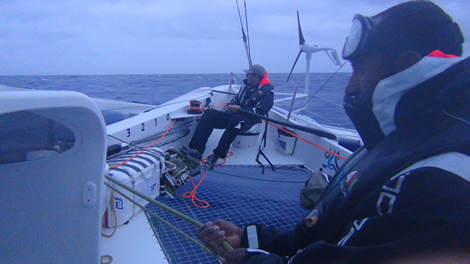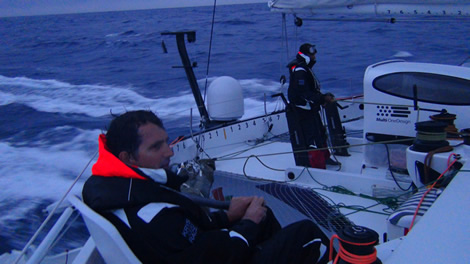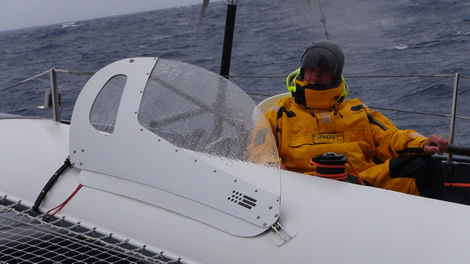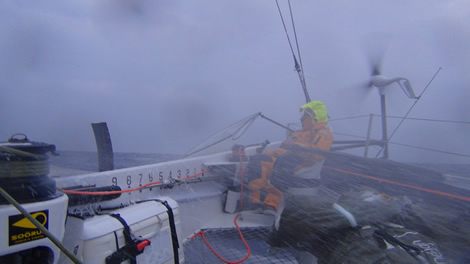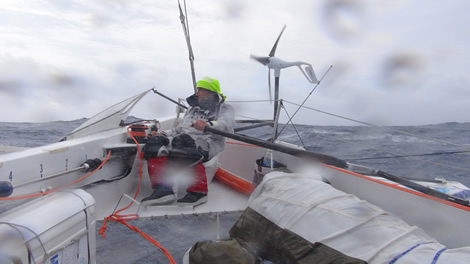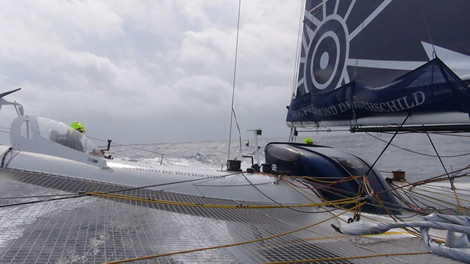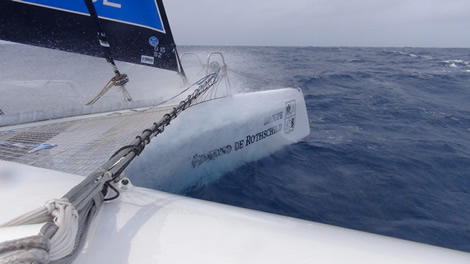 Back to top
Back to top