Europa Warm-Up: Three way dash to the finish
The last day of the Europa Warm-Up has seen an intense three-way match race between Virbac-Paprec 3, PRB and MACIF for the lead. From before the boats rounded Cabo de san Vicente earlier this morning, only 2.5 miles has separated the trio. This tightened up even more when in third place MACIF tacked before her two rivals and by the first scheds this afternoon less than half a mile separated them in terms of distance to finish.
Ultimately it was Jean-Pierre Dick and his crew on Virbac Paprec 3 who just managed to keep their nose ahead crossing the finish line at Cascais at 18:44:17 UTC. Francois Gabart's MACIF with a crew including Michel Desjoyeaux finished just six minutes and 12 seconds later with Vincent Riou a further 53 seconds behind. Impressive.
This afternoon, Guillaume Le Brec reported from Virbac-Paprec 3: "We're in sight of PRB, they're three or four lengths from us. Last night it was pretty intense, we managed to get some distance back and get back in the lead early this morning. We're side by side and actually it's pretty stressful. From the very start of the race, the rhythm has been frantic and we have never really been on regular watches. When we understand that someone is exhausted then we try to give him some time to rest. However, sailing with JP and Bilou, is fantastic a super experience. I learn something new every day, it's just perfect."
François Gabart reported from MACIF: "Many people say that is it better to hunt than to be hunted. Personally, I wouldn't mind being in the lead, it's nicer. Two and a half miles it's not that much but at the same time we know we can't overhaul them by pure speed. We've been trying for several hours now. So we need to mix it up. There should be two tacks from here to the finish, maybe we can play those well, choose the right time and get out. But they're good, they don't make many mistakes and it's not going to be easy."
Behind Banque Populaire still had 80 miles to go at the 1900 UTC sched with the remaining trio still off the coast of the Algarve with Cheminees Poujoulat hugging the Portugese coast with Acciona and Groupe Bel further offshore.
Armel Le Cléac'h reported from Banque Populaire: "The breeze is a bit light for us. We've gone for a different option after Gibraltar to try and get nearer the three leading boats, but it didn't work. Now our aim is to get to Cascais as soon as possible, because there is a second leg. It's single-handed and the time left to prepare it is running short."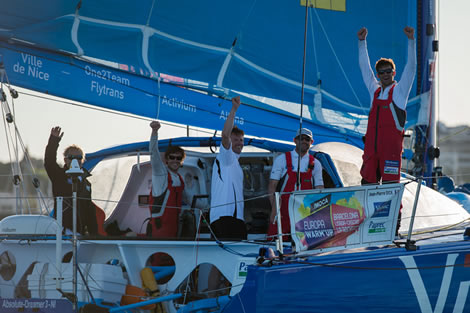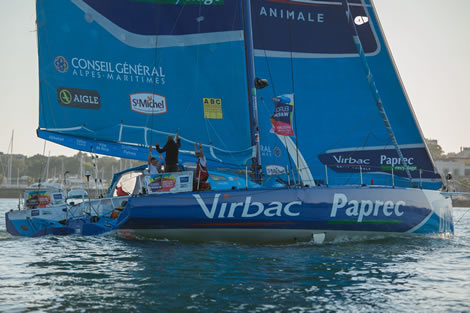 Back to top
Back to top