Banque Populaire leads the way
Armel Le Cléac'h and his crew on Banque Populaire closely followed by Bernard Stamm's Cheminées Poujoulat led the IMOCA class's Europa Warm'Up IMOCA 60 fleet out of Barcelona on the first fully crewed 800 mile long leg to Cascais.
Five of the seven IMOCA 60s were OCS and had to re-cross the line, handing Banque Populaire and Cheminées Poujoulat, an early advantage.
The questions occupying the minds of all the teams was how to deal with the first night at sea and then how to make the best of the strong westerlies forecast over the next 48 hours.
Before leaving double Vendee Globe winner Michel Desjoyeaux sailing on Francois Gabart's MACIF said: "We were here 18 months ago with Francois on a boat almost exactly the same, starting from Barcelona. Here I am and this time I am not in charge, so we are bound to have a good time. François is very highly motivated, he learns fast and works extremely hard."
Meanwhile fellow Port la Foret veteran Roland Jourdain who is crewing on Virbac-Paprec 3 said: "It's not bad this having crew status, certainly you sail with a lot less pressure. Also, I am delighted to join the team for this. The fact is that we have often been rivals on the water in races like the Vendee Globe, Barcelona World Race and the Route du Rhum and now we are together on board. Friendships were formed before, but now it is an opportunity to cement them."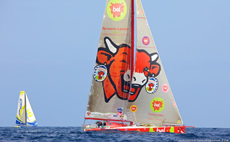 Back to top
Back to top