Transat B to B sets sail
Monday December 5th 2011, Author:
James Boyd
, Location: none selected
Eight IMOCA 60s took the start of the Transat B to B race from Saint Barts in the Caribbean to Lorient at 1400 UTC today.
Making the start line directly from the neighbouring island of Saint Maarten after completing repairs in record time, François Gabart aboard MACIF confidently overhauled the rest of the fleet and barrelled onwards with a moderate east to northeasterly breeze on his northward course leaving Ile Fourchue, off the northwest tip of Saint Barts, to starboard before hitting the open road to Brittany on his first solo IMOCA 60 event.
In their eagerness to close the gap, Safran, PRB and Virbac-Paprec 3 suffered minor impact damage as they jockeyed for position in MACIF's wake. The skipper of the former boat won his protest and Vincent Riou and Jean-Pierre Dick each had to perform two penalty turns (720°) - a clear indicator of the competitive spirit epitomising the IMOCA class.
Having left the only Caribbean course mark to starboard, the fleet will initially be focusing on gaining ground to the north before opting to round to the east or the west of a zone of high pressure in a couple of days' time. Once around this particular obstacle, the winter lows will scoop up the fleet. It's still too early to have an exact idea of the chronology at this stage, but 30 knot winds, gusting to over 40 knots, are expected as the first front rolls across the fleet over 9-10 December. So it could be a very quick race for the leaders with a race time of under-2 weeks still on the cards right now.
It goes without saying that the two British skippers of this eight-strong fleet will be giving their all in the Transat B to B. Mike Golding on his heavily revamped Gamesa will be eager for revenge and a chance to show what he and his steed are really made of after his poor weather choices in the Transat Jacques Vabre. Meantime, Alex Thomson on Hugo Boss will be keen to show that he can sail just as clean a course in singlehanded configuration as he does double-handed, after taking a brilliant second place in the Transat Jacques Vabre.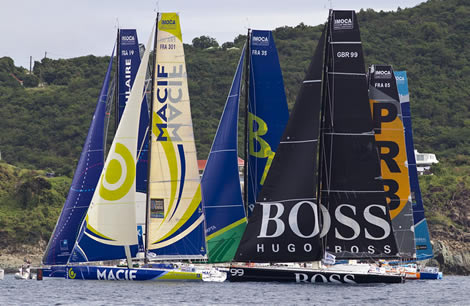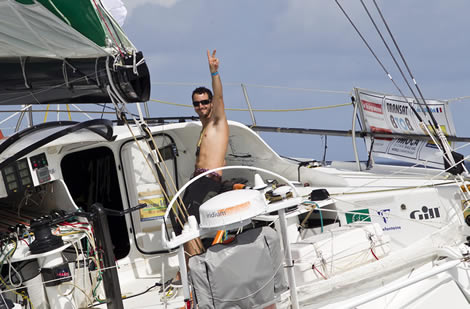 Back to top
Back to top