Dramatic start
The 44 skippers taking part on Leg 3 of the Solitaire du Figaro left Brest today for a 349 miles long leg to Kinsale, southern Ireland. The start was hampered by the bulk of the fleet clustering about the pin end of the line, causing individual recalls and several protest flags to be raised.
The boats left the pontoon at 11.00, their skippers waving goodbye to shore teams, families, friends and supporters, together with La Belle Poule, the French Naval tall ship which hoisted her full set of sails, offering an spectacular and rare show for the gathered public out to watch the start.

Even before the start procedure was given, the atmosphere was full of excitement and expectation. At the start several boats were over the line, some going back to take a penalty and re-start, but the situation was pretty confused and many skipper's decided to hoist the protest flag. At the weather mark, the bouée Seamobile, two boats collided and further penalty turns ensued.
At the Radio France mark, the first prize went to François Gabart on Skipper Macif 2010, followed by Thomas Rouxel on Crédit Mutuel de Bretagne and Sébastien Josse on Vendée. Young Portuguese newcomer to the Figaro fleet, Francisco Lobato on ROFF/TEMPO-TEAM made an excellent start to round the mark in fifth, first of the rookies. Other non-French skippers were in the second half of the fleet - Switzerland's Bernard Stamm 29th, Italian Pietro D'Alì 36th, Jonny Malbon 39th and Franco/German Isabelle Joschke in 43rd.

Unfortunately soon after rounding the Radio France buoy, Gabart ran onto the rocks while sailing very close to shore. He was forced to get off the boat and was then able to literally push the boat off the rocks without requesting outside assistance and immediately went back to racing.
Upon leaving Brest and the Bay of Camaret, the fleet hung a right towards the Chenal du Four, potentially a very complex stretch of the course, renown for its strong cross-currents. The Molène archipelago and the isle of Ushant have to be left to port side, then the Portsall plateau leaving the cardinal mark West Grande Basse de Portsall to port. The leaders should get there, according to the latest ETA tonight between 8 and 9 p.m.
Before leaving for Leg 3 skippers gave their views on the leg ahead:
Pietro D'Alì (I.NOVA.3) "This is not going an easy leg but at least it's going to be fast. The latest weather report says there will be more wind that we thought, so it will probably less hard to get out of the gulf. The cold front will come later than expected, there is a chance that we will round Wolf Rock reaching and then a long upwind part to the Fastnet. The wind will be pretty instable after that, we will need all our focus tacking up to Kinsale. The finish is expected for Wednesday might, it's going to be pretty quick… You will have to stay in the leading group from the start, not to accumulate too much distance, as apparently there will be no stop and go this time. I feel all right, especially after a massage and a good dose of sleep, I'm ready to go for the third one. I hope I will have the chance to fight to be in the top ten."

Race leader Armel Le Cléac'h (Britair) "Sure, it's the shortest one, but we will be busy anyway. Getting out the goulet de Brest (bottleneck harbour) this afternoon against the current won't be easy, then the long tack to Cornwall, speed needed there, and the Celtic sea to complicate things further. Not simple at all, we'll have to watch out. As in any other leg… you can loose ground and be left behind. The start is tricky but the rest as well, with many options to take. I'm a bit tired, that's true because you never recover 100% of your energies. We are midpoint now with a tricky leg to be dealt with. And it's not just all about speed, but there's also strategy, weather routing and we are under stress."

Jean-Paul Mouren (Marseillentreprises): "I'm convinced it's going to be a good leg, as the previous ones. It will probably be less sunny when we'll get to Ireland; I have my umbrella ready… My wish? You know, choosing the right option or the wrong one takes exactly the same energy, so I will try and be on the right track, be at one with the weather. That's what you need to do, be on the same wavelength with nature, or it's going to be all wrong."

François Gabart (Skipper Macif 2010): "We had two good ones, I must admit I'm biased because all went well for me. And for this one, we have all the right ingredients: light wind and current, then reaching under spinnaker or genoa; the Celtic Sea is going to be interesting too because there is a small secondary low pressure and there will surely be wind shifts to consider. Then another ridge and another front. A full plate for the game to be fun. I'm happy to get going because I feel all right, the boat is ready and I guess I got the rhythm. I need to go on sailing like I did on the previous two legs: look for maximum speed and try to be at the right place at the right moment."

Marc Emig (Marcemigetmoi.com): "I need to learn to sail in the rain! More seriously, I wish to be able to stay in the top group, not to give up when things go wrong, be back in the match and get to Kinsale in a good mood with the longest possible lead. Then I will still have the last leg to try a coup and go up some 5 or 6 places."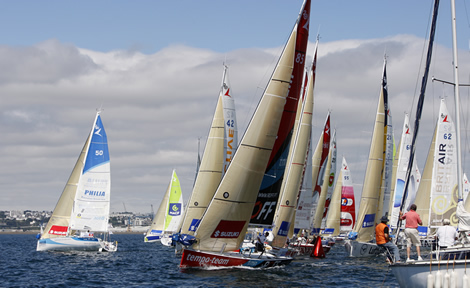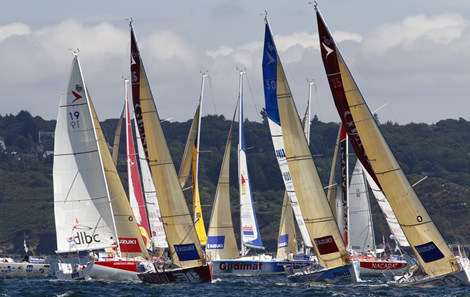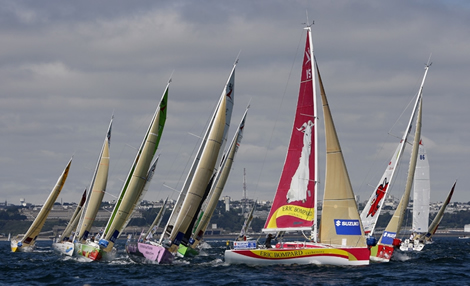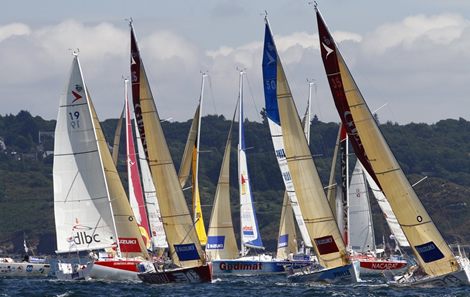 Back to top
Back to top