Extreme Sailing Series 2016 announced
Wednesday February 10th 2016, Author:
Nicky Dawson
, Location: none selected
The 2016 Extreme Sailing Series was officially launched at the Dubai International Marine Club today with a line-up of eight teams from eight nations set to participate. For its tenth year, the 2016 Extreme Sailing Series will take place in a new fleet of foiling GC32 catamarans.
The program of events for 2016 includes eight urban city centres, with the Portuguese capital Lisbon makes its debut as a new stadium sailing race course. Alongside the Portuguese city will be seven other tried-and-tested city stadium settings, that have attracted more than one million spectators to the Extreme Sailing Series over the last nine years.
Event Director Andy Tourell commented: "2016 marks the tenth year of competition for the Extreme Sailing Series and it is going to be a milestone year for us in more ways than one, not least the change of racing platform to the GC32 which brings with it a whole new dimension to the racing and public experience.

"We have a chance to diversify our format, combining tradition-breaking and award-winning Stadium Racing with the incorporation of match racing, plus the chance to open up the racecourse in some venues, allowing these boats to really stretch their legs – starting with a 20km coastal race to start the season in Muscat, Oman."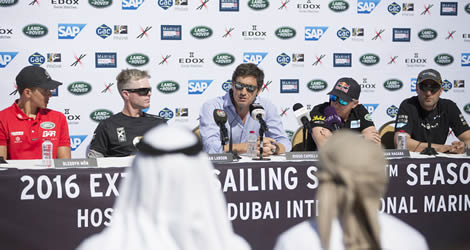 The competition on the water promises to be fierce and action-packed with America's Cup legends, Olympic heroes and world champions preparing to do battle at close quarters. Among the crews will be veterans of 13 Olympic campaigns and 22 America's Cup campaigns. Between them they also hold 27 World Championship titles, 27 European Championships and 106 National titles.

On the grid for the new season are 2015 runners-up SAP Extreme Sailing Team co-skippered for a fifth year by Jes Gram-Hansen and Rasmus Køstner from Denmark, who have boosted their on-board talent with Italian Pierluigi De Felice, a multiple World Champion and three-times America's Cup sailor with Luna Rossa.

SAP's 2015 sparring partner, Red Bull Sailing Team, skippered by Austrian double Olympic gold medallist Roman Hagara, with Hans Peter Steinacher calling the tactics, will also return.

2008 and 2014 Extreme Sailing Series champions from Switzerland and two-time winners of the America's Cup, Alinghi, will return to the circuit armed with foiling expertise after coming second in the 2015 Bullitt GC32 Racing Tour. Team Principal Ernesto Bertarelli will be sharing helming duties throughout the season with talented Swiss Moth and multihull sailor, Arnaud Psarofaghis.

"Using the GC32 this season will be a great change to the circuit," commented Psarofaghis. "It'll be even more interesting on the small racecourses, with the boats coming in at more than 25 knots. We really like the Series and, with the switch to the GC32, it's a really good opportunity for us. We know the boats well after a year racing on the GC32 circuit, but the other teams will catch up quickly."

Alinghi's former helmsman Morgan Larson will head up the Omani entry, Oman Air, alongside three of the five winning crew from the 2015 season. The Land Rover BAR Academy squad, announced two weeks ago, will be led for the first two event by the 2015-winning skipper and most successful sailor in Series history, Leigh McMillan, who will mentor the Academy sailors alongside experienced Extreme 40 crew Bleddyn Môn, Ben Ainslie and the Land Rover BAR senior team.

Edhem Dirvana, skipper of Team Turx, returns for his second year on the circuit, and for the first time, a Portuguese team led by three-time Olympian and 2015 Team Turx crew Diogo Cayolla, will make its debut.

Cayolla spoke about the teams' objectives: "Our main aims with this campaign are to develop Portugal's talented sailors and to show people in our home country exactly what high-performance sailing is about.

"The combination of a team and the venue provide the perfect platform for us to do that. The Extreme Sailing Series is by far the most commercially-developed sailing platform where you can show off your brand, your country and your sailors. I don't see any other circuits as global as this one."

The global stage

The fleet will once again do battle at events internationally, taking in three continents over the next 10 months, bringing foiling to urban city centres. After the season-opener in Muscat in March – where the eighth team will be revealed – the fleet will travel to China's Olympic Sailing City, Qingdao in May.

Returning to Europe in June, the Series touches down on UK shores in Cardiff for the fifth consecutive year, an event that attracted record numbers of spectators in 2013, with over 120,000 people taking front row seats around Cardiff Bay.
Welsh Government Deputy Minister for Culture, Sport and Tourism, Ken Skates, said: "This event is proving to be a spectacular event in the summer events calendar. We look forward to welcoming Extreme Sailing back to Wales again for the fifth year. In previous years, the event has provided Cardiff with a global position alongside other premium venues such as Singapore, Istanbul, Nice and Boston and has given us the opportunity to promote Cardiff Bay internationally as a world class sailing and water sports venue."

The German city of Hamburg will host the fourth event in July, following its debut in 2015, before the Series heads to St Petersburg, Russia at the start of September and onto Istanbul, Turkey just three weeks later.

New to the calendar for 2016 Lisbon/Oeiras, Portugal will make its debut as the penultimate event of the year, before the Series concludes in Australia in December.

2016 Extreme Sailing Series - schedule
16-19 March, Muscat, Oman
29 April – 2 May, Qingdao, China
23-26 June, Cardiff, United Kingdom
28-31 July, Hamburg, Germany
1-4 September, Saint Petersburg, Russia
22-25 September, Istanbul, Turkey
6-9 October Lisbon, Portugal
8-11 December, Australia

2016 Extreme Sailing Series - Teams and Skippers
Alinghi (SUI) – Ernesto Bertarelli (SUI)/ Arnaud Psarofaghis (SUI)
Land Rover BAR Academy (GBR) – Bleddyn Môn (GBR)
Oman Air (OMA)- Morgan Larson (USA)
Portuguese Team (name TBC) – Diogo Cayolla (POR)
Red Bull Sailing Team (AUT) – Roman Hagara (AUT)
SAP Extreme Sailing Team (DEN) – Jes Gram-Hansen (DEN)/Rasmus Kostner (DEN)
Team Turx (TUR) – Edhem Dirvana (TUR)
Eighth team – to be announced
Back to top
Back to top