Capsize in gusty Sydney
With strong winds forecast day two of the Extreme Sailing Series Sydney presented by Land Rover saw crews battling 30 knot gusts that belted between the skyscrapers lining Farm Cove. Lino Sonego Team Italia was caught off-guard by a big gust coming off the Sydney Opera House, resulting in a dramatic capsize in front of the crowds

Bowman Tom Buggy explained: "As we tacked on the first beat I saw Red Bull Sailing Team out of the corner of my eye, we tried to avoid them but had no space and by then we were already at 90°. That's when we went in, Enrico (Zennaro) flew past my head as he fell from the tramp, but I was lucky enough to cling on to the boat."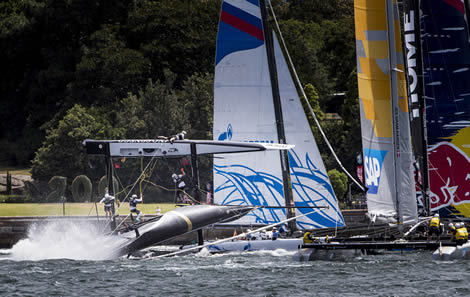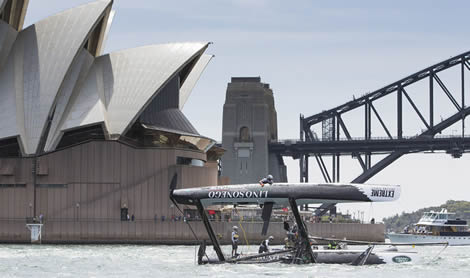 With no injuries to the crew, the safety team was immediately on site to provide assistance for the team that includes Italians Zennaro, Nevio Sabadin and Stefano Rizzi as well as French helm and Olympic sailor Pierre Pennec and British sailor Tom Buggy.

Remarkably, 30 minutes later the Italian boat had been righted while her crew had shaken off the jitters and managed to make it to the start line for the next race.

Not one to shy away from the thrilling conditions, Race Director Phil Lawrence raced the fleet six boats at a time to allow more space on the compact race track as a safety precaution. Four short sharp races were completed before racing was abandoned for the day.

Lawrence reflected: "We continued to race as long as possible but the forecast was for the wind to go further to the south, which meant it would have come straight through the city resulting in vertical gusts which the sailors wouldn't be able to see. We decided to suspend racing at that point and have a good forecast for tomorrow and even better for Sunday's final."

Today's unpredictable conditions have seen a lead change on the podium, with The Wave, Muscat leapfrogging from third to first, tied on points with second placed SAP Extreme Sailing Team. Oman Air is just three points adrift in third.

"We haven't been exceptional, but we haven't been disastrous either," said The Wave, Muscat helm Leigh McMillan. "Today's gusts were so aggressive you couldn't really keep in control. It was nerve racking at times and pretty full on. Hopefully conditions get a little more normal tomorrow so we can smash in some good races."

Leading the mid-fleet charge is Red Bull Sailing Team and Team Turx in fourth and fifth respectively just one point apart. But the performance of the day went to sixth-placed Gazprom Team Russia which scored its first race win after changing to a full Russian crew for this event.

And finally back on the water Australian wild card team 33 South Racing will be raring to go tomorrow after missing a days racing as they repaired a significant hole in the hull of the boat, sustained during yesterday's racing.


Results after 12 races

1st The Wave, Muscat (OMA) Leigh McMillan, Sarah Ayton, Pete Greenhalgh, Ed Smyth, Nasser Al Mashari 83 points.
2nd SAP Extreme Sailing Team (DEN) Jes Gram-Hansen, Rasmus Køstner, Thierry Douillard, Mads Emil Stephensen, Brad Farrand 83 points.
3rd Oman Air (OMA) Stevie Morrison, Nic Asher, Ted Hackney, Ed Powys, Ali Al Balashi 80 points.
4th Red Bull Sailing Team (AUT) Roman Hagara, Hans-Peter Steinacher, Lionel Vaucher, Shaun Mason, Stewart Dodson 71 points.
5th Team Turx (TUR) Mitch Booth, Edhem Dirvana, Selim Kakis, Diogo Cayolla, Pedro Andrade 70 points.
6th Gazprom Team Russia (RUS) Igor Lisovenko, Pavel Kalinichev, Pavel Karachi, Alexander Bozhko, Aleksey Kulakov 57 points.
7th GAC Pindar (GBR) Adam Minoprio, Seve Jarvin, Jeremy Lomas, James Wierzbowski, Tyson Lamond 42 points.
8th 33 South Racing (AUS) Katie Spithill, Matthew Chew, Stacey Jackson, Henry Kernot, Luke Payne 41 points.
9th Lino Sonego Team Italia (ITA) Enrico Zennaro, Pierre Pennec, Nevio Sabadin, Stefano Rizzi,Tom Buggy 39 points.
Back to top
Back to top