Capsized, but still leading
Day three of the Extreme Sailing Series Hamburg presented by Land Rover saw five dramatic races squeezed in between thunderstorms blowing over the River Elbe off the HafenCity waterfront.
The final race of the day demonstrated just how testing the conditions were, as Danish SAP Extreme Sailing Team was caught out by a huge gust midway through a gybe on the final downwind leg, resulting in a dramatic capsize in front of the crowds.
The safety team was immediately on site to provide assistance for co-skippers Jes Gram-Hansen and Rasmus Køstner and their crew, who were all uninjured and quickly set to work to right the boat, which sustained only minor damage in the form of a broken jib batten, an easy fix before tomorrow's final.
"It was a scary moment. We were trying to de-power for the massive gust on the downwind to the finish line but we didn't manage to; the bow went down, the rudder came out of the water and I lost control of the boat and we flipped over", said skipper Jes Gram-Hansen.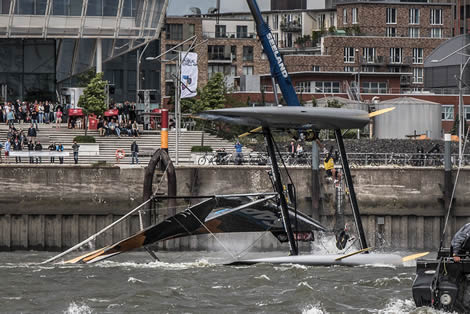 Despite the drama, the Danish team remains on top of the leaderboard ahead of tomorrow's final day of racing, overhauling overnight leaders Gazprom Team Russia who struggled with boathandling today in the stronger breeze. A series of mid-fleet finishes dropped the Russian crew back in the overall standings to third, with The Wave, Muscat in second, just one point off SAP Extreme Sailing Team.
With ominous black clouds on the horizon and the rumble of thunder in the background the theme of snakes and ladders continued for most of the fleet.
"Today was life at the extreme, it was what the Series is all about; it was lively, hectic and kept me on my toes," explained Oman Air's helm Stevie Morrison.
Taking two race wins each, Oman Air and Red Bull Sailing Team were the most consistent crews of the day, but both have some work to do to reach the podium on the final day tomorrow.
Results:
1st SAP Extreme Sailing Team (DEN) Jes Gram-Hansen, Rasmus Køstner, Hervé Cunningham, Mads Emil Stephensen, Nicolai Sehested 137 points.
2nd The Wave, Muscat (OMA) Leigh McMillan, Sarah Ayton, Pete Greenhalgh, Ed Smyth, Nasser Al Mashari 136 points.
3rd Gazprom Team Russia (RUS) Igor Lisovenko, Phil Robertson, Garth Ellingham, Alexander Bozhko, Aleksey Kulakov 131 points.
4th Red Bull Sailing Team (AUT) Hans-Peter Steinacher, Jason Waterhouse, Jérémy Bachelin, Shaun Mason, Stewart Dodson 130 points.
5th Team Turx powered by Kaya Ropes (TUR) Edhem Dirvana, Mitch Booth, Selim Kakış, Diogo Cayolla, Pedro Andrade/Can Bayülken 118 points.
6th Oman Air (OMA) Stevie Morrison, Nic Asher, Ted Hackney, Ed Powys, Ali Al Balashi 117 points.
7th Lino Sonego Team Italia (ITA) Lorenzo Bressani, Enrico Zennaro, Stefano Ciampalini, Stefano Rizzi, Manuel Modena 108 points.
8th GAC Pindar (GBR) Seve Jarvin, Adam Minoprio, Marcus Ashley-Jones, James Corrie, James Wierzbowski 95 points.
9th Team Extreme Germany (GER) Paul Kohlhoff, Philip Kasueske, Johann Kohlhoff, Peter Kohlhoff, Max Kohlhoff 50 points
Back to top
Back to top