America's Cup in chaos - part 2
Thursday April 2nd 2015, Author:
James Boyd
, Location: none selected
Since our first installment of this article, it has been confirmed that the new AC48-50 (details yet to be announced) will replace the AC62 as the boat for the 34th America's Cup. Emirates Team New Zealand has said it will go to the America's Cup Arbitration Panel to determine if the contract it believes it has with ACEA agreeing that Auckland would host the America's Cup Qualifiers in 2017 must be respected. Luna Rossa, initially stating that it would withdraw its challenge from the 34th America's Cup if the goalposts were moved so significantly at this late stage, but are allegedly negotiating now...(oops - spoke too soon). In favour of the change, Ben Ainslie has aired his opinions about how a smaller boat is essential for the future of the America's Cup in an article on the Daily Telegraph website.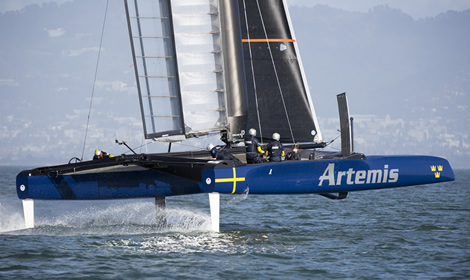 America's Cup Qualifier – Auckland or not?

Just to recap, when the Protocol was published it indicated that the part of the America's Cup, that has traditionally been the Louis Vuitton Challenger Selection series to determine the 'most worthy Challenger', is this time to be divided in two. First all teams, controversially including the Defender, will compete in the America's Cup Qualifiers, which the Protocol states will be held in a venue other than Bermuda. The top four challengers from this then go through to race in the America's Cup Challenger Playoffs to be held in the AC venue.
We were led to believe that Auckland was going to be announced as the venue for the AC Qualifiers during the second week in March. However it appears this was scuppered the moment Emirates Team New Zealand sided with Luna Rossa in its opposition to the boat change.
Following the latest shenanigans finding favour at the moment is hosting the Qualifiers in Bermuda. This would be good news for the challengers. We have long held the view that holding the America's Cup Qualifiers in a venue other than Bermuda, particularly one with significantly different conditions to Bermuda, would put them at a significant disadvantage over the Defender (Oracle Team USA). While they would have to develop boats to be competitive in both the AC Qualifier venue AND Bermuda, the defender will be able to concentrate on developing its boat solely for Bermuda (while Oracle Team USA is permitted to race in the AC Qualifiers, this will count for nothing). So for example given that teams are restricted in the number of foils they can build, Challengers will have to divide up this limited but crucial resource optimising them for two venues, while Oracle Team USA can focus solely on one, Bermuda.
Unless the Arbitration Panel rules that the agreement between ACEA and the Kiwis to host the Qualifiers in Auckland was watertight, then it seems that the best Emirates Team New Zealand can hope for that Auckland gets to host an America's Cup World Series event. We understand this would be much more acceptable to the northern hemisphere-based teams as for them it represents around one eighth to one tenth the cost of each team shipping its AC62, crew and other personnel down down under and keeping them in Auckland for the duration of the event, not to mention the inconvience and time lost due to shipping (although if this did go ahead one imagines that the giant Antonov transport aircraft might be used by some of the richer teams to cut down transport time).
In additional at present with effectively only four challengers up and running (Team France has yet to press the 'go' button) the reason for holding an America's Cup Qualifier, to determine the 'top four' to go through to the America's Cup Play-Offs in Bermuda, seems pointless.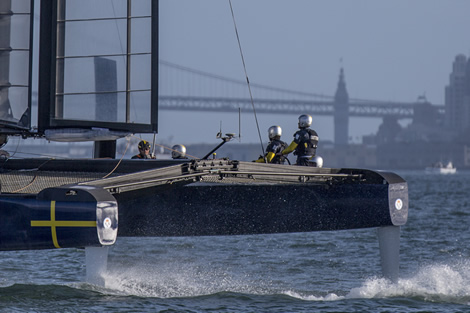 The future

In the new AC48-50, Oracle Team USA, BAR and Artemis Racing are hoping to have a boat that will be used not just for this America's Cup but for future ones, to provide some continuity in a similar fashion to the 12 metres and ACC monohulls of past Cups. Given that the new boat is designed so that it can be squeezed into a container, then it seems the writing is on the wall for the event to become more of Formula 1-style circuit with events around the world culminating in an America's Cup being held once every two years or so.
Between these three teams there is also a desire to create some much-needed continuity between America's Cups. The event has long been criticised by those trying to raise money for the event or for teams that there is constantly too many unknowns - in particular the date and the venue. Generally by the time these are announced there is too short a period to raise adequate commercial backing.
While this has been discussed for decades, what has never been overcome is how to get around the fact that the winner of the America's Cup gets to choose the venue for the next event and not only write the rules for it with the Challenger of Record, but determine to some degree how slanted the playing field is in their own favour (hence the desire of the Defender on some previous occasions to choose a 'weak' Challenger of Record).
The only way this is likely to be resolved is if the America's Cup winners rights are to be handed over to some central ACEA-type body, but one which effectively is the executive of both challengers and defender. This body would run the America's Cup and be able to select the dates and venues for future America's Cups.
An advisory board has been set up to contemplate this and will meet this summer to discuss it. This board comprises one individual per team, including Lord Grade from BAR and Bjorn Unger from Artemis Racing and AC Commissioner Dr Harvey Schiller. However this assumes that all of the team's visions of the future of the America's Cup are the same – which at present they aren't. Luna Rossa Team Principal Patricio Bertelli for example is known to be keen on returning to more of a classic format America's Cup, possibly even in monohulls. Emirates Team New Zealand one imagines would not want to hand over the winner's right to host the event (and one imagines BAR would agree with this).
And making this happen would certainly require one of the most significant changes ever made to the America's Cup Deed of Gift.
Our view

Going back to the choice of a smaller boat - we are all in favour of removing as much as possible of the engineering risk although this will be no small task with a state of the art foiling catamaran, even if it is a smaller one. For example appendages for foiling catamarans typically work best the closest they are to the limit of what it is possible to build. Getting a foil that will withstand passing through the water at 50 knots while carrying almost the entire weight of the boat, while providing the correct amount of lift and bending in the optimum way and then finding a way to build such a beast in as light a way as possible, makes it more understandable why design teams currently employ so many engineers.
We are not entirely signed up to the notion that going more one design cuts costs, particularly when it comes to elite-level racing yachts. For example in the Volvo Ocean Race, the VO65 may be one designs but ended up being a similar price (for the two teams that actually paid for their boats) to what a 2008 generation fully customised VO70s cost. And similarly the shared services fee that teams have to pay to the organisers aren't much less than each team having its own shore crew.
Similarly the IMOCA has gone for a one design mast and keel route with its new 60s, but this too has singularly failed to make any impression on cost containment.
Ironically with high tech race boats the cost of creating a one design and then ensuring that it remains a one design throughout its lengthy manufacturing process means that it ends up being little difference price-wise to a custom boat. And if you instead choose a partial one design or have an ultra-tight box rule, teams with the resource will still spend the money to get a competitive edge, but will do so investigating ever smaller details with increasing intensity . So in the TP52s for example over recent years we have seen designers and teams expending resource for example on reducing windage on their pit areas… Seriously – in the scheme of things, is this money well spent?
What going one design or partially one design in elite level yacht racing seems to achieve is to make it more possible for more teams to be competitive – it creates fewer underdogs.
Traditionally one positive aspect of the America's Cup is that it has not just led to technical innovation to our sport, but has effectively provided the opportunity for nations to showcase their technical creativity - the best examples being the AC72s. However even the AC72 rule limited what teams could do with their foils. While the foil shapes teams conjured up were impressive, they was only investigating one particular way of getting a catamaran to go foiling.
The move to go increasingly one design will limit the possibility of such development, while will not benefit the sport as a whole.
Wouldn't it be good for example if Cup teams had to also compete in the Little America's Cup and could use the relatively open C-Class for R&D into what is possible with foiling cats. Innovations in these 25ft long catamarans could then be incorporated for future iterations of foiling cats for the America's Cup itself.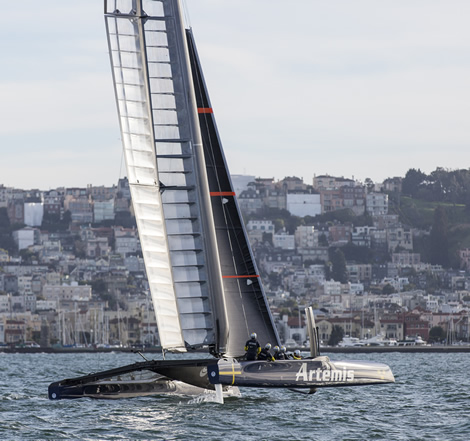 A smaller boat – does size really matter?

Russell Coutts in the past has told us that it does – AC72s are tiddlers compared to the G-Class offshore maxi-multihulls in France for example and one reason he was keen on the AC72s and AC45s having wings was to differentiate them from the French offshore multis (as well as for all of the wings' performance benefits obviously). However this was before the AC72s went airborne.
Certainly an AC48-50 compared to an AC62 or 72 would be less impressive for spectators watching ringside in Bermuda, but in reality if it is to be held in remote Bermuda, the 35th America's Cup will be more a television event than a spectator one. A Formula 1 race car for example isn't much bigger than a family saloon car – however it goes quite a bit faster and unlike Archimedian boats (ie ones with their hulls in the water), the speed of foilers isn't directly limited by waterline length (as Moth sailors will confirm). In fact we are uncertain of what the relationship between length and speed is when it comes to foilers – anyone got any ideas?
America's Cup purists - and we agree with them - will be concerned that the America's Cup becoming a 'circuit' in the future will make it hard to differentiate it from other classes – it will effectively become a much more costly version of the Extreme Sailing Series.
Also while there seems to be a desire for the America's Cup to become a fully commercial event, we think this is a mistake. Since it first started in 1851, the America's Cup has continually been about the world's richest people from different nations taking each other on – and by this we don't just mean on the water. Love it or hate it, love or hate the individuals involved - this is the essence of the America's Cup and is what makes it considerably more intriguing than if it was 'merely' a sports event.
And it is not like this is an unrealistic model given that the number of billionaires in the world has more than doubled in just six years (up to 1862 globally at present). Even now there seem to be more rich individuals than companies willing to shell out large sums on going yacht racing – in addition to the Cup teams, witness the number of superyachts, the Js, the maxis, etc that are currently taking to the race course.
Personally we think it is probably time to have an elite fully commercial event in foiling cats with an annual global circuit. It could be called the World Sailing League for example (;-)). And at the same time there is probably space in the market for an elite racing circuit for private owners such as Luna Rossa's Patrizio Bertelli in some sort of large aesthetically pleasing monohull, as was being mooted by the likes of Brad Butterworth prior to the 34th America's Cup. For the brand-aware, the former might be sponsored by Red Bull, the latter by Louis Vuitton/Prada.
Given the gigantic historic precedent, by rights it should be the 'owner' circuit that be granted the title 'America's Cup'. Or perhaps that is what we currently call the J-Class.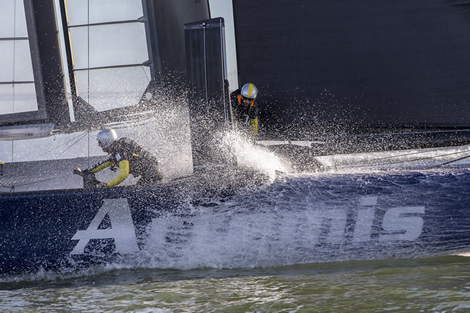 Back to top
Back to top