Early lead for home team
The opening day of the Extreme Sailing Series in Muscat, delivered an afternoon of perfect racing conditions, as the eight-strong Extreme 40 fleet flew around the coastal race course in a northeasterly breeze that built from eight to 16 knots.
With six races complete, it was the home team The Wave, Muscat, that stood out. Helmed by Leigh McMillan, two-time British Olympic gold medallist Sarah Ayton made concise tactical calls onboard and with the fastest boat speed downwind the Omani team managed a podium finish in five out of six races. The only blemish on an otherwise near-perfect scoreline came in the second race, after a tight rounding at the first windward mark with Red Bull Sailing Team resulted in a penalty and a last place finish.
McMillan was quietly satisfied with the result: "I didn't realise how well we had done. We had a few good races – but then that last place, so that was frustrating. I love the intensity of the racing, it doesn't give you time to sit around and contemplate a bad result, you have to smash into the next race and I like that. It was really nice work by the team, and great to be sailing in these fantastic conditions."
However, it is isn't easy to retain the lead. "We often have our highs and lows in these events. We have to push all the way and not let our grip go."
With as many as 20 races ahead this week, The Wave, Muscat's four point lead over second placed SAP Extreme Sailing Team, co-skippered by Jes Gram-Hansen and Rasmus Køstner, could quickly get eaten into.
The Danish team had an outstanding day, finding consistency in the rolling waves to end up second overall, confirming that this team is podium material this year after its second place finish in Singapore four weeks ago. Even an OCS in the second race today, couldn't break the stride of the Danes. Thanks to the cool head of tactician Køstner, the team broke away from the fleet, found a favourable wind that lifted them from last place to finish fourth.
Køstner summed up a job well done: "There are a lot of waves here so you have to think about your manoeuvres. The key is full speed around the course. It is full on action out there – lots of white water spraying off the boat and with everyone pushing hard, things happen quickly. It was a good day on the water."
With a storm due to blow over the city tonight, Race Director Phil Lawrence is forecasting 16 knots as the fleet move into the stadium format and the event opens to the public tomorrow.
Results:

1st The Wave, Muscat (OMA) Leigh McMillan, Sarah Ayton, Pete Greenhalgh, Ed Smyth, Nasser Al Mashari 50 points.
2nd SAP Extreme Sailing Team (DEN) Jes Gram-Hansen, Rasmus Køstner, Thierry Douillard, Mads Emil Stephensen, Brad Farrand 46 points.
3rd Oman Air (OMA) Stevie Morrison, Nic Asher, Ted Hackney, Ed Powys, Ali Al Balashi 44 points.
4th Red Bull Sailing Team (AUT) Roman Hagara, Hans Peter Steinacher, Jason Waterhouse, Shaun Mason, Stewart Dodson 43 points.
5th GAC Pindar (GBR) Seve Jarvin, Ian Williams, Marcus Ashley-Jones, Tyson Lamond, James Wierzbowski 35 points.
6th Gazprom Team Russia (RUS) Igor Lisovenko, Phil Robertson, Garth Ellingham, Alexander Bozhko, Aleksey Kulakov 34 points.
7th Team Turx powered by Kaya Ropes (TUR) Mitch Booth, Edhem Dirvana, Selim Kakış, Diogo Cayolla, Matteo Auguadro 31 points.
8th Lino Sonego Team Italia (ITA) Lorenzo Bressani, Enrico Zennaro, Gabriele Olivo, Tom Buggy, Stefano Ciampalini 29 points.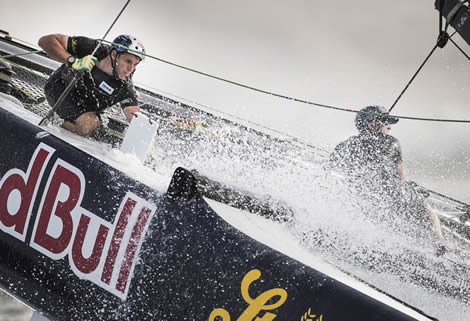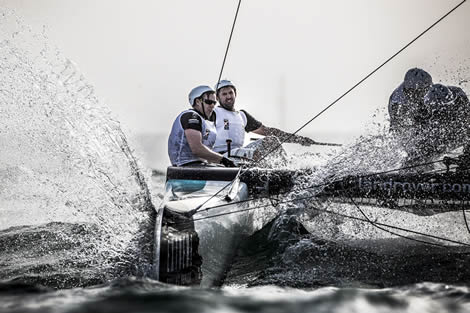 Back to top
Back to top