SAP takes the lead
SAP Extreme Sailing Team sailed a near faultless day on day two of the Extreme Sailing Series in Singapore, clearly relishing the inner city stadium racecourse, and striding ahead into first place – a day topped off by winning the Aberdeen Challenge Trophy.
The Danish team was the stand out performer of the day, clocking up more points than any other, and their co-skipper and helm Jes Gram-Hansen was quietly confident ahead of the penultimate day's racing tomorrow. "There's still a long way to go and anything can happen in Singapore, but we're really happy to be leading halfway through the regatta. It's no secret that last year was a disappointing season for us so it would be great to get a good result here. Two years ago we were on the podium in Singapore, so we'd love for that again this year. We know we can do it, we just have to focus on the things we know."
Red Bull Sailing Team was also on fire and threatening the lead all day, with two race wins for the formidable duo of Roman Hagara and Hans Peter Steinacher and the team was the distinct charging bull boosting them up the leaderboard at the end of play.
Speaking after racing, Hagara commented on the new team formation. "We are a great mixture of guys on board now. On one hand it is the experience and knowledge of Hans Peter and myself. On the other hand it is the power of the young guns. They know no limits. This is the thoughest sailing competition on planet earth. There is no other regatta, where you need to win or sail constantly in 30 races, over four days, to end up on the top of the podium. As always, the winner in Singapore will be chosen in the final race of the regatta"
As a two-time champion looking for a hat-trick of titles on this eight-regatta circuit in 2015, Leigh McMillan and the team on The Wave, Muscat had an unrewarding day, with a yo-yo performance by their normal impeccible standards, that saw them relinquish their day one lead to finish the day third overall – but just one point behind the Austrians.

In a programme of six races plus the Aberdeen Challenge knock-out trophy, racing was made unpredictable with the wind patchy thanks to the city's ring of tall buildings. This caused inconsistent performances from the majority of the fleet in the light conditions. But ultimately, the experienced hands got the measure of the track, with four returning skippers claiming the top positions including Igor Lisovenko and Gazprom Team Russia under helmsman Phil Robertson.
Robertson summed up the day: "This is the trickiest racecourse I've ever sailed on. It was a tough day, but we were never really out of the top five so that was the consistency we were looking for. Then we had a few fifth places, which cut us deep but overall we did well. Over the next two days we just need to continue to start well and then try and string the rest of the race together."
The light conditions also played in favour of British Olympic 49er sailor Stevie Morrison and the team on Oman Air which took their first race win of the season to upgrade their overnight position from seventh to fifth - now tied on points with Lino Sonego Team Italia, with Beko Team Turx another eight points back. "It was great to win a race but winning the regatta is about performing consistently not just winning one race," said Morrison. "We are a new team and this shows we have a lot of potential. If we can beat everyone, in theory we can do it again and again but we all know it's not as easy as that so it is all about establishing some consistency."
The local entry Team Aberdeen, under skipper Nick Moloney and with Aussie Adam Beashel on the helm, also had a better day, breaking into the top half of the fleet and adding 40 points to her tally. The locals are tied on points with the Aussies on GAC Pindar, who will be left feeling frustrated tonight, after they rammed the sea wall in the pre-start of the second race of the day, breaking their bowsprit and knocking them out of the following four races.
Tomorrow the fleet head into the business end of the regatta, with just two days racing left as all the teams look to establish a hold on the leaderboard as a sign of intent for the season ahead.
Results after 15 races
1st SAP Extreme Sailing Team (DEN) Jes Gram-Hansen, Rasmus Køstner, Thierry Douillard, Mads Emil Stephensen, Brad Farrand 111 points.
2nd Red Bull Sailing Team (AUT) Roman Hagara, Hans Peter Steinacher, Jason Waterhouse, Shaun Mason, Stewart Dodson 104 points.
3rd The Wave, Muscat (OMA) Leigh McMillan, Sarah Ayton, Pete Greenhalgh, Ed Smyth, Nasser Al Mashari 103 points.
4th Gazprom Team Russia (RUS) Igor Lisovenko, Phil Robertson, Garth Ellingham, Alexander Bozhko, Aleksey Kulakov 97 points.
5th Oman Air (OMA) Stevie Morrison, Nic Asher, Ted Hackney, Ed Powys, Ali Al Balashi 89 points.
6th Lino Sonego Team Italia (ITA) Lorenzo Bressani, Enrico Zennaro, Gabriele Olivo, Tom Buggy, Adam Kay 89 points.
7th Beko Team Turx (TUR) Mitch Booth, Selim Kakış, Diogo Cayolla, Anıl Berk Baki, Cem Gözen 81 points.
8th GAC Pindar (GBR) Seve Jarvin, Jack Macartney, Marcus Ashley-Jones, Tyson Lamond, James Wierzbowski 64 points.
9th Team Aberdeen (SIN) Nick Moloney, Adam Beashel, Tom Dawson, Freddie White, Justin Wong 64 points.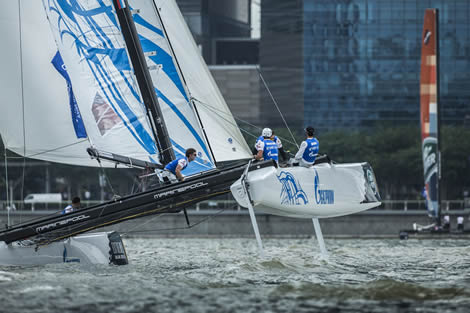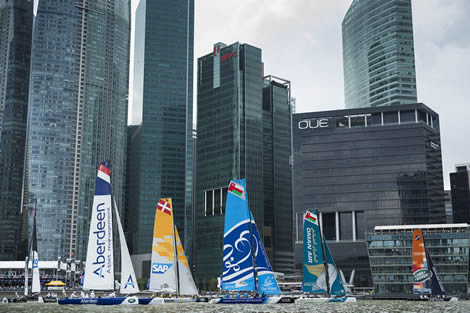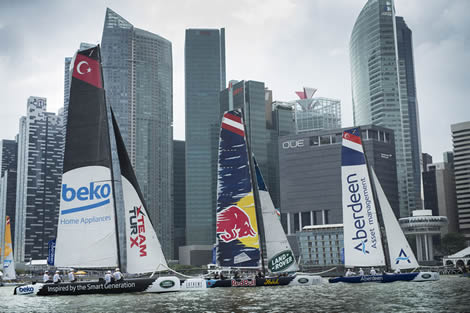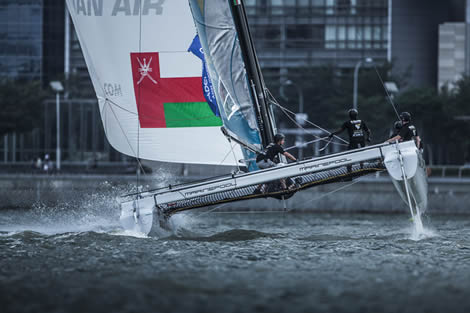 Back to top
Back to top