Early lead for The Wave, Muscat
He said he wanted to win and wouldn't settle for second this time round. For Leigh McMillan and his team on The Wave, Muscat their campaign to become 2015 Extreme Sailing Series champions couldn't have got off to a better start.
Under the shadow of the towering Singapore city skyline, the team representing Oman executed a consistent strategy in trying conditions, sailing to victory in three of today's eight races to finish just where they wanted: in pole position. However, the rest of the fleet is showing a real depth of talent and putting in performances to make McMillan earn every single point.
Speaking before going out on the water, McMillan said: "We are going to try and win, that's our plan. But we know it's not going to be easy with the new faces on the circuit. We just have to keep doing what we do well and keep fighting to be at the front." Dockside after racing, he summed up the day: "It was great to be back out on the water and thrashing it out with all the new teams this year. The conditions were certainly challenging, at the extremes of what we have seen here in Singapore before – particularly in terms of the gust range, so it was pretty full on."
The first eight races of the season saw five different winners as the majority of the fleet struggled for consistency in the continually shifting breeze. With the wind ranging from 2 to 18 knots, and gusts peaking at 26, the priority of each team's tactician was to minimise mistakes, read the shifts or sometimes simply to make the most of the cards they got dealt.
SAP Extreme Sailing Team had the starts nailed, with the best average starting position according to the SAP analytics, which helped them to two race wins and they looked to be the driving seat heading into the final race, but in this they slipped to the back, costing them their lead, finishing the day in a solid second place.
Co-skipper Jes Gram Hansen explained just how tough the conditions were: "I think it's difficult here because the wind changes a lot, but that also means you can get some opportunities even if you don't get off the line that well. I think we figured a little bit of consistency in the madness and we were able to play that, which worked well for us. It's still early days, and some of the new teams will start to find their feet, and I'm sure they will get stronger throughout this regatta, and then throughout the whole year. But so far so good."
In third, Red Bull Sailing Team had a good day, the team led by Austrian double Tornado Olympic gold medallist Roman Hagara, sailing with new helmsman Jason Waterhouse. On average the Austrian team was fastest downwind.
Hagara summed up what was a challenging, but satisfying day: "We had some good starts and then some good finishes including a first and a couple of fourth positions. I think everyone is feeling the same out there as you have so many ups and downs as the wind is constantly changing and shifting around. I think we will have the same conditions tomorrow so shifty and gusty. You just have to keep your heads up and make as few mistakes as possible."
Showing impressive signs of early form, the new teams of Lino Sonego Team Italia, racing under Land Rover colours in Singapore, and Beko Team Turx, managed to show the old guard some new tricks, continually mixing it up near the top of the fleet. Lorenzo Bressani, who is juggling a Rio 2016 Olympic campaign with competing in the Series, was particularly impressive, playing a low risk game, setting up for manoeuvres and executing them precisely. The Italians finished the day in fourth place – tied on points with the more experienced Gazprom Team Russia.
Bressani commented: "It feels like a good day. It was tough out there and our tactician did a good job to keep the speed of the boat consistent. It is very important for us not make any big mistakes. For tomorrow, we need to think about the power onboard and sustain that level of energy throughout the day."
Beko Team Turx is also in the hunt, sixth at the end of the day, two points clear of Oman Air under the guidance of new helm British 49er Olympian Stevie Morrison. The young Aussies on GAC Pindar made an early charge taking honours in the opening racem, but the team struggled to recover after rudder issues in race two, to finish the day eighth, with Team Aberdeen in ninth.
Tomorrow and for the next three days, racing on Marina Bay Reservoir will continue with the support of Host Venue Partner Aberdeen Asset Management.
Results
1st The Wave, Muscat (OMA) Leigh McMillan, Sarah Ayton, Pete Greenhalgh, Ed Smyth, Nasser Al Mashari 62 points.
2nd SAP Extreme Sailing Team (DEN) Jes Gram-Hansen, Rasmus Køstner, Thierry Douillard, Mads Emil Stephensen, Brad Farrand 58 points.
3rd Red Bull Sailing Team (AUT) Roman Hagara, Hans Peter Steinacher, Jason Waterhouse, Shaun Mason, Stewart Dodson 53 points.
4th Lino Sonego Team Italia (ITA) Lorenzo Bressani, Enrico Zennaro, Gabriele Olivo, Tom Buggy, Adam Kay 50 points.
5th Gazprom Team Russia (RUS) Igor Lisovenko, Phil Robertson, Garth Ellingham, Alexander Bozhko, Aleksey Kulakov 50 points.
6th Beko Team Turx (TUR) Cem Gözen, Mitch Booth, Selim Kakış, Diogo Cayolla, Anıl Berk Baki 46 points.
7th Oman Air (OMA) Stevie Morrison, Nic Asher, Ted Hackney, Ed Powys, Ali Al Balashi 44 points.
8th GAC Pindar (GBR) Seve Jarvin, Jack Macartney, Marcus Ashley-Jones, Tyson Lamond, James Wierzbowski 43 points.
9th Team Aberdeen (SIN) Nick Moloney, Adam Beashel, Tom Dawson, Freddie White, Justin Wong 24 points.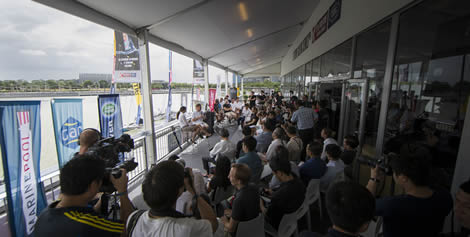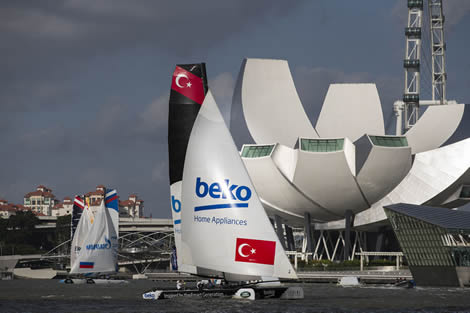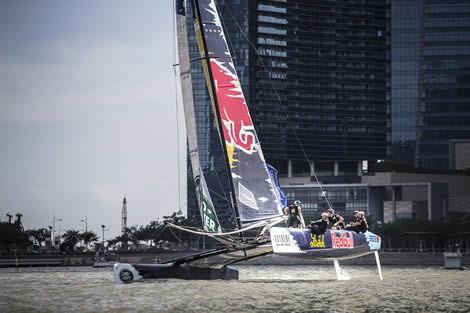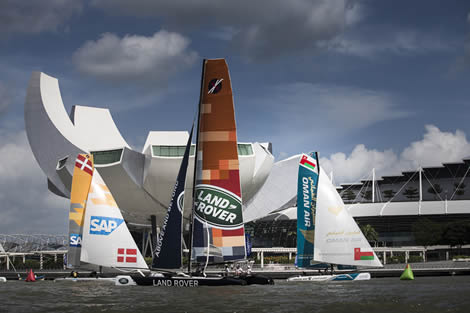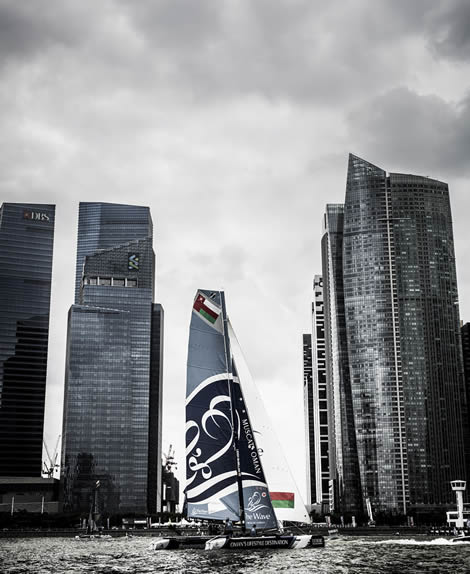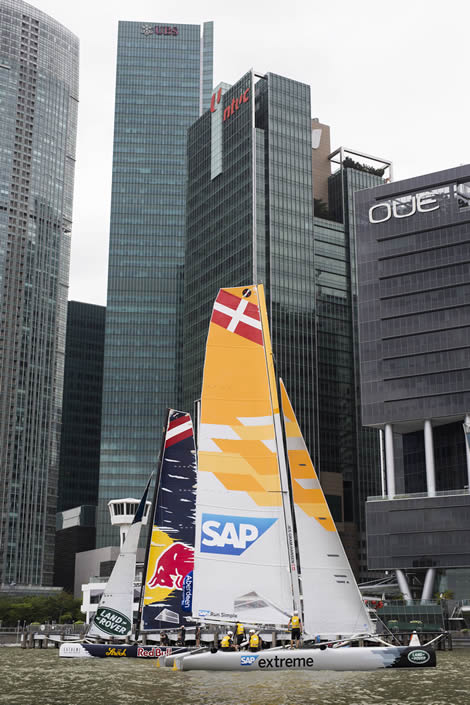 Back to top
Back to top