Dirk Kramers on the AC62
One of Ben Ainslie Racing's grand coups to date has been to secure the services of Dirk Kramers. The eminent structural engineer, who's involvement with the America's Cup goes back longer than he's prepared to admit (in fact his first AC was in 1977 as mast designer for Ted Turner's winning Courageous campaign) has in the last decade helped see Alinghi to victory in 2007. Since continuing with Alinghi's less successful defence of the 33rd America's Cup, Kramers jumped ship to Oracle Team USA, where his long experience not just in structures, but in AC catamaran development (he was also part of Dennis Conner's Stars & Stripes cat campaign back in 1988) saw his remit widen to become 'Design Executive' for the 34th AC, a similar role he now holds with the British challenge.
As Kramers describes his current remit: "Right now it is more general. My prime background is in structures, but it is so varied right now because all these different disciplines affect each other - between the systems, the structures and making sure that the modelling side of life is in step with everything."
Within the BAR design team, Kramers is the sage-like figure working with Technical Director Andy Claughton and the likes of Clay Oliver, Benjamin Muyl, Jason Ker/Simon Schofield, and ex-Oracle, Team Origin and Artemis CFD expert Rodrigo Azcueta in the design team that stands at present at 19-strong.
To date the sailing team has been frightening themselves on Nacra 20 foiling cats and the team has fitted its own boards to the BAR AC45.
But a significant hold-up, affecting all the AC teams at present, is that there is still a lot of significant unknowns surrounding the next America's Cup. The Protocol for the 35th America's Cup indicates that there will be an America's Cup Qualification Series set to be held somewhere other than Bermuda, but the Protocol states that the venue for this can be announced as late as 15th February this year. Results in this will determine which top four Challengers who will proceed to the America's Cup Challenger Play-Offs, to be held in Bermuda. The dates of this (and the ACQS) have yet to be announced (again it will be before 15th February according to the Protocol) so until this occurs it is hard for design teams to know the conditions for which they should be designing.
Until they have this hard information, teams such as Ben Ainslie Racing are having to come up with a different scenarios in terms of time frames – for example what is the ACQS is to be held in the Northern hemisphere or Southern ? – This has a bearing on the timing of their build slot and, prior to this, compresses or expands the available time for R&D and design.
In addition there are still holes in the AC62 Rule. As Kramers puts it: "The structural testing hasn't been defined yet and there is a bunch of language clarifications that need to happen. So we need the final rule... It is a bit tightened up now, but it has to come from the defender with the majority of the challengers. And we still need a Measurement Committee in place. Getting the rule defined better would save a lot of money for us."
One of the key issues with the change to the new generation AC62 from the AC72s, is that the new rule aims to promote foiling, whereas the AC72 rule intended to prevent it. "At the early meetings about the [AC72] rule, the Challenger of Record at the time basically vetoed it [foiling] and put these measures in place to make it very difficult to foil, so we ended up foiling in a bad way," explains Kramers. "That was a symptom of the early rule negotiations. But now we think it is a good thing to foil, it makes for spectacular media."
In this waiting period, the design team is effectively sharpening its pencils, but in reality this time can be very valuably spent honing their design, modelling and VPP tools, which Kramers admits were some way off the mark for prior to the 34th AC. "The VPP guys, for all teams underestimated what the performance would be on foils. Our predictive tools [at Oracle Team USA] weren't accurate enough, so a lot of the work on that is going on right now, in all teams I'd say, is to get the predictive tools to a point where we can accurately predict the performance of a foiling boat. But that's fun and it's a good thing."
Foiling upwind, the AC72s were sailing around 2 knots faster than their VPPs anticipated, capable of reaching speeds into the high 20s (depending on TWA), some 3-4 knots faster than the boat would go as a low-rider, non-foiler. "The sailing is so dynamic now that it is hard to pick a piece of static performance. The static VPP model is becoming a thing of the past, so you have to work much more dynamically," advises Kramers.
"Upwind foiling is difficult, certainly when it comes to controlling the attitude of the boat. You needed to achieve a certain amount of heave and pitch stability without crashing and that became a compromise between how much stability you wanted versus how much performance. New tools and improved understanding of stability will make it a different game [with the AC62s]."
While the AC62s are shorter and, in comparison to the AC72, its class rule far tighter with many parts being all but one design, as the rule promotes foiling, this in theory should mean that their speed is similar or at least not much worse than the larger AC72s. However in reality, of bigger consequence to their performance As Kramers states: "We get a bit of a tainted view from sailing in San Francisco, because the conditions there were so perfect." If the average wind conditions for Bermuda hold true, then the 35th America's Cup venue won't see strong breeze as regularly, instead it is likely to lay on a variety of conditions between light and strong. Of greatest concern for teams is - will there be a minimum wind limit? And if so/not, then how low a wind speed do you want to foil in, as that will also have a bearing on performance at higher speeds. However given the anticipated lighter conditions, we can expect to see the AC62s fitted with foils that are at least as big as those used on the AC72s in San Fran.
Another vital aspect that is missing is that there has as yet been no word about wind limits and how frequently teams can change foils.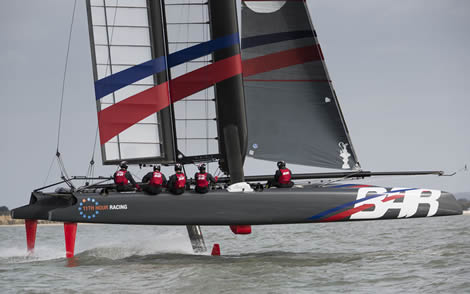 In terms of the spectator experience, Kramers reckons that while the AC62s should foil more elegantly, mainly thanks to being able to adjust the pitch of the rudders [prohibited during racing on the AC72s], causing the new cats to pitch less than their predecessors, their airborne antics otherwise will look much the same. "If you look at the smaller boats - the Phantoms, the Nacra 20s, the GC32s – they are all foiling very nicely. They probably could be foiling faster if they have a fancy control system, so that is where the difference is between let's say 'consumer' foilers and 'Cup' foilers."
For the BAR Design Team, a significant development came last year with the announcement that the team would be working with Red Bull Advanced Technology, fronted by F1 technical guru Adrian Newey, who has brought success to the likes of the Williams, McLaren and most recently the Red Bull teams.
"We have a collaboration on certain technical projects with them, which is good," says Kramers. "In England I am really amazed as to how much support we are getting from different aspects of British industry from composites to big facilities and companies."
Compared to America's Cup design teams, the resources are substantially greater for their equivalents in Formula 1, which Kramers puts down to the increased value of the event and the value of winning in motor sport's pinnacle circuit. "They are way ahead of us in certain areas, like modelling and simulation areas, they but you have to remember that they have been refining a four wheeled vehicle with an engine, etc for a long, long time and because of that, they have a huge understanding of the all the intricacies of the physics, much more so than us. We are dealing with pretty crude elements compared to them. We have only been sailing multihulls for a few years now. Plus we are dealing with air AND water."
So what does Newey bring to the campaign? "He is just a brilliant performance strategist. I spent a day with him when he came and visited us at Alinghi a few years ago. There are different approaches [between F1 and AC design]. For example he was quite surprised with how integrated the sailors are with a Cup program - apparently that is less so [with the drivers] in F1, which was a surprise to me. For us, the sailors are the 'customers' really, so their opinions drive a lot of the development. But in fact the emphasis moves around - sometimes it is more the sailors and sometimes more the designers and sometimes it is the build side. The schedule is normally driven from the build side. The systems are quite often driven from the sailors' side, because this is how they want to sail the boat, and when a new idea pops up on the design side, you need to convince the sailors that this is something they need to buy into.
"Red Bull is building another car for next season, but it is still four wheels, the engine is the same size, and everything else, whereas we don't even know what all the rules are yet!"
Perhaps F1 is closer to where AC design teams had got to with the last generation Version 5 monohulls, where teams could launch a boat and could be racing them within a matter of days, thanks to being able to predict with great accuracy their structures and how they would perform. "That is not the case at the moment with foiling multihulls," says Kramers. "It will take a while - look ahead another 10 years, then maybe it will be pretty routine to have foiling multihulls and we might get to that point. But it will take a lot of work and a lot of development before we get there."
While a big design focus for the AC62s will be on the foiling system, if there is no lower wind limit imposed, teams are likely to have to investigate how to make their boats go in non-foiling, low-rider 'Archimedian' mode, as a wind speed will be found below which it will prove faster not to be airborne. So hull design could become more important this time around.
"If we realise that you cannot have a weakness in light air, then all of a sudden you have to figure out how to win a race non-foiling. That could be the key," states Kramers. "That becomes a risk management exercise. And then if you set up for that, you might be able to win the race easily in 8-10 knots, but if the wind gets up to 12-13 you are done…So that is a gamble for sure. Even last time we ended up sailing some days with a bowsprit and some days without. Every night we'd come back and wait for the [weather] model to come out at 1830 and then we'd say 'okay, its off'. Then the shore team would work through the night to take the bowsprit off and they were done at 0630 just in time to put the boat back in the water. If you had got caught without the ability to put up a genniker, below a certain wind strength it would have been game over. And that could still happen. That is why probably, you could say that probably these boats [the AC62s] should have a genniker, to be able to sail in light air. At least if you prohibit it, then everyone is slow in the same way and the competition isn't turned into a gambling event."
Similarly Kramers feels that even though most of the big ticket items in the AC62 wing are more or less one design, there is still a massive amount of development to be carried out there: "There is a huge amount of work, but it is just different work. I think the under-apreciated part of wings is their control system. Even in the C-Class world everyone looks at wings and think 'that is cool'. But how many people really understand what is going on inside a C-Class wing? Even when the C-Class was in Falmouth, and everyone looked at Groupama C and thought their foiling package is what won it for them, but I thought it was more the wing. They were the only ones to figure out how to trim the wing."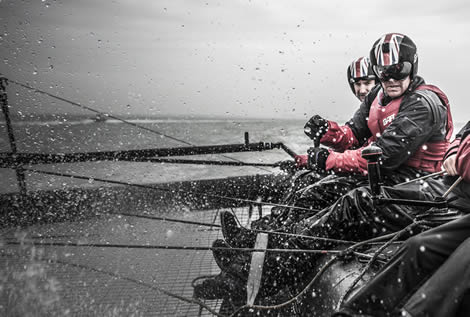 So how much can they do with the AC62 wing? "There are the same rules about stored energy [as with the foiling controls] and so on that apply to the wing. And the way the rules are written now, there is a limit to how much the main element can twist. An interesting thing from the last Cup was that we at Oracle were the only ones not to have a twisting leading edge. In fact in the Oracle program, the first thing we did, we built a twisting leading edge wing for the AC45 and tested the hell out of that. There are certain compromises you have to make and you need to learn about them, like stiffness versus performance, and vica versa."
But the biggest area of wing development will be the part average mortals never get to see – the cat's cradle of control lines and hydraulics hidden inside the wing that operate its constituent parts. "It is difficult visually see," admits Kramers, who must have one of the keenest eyes for this. "It is not like looking at a sail where you can see leech sag and figure out what is going on. But you can tell from the way all the paraphernalia is arranged at the bottom as to how it is being done. That is a good puzzle to figure out!"
Even after the 34th America's Cup, there are still precious few people who have worked on and sailed with wings. Kramers observes: "At the beginning of the last Cup at Oracle I thought we had more than half of the wings in the world in our one shed! But that is obviously changing very rapidly now, and as that is happening, the knowledge of how to trim the wings is exploding. So now, if you think you are a wing expert, think again in a month from now!"
While we think we can make a lot of predictions about the AC62s, Kramers still warns that there are a lot of unknowns. "In the last Cup, everyone thought it was all going to be about the wings as it was the first real Cup with wings. Well, that was wrong. And then all the multihull guys said 'all the passing happens downwind..." And that wasn't the case in San Francisco… So you have all these preconceived ideas of where the gains are, but you are quite often proved wrong."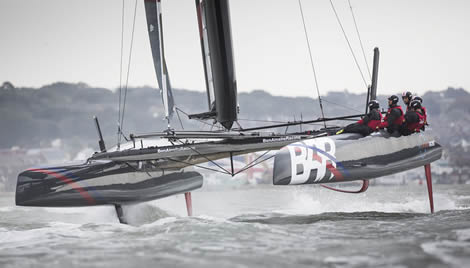 Back to top
Back to top