BAR update
Progress at Ben Ainslie Racing continues apace – as if it wasn't before – but in a more focussed way on the commercial side following the recent confirmation that the 35th America's Cup is to be held in 2017 in Bermuda.
For the teams that require commercial funding for their campaigns - in particular BAR, Emirates Team New Zealand and Team France - the announcement of Bermuda over San Diego was not great news. Opportunities to provide sponsors with a return on their investment in the remote mid-Atlantic island are more limited than if a mainland USA venue like San Diego had been chosen. Prior to the announcement the Kiwis were the most vocal in expressing this view.
Fortunately for Ainslie's British America's Cup challenge, Bermuda holds a number of redeeming features. Firstly it is a 'British Overseas Territory', so even though there is a strong US influence on the island, Ben Ainslie Racing will effectively be the home team.
Bermuda is also geographically much closer to Europe – which will be good news for BAR, along with Luna Rossa and Team France, if the latter is going to happen – we were expecting confirmation by now, so this doesn't bode well - as it will make for less painful (and costly) logistics. More importantly it will mean that racing can be broadcast live in a late afternoon/early evening slot in Europe.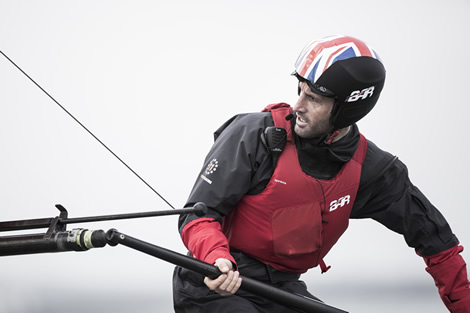 Ainslie also points out that Bermuda is far from a commercial right-off for his team as a lot of international British firms are headquartered there. "I'm sure there will be a lot of challenges there, but they have to be overcome."
Ainslie admits that he hasn't sailed very much in San Diego, but he is much more familiar with Bermuda – match racing, he won the Argo Group Gold Cup twice there in 2009 and 2010.
On the sailing side, Bermuda is a very much more promising venue: "Looking at the wind data for that time of year, it will be a great challenge for the teams. The wind is pretty variable. You look at the wind charts and one day it might be six knots and the next day it might be 20. So from a design perspective you have obviously got to cover the whole area, compared to San Diego where it might have been 8 knots every day or San Francisco where it is 15-20 knots. So the design team has to cover a greater scope, it is a great challenge and our design team is really up for that.
"Anyway, the competitors just have to embrace it. I remember in Sydney, the first time we went sailing there having a complete dummy spit and John Derbyshire said to me 'they're not going to change the Olympics just for you – so you'd better embrace this and enjoy it, otherwise you won't have a hope in hell of winning this thing'. So that's what you have to do."
Ainslie also points out that Bermuda is good for British fans due to the television scheduling time, plus the race area will be breath taking. "Tele-visually the Great Sound will be amazing with the water colour and the conditions and everything else. So that will be the focus. In terms of getting footfall in, that will be more challenging than San Diego, in terms of the city and the local inhabitants."
Meanwhile Jo Grindley, BAR's Head of Commercial, Marketing, Communications and Events, is hard at work leading the charge on the sponsorship side. The aim is to raise a war chest of £80 million of which 40% is to come from private investors, and the rest - £48 million – from the corporate world.
Last year Ainslie was campaigning his AC45 with support from his long term backer JPMorgan, as he has been this year with his Extreme 40 on the Extreme Sailing Series. This was giving the impression that the US banking giant, which has been a long term sponsor of Ainslie through much of his Olympic sailing, would be the solid block on which they could build their family of commercial sponsors. Unfortunately, to date this has not come to pass.
Ainslie explains: "It was a conscious decision made in the middle of the year over whether they wanted to become the naming rights sponsor and they made it clear that that wasn't an option. It was a bit difficult from an American perspective and also Chase, on the commercial banking side, they didn't have the same historical tie-in with us that JPMorgan did. But we still have a great relationship and it is potentially still something that can happen. We are still talking to them." Chase is the consumer and commercial banking subsidiary of JPMorgan Chase.
Fortunately now that the 35th AC venue is announced – although exact dates have yet to be finalised, we know June 2017 – there is more certainty about the event and this means that deals with potential sponsors can hopefully be firmed up and finalised.
"On the private investment side we are close to achieving our target," continues Ainslie. "We still have to achieve more to effectively reduce the contingent commitment. On the commercial side the 11th Hour Racing deal is great for us on the sustainability front, but commercially it is a strong deal too. And now we have the venue - that is going to help us in terms of long term negotiations, actually being able to tie those down."
Readers may be familiar with 11th Hour Racing as it has in the past supported several Class40 campaigns plus the Atlantic Cup on the US east coast as well as Hannah Jenner and American Rob Windsor's entry in the 2013 Transat Jacques Vabre. 11th Hour Racing was founded by Wendy Schmidt, wife of Google Executive Chairman (and ex-CEO) Eric and is funded by the Schmidt Family Foundation.
On the sailing and technical sides, Ben Ainslie Racing is up to full steam and its designers have been busy conjuring up a first set of J-foils which they have installed in their AC45. Having its air-borne AC45 now sailing has enabled the BAR design team to start making headway.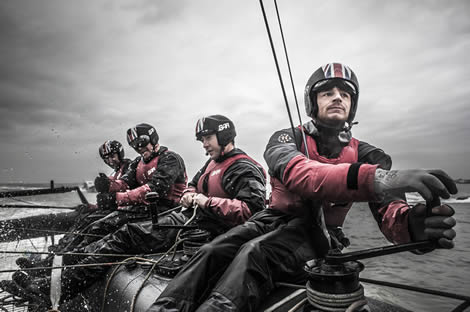 But on the technical side recently the biggest news has been the partnership with Red Bull Advanced Technologies (RBAT), a division of the Red Bull Formula One group. In particular this ended the long speculation over the involvement with BAR of F1 technical guru and motor racing's most successful designer, Adrian Newey - formerly of Williams and McLaren - who is stepping away from his role as Red Bull's Chief Technical Officer.
RBAT excels in advanced simulation and mathematical modelling and will apply its simulation and modelling skills to design of the British AC62.
Of this new arrangement, Ainslie commented: "BAR are really excited to be partnering with Red Bull Advanced Technologies. We are in a unique position in this country, and this campaign is about assimilating the very best of British in design and engineering – RBAT epitomises this."
With its existing AC45 now being used as a test platform, BAR has ordered a new AC45 which it will race on the America's Cup World Series in 2015. Putting all the AC45s on foils for the ACWS is no small task and it appears that it is going to be tight to get them all up and running prior to the first ACWS event – that has yet to be announced formally – but which is expected to be Cagliari, Sardinia in June. "Our boat will come through the UK first and then we'll have a small window to check that the mods have bedded in. Then we all go to the venue and we have a training window there," says Ainslie.
As to the one design AC45s to be used on the World Series, Ainslie reckons that they will have quite a conservative foil package to ensure that they foil in as low a wind speed as possible.
Most immediate for Ainslie is his wedding to TV presenter Georgie Thompson occurring over the Christmas break, meanwhile the team will be heading to Bermuda to go training on Great Sound in their foiling Nacra 20s, before the sailing program fires up again back in the UK in February.
With the America's Cup World Series getting underway again in 2015, Ainslie says it is unlikely they will have time to compete on any other circuits in 2015 although he feels sure that, as usual, he will be competing in the Round Island Race, sponsored by JPMorgan.
We'll come up with a fuller update on BAR and progress with the team's exciting new HQ in Portsmouth in January.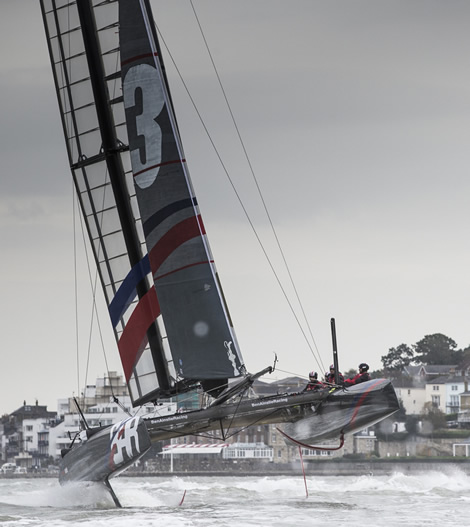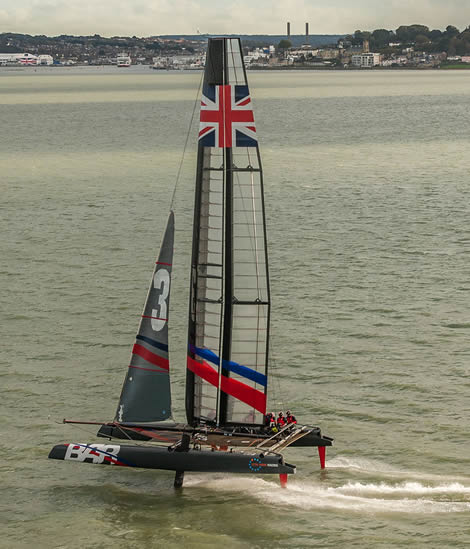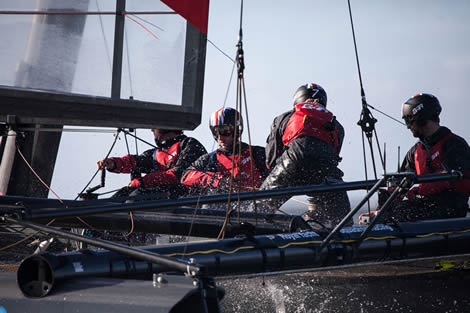 Back to top
Back to top