Gazprom Team Russia heading for AC35?
Friday January 24th 2014, Author:
James Boyd
, Location: none selected
While the 35th America's Cup remains on stand-by until the new Protocol is published (possibly in March) specifying in particular the type of boat (foiling AC60-65ish cat), venue (San Fran probably) and date (2017), a new challenger to emerge from the woodwork could be Gazprom Team Russia. This is certainly the hope of Britain's Paul Campbell-James, who just before Christmas was recruited as skipper of the Russian Extreme Sailing Series campaign that was announced today.
As of a year ago, Gazprom was the 21st largest company in the world with a turnover of US$ 164 billion. The Russian gas giant has numerous sports sponsorship properties, including the UEFA Champions League and owns or has interests in football clubs ranging from its own Zenit St Petersburg to Red Star Belgrade to Chelsea. Curiously it also has an increasing portfolio within sailing from the Rolex Fastnet Race winning Esimit Europe 2 maxi, to a pair of RC44s - Bronenosec Sailing Team carries Gazprom branding and there is also Gazprom Youth Sailing Challenge, to backing last year's Swan Europeans and Dragon Worlds and Gold Cup.
Perhaps most impressive is the Swan 60 class which they more or less own, with five Gazprom Swan 60s competing in the Baltic (and further afield, in the UK and Med) in the annual Nord Stream Race, which follows the route of the company's Nord Stream pipeline under the Baltic, from Finland to northern Germany.
Much of the GazProm sailing sponsorship is directed through the St Petersburg Yacht Club, with its Commodore Vladimir Liubomirov helming the Bronenosec Swan 60 and RC44. Liubomirov has been quoted as saying that his next goal is to field a challenge for the 35th America's Cup and, with the next Extreme Sailing Series campaign, he would seem to be taking a first step.
More directly, Gazprom Team Russia has been put together by Italian Alberto Barovier, who has previously been part of AC campaigns with Luna Rossa, Mascalzone Latino and Oracle. Barovier has recently been running the two Gazprom-backed RC44s, but also helmed the Italian Nice4You Extreme 40 during the 2011 season, a season which was won by their newly appointed helmsman Paul Campbell-James.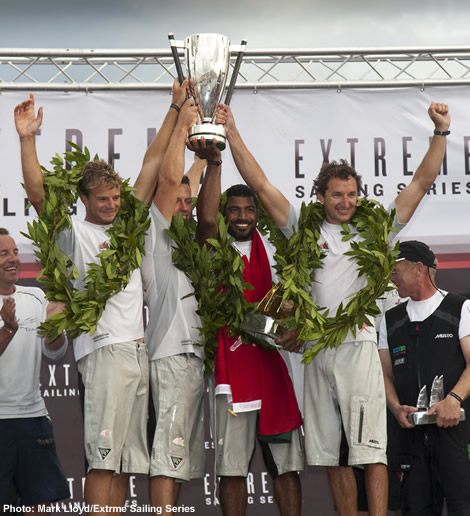 In fact C-J returns to the Extreme Sailing Series as a two-time winner having taken The Wave, Muscat to victory in 2010 and repeated the process with Luna Rossa the following year, before moving on to join the Patricio Bertelli's challenge for the 34th America's Cup.
Unfortunately in Luna Rossa's helmsman, which included C-J and Chris Draper lining up in the Swordfish and Piranha AC45s, he lost out to Draper and ended up watching last year's Louis Vuitton Cup racing from a chase boat, working on the performance side of the Italian campaign.
"I didn't race, but I did a fair bit of sailing on the AC72," C-J recalls. "I sat on the back behind Chris a lot looking at the numbers as we went along. I would have loved to have done a bit more and I would have loved to have gone racing. It was fantastic to be involved, but the last few months were a bit frustrating seeing it all from the RIB."
As to Gazprom Team Russia's America's Cup prospects, it is still very early days, although the Extreme 40 campaign is a first step, unquestionably spurred by the circuit this year visiting St Petersburg for the first time, with racing to be held over 26-29 June in the heart of the city, directly off the Winter Palace.
"Vladimir [Liubomirov] has made his opinion pretty public that he really wants to be involved [in the next AC] and Gazprom are keen, as is the St Petersburg YC," says C-J. "The Extreme 40 is usually the first step for most aspiring America's Cup teams, and basically we'll put a good team together and see how it goes. Our big goal is St Petersburg, half way through the season. I was told pretty frankly that if we do well in St Petersburg, then the chances of that [moving on to a full-blown AC team] are pretty good. So - a little bit of pressure, but no different to the position Luna Rossa put me in a few years back."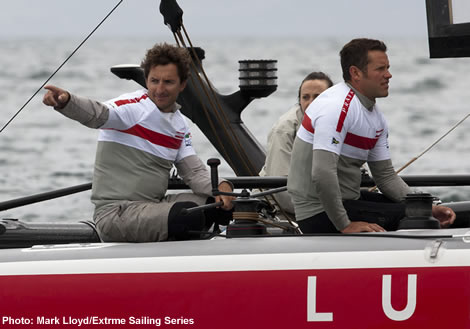 The situation is also similar on board, with Russia's London 2012 Laser representative Igor Lisovenko appointed skipper/tactician, and it will he whose name is on the mast.
"He is a good guy - pretty young, pretty small, really keen and up for getting into it," says C-J of Lisovenko. "There is a big push to get a lot of Russians on board obviously, and he is the one that they have earmarked as a good guy for the future."
They are joined by Alex Kulakov, who has sailed 49ers and also competed on the Gazprom Youth RC44. Kulakov is a surgeon by profession so as an amateur in the eyes of ISAF, he will be the team's 5th man. "He is a big stocky lad, so it looks like he will be able to pull the kite up quicker than most," says C-J.
Back as C-J's mainsheet man is Alister Richardson, who skippered Basilica during 2006 and won twice with C-J in 2010-11. Richardson also went on to Luna Rossa, trimming the wing on the AC72 before being replaced for the Louis Vuitton Cup by the eminent 49er Olympic gold medallist and Volvo Ocean Race sailor, Xabi Fernandez.
The third Brit on board is Pete Cumming, who won the Extreme Sailing Series in 2009 as skipper of Oman Sail Masirah, with Chris Draper at the helm, who has recently jumped ship from Jes Gram Hansen and Rasmus Coster's SAP Extreme Sailing Team to join the Russians.
"He was actually my boss when I was at Oman Sail, he employed me!" says C-J of Cumming. "He is nice and light and has been doing the 40s forever. It means that we have a lot of Extreme 40 wins between us on the boat – Alistair and I on two and Pete's got one. It is nice to have Pete so we can hit the ground running and we'll be on the lighter side of the weigh-in, which I like."
The team has managed to acquire the former Ecover/Emirates Team New Zealand Extreme 40 for their campaign.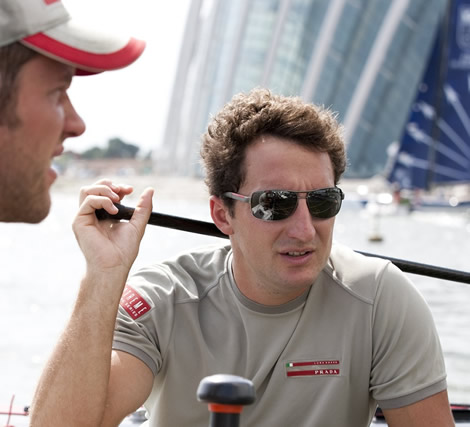 As to the Extreme Sailing Series this year, the competition is unparallelled with potential Cup challengers such as Emirates Team New Zealand, Ben Ainslie's JPMorgan BAR, Franck Cammas' Groupama Team France and the fledgling Team Australia crew led by 18ft skiff ace Seve Jarvin on GAC Pindar all merging on the circuit.
"You could put money on every one of the teams almost," says C-J. "They do those stats about Olympic medals and America's Cup and Volvo and it's looking quite unbelievable in that respect. Ben is going to be one of the hot favourites. Leigh [McMillan, skipper of The Wave, Muscat, winner for the last two year] will be back with a vengeance, and he has got the team and the boat that has won the last few years. You wouldn't bet against Team New Zealand and then there's Franck [Cammas] - I was hugely impressed with him when he joined us at Luna Rossa for the three or four months he was there. He has won pretty much everything he's done for the last four years. So you wouldn't bet against him either..."
So some lively disputes on the race course no doubt... "As always. There are going to be 12 boats in Singapore to start off the season. The umpires are going to be busy! For me – I didn't do a huge amount of sailing last year to be honest, so I am just looking to get back out there racing against 12 even boats. But I'm quietly confident."
Gazprom Team Russia is imminently due to get a week's training out of Hamble in on one of OC's spare Extreme 40s and plus all of one day's training prior to the start of racing in Singapore on 20 February. C-J is realistic about their prospects: "We won't be particularly firing on all cylinders in the first regatta, but there are plenty of other teams that are going to be in the same position. Hopefully by Qingdao we'll be fighting for the lead."
So will the Cup teams come in and beat everyone up, as they usually do, whether it is on the MedCup or the Alpari World Match Racing Tour? C-J thinks not, recalling that he beat Team New Zealand in 2011, albeit as part of Luna Rossa (another Cup team). "The reality is that the two strongest teams: one is a Cup team which is Ben and one isn't, which is Leigh."
If Gazprom Team Russia do go the whole distance, then it could mean British sailors at the sharp end of yet another campaign for the 35th America's Cup.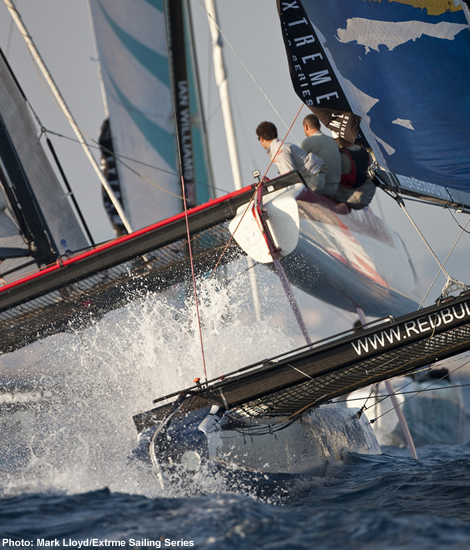 Back to top
Back to top