The Oatleys air their views
Father and son team, Bob and Sandy Oatley held a press conference in Sydney yesterday where they answered questions about Hamilton Island Yacht Club becoming Challenger of Record for the 35th America's Cup.
At present it is early days in their discussions with the defender, the Golden Gate Yacht Club, but local offers of support have been rolling in, including from 'the medal maker' Victor Kovalenko, the man behind Australia's Olympic success. "Victor rang us and offered his support and whatever he can do to assist us," acknowledged Sandy Oatley.
It is not entirely clear why the Oatleys wished to become Challenger of Record rather than just a challenger, other than that Iain Murray, Regatta Director of the 34th America's Cup and head of America's Cup Race Management, is also Commodore of the Hamilton Island Yacht Club and may have encouraged this. But their reasons for the Oatleys challenging is apparent: "Watching the regatta over the last couple of weeks and seeing all the boats and the Australian sailors and Australia isn't in the arena..." explained Sandy Oatley.
The Oatleys have also clearly been impressed by how the Coutts-Ellison America's Cup dream of engaging non-sailors and young people, surprisingly did come true over the final few days of the event. Sandy Oatley proveided an example: "We are in the wine and cattle business and some of our farmers that have never watched any of the racing and they watched it and they were going 'why didn't you tell us it was like that?' It started with the Olympics last year and with the America's Cup we were on the boats and feeling the pain, and the sweat and the tears. It was a great spectacle. I think Larry [Ellison] and his team have done a great job in changing it. We hopefully can both take it to another level."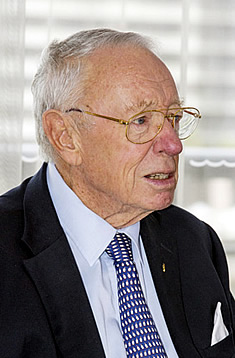 According to Bob Oatley they have considering challenging for some time but it was only very recently that their decision was galvanised. "Last week - it was so successful, but prior to that a lot of people thought it was a flop. It changed completely in the last week. It's made an enormous difference," said Oatley senior of the racing in San Francisco. "A fortnight ago I thought they were too dangerous, but watching them in the last week, it has changed a lot - they were very sensible in the way they were sailed and they were sailed safely. That is improtant because they are weapons. Catamarans going 50-60 mph is very fast and when they are trying to get in front of the other boats, they take risks. You have to have crew specialising in sailing these boats."
Sandy Oatley's son-in-law, Troy Tindall has been a regular wing trimmer on the AC45, most recently with Team Korea.
Sandy Oatley said that they would be quite happy to be Challenger of Record whether it was Emirates Team New Zealand or Oracle that won the 34th America's Cup .
In reference to the Kiwi campaign being part-funded by the New Zealand government Sandy Oatley said that their challenge didn't need government backing but they would be looking for "substantial partnership" going ahead with their campaign.
From here representatives of the Hamilton Island Yacht Club will be working with the GGYC to iron out the details of the Protocol for the 35th America's Cup, including fundamentals such as the type of boat, the rig and the nationality rules for the crew. "We want to make it more affordable, to make it an even bigger sailing event than it has in the past," said Sandy Oatley, who added they wanted to reduce the technology side of campaign in favour of bumping up the sailing aspect.
As usual, they would be looking at some sort of box rule boat, possibly with a wing "and then we can play with foils and other pieces of technology. Australia is very lucky - we have some of the best sailors in the world and we have the greatest boat builders and technology and R&D - it still needs the R&D, which is what gave us the spectacle with the 34th America's Cup."
Australians featured in both 34th AC crews including of course Jimmy Spithill at the helm of the Oracle Team USA boat, but also Tom Slingsby, Kyle Langford and Joey Newton, while the Emirates Team New Zealand crew included wing trimmer Glenn Ashby and 'bowman' Adam Beashel. "It is easier for Australia to have a full Australian crew than some other countries. We are lucky," said Sandy Oatley.
While the Oatleys are traditionally monohull sailors, their Wild Oats XI 100ft maxi being a regular Rolex Sydney Hobart line honours and occasional overall winner, both the Oatleys were bowled over by the spectacle in San Francisco over the last couple of weeks. Racing the boats close to shore was vital to the competition and in Sandy Oatley's view this was only possible with shallow draft multihulls. "It is a bit hard to have yachts of that size with keels getting in so close to the shore. The technology we have seen has been fascinating and fantastic. In previous America's Cups, the racing has been held miles out to sea and people can only view it from boats or blimps or helicopters. Imagine sitting out here with the boats doing a fly-by off the Opera House..." said Sandy Oatley.
Also to be discussed is some sort of crew nationality rule. While there have been such rules in the past, they need to come up with a way of achieving this without having lots of people changing their nationality to comply (as has happened in the past). Then there is the issue of how the nationality rule would work with emerging nations that might wish to take part but where there aren't enough experienced sailors.
The Oatleys are also keen on America's Cup World Series style warm-up regattas (one imagines them hosting this at Hamilton Island). Sandy Oatley said that they could envisage using this as a device to entice new nations into the America's Cup. "Those that saw the AC45 racing - it was breath taking. That was the precursor to the AC72s. If we can find somthing in between which we can transport around the world that is cost effective...Every team that was a challenger could run an event in their country..."
The Oatleys have previously represented Australia when they sailed the big boat to victory in the 2002 Admiral's Cup.
As to the timing of the 35th America's Cup Sandy Oatley observed that it needs to be such that it doesn't conflicted with the Olympic Games in 2016 - nor with Audi Hamilton Island Race Week. "We need to get them spaced at the right time so that sailors can compete in all the events if they want to.."
Watch the full press conference here
Back to top
Back to top