Luka back on form
It was another early start for the 90 strong SB20 fleet at the Audi World Championships in Hyères, France. The Race Committee set the course even further to the right hand side of the Baie de Iles d' Or to shelter from the 'Big Wednesday' forecast of 30 plus knots of wind.
Anticipating the arrival of the mistral, racing was underway on time; even the fleet managed to behave themselves and stay behind the start line for the first race of the day. However, the forecast wind did not arrive and the fleet tacked their way up the course in a very gentle six knots.
Stephen Fries (AUS) arrived at the top mark at the head of the fleet with Phil Plumtree (GBR), Pietro Negri (ITA) and Edward Russo (FRA) in tow. In the light conditions and a spreader mark set too low, a number of the fleet hoisted their gennakers early. By the leeward mark a shuffling of the fleet saw Russo in the lead with Rodion Luka (UKR) hot on his heels followed by Sebastien Col (FRA) in third place. Assuming normal form, Luka picked his way through the fleet to emerge the victor of the fifth race of the Championships. Thomas Rouxel (FRA) muscled his way into second position, leaving Col third and Russo fourth.
Following a break in racing to reposition the course, the mistral, as promised, arrived in full force. In the increased pressure, the fleet were recalled twice before a start was got away. Andrew Oddie (GBR) grabbed the premium pin position at the port end of the line in a fabulous manoeuvre that saw him shoot off the line with great boat speed.
But again it was Luka rounding the first mark in poll position, with Adrian Peach (GBR) and his junior crew of 29er sailors in hot pursuit. Luka defended his lead and went on to win what was to be the final race of the day as the pressure increased to beyond sailable conditions.
"I'm hungry and I'm tired," said Luka as he returned to the dock. "It was a hard day today, really tactical racing. On the first downwind leg [of race one] we ripped our kite on the drop, Andre did a great job changing the sail. We are really happy with our results and our boat speed." When pushed for his thoughts on where the overall result might go, Luka said, "To the wire, the last race of the event will decide the Champion."
So there we have it, five races down in the Audi SB20 World Championships. The competition is impressive. With one discard now applied, Craig Burlton (GBR) still leads the fleet with 12 points, but Rodion Luka has closed the gap with today's double bullet performance.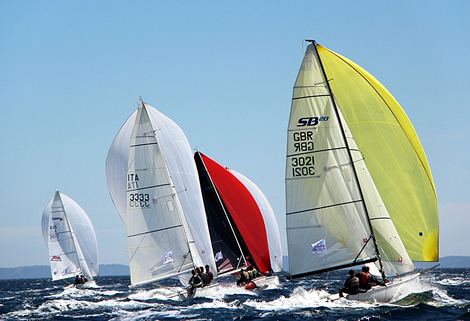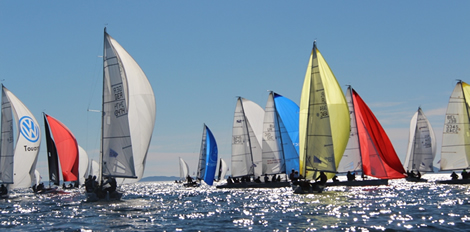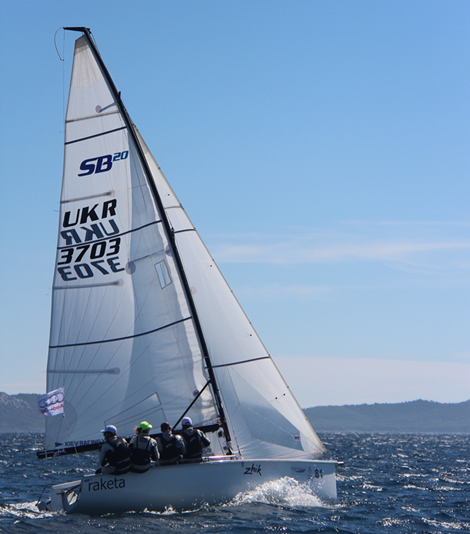 Back to top
Results
| | | | | | | | | | | | | |
| --- | --- | --- | --- | --- | --- | --- | --- | --- | --- | --- | --- | --- |
| Pos | Team | Helm | Crew | Crew2 | R1 | R2 | R3 | R4 | R5 | R6 | Tot | Net |
| 1 | GILL RACE TEAM | BURLTON Craig | WHITE Stephen | HELEY Adam | 2 | 1 | 2 | 3 | 13 | 4 | 25 | 12 |
| 2 | KIEV RACING YACHT CLUB | RODION Luka | MATVVIENKO Igor | KLOCHKO Andrew | 1 | 6 | 7 | 31 | 1 | 1 | 47 | 16 |
| 3 | MARY VICKY | DAINSE Massimo | BIANCHI Nicolo | NEGRI Pietro | 10 | 9 | 1 | 10 | 10 | 5 | 45 | 35 |
| 4 | RACE AHEAD | HUDSON Roger | ASENATHI Jim | WADI Xamimpi | 3 | BFD | 3 | 11 | 19 | 2 | 129 | 38 |
| 5 | PISCINE DESJOYAUX | BERNAZ Laurent | BERNAZ Jean baptiste | LECLAIR Xavier | 14 | RDG | 11 | 2 | 6 | 11 | 53 | 39 |
| 6 | TEAM NIKA | PROSIHIN Vladimirr | BASALKIN Artem | MARTEMIANOV Alexander | 35 | 5 | 19 | 4 | 8 | 8 | 79 | 44 |
| 7 | ENORITO | ROUXEL Thomas | PERON Eric | LEMAITRE Nolwenn | 6 | 24 | 15 | RDG | 2 | 9 | 71 | 47 |
| 8 | SPORTBOATWORLD. | HILL Jerry | LOVERING Richaard | WATSON Craig | 4 | 8 | 5 | 19 | 11 | 22 | 69 | 47 |
| 9 | HENRI-LLOYD/FORELLE ESTATES | LLEWELLYN Joe | WAKEFIELD Nigel | VIGUS Jerry | 7 | BFD | 17 | 1 | 14 | 12 | 142 | 51 |
| 10 | FFVOILE | COL Sebastien | LE TUAUD Guillaume | HENRY Fabien | DNF | 10 | 22 | 12 | 3 | 6 | 144 | 53 |
| 11 | SHARKBAIT | DUNCAM Ben | TURMER Joe | MACSWEEMY Aidam | 9 | 12 | 25 | 9 | 15 | 13 | 83 | 58 |
| 12 | MELSTON TEAM | MURASHKIN Alexey | IGNATENKO Egor | FROLOV Kirill | 5 | 4 | 40 | 21 | 9 | 21 | 100 | 60 |
| 13 | BLACK MAGIC | RUSSO Edward | PONSOT Pierre alexis | FAVENNEC Gilles | 52 | 17 | 4 | 29 | 4 | 10 | 116 | 64 |
| 14 | UBER 3 | PEACH Adrian | PARTRIGE Rob | BOWERMAN Owen | 40 | 3 | 18 | 14 | 29 | 3 | 107 | 67 |
| 15 | XCELLENT | POLLARD Jhon | SMITH Rob | SCHWARZ Mickey | 41 | 2 | 29 | 6 | 16 | 15 | 109 | 68 |
| 16 | UN'ALTRA CLAUDIA | BRENCO Carlo | FRACASSOLI Carlo | GRAZIANI Berti | 19 | BFD | 9 | 26 | 17 | 7 | 169 | 78 |
| 17 | MXTC | VAN DRIEL Marco | ASSMANN Joost | WORSELING Martyn | RDG | 19 | 10 | 18 | 40 | 17 | 124.8 | 84.8 |
| 18 | SPREAD 500 | AINSLIE Ian | PAULIN Gian matteo | HMELJAK Karlo | 30 | 7 | 6 | 13 | 32 | DNF | 179 | 88 |
| 19 | UNDERGROUND TOYS | ODDIE Andrew | RICE Andy | EDWARDS Gareth | 23 | BFD | 24 | 16 | 7 | 18 | 179 | 88 |
| 20 | WHYADUCK | CLAY Tomas | CLAY Richard | MORRIS Edward | DNF | 14 | 20 | 20 | 18 | RDG | 184 | 93 |
| 21 | DON PEDRO HOTELS/GENERALI | RAMADA Jose paulo | DUARTE Joao | PEIERA Antinio | 8 | 16 | 39 | 23 | 37 | 20 | 143 | 104 |
| 22 | CHILL PILL + | SUMMERS Brian | ELDER Nick | GRAHAM Scott | 18 | 13 | 8 | 50 | 30 | 41 | 160 | 110 |
| 23 | PP PROJECTS | PLUMTREE Phil | VAN DYKE Bruno | LOVAG Nils | 29 | 21 | 13 | 44 | 5 | 47 | 159 | 112 |
| 24 | FISHE | BUNZYA Alexev | NEGODNIKOV Evgeniy | FILATOUS Sergeis | 28 | 34 | 16 | 17 | 21 | DSQ | 207 | 116 |
| 25 | EURO VOILES | BARRUE Christophe | INFANTE Denis | DEMEO Richard | 51 | RDG | 33 | 7 | 12 | 36 | 169.3 | 118.3 |
| 26 | BRAVI | CIABATTI Antonello | GRACIOTTI Vincenzo | PIREDDA Sandro | 17 | 22 | 46 | 30 | 28 | 25 | 168 | 122 |
| 27 | ED ANGELS | LEROY Claire | PALLANCA Magali | FAURE Marie | 21 | 30 | 23 | 27 | 44 | 28 | 173 | 129 |
| 28 | XO'!! | FASSIO Frederico | CABRAS Alessandro | LO MONACO Antonio | 31 | 15 | 35 | 41 | 35 | 19 | 176 | 135 |
| 29 | BCG SAILING TEAM | PUSHEV Vadim | LUKOYANOV Konstantin | SABIRZIANOV Timur | 22 | 35 | 50 | 32 | 20 | 26 | 185 | 135 |
| 30 | MANA MANA | GRANT Graeme | DOWING Ronan | BREFFNI Jones | 13 | 45 | 12 | DSQ | 39 | 37 | 237 | 146 |
| 31 | VILLE DE CARQUEIRANNE | MASSUS Yannick | FESTINO Alexandre | FESTINO Jade | 11 | 53 | 32 | 33 | 33 | 44 | 206 | 153 |
| 32 | UJI | MARINELLI Alessio | DI GIOSEPPE Alfredo | IESARI Sandro | 43 | 33 | 31 | 35 | 41 | 16 | 199 | 156 |
| 33 | CFREW SAVER | VENABLES Steeve | HUNT James | COWOOD Simon | DNF | 39 | 37 | 24 | 34 | 24 | 249 | 158 |
| 34 | NORDMARINE | UVARKIN Valentin | KORNEV Nicolay | VOLEHKOV Sergei | 48 | 20 | 30 | 49 | 38 | 23 | 208 | 159 |
| 35 | BARTABAC | ROIG Alain | MARCON Jean baptiste | BOUCHET Siloe | 12 | 57 | 49 | 8 | 60 | 35 | 221 | 161 |
| 36 | XXXX | LAMBERT Pierre yves | MONTAGNON Gerald | CONSTANT Boniface | 27 | 37 | 26 | 28 | 62 | 49 | 229 | 167 |
| 37 | AURORA | BASALKINA Anna | SAVCHENKO Pavel | NIKANDEROV Andrew | 36 | 32 | 69 | 47 | 24 | 30 | 238 | 169 |
| 38 | SAIL BOAT DELIVERIES | ALLAN Sarah | DOBELS Frank | FISHER Chris | 20 | 31 | 44 | 56 | 47 | 38 | 236 | 180 |
| 39 | LITTLE WING | DE TURCKHEIM Sophie | MOURNIAC Bruno | GERMAIN Gauthier | 26 | RDG | 27 | 45 | 69 | 50 | 249.7 | 180.7 |
| 40 | POOR BUOY | GILLETT Mark | BRANN Roz | HIN Paul | DNF | 11 | 43 | 40 | 36 | 52 | 273 | 182 |
| 41 | MILWUS | HOWE Robert | MACMAHON Paul | SHEEHY Joanne | 25 | 23 | 52 | 69 | 25 | 58 | 252 | 183 |
| 42 | VENVESWORLD.COM | DEMPSEY Ger | NOLAN Chris | NEAKY Lisa | 44 | 18 | 51 | 39 | 51 | 32 | 235 | 184 |
| 43 | NOTARO TEAM | DOMENICI Luca | BENAMATI Roberto | DEL RIO Lorenzo | 15 | DSQ | 14 | 25 | 42 | DNF | 278 | 187 |
| 44 | WYSIWYG VI | FRIES Stephen | JAFFE James | TUKIAINEN Karin | 55 | 26 | 56 | DNF | 23 | 31 | 282 | 191 |
| 45 | WHO'S THE BOSS | COLLINS Mel | COLLINS Kilian | CREEDAR Mairy | DNF | DNE | 21 | 5 | 61 | 14 | 283 | 192 |
| 46 | THE BEAR | DORGAN Kieran | LOSTY Jason | NAGLE Kate | 46 | 41 | 47 | 15 | 48 | 43 | 240 | 192 |
| 47 | RUMBLE FLURG | LOSSIE Martin | VAN DER ENDE Wouter | GAST Paul | 33 | DNE | 28 | 36 | 49 | 29 | 266 | 217 |
| 48 | JSBTJE | BEEKMAN Jorrit | STAARTJES ERIC | VEENSTRA Auke | 37 | 44 | 57 | 34 | 70 | 48 | 290 | 220 |
| 49 | LIA | BARRY David | BYTHELL Gerald | O'CONNEL Dan | DNF | 51 | 42 | 75 | 22 | 33 | 314 | 223 |
| 50 | TROUBLE SWIFE | ARMSTRONG Ian | WADSWORTH Martin | SHERWOOD Mark | 34 | 40 | 54 | 43 | 54 | 61 | 286 | 225 |
Back to top