Narrow lead for The Wave
Nine races were sailed in open sea on the opening day of the Extreme Sailing Series in Porto, with plenty of hull flying, close mark roundings and even a man overboard for the local boys on ROFF Cascais Sailing Team to keep the on-water umpire team busy.
Despite hydraulics problems for The Wave, Muscat before racing had even started, the defending champions were on fire, winning the opening race before going on to a further three race wins staking an early lead in Porto. Never letting them far from their sights however was Pierre Pennec, the former Groupe Edmond de Rothschild helm, who returns to the Series at the helm of Realteam, leading the Swiss entry to an impressive three race wins and showing everyone why he is one of the most formidable skippers in the fleet ahead of tomorrow's stadium racing.
13 knots of breeze that built to 15 knots for the final race gave the teams a chance to stretch their legs and push their Extreme 40 catamarans hard around the course. With each race lasting an average of 14 minutes, they were conditions McMillan relished: "We had fantastic sailing today in great conditions so we've really been able to really push the boats. It's been a tough day with tight competition and we sailed well."
Pierre Pennec didn't take long to find his Extreme 40 feet again, having last raced in the series in 2012, and three race wins sees them just four points behind The Wave, Muscat. Analysing their performance dockside, Pennec commented: "It has been a good day for Realteam. The team is good and highly motivated. We have progressed well both upwind and downwind today and also technically and with th communication between us, so it was a good first day. When we had good starts we were ahead and when we didn't we still managed to do well, so the moral of the story is that you have to get good starts to do well in this kind of racing."
A win in the final race of the day for current series leader Alinghi, with temporary helm Morgan Larson in charge here in Porto, sees the Swiss America's Cup winners head into tomorrow's stadium in third place.
The new faces to the Series onboard Team Tilt showed they can mix it up with the more experienced skippers on their first ever day of Extreme 40 racing, even posting a race win in the third race of the day before a string of top three results. Skipper Lucien Cujean commented: "It's really cool! It's very different as the races are short, but it is very impressive and there some of the best sailors are here. I think the strategy will be to make some good starts and keep doing what we're doing."
It wasn't all plain sailing today and the local contingent on ROFF Cascais Sailing Team found just how challenging Extreme 40 racing can be, losing their bowman Paulo Manso overboard in the seventh race of the day. A quick recovery for the team meant they managed to finish the race but went on to suffer further gennaker problems, as skipper Antonio Mello explained: "We had a problem unfurling the gennacker so Paulo tried to get to the end of the bowsprit and he fell in the water. We managed to get him back onboard pretty quickly but couldn't fix the problem which forced us to retire from the final race of the day."
SAP Extreme Sailing Team and Red Bull Sailing Team both kept it clean today, posting a string of consistent results and head into the Stadium tied on points in fourth place, while GAC Pindar struggled in the open water, finishing the day in seventh.
Tomorrow and for the next three days it's Stadium Racing for the fleet and there is plenty of anticipation dockside for what SAP Extreme Sailing Team co-skipper Jes Gram Hansen described as "one of the best racecourses I have ever sailed on".
Results after nine races
1st The Wave, Muscat (OMA) Leigh McMillan, Ed Smyth, Pete Greenhalgh, Musab Al Hadi, Hashim Al Rashdi 78 points.
2nd Realteam (SUI) Pierre Pennec, Bryan Mettraux, Nils Palmieri, Cédric Schmidt, Thierry Wassem 74 points.
3rd Alinghi (SUI) Morgan Larson, Ben Lezin, Pierre Yves Jorand, Nils Frei, Yves Detrey 66 points.
4th SAP Extreme Sailing Team (DEN) Jes Gram-Hansen, Rasmus Køstner, Pete Cumming, Mikkel Røssberg, Nicolai Sehested 58 points.
5th Red Bull Sailing Team (AUT) Roman Hagara, Hans Peter Steinacher, Matthew Adams, Simon Cooke, Graeme Spence 58 points.
6th Team Tilt (SUI) Lucien Cujean, Jocelyn Keller, Jeremy Bachelin, Thomas Mermod, Jonas Schagen 51 points.
7th GAC Pindar (NZL) Will Tiller, Brad Farrand, Stewart Dodson, Harry Thurston, Shaun Mason 47 points.
8th ROFF Cascais Sailing Team (POR) António Mello, Bernardo Freitas, João Mello, Ricardo Schedel, João Matos Rosa 36 points.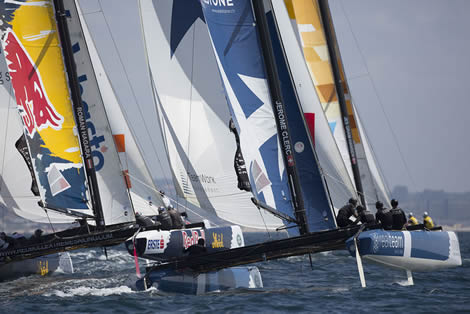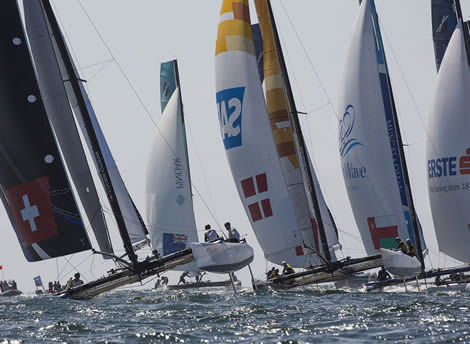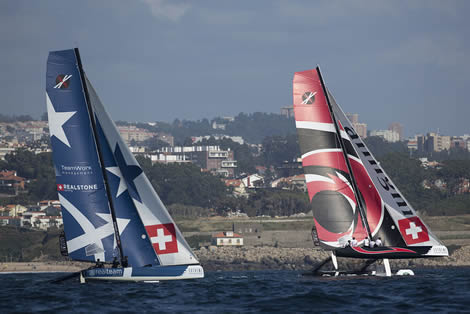 Back to top
Back to top