Alinghi the class act
The first regatta of the Vulcain Trophy, the circuit for the twelve Decision 35 catamarans on Lake Geneva, started well for Alinghi who clearly won this weekend's opening event of the 2013 circuit, the Open de Versoix Nationale Suisse ahead of Realstone Sailing and Zen Too.
Despite a cloudy sky, in the windy conditions, 11 spectacular and often very tight races were held.
Alinghi, skippered by Ernesto Bertarelli, was truly impressive this weekend in terms of her consistency. Out of 11 races, Alinghi won six, with races also won by Zen Too (three wins), while Ernesto's sister Dona at the helm of Ladycat won one race along with Team Tilt.
Without a win but very consistent nonetheless, Realstone Sailing, winner of the 2012 Vulcain Trophy, finished second.
"These races are always challenging because the level of this competition is every year higher," said Ernesto Bertarelli. "Each team is able to win a regatta. Our victory today is largely due to the cohesion of our team."
The multihulls started their regatta on Saturday in a shifting but strong breeze, sailing five races. In these conditions, Alinghi's expertise was key, but Realstone and Zen Too were never far and were able to stay in close contact.
The second day proved to be even better although the weather conditions varied between very strong wind, no wind, rain and sun at the end of the day. Throughout Alinghi continued her performance, while Realstone ensured she would keep her second position.
In third, Guy de Picciotto and Fred Le Peutrec on Zen Too were satisfied with modifications made to their boat allowing them to be more reactive. As they described it: D35 regattas are like street fights: "It's pure energy, one might suffer but you never give up."
In fourth was Ladycat powered by Spindrift racing. For skipper Dona Bertarelli, the second day was an improvement on the first: "Even with difficult wind conditions we were able to find good spots, which his important as all team are sailing at their best and are not afraid to engage: the overall level is very high."
The Open de Versoix Nationale Suisse is the first of the eight regatta planned this year for the Vulcain Trophy.
The next event the Grand Prix des Ambassadeurs, over 25 and 26 May held out of the Société Nautique de Genève. The circuit will then continue with two top races of the lake, the Genève-Rolle-Genève and the famous Bol d'Or Mirabaud.
Open de Versoix results:
1. Alinghi
2. Realstone
3. Zen Too
4. Ladycat
5. Tilt
6. Okalys
7. Nickel
8. Sui
9 . Veltigroup
10. Ylliam Comptoir Immobilier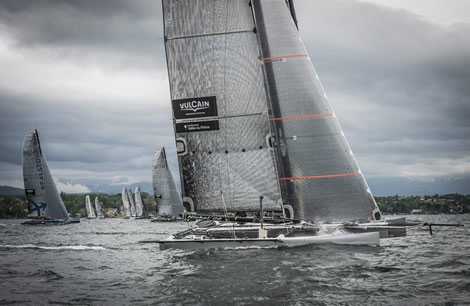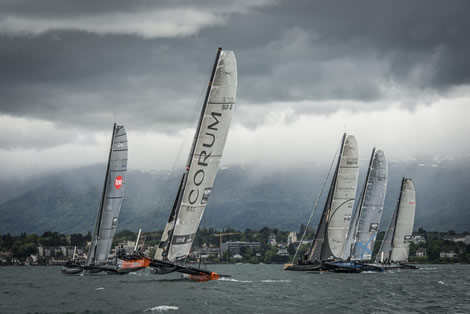 Back to top
Back to top