Juggling two AC campaigns
And on Sunday night what are we all doing (in the UK at least)? The BBC Sports Personality of the Year awards this year are significant for one of the 12 shortlisted to win the award is Ben Ainslie, who this year of course became the most successful Olympic sailor of all time. The BBC program starts at 07.30 and the ultimate decision is based made on viewers calling in – the telephone number to ring will be revealed on the night...
Since winning his fifth Olympic medal in August, Ainslie has bunkered down in San Francisco to focus on his two projects. One is his own JP Morgan BAR team that aims to challenge for the 35th America's Cup, the other is his role as one of Oracle Team USA's three helmsman.
He has also announced his retirement from Olympic sailing. While he made have finally outgrown the Finn, had the Star remained in for Rio 2016, then his decision may have been different, although Ainslie says this wasn't the only reason: "One of the key elements of the decision was the Olympic classes, so I needed to take some time to see what happened there, but also just the way things are going with the America's Cup... We seem to be really getting some traction and support behind the JP Morgan BAR team and so it became clear to me to make that happen and push that forwards, I had to make a decision and give it 100% of my time and effort to make it a success. So in the end it was actually quite an easy decision."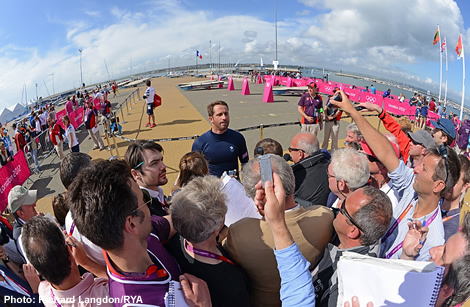 While dividing his time between JP Morgan BAR and the AC defender, is okay at the moment, come 2013 it will prove to be more of a struggle for Ainslie. As he says: "From the middle of January it is going to be flat out all the way through until the Cup, but at the same time Russell [Coutts] has always been supportive of what we're trying to do in starting a new team, so there is a certain amount I can do. And it is about having a good team with Lucy [Harwood] and Jo [Grindley] on the marketing side, they are working really hard to try and get these deals and support in place so that we can move forwards."
At present JPMorgan is backing Ainslie's AC45 campaign with support from suppliers such as Henri Lloyd and RIB manufacturer, Scorpion. Obviously Ainslie is keeping his fingers crossed that JPMorgan will stump up to become the title sponsor of the British challenge for the 35th America's Cup, so they are working on trying to make this happen while also wooing other backers. Ainslie also looks at the Emirates Team New Zealand model whereby their campaign receives great support in benefits in kind. "There is a huge amount that can be taken out of the budget with support like that. And also I think it would be fantastic if we could get some patrons, some people who are passionate about the sport in the UK to help, not necessarily financially but more with their expertise in business really helping to make sure that the team is set up and run properly. It would be crazy of us to think that we can go out and do it on our own, so of course we would look to take any advice and expertise that we could gain from people like that." Ie Sir Keith Mills, Charles Dunstone, etc etc.
Ainslie says that offers of support for JPMorgan BAR to date have been highly positive and it is a relatively easy message to convey – sailing's premier event, oldest sporting trophy in the world and Britain, having hosted it the first time around, has yet to win it in 160+ years. "British sport has obviously had a very very successful year and perhaps the America's Cup it something we should be excelling at and ultimately we should be bringing back to British shores."
So if Oracle Racing successfully defend next year (although the Kiwis have a clear jump on them at the moment) then we could expect the 35th America's Cup to take place in 2016 or, if they're feeling ambitious, 2015. Given the tight time frame, this means that the British challenge for the 35th AC should really be ramping up within the next six months.
Early decisions, as ever, will prove vital as they set the whole tone of the campaign from there on. "To ensure we get the right talent we need to be moving forwards from the middle of next year," Ainslie explains. "The first four to six people on the management, design and sailing side - those are the key decisions, getting those personnel right. That is probably the most important decision of the whole campaign..."
Big teams, whether they are America's Cup, Volvo Ocean Race or otherwise often come unstuck when the helmsman is also the CEO. Ainslie acknowledges this: "I am not crazy enough to think that I could actually manage and run a team like that - sail on the boat, helm and everything else that goes with it. Someone else would manage and run the team and I would be involved on the business side as an owner as such, but also sailing on the water, helming the boat."
As a result we can expect a Grant Simmer type General Manager/MD to be one of the first appointments to the campaign.
Then it will be a case of getting the band back together, with Iain Percy being brought into the afterguard, Andrew Simpson being prised away from his new furniture making business, etc etc.
"A lot of them are out there doing it and doing really well, getting experience, which is key," continues Ainslie. Percy in particular came out well in Artemis Racing's recent night of the long knives and is now holding the title of 'Sailing Team Manager/Tactician' within the Swedish challenger.
As to Oracle Team USA, Ainslie is adamant that he was out of town when their AC72 took its dramatic tumble on San Francisco Bay mid-October. "Most importantly no one got hurt, but actually it would be quite interesting to have been on board to have experienced the situation," says Ainslie.
It seems to us that immediately after the pitchpole the team weren't equipped with the right equip nor did they have procedures in place to enable them to right the boat quickly and because of this the wing was a write-off. It certainly was totalled agrees Ainslie: "There were still bits and pieces coming back a couple of weeks later. It was crazy, like an aircraft disaster zone, when you bring bits back to the hangar and try and reassemble it. We will get that wing replaced eventually and move forwards."
With no spare equipment the pitchpole has been a massive set-back for Oracle Team USA, relieving them of three vital months of training in and developing their AC72. Ainslie says that they have been taking some positives out of the incident. "Although it was a bit of a disaster it has enabled us to sit back and look at where we are and the issues that we've got and work out a proper plan so we can make the most of the time when we were out on the water. In a perverse way, it has actually be quite good..."
Oracle Team USA's new wing for the 72 is expected to be finished in time for them to go sailing in February 2013. In theory teams can launch their second AC72 any time after 1 February and it sounds like boat 2 will be ready some time after that.
Ainslie says before the crash, he went out on the AC72 a couple of times but hasn't had a go on the helm yet. "That will be an interesting experience. They are good boats. They are seriously physically demanding and obviously extremely fast, but the sensation of speed is quite strange because you are up out of the water and it is not as you feel in a conventional boat where you are obviously so much closer to the water."
Obviously after such an incident it will be hard for the team to go back out on to the race course and push it with any degree of confidence. "I think we'll be a little bit sensitive at the start for sure," agress Ainslie. "The thing to remember is that actually it was blowing 28 knots of wind when the boat pitchpoled and in any boat bearing way in 28 knots of wind is pretty challenging. So I think we have to take it step by step and build ourselves back up and I'm sure we'll be that much more comfortable down the line with those sort of situations."
Come February/March or whenever they launch their second boat, Oracle Team USA will regularly be two boat testing. At present the team has three helmsman in Jimmy Spithill, Ainslie and Russell Coutts, although Ainslie says that Philippe Presti has proved pretty handy in the AC72 (those French genes) and they have several other potential candidates from Darren Bundock to Laser gold medallist Tom Slingsby who could equally step into the reigns.
"As the defender we have the issue that the other guys are racing each other and may not necessarly want to help us as the defender, so we need to get out there with two boats and get racing and push everyone. That is really the big goal for us when we start up again. We have a lot to learn still about sailing these boats. It will be an interesting time."
In terms of his multihull sailing, while Ainslie has only done a couple of regattas on the Extreme Sailing Series helming Oman Air and has since competed in the two America's Cup World Series events with his JP Morgan BAR team, he seems to be getting the hang of it. In the latter event in San Francisco he was leading throughout the regatta, concluding on equal points Oracle Team USA Spithill and only losing by virtue of not beating Spithill in the final race (the ACWS alternative to countback).
"It was good that we finally got some practice in," says Ainslie of that regatta. "That made a bit of a difference. It was really good, we needed that a bit, coming into something new and with a lot of learn and you are never quite sure how long it is going to take. That's not saying there isn't still a huge amount to learn, but it was good to get on the pace and be up there with the top teams."
Despite his commitments to Oracle Team USA in 2013, JPMorgan BAR will be competing at all the AC World Series events in Naples over 16-21 April and in the USA (believed to be New York) in late May/early June.
As to his chances in becoming BBC Sports Personality of the Year on Sunday, Ainslie is realistic in an Olympic year when he's up against the likes of Bradley Wiggins, Sir Chris Hoy, Andy Murray, Mo Farah, Jessica Ennis, etc etc etc. In terms of the odds, Bradley Wiggins is the run-away favourite, followed by Jessica Ennis, Mo Farah and Andy Murray. However of the 12 shortlisted, Ainslie is not last, he is ninth with odds still available at 150 or 200:1... He also has Ellen MacArthur's record to beat. She finished 2nd in 2001 and 2005.
"I think my chances are pretty slim. But it is good for sailing that someone is up there in the short list and it has been an amazing year and to be part of that is a real honour."
Back to top
Back to top