Early lead to Red Bull
Big gusty conditions in the confines of Cardiff Bay ensured that the opening day of Extreme Sailing Series racing in Cardiff, Wales was action-packed for the nine Extreme 40s.
With the boats reaching out of the starts off the VIP area, Austria's Red Bull Sailing Team made the best of the tight courses, putting double Olympic Tornado gold medallist Roman Hagara's crew at the top of the leaderboard at the end of day one.
"This was racing on the edge in up to 25 knots of wind, but we never lost control of the boat," said Hagara. "It's nice to be in first place, but there are still three days to go. We have to focus and to concentrate and we can win."
For local entry, Team Wales, skippered by young Welsh 49er sailor Dave Evans and with 470 Olympic silver medallist Hannah Mills calling tactics, the day ended in drama when the 62ft wingmast came crashing down to leeward. The dismast is believed to have been caused by a component failure on the mast. However the carbon fibre remained intact and they will be back on the water tomorrow – after what is sure to be a long night for their shore team.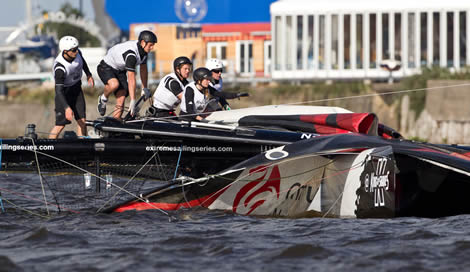 Today was about supreme boat handling and minimising mistakes and both Oman Air and GAC Pindar did just that to end the day in second and third respectively behind Red Bull Sailing Team.
"It was a wild day, things happened quick and it was some of the tightest courses and some of the strongest wind we've had and that made it pretty exciting," said US skipper Morgan Larson. "It was kind of hectic, there were tight corners, it was gusty, shifty, and basically we're happy to have got through that day without any damage. The racing today was tactical, but boat handling was really the key today, that is really what got us through, sharp boat handling by all the guys."
Eight short and sharp races were staged that saw the nine boat Extreme 40 fleet power away from the start, flying into the top mark. As always the start was key and The Wave Muscat skipper, Britain's Leigh McMillan will be kicking himself for his repeat OCSes today. The Omani team may be down, but they are certainly not out as they are determined to make Cardiff their fourth straight win this season: "We've had lots of bad days and always bounced back. Sometimes you need a back day to sort yourself out," said McMillan. "We're going to make sure we're on top again, particularly after today. It makes me more determined to come back and try to get back to the top."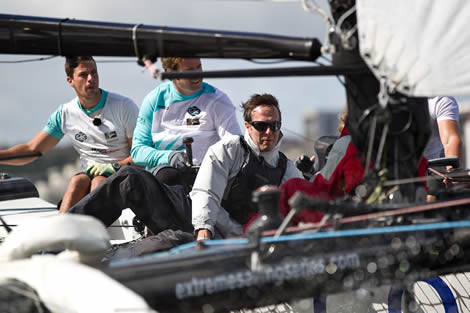 The Extreme 40 fleet was joined by a host of sports stars today that turned their hands to Extreme 40 racing for the first time. Ex-England cricket captain Michael Vaughan joined Andrew Walsh's team on GAC Pindar, while some of Britain's top sailing talent including Team Volvo sailors and Olympic silver medallists Luke Patience and Saskia Clark, 2008 Olympic gold medallist Paul Goodison and Team GB match racing sisters Lucy and Kate MacGregor.
The event officially opens to the public tomorrow with thousands expected to descend on Cardiff Bay to witness the stadium style racing for the first time. All the action will be streamed live on the official event website with expert commentary from sailing expert Richard Simmonds from 1500 local time.
Extreme Sailing Series Cardiff standings after Day 1, 8 races
Position / Team / Points
1. Red Bull Sailing Team (AUT), Roman Hagara, Hans Peter Steinacher, Matthew Adams, Pierre Le Clainche, Graeme Spencer 55 points
2. Oman Air (OMA), Morgan Larson, Will Howden, Charlie Ogletree, Andy Maloney, Nasser Al Mashari 50 points
3. GAC Pindar (GBR), Andrew Walsh, Anna Tunnicliffe, Mark Bulkeley, Adam Piggot, Richard Peacock 50 points
4. SAP Extreme Sailing Team (DEN), Jes Gram-Hansen, Rasmus Køstner, Pete Cumming, Mikkel Røssberg, Jonas Hviid 44 points
5. The Wave, Muscat (OMA), Leigh McMillan, Ed Smyth, Pete Greenhalgh, Bleddyn Mon, Hashim Al Rashdi 43 points
6. Alinghi (SUI), Ernesto Bertarelli, Jean-Christophe Mourniac, Pierre-Yves Jorand, Nils Frei, Yves Detrey 39 points
7. Groupe Edmond de Rothschild (FRA), Pierre Pennec, Arnaud Psarofaghis, Christophe André, Romain Petit, Romain Motteau 36 points
8. ZouLou (FRA), Erik Maris, Philip Mourniac, Jean-Sébastien Ponce, Patrick Aucour, Bruno Jeanjean 22 points
9. Team Wales, Dave Evans, Torvar Mirsky, Tudur Owen, Hannah Mills, Ed Powys 20 points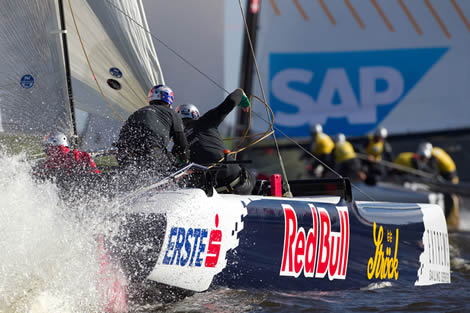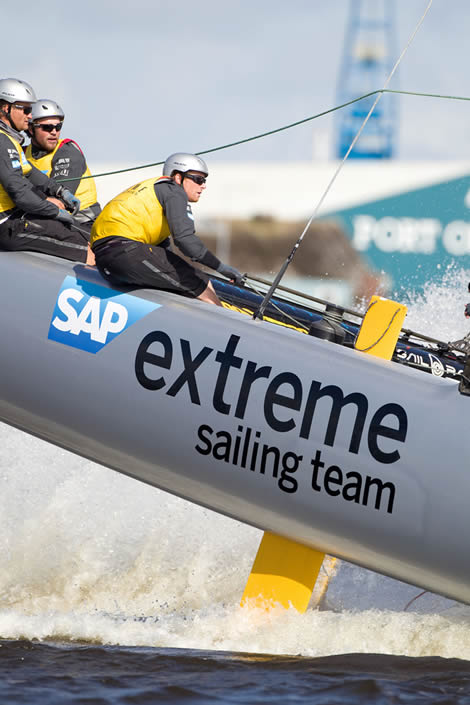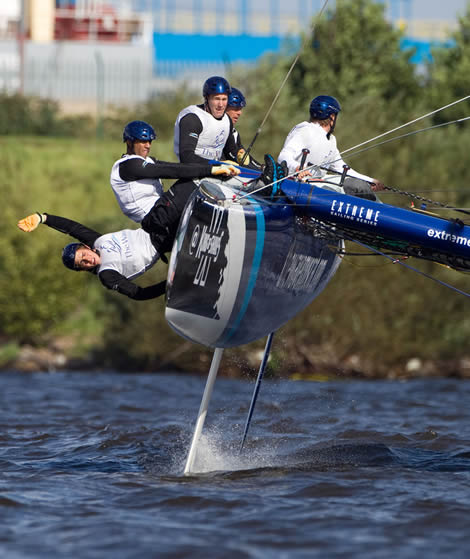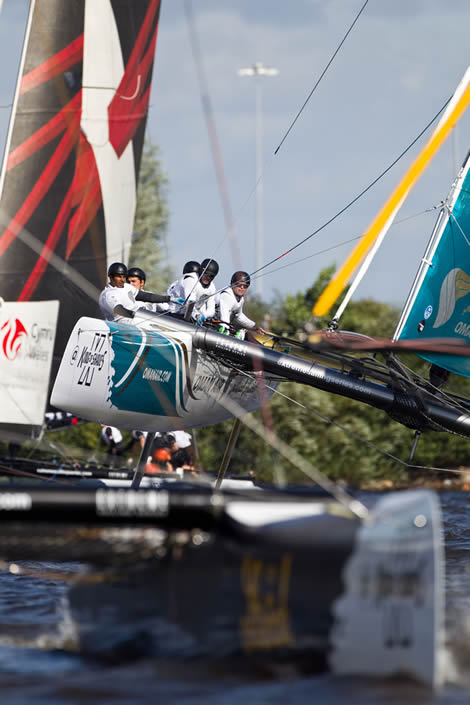 Back to top
Back to top