Victory for The Wave, Muscat
An ecstatic Leigh McMillan and his crew on board The Wave, Muscat won the Extreme Sailing Series Qingdao with a race to spare, a feat rarely achieved on this highly competitive circuit. As a result the Omani team moves into the lead for the overall Series.
But, after 29 races watched by over 55,000 spectators, it came down to the final double points decider to determine who would stand next on the podium. After a fairly disastrous start to the day, Roman Hagara's hopes of challenging for first place were gone, but Red Bull Sailing Team got its act together in the last three races to clinch second place, in what is their first event podium position since Muscat last year. After starting the day in fifth place, the all-French Groupe Edmond de Rothschild were the comeback kings today, steadily toppling their opponents to claim the final spot on podium.
There were a few anxious faces on the dock this morning as the weather forecasters predicted the same conditions as that fateful day in 2011 that saw an incredible four capsizes. The wind built gradually throughout the day but the effects of the low weather system only began touching the Extreme 40 fleet on Fushan Bay in the final double points race, with increasing poor visibility from the ever encroaching rain clouds.
The Wave, Muscat came out fighting and made their intentions clear from the first start gun – winning the opening race of the day. Going into the final double points race, and to his surprise, McMillan had an untouchable lead. "We are thrilled to have won here in Qingdao and to have a second and a first place for the first two events is very good stuff for us. We weren't necessarily expecting to win here. It's been a tight competition and Red Bull Sailing Team have been performing very well this week and always getting closer and closer, and pushing us harder and harder."
Everybody's eyes were on the four teams who were in contention for second place going into the final race, with only six points separating them. It was the Danish entry, SAP Extreme Sailing Team who won the race – a repeat of their final race win performance in Muscat – while Hagara's crewheld their nerve, and position, to finish second.
Ramus Kostner, co-skipper on SAP Extreme Sailing Team said: "We are still improving all the time and some of our starts were good, and we were able to hold on to our positions so that was really good. When we get in front it looks like we can stay there… All in all we're pretty happy with our result not to finish last or second last in our second event here in Qingdao."
It was a hard day on the water for the Austrians who at one stage looked like they had lost hope of finishing on the podium as they slipped to fifth place. The team, who sat top of the podium for the first two days in Qingdao, were toppled by The Wave, Muscat yesterday and today they seemed to be continuing on the downward trend until the final three races which finally saw Hagara get back in the game. "The whole team is really happy especially as we were leading the first two days then we had a really bad third day," said the double Olympic Tornado gold medallist. "The last day the beginning was really hard for us and we made some really bad decisions on the race course so ending up in second place on the podium is great for us and the whole team really deserved it because we pushed really hard."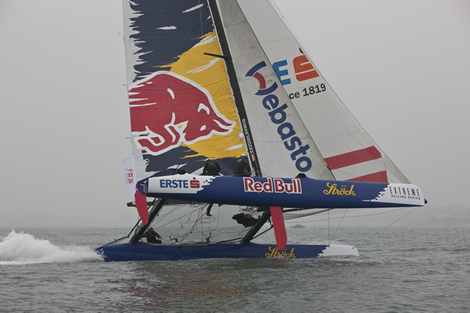 A fourth for Groupe Edmond de Rothschild in the final race also secured their place on the podium. Pierre Pennec commented: "Before the last race we could have ended second or sixth overall so I feel satisfied about our third position because we are on the podium again. We know that this is what we must do to win the Championship. What is difficult here is to be consistent. We feel that we have overcome some weaknesses over the last few days and this shows that we have improved and this is important for communication and the work on board. We still have a very important point to work on for the next Act: the starts. The other positive element is that we always manage to climb up spots when we have bad starts, which shows the good work on board, especially in these short races with shifty winds. I would like to congratulate The Wave, Muscat for their great performance over these last four days. Their victory is clear and deserved. We knew that they would be among our adversaries for 2012 season and this confirms our thoughts. We will have to keep an eye on them!"
Mainsail trimmer Hervé Cunningham added: "It was a tough battle to get that result which is just an okay result for us considering where we were at the beginning but regarding who is ahead I wonder if that is enough for us for the goal of the season. But we are still early in the season so we know what we have to do."
It wasn't all celebrations today and a frustrated Ian Williams on board GAC Pindar was narrowly denied a podium finish, which has so far eluded the British sailor: "It was a shame for us… The last race really didn't go our way – it was tough with Mark Ivey's sickness and the change of crew halfway through today so we lost our rhythm a little bit. But on the positive side to be doing the last race in with a shot of second overall so we're pleased with the week overall, just a little bit disappointed at the end."
On their performance on Oman Air, skipper Morgan Larson said: "All in all we sailed a decent regatta, we are just a little disappointed with the last couple of races but the guys did a good job and we hung tough. We didn't have good starts and made some tactical errors that cost us some points and this is a challenging venue. We are comfortable now on the boat and feeling that we are with the fleet and we are competitive and we want to be in the top three at every event so we are disappointed with our result here and just have to come back in Istanbul and get back into the top two or three."
China Team's Phil Robertson said: "Our first event here has been a challenge. We have trying to come to grips with the boats and the overall set up. This has been the biggest thing we have learnt and how to make the boat go fast. Today came a bit better. We tuned the boat a little better and we had a bit more speed so today was much better. It's been very good competition here in Qingdao and probably higher than we expected. We are very impressed with the whole organisation and the very short courses. This is definitely a new step for us and a different challenge. We are very happy about how it all went and are keen to come back."
Pierre-Yves Jorand skipper on Alinghi said: "It has been a tough and a little frustrating regatta for us but the conditions were good and sailing was fantastic with very tight results at the end. Qingdao offers a great race course for the Series with reaching starts, up and down legs and the finishing line close to the shore offer a fantastic show to the competitors and spectators. Even the best teams had bad races so at the end the team that made the least number of mistakes won the event and such was the case last year and so far this year. We have to come back for the next event with a different strategy."
Co-organised by the Qingdao Yachting Association, China's 'City of Sailing' has once again demonstrated how they became such a successful Olympic sailing venue. Staging a flawless event with a spectacular opening ceremony, an inclusive social programme for schools and public, and a grand closing ceremony that even the rain could not dampen.
Next stage of the 2012 Extreme Sailing Series, is Istanbul over 7-10 June.
Extreme Sailing Series 2012 Act 2, Qingdao, China Overall standings
Position / Team / Points
1st The Wave, Muscat (OMA) Leigh McMillan / Ed Smyth / Pete Greenhalgh / Hashim Al Rashdi / Rachel Williamson 189 points
2nd Red Bull Sailing Team (AUT) Roman Hagara / Hans Peter Steinacher / Matthew Adams / Graeme Spence, Pierre Le Clainche 174 points
3rd Groupe Edmond de Rothschild (FRA) Pierre Pennec / Jean-Christophe Mourniac / Hervé Cunningham / Bernard Labro / Romain Petit 171 points
4th GAC Pindar (GBR) Ian Williams / Mark Ivey / Mark Bulkeley / Adam Piggot / Andrew Walsh 164 points
5th Oman Air (OMA) Morgan Larson / Will Howden / Charlie Ogletree / Nasser Al Mashari / Max Bulger 162 points
6th ZouLou (FRA) Loick Peyron / Philippe Mourniac / Jean-Sébastien Ponce / Bruno Jeanjean / Patrick Aucour 158 points
7th SAP Extreme Sailing Team (DEN) Jes Gram-Hansen / Rasmus Kostner / Pete Cumming / Christian Kamp / Jonas Hviid 130 points
8th Alinghi (SUI), Pierre-Yves Jorand / Tanguy Cariou / Nils Frei / Yves Detrey / Charles Favre 129 points
9th China Team (CHN) Phil Robertson / Garth Ellingham / Kit Cheng / Nick Catley / Xiaqun Song 74 points
Extreme Sailing Series 2012, Series standings
Position / Team / Points
1st The Wave, Muscat (OMA) 19 points
2nd Groupe Edmond de Rothschild (FRA) 16 points
3rd Red Bull Sailing Team (AUT) 16 points
4th Oman Air (OMA) 16 points
5th GAC Pindar (GBR) 13 points
6th ZouLou (FRA) 10 points
7th SAP Extreme Sailing Team (DEN) 7 points
8th Alinghi (SUI), 7 points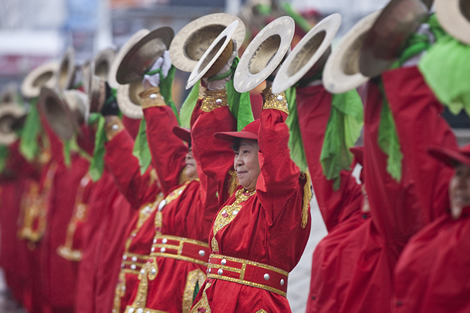 Back to top
Back to top