Oracle Racing crew line-up for Naples
Oracle Racing will once again be fielding two teams at the forthcoming America's Cup World Series event in Naples, due to run over 11-15 April. Oracle Racing Spithill and Oracle Racing Bundock – will be skippered, respectively, by Jimmy Spithill and Darren Bundock.
Spithill will race with his regular crew of John Kostecki (tactician), Dirk de Ridder (wingsail trimmer), Joe Newton (headsail trimmer) and Piet van Nieuwenhuyjzen (bow).
In sweeping the two championships of the America's Cup World Series San Diego, Oracle Racing Spithill couldn't have concluded 2011 in a more resounding way. The crew heads into Naples 1 point off the overall lead for the 2011-'12 season championship.
"I've spent a lot of time in Italy, but have never been to Naples before," said Spithill. "The series is getting more competitive at each event. It all comes down to the final Sunday and winning that. We're looking forward to it."
Bundock debuted at the helm of an AC45 at ACWS San Diego last November. His crew in Naples will be a mix of newcomers and veterans: Tom Slingsby (tactics), Kyle Langford (wingsail trimmer), Simon Daubney (headsails) and Simeon Tienpont (bow).
"San Diego didn't go as well as I would've liked, but we've had two very useful training sessions in San Francisco and I think we'll have a better showing in Naples," said Bundock, the double Olympic silver medalist (2000, '08) in the Tornado class. "We know the boat is fast, it's won two of the three speed trials, so I'm excited about Naples and getting back to racing."
At ACWS San Diego, Oracle Racing Bundock set the speed trial record time of 36.16 seconds over the 500-meter course for a top speed of 26.87 knots.
Langford, 22, is a past youth World Champion in the multihull class and a past Australian Youth Sailor of the Year (2006). "I'm amazed at how physical the AC45 is," said Langford. "It's really a challenge to keep your mind focused on trimming the wing, looking up the course, tailing all the lines that need tending and keeping your heart rate in check. It's great, athletic sailing."
Slingsby will be arriving in Naples fresh from the ISAF Sailing World Cup in Palma, where he raced the Laser in preparation for the Olympics.
"We worked a lot on our communication and team work in the training sessions in San Francisco," said Slingsby. "I've heard Naples is a light-air venue, but from what we've seen the weather changes daily. It'll be good to get back on the water."
The two bullets in San Diego put Oracle Racing Spithill within 1 point of the overall series lead. Oracle Racing Bundock is tied for fourth overall.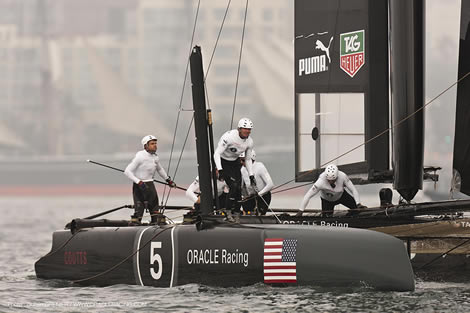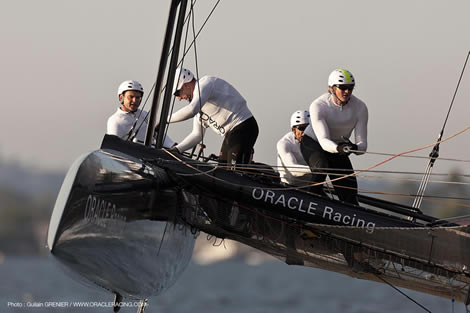 Back to top
Back to top