Red Bull day
Light winds dominated the opening day of the Extreme Sailing Series in Nice. The beautiful resort in the heart of the French Riviera provided plenty of sunshine and sparkling Mediterranean waters for the eleven Extreme 40s to commence their battle.
Roman Hagara's team on Red Bull Extreme Sailing dominated the day, but the surprise result came from Nice-born local hero, Jean-Pierre Dick. Before racing began, Dick who is helming Team Extreme Nice Côte d'Azur in the colours of his home city, said: "We haven't trained much and, to be honest, we will do our best but we are realistic about what we can do. I have a little bit of knowledge of racing multihulls but I am an ocean sailor. My 'stadium' is normally much bigger than this!" His humility was expected but not, as it turned out, was his team's performance on the water…
The four Extreme 40 races were set in an 'open water' configuration today on the Bay of Angels to make the most of the conditions, but still close enough for the sunbathers basking on the beach to get a glimpse of the 40ft catamarans as the Extreme Sailing Series makes it debut in Nice. On Friday to Sunday the fleet racing will be in a 'stadium' format as close to the Promenade des Anglais as possible.
Jean-Pierre Dick and his crew consisting of 2011 Solitaire du Figaro winner Jérémie Beyou as tactician, trimmer Billy Besson and bowman Arnaud Jarlegant called the right tactics and found boat speed when needed to score a 2nd, 3rd and 4th place finishing the end of day one in third place overall: "My first day on an Extreme 40 was great and with a good result," said Dick. "We had a lot of fun and didn't expect to do as well as we did. It's great to be here in Nice, in my hometown, surrounded by these top skippers. I can't wait to move into Stadium Racing and to race in front of the public."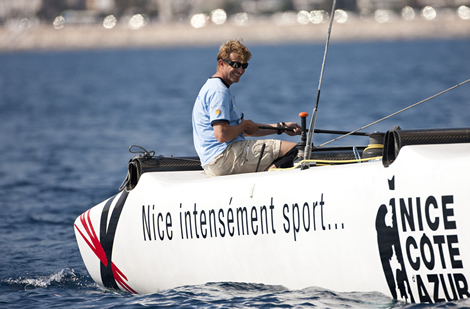 The regular all-French crew on Groupe Edmond de Rothschild skippered by Pierre Pennec, sailed consistently to score two third places and a fourth, their worst result a seventh, to claim second place overall, on equal points with their French rivals on Team Extreme Nice Cote Azur.
But without doubt, the top boat of the day was Roman Hagara's Red Bull Extreme Sailing. Hagara and his crew of Hans Peter Steinacher, the returning Will Howden and bowman Craig Monk won three out of the four races – clearly on form in the light and challenging conditions, and top the leaderboard going into the second day: "It was really hard today, we had almost no wind, a lot of sun and it was really hard to race these boats," said Hagara. "But we went out really good at the start all the times, out of four starts we had one OCS but the other were really good. Then we were in the front of the fleet and it was easy for us. I like these wind conditions, always in the Tornado when it was light we were good."
It wasn't such a pretty story for Dean Barker returning to the helm of Emirates Team New Zealand, following his strong performance at the AC World Series regatta in Plymouth. Their best result of the day was a ninth place leaving them firmly at the bottom of the rankings. And The Wave, Muscat, victors in Cowes and Trapani, also struggled in the light airs finishing the end of the day 10th place. McMillan was pragmatic both about the conditions and their chances: "It is going to be a really tough event especially because in lighter winds it becomes more of a lottery. We'll do our best to keep sailing well but certainly there will be some different teams who are in the mix here and we'll probably find out that there are some light air specialists here. Now we're in the mix for the Overalls – we've done the hard work but it does get harder from here because the guys will be paying a bit more attention to us now and we've probably got to be more aware of people gunning for us."
With only two points separating Alinghi and Niceforyou from Oman Air and Luna Rossa, the opening day is just a shakedown of what is to come over the next four days here in Nice.
Extreme Sailing Series Nice, France - overall standings after 4 races
Position / Team / Points
1st Red Bull Extreme Sailing (AUT), Roman Hagara / Hans Peter Steinacher / Will Howden / Craig Monk 35 points
2nd Groupe Edmond de Rothschild (FRA), Pierre Pennec / Christophe Espagnon / Thierry Fouchier / Hervé Cunningham 31 points
3rd Team Extreme Nice Côte d'Azur (FRA), Jean-Pierre Dick / Jérémie Beyou / Billy Besson / Arnaud Jarlegant 31 points
4th Artemis Racing (SWE), Terry Hutchinson / Sean Clarkson / Morgan Trubovich / Julien Cressant, 29 points
5th Alinghi (SUI), Tanguy Cariou / Yann Guichard / Nils Frei / Yves Detrey 24 points
6th Niceforyou (ITA), Alberto Barovier / Stefano Rizzi / Daniele De Luca / Simone de Mari 24 points
7th Oman Air (OMA), Ben Ainslie / Kinley Fowler / David Carr / Nasser Al Mashari 22 points
8th Luna Rossa (ITA), Max Sirena / Paul Campbell-James / Alister Richardson / Manuel Modena 22 points
9th Team GAC Pindar (GBR), Ian Williams / Mischa Heemrskerk / Andrew Walsh / Brian MacInnes 21 points
10th The Wave, Muscat (OMA), Leigh McMillan / Kyle Langford / Nick Hutton / Khamis Al Anbouri 17 points
11th Emirates Team New Zealand (NZL), Dean Barker / Adam Beashel / Jeremy Lomas / Chris McAsey 8 points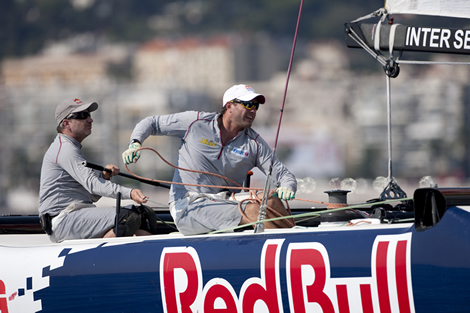 Back to top
Back to top