Decisive win for Team Aqua
Eight victories from nine matches - Cameron Appleton and his crew on Team Aqua have won the RC 44 Copenhagen Cup match race in style. The pressure was on Chris Bake's Appleton-steered boat for the last day of the match race event. Unbeaten yesterday, there remained three difficult match ahead, against Team Sea Dubai, Ceeref and Artemis.
The first race of the day was a copy-paste of yesterdays' for the Aqua team, benefitting from their opponent's premature start to sail away and win an easy point. Next came a race that could prove decisive, against Ceeref. The Slovenian team skippered by Rod Davis – second overall yesterday - had the mathematical possibility to win the contest by beating Aqua and then winning their last match against Paul Cayard's Katusha, still to find their form at this event.
Cameron Appleton commented: "We knew that the match against Ceeref would be decisive but we didn't want to do anything differently. It went our way: we wanted the left and we got the left; then we managed to dip them; we made as if we were going to tack, and then brutally bore away, which gave us the inside at the top mark. This has been a great series for us; I am very happy for the team and for myself. We've also had a lot of fun."
Team Aqua and Ceeref started evenly and exchanged tacks throughout the first beat. The decisive moment of the race took place when Aqua – on port tack – surprised Ceeref by dipping them, gaining the inside at the top mark and winning the race and the title thanks to this move. As for Ceeref, they went on to lose the next match against Katusha, ending up sixth overall…

Out of the five teams who were on a tie in third this morning, BMW Oracle Racing, Artemis and No Way Back had the best day, winning three matches each and thus remaining on a tie, with BMW Oracle Racing grabbing second overall ahead of Artemis and No Way Back
thanks to their direct confrontations.
Russell Coutts, tactician on BMW Oracle Racing said: "It was mainly down to reading the shifts correctly today, and also to the trimming of the sails because it was very choppy. It was good for us to have a good day because I felt that we gave some races away yesterday. We are very happy to finish second."
Rod Davis, helmsman on Ceeref added: "We knew the situation when we started our match against Aqua. They did a very good job at dipping us; they also benefited from a moment when we had a cell of bad wind over us; we were just sailing ten degrees lower than them; it was quite frustrating. It hasn't been a very good day for us; we were struggling with our speed and it made our life tough."
Another happy team was the Austrians on AEZ, winner of their match against Paul Cayard's Katusha and eighth overall – their best result in a match race so far. Team AEZ recently announced the appointment of Gerd Habermüller - a retired top bobsled athlete, 185 centimetres and 105 kilograms of muscles – and their team going from nine to eight crewmembers.
Tomorrow will be a practice day for the fleet regatta, due to start on Friday.
Match-racing - final results after 12 flights:

1) Team Aqua (Cameron Appleton), 8/1 - 8 points
2) BMW ORACLE Racing (Russell Coutts / Larry Ellison), 6/3 - 6 points
3) Artemis (Terry Hutchinson), 6/3 - 6 points
4) Team No Way Back (Pieter Heerema / Ray Davies), 6/3 - 6 points
5) 17 (James Spithill), 5/4 - 5 points
6) CEEREF (Rod Davis), 5/4 - 5 points
7) Team Sea Dubai (Jes Gram Hansen), 4/5 - 3 points
8) AEZ RC 44 Sailing Team (Christian Binder), 2/7 - 2 points
9) Katusha (Paul Cayard), 2/7 - 2 points
10) Team Islas Canarias Puerto Calero (José Maria Ponce), 1/8 - 1 point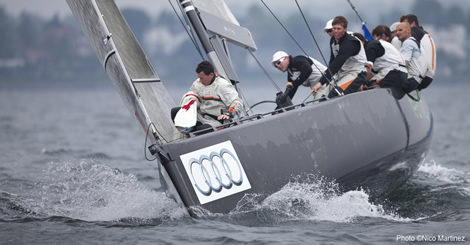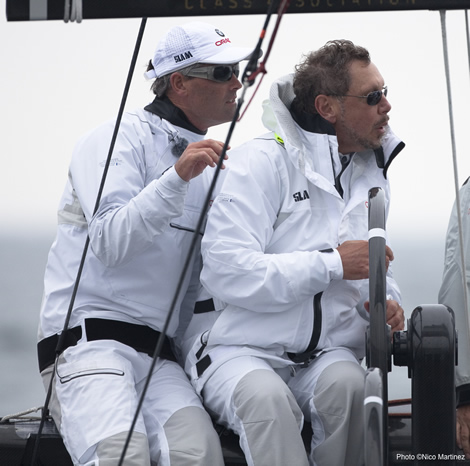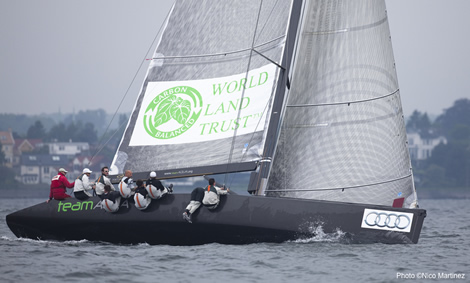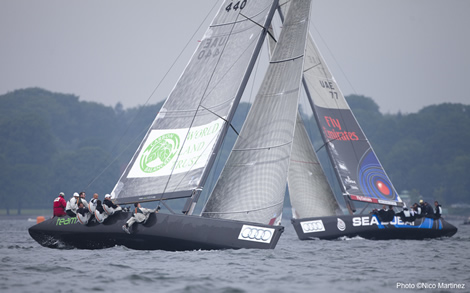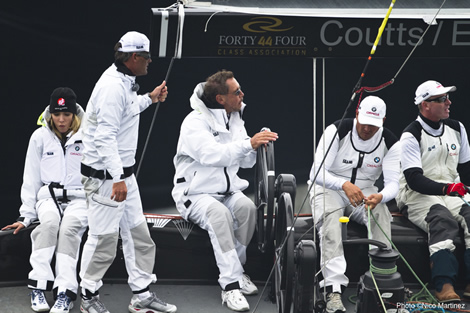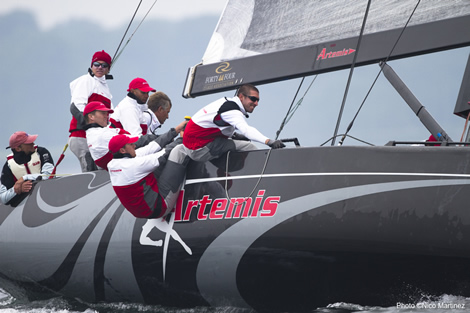 Back to top
Back to top