Out of control in Auckland
Two more points on the board for Ainslie
Winds gusting over 25 knots and big windshifts forced an early end to the second day of racing in the Omega Auckland Match Racing Regatta today – after some spectacular early action saw the teams at the edge of control.
Two flights were completed before race officials sent the yachts off the race track, with Britain's Ben Ainslie strengthening his hold on the leaderboard. The triple Olympic gold medallist and his Team Origin crew won both their matches, the first over Sebastien Col and the second over New Zealand America's Cup veteran Chris Dickson.
Ainslie is alone at the top of the leaderboard on 8-2, with three teams, Dean Barker of Emirates Team New Zealand, world match race champion Adam Minoprio and Polish ace Karol Jablonski on 6-4.
Regatta co-ordinator John Rountree of the Royal New Zealand Yacht Squadron said racing was abandoned for the day because the wind was reaching the upper limits for the fleet of identical Farr MRX match racers. "We have passed the stage of fair match racing," said Rountree.
The racing that was accomplished today, saw some tight matches as the crews battled on the edge of control. One of the closest contests of the day involved an enthralling match between Adam Minoprio and former world match racing champion Magnus Holmberg of Sweden.
There were two lead changes and a wild charge for the finish line under spinnaker as Minoprio came from behind to take victory gun by 4 seconds. "We were reaching under spinnaker and went to luff Adam and his crew," said Holmberg. "However, they just managed to edge ahead at the finish line and that was it. It was a good race."
"The big problem was the gusts and the windshifts," said Minoprio. "We were getting 30-40 degree windshifts with big gusts. In these boats, you have to react very quickly in those conditions to keep control. We were a bit lucky. It was definitely on the edge."
Racing is scheduled to resume on the Waitemata Harbour tomorrow.
Round Robin One Results after 10 Flights
Ben Ainslie (GBR) 8-2
Dean Barker (NZL) 6-4
Adam Minoprio (NZL) 6-4
Karol Jablonski (POL) 6-4
Bertrand Pace (FRA) 5-5
Torvar Mirsky (AUS) 5-5
Francesco Bruni (ITA) 4-6
Sebastien Col (FRA) 4-6
Chris Dickson (NZL) 3-7
Magnus Holmberg (SWE) 3-7
Today's matches
Flight Nine of Round Robin One
Jablonski beat Dickson by 8 secs; Barker beat Holmberg by 16 secs; Bruni beat Pace by 17 secs; Ainslie beat Col by 16 secs; Mirsky beat Minoprio by 26 secs.
Flight One of Round Robin Two
Ainslie beat Dickson by 42 secs; Mirsky beat Barker by 25 secs; Col beat Bruni by 29 secs; Minoprio beat Holmberg by 4 secs; Jablonski beat Pace by 9 secs.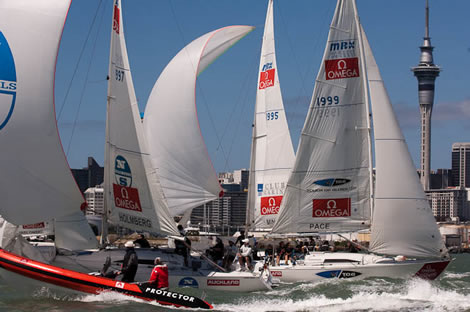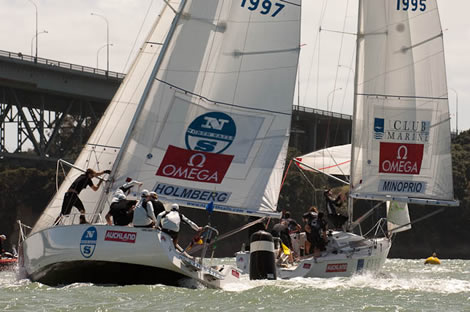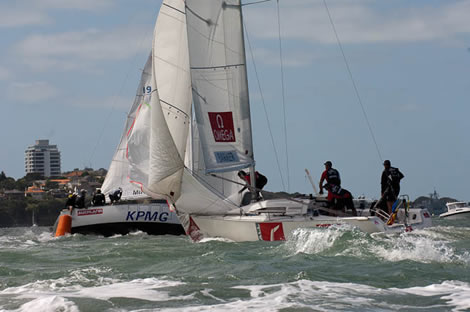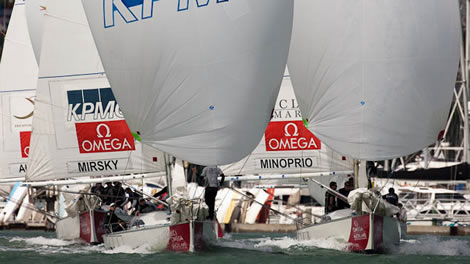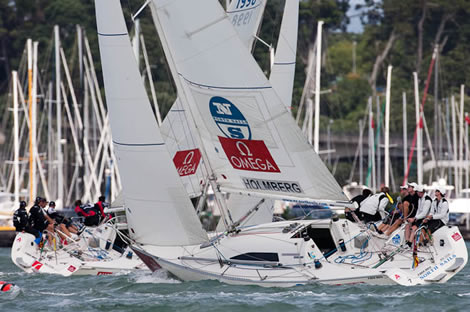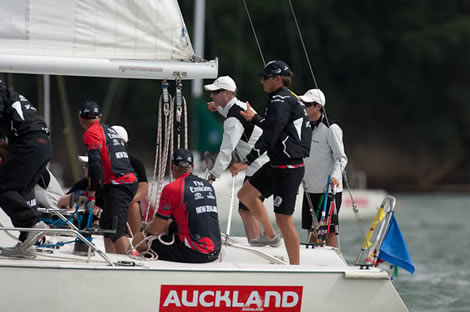 Back to top
Back to top