Burton displaces Stipanovic to claim Laser gold
In a classic Laser finale to rival the Ainslie-Scheidt dust-up in Sydney, Tom Burton (AUS) stole Olympic Laser gold after dispatching Tonci Stipanovic (CRO) after a planting a pre-start penalty on the overnight leader. Even if Stipanovic let gold slip from his grasp, he has still won Croatia's first ever medal in Olympic sailing. Sam Meech (NZL) took bronze.

With the Australian being the only sailor who could threaten Croatian gold, Stipanovic engaged Burton in an aggressive duel before the start. However, the match racing tactic backfired as the Australian turned the tables on his rival, with Stipanovic given a 360° penalty by the jury for failing to keep clear of Burton.

"I wasn't really going to engage especially with four minutes to go," said Burton. "There wasn't much point, but he wanted to have a little bit of a go, so I was just seeing what I could do. You just needed something to come off late so if it happens with two minutes to go it's not really effective so you do your penalty and it's over. We had a lot of talks the last two days about catch and release. Get a penalty and make it back for the start and it couldn't have come off any better. It was perfection nearly."

Stipanovic was a long way last off the start line and had to play catch-up during the race. Burton was near the back too, and Meech was looking to capitalise on the situation with the New Zealander threatening Australia for the silver. However, Burton moved through the fleet to finish third across the line while Stipanovic never recovered from his bad start.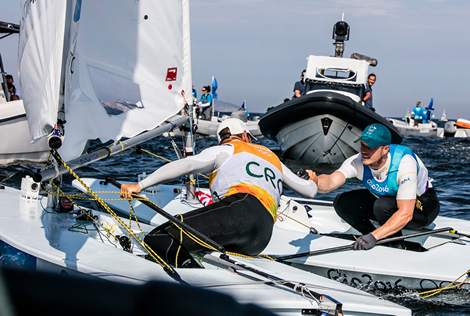 Robert Scheidt (BRA) may not have succeeded in his quest for a record sixth Olympic sailing medal in front his adoring home crowd, but the 43-year-old still gave the spectators on Flamengo Beach something to cheer about as the Brazilian legend sailed across the finish in first place. He had finished fourth overall, four points off a medal.

The new Olympic Champion Burton concluded, "A few days into the regatta I thought I was out of it. I had a bit of a bad day and some tough situations but the amount of hours I put into it, the things I sacrificed like my sister's wedding, I didn't go to the Opening Ceremony and it's all worth it now."

Tom Burton finished the medal race in third as the Croatian crossed the line in ninth to give Burton the gold medal.
"It feels great to win gold", said Burton. "The percentage chance I thought that I could win the gold, was pretty slim. Halfway up the first beat I thought it's a possibility now. Obviously there's a lot of boats to pass, that was all going through my mind. Just one at a time", Tom added.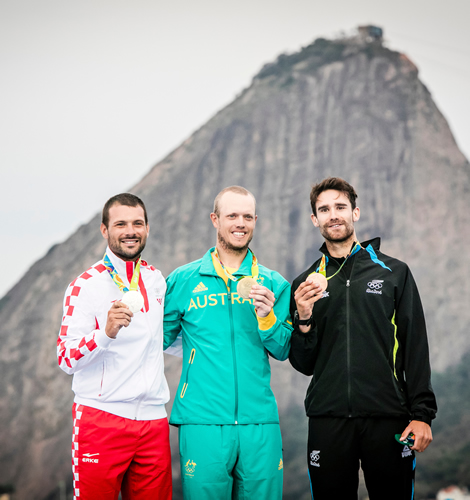 Team GBR's Nick Thompson admitted Olympic success is something that "still burns inside me" but won't rush into making any decisions on if he now turns his attention to Tokyo after finishing his Rio 2016 Laser quest in sixth today.

Thompson went into today's double medal points Medal Race still with an outside shot of claiming a podium spot, but after crossing the line in eighth he maintained the final overall position that he held at the start of the day. He admits he didn't meet his own expectations on his Games debut.

Thompson said: "It's tough to sum these Games up. I came here with bigger expectations, I was certainly looking to medal and trying to fight it out for the win but I never really got into the regatta.

"There's no one reason I didn't settle into the regatta, I just wasn't on fire. Coming into this event I always knew that if I was going to have a chance of winning I was going to have to be 100% and I just never got into that rhythm.

"The nature of our class is that the person who turns up and is on fire that week is going to come out on top. We had good battles all the way through and I'm still proud of how I sailed, but I'm just a bit disappointed at the moment.

"Who knows if I will campaign for Tokyo. It's a long cycle but it's still something that burns inside me so we'll see.

"The Olympics is amazing, it's everything everyone always said it was going to be, it's the greatest show on earth. Just being here representing my country is an incredibly proud moment, it's something I've always wanted to do and it means a lot to me."

Reflecting on the final race, Thompson added: "Today was always going to be a big ask. I started pretty well and was pretty happy but happened to be on the wrong side of the beat when the big shift came and that put me out of the race. I kept battling away but never really got back into it.

"Tom Burton's a fantastic sailor. If you look back through the four-year cycle he's been one of the guys who has been consistently winning medals and winning events so all credit to him. He's a fantastic guy, a fantastic sailor, as all the other guys are in the fleet. He really did deliver today so I'm pleased for him."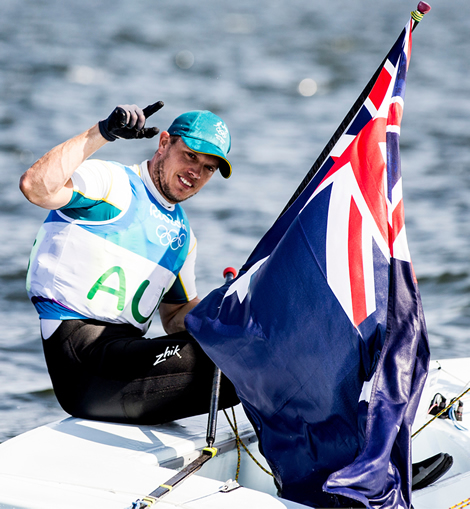 Add to Anti-Banner
Back to top
Results:
| | | | | | | | | | | | | | | | |
| --- | --- | --- | --- | --- | --- | --- | --- | --- | --- | --- | --- | --- | --- | --- | --- |
| Pos | Nat | Helm | R1 | R2 | R3 | R4 | R5 | R6 | R7 | R8 | R9 | R10 | MR | Tot | Net |
| 1 | AUS | Tom Burton | -17 | 8 | 2 | 10 | 9 | 14 | 7 | 2 | 11 | 4 | 6 | 90 | 73 |
| 2 | CRO | Tonci Stipanovic | 1 | 5 | 7 | 12 | 6 | 7 | -28 | 9 | 7 | 3 | 18 | 103 | 75 |
| 3 | NZL | Sam Meech | -19 | 3 | 5 | 6 | 14 | 17 | 13 | 6 | 12 | 1 | 8 | 104 | 85 |
| 4 | BRA | Robert Scheidt | 23 | 1 | -27 | 4 | 11 | 2 | 4 | 5 | 26 | 11 | 2 | 116 | 89 |
| 5 | FRA | Jean Baptiste Bernaz | 11 | 10 | 4 | 17 | 5 | -47 | 3 | 15 | 19 | 2 | 4 | 137 | 90 |
| 6 | GBR | Nick Thompson | 8 | 17 | 9 | 15 | 2 | 1 | -24 | 7 | 6 | 22 | 16 | 127 | 103 |
| 7 | CYP | Pavlos Kontides | 7 | -31 | 1 | 14 | 25 | 6 | 8 | 14 | 9 | 8 | 12 | 135 | 104 |
| 8 | GUA | Juan Ignacio Maegli Aguero | 18 | 14 | 3 | 7 | 16 | -25 | 18 | 17 | 3 | 7 | 14 | 142 | 117 |
| 9 | NED | Rutger van Schaardenburg | 3 | 21 | -24 | 8 | 1 | 4 | 22 | 4 | 21 | 24 | 10 | 142 | 118 |
| 10 | ARG | Julio Alsogaray | 4 | 2 | 14 | 1 | 24 | -47 | 12 | 16 | 14 | 20 | 22 | 176 | 129 |
| 11 | USA | Charlie Buckingham | 20 | 7 | 10 | 22 | 8 | -26 | 15 | 10 | 10 | 6 | | 134 | 108 |
| 12 | ITA | Francesco Marrai | -39 | 11 | 18 | 5 | 22 | 11 | 5 | 1 | 13 | 23 | | 148 | 109 |
| 13 | KOR | Jeemin Ha | 26 | 6 | -38 | 3 | 12 | 9 | 10 | 21 | 8 | 14 | | 147 | 109 |
| 14 | GER | Philipp Buhl | 16 | 16 | 8 | 13 | 17 | 13 | 1 | 25 | -34 | 17 | | 160 | 126 |
| 15 | RUS | Sergey Komissarov | 2 | 9 | 19 | 23 | 7 | 10 | 16 | -31 | 28 | 15 | | 160 | 129 |
| 16 | SWE | Jesper Stalheim | 10 | 23 | 26 | 28 | 10 | 15 | 2 | 3 | 20 | -31 | | 168 | 137 |
| 17 | BEL | Wannes Van Laer | 27 | -30 | 12 | 11 | 23 | 12 | 23 | 13 | 1 | 18 | | 170 | 140 |
| 18 | POL | Kacper Ziemiński | 34 | 28 | 6 | -47 | 3 | 5 | 20 | 12 | 22 | 10 | | 187 | 140 |
| 19 | ISV | Cy Thompson | 13 | 4 | 11 | -35 | 32 | 33 | 6 | 20 | 17 | 16 | | 187 | 152 |
| 20 | SIN | Colin Cheng | 5 | 20 | 13 | 18 | 21 | -47 | 27 | 22 | 25 | 9 | | 207 | 160 |
| 21 | EST | Karl-Martin Rammo | 24 | 19 | 17 | -44 | 30 | 28 | 36 | 8 | 2 | 5 | | 213 | 169 |
| 22 | POR | Gustavo Lima | 15 | 15 | 20 | 25 | 15 | 8 | 11 | 28 | -38 | 33 | | 208 | 170 |
| 23 | CAN | Lee Parkhill | -43 | 37 | 33 | 9 | 19 | 20 | 14 | 23 | 4 | 13 | | 215 | 172 |
| 24 | ESA | Enrique Jose Arathoon Pacas | -33 | 32 | 28 | 30 | 4 | 3 | 9 | 32 | 18 | 21 | | 210 | 177 |
| 25 | DEN | Michael Hansen | 6 | 24 | 23 | 20 | -31 | 31 | 19 | 26 | 5 | 26 | | 211 | 180 |
| 26 | FIN | Kaarle Tapper | -32 | 12 | 31 | 29 | 27 | 18 | 17 | 11 | 23 | 19 | | 219 | 187 |
| 27 | NOR | Kristian Ruth | -47 | 13 | 32 | 2 | 29 | 16 | 25 | 47 | 15 | 30 | | 256 | 209 |
| 28 | CZE | Viktor Teply | 29 | 18 | 30 | 19 | 13 | 23 | 29 | 29 | 32 | -34 | | 256 | 222 |
| 29 | MNE | Milivoj Dukic | 12 | 26 | -35 | 24 | 33 | 19 | 32 | 24 | 33 | 29 | | 267 | 232 |
| 30 | CHI | Matias Del Solar | 22 | -35 | 22 | 32 | 35 | 24 | 34 | 33 | 24 | 12 | | 273 | 238 |
| 31 | PER | Stefano Peschiera | 37 | 40 | 16 | 16 | 28 | 22 | 21 | 27 | 35 | -47 | | 289 | 242 |
| 32 | IRL | Finn Lynch | 14 | 27 | 15 | 39 | 18 | 27 | 33 | 30 | 40 | -47 | | 290 | 243 |
| 33 | HUN | Benjamin Vadnai | 9 | 44 | 21 | 21 | -47 | 30 | 30 | 39 | 29 | 25 | | 295 | 248 |
| 34 | TUN | Youssef Akrout | 21 | 29 | 34 | 26 | -38 | 32 | 37 | 35 | 16 | 27 | | 295 | 257 |
| 35 | MAS | Khairulnizam Mohd Afendy | 38 | 33 | 40 | 33 | 20 | 21 | -47 | 37 | 31 | 28 | | 328 | 281 |
| 36 | ESP | Joaquín Blanco | 28 | -47 | 25 | 40 | 26 | 29 | 26 | 47 | 30 | 35 | | 333 | 286 |
| 37 | THA | Keerati Bualong | 25 | 38 | 37 | 31 | 37 | 39 | 35 | 18 | 27 | -47 | | 334 | 287 |
| 38 | VEN | Jose Gutierrez | 35 | 36 | 36 | -42 | 39 | 35 | 40 | 19 | 37 | 37 | | 356 | 314 |
| 39 | TTO | Andrew Lewis | 42 | 34 | 39 | 36 | 40 | 34 | 31 | -47 | 36 | 32 | | 371 | 324 |
| 40 | RSA | Stefano Raffaele Marcia | 30 | 25 | 42 | 38 | 43 | 38 | -44 | 36 | 39 | 40 | | 375 | 331 |
| 41 | BER | Cameron Pimentel | 31 | -45 | 41 | 27 | 44 | 42 | 39 | 34 | 42 | 39 | | 384 | 339 |
| 42 | MEX | Yanic Gentry | 41 | 42 | 29 | 43 | 34 | 36 | 38 | -47 | 41 | 36 | | 387 | 340 |
| 43 | EGY | Ahmed Ragab | 36 | 22 | 44 | 41 | 41 | 41 | 42 | 40 | -45 | 42 | | 394 | 349 |
| 44 | COK | Peter Elisa Henry | 40 | 39 | 43 | 34 | 36 | 40 | 45 | -47 | 44 | 41 | | 409 | 362 |
| 45 | SEY | Rodney Govinden | 45 | 41 | -47 | 37 | 42 | 37 | 41 | 41 | 43 | 38 | | 412 | 365 |
| 46 | ANG | Manuel Lelo | 44 | 43 | 45 | 45 | -47 | 43 | 43 | 38 | 46 | 43 | | 437 | 390 |
Back to top