Scott and Thompson on the ascent
Wednesday August 10th 2016, Author:
James Boyd
, Location: none selected
Day three of sailing at Rio 2016 had two very differing complexions with the inshore courses forcing the sailors to make the best of a light-wind lottery, while out to sea it couldn't have been more different, with the Niterói and Copacabana courses offering up high winds and mountainous waves. The Sugarloaf medal race course made for a wildly unpredictable, but entertaining debut to the Olympic sailing competition for the Nacra 17 mixed multihull.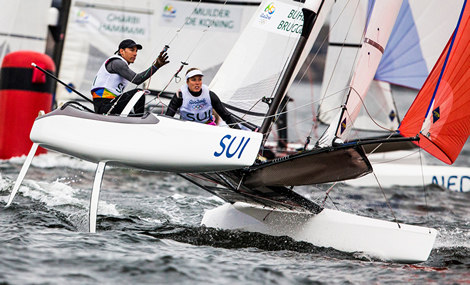 Nacra 17

Matias Buhler and Nathalie Brugger (SUI) emerged top of the rankings after two whacky opening races for the Nacra 17 on the notoriously tricky Pão de Açucar (Sugarloaf Mountain) race course. The Swiss ended the day on equal points with Ben Saxton and Nicola Groves (GBR), with two time Olympic bronze medallist Santiago Lange and Cecilia Carranza Saroli (ARG) holding third overall.

With the fleet starting in 10 knots of breeze, the Nacra 17s shot up the track, but, the breeze was all over the place and no lead was ever safe. The Swiss emerged at the front at one point, only to be swallowed up by the pack at the halfway stage. Then Buhler and Brugger found their way through to the front once more, only to see their 200m lead disappear in the dying moments of the final leg. The fleet was closing fast and the top six boats all crossed the finish line within five seconds of each other. The Swiss beat Singapore by a whisker.

"A really tricky day," said Brugger. "Difficult with very shifty and gusty winds, so we had to improvise and keep the eyes open. We had some hard moments back in the fleet but we were always fighting and had a really good team spirit."

Justin Liu (SIN) didn't even know how well he'd done until he came ashore. "That photo finish - we've no idea how we did, where did we finish?" he asked the press, delighted to discover he and crew Denise Lim had finished second. "The wind was everywhere, super crazy, we were near the back at one point, but we fought our way back." Even with a 16th in the next race, the Singaporeans lie in eighth overall.

Four-time World Champions Billy Besson and Marie Riou (FRA) had a worrying first day and sit in 17th place in the 20-boat fleet. Besson is carrying a severe long-term back injury and is struggling even to walk any distance, so one can only imagine the pain he is suffering to compete on board the athletic Nacra 17.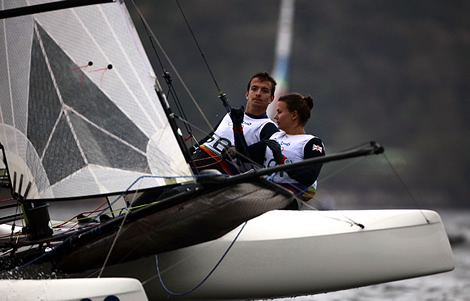 The British duo Ben Saxton and Nicola Groves got off to a consistent start in the erratic conditions ending the day with a 3,5. Saxton was smiling but still not that sure about the secret to success other than, "Give it a go, do your best and hopefully by the end of six legs it will be good enough."
The pair got their event off to the worst possible start being left stranded on the start line by the rest of the fleet, but in unbelievably shifting conditions they staged an incredible comeback, playing the shifts brilliantly to go from rounding the first mark in 18th to being third over the finish line.

The after a long postponement and a general recall, Saxton and Groves' race two proved much less incident-packed as they maintained a good position in the leading pack for the whole race. Following another long postponement, the class' third scheduled race of the day was not started as dusk set in.

Saxton said: "We are happy with how we sailed today. I was just excited to actually sail at an Olympics and I was ready to get going, it's cool. This is what we dream of, racing the best people in the world at the most important events is why we do this. The first start wasn't good but we just had to accept where we were. We went round the first mark with only a couple of boats behind us, but after that we picked off a couple in each leg and then it was good."

Groves added: "It was definitely tricky, with the wind coming out of the city but I think we did the best we could and clawed ourselves back from quite a bad start in that first race so we are happy with how we sailed. I was nervous but Ben knows me quite well so he said 'Come on, time to go sailing', so he did a good job of keeping me calm and I did it right."
Last night Spain's Fernando Echávarri and Tara Pacheco were disqualified from race two for failing to keep clear of Italy's Vittorio Bissaro and Silvia Sicouri. The Italians also managed to get Greece's Sofia Bekatorou and Michalis Pateniotis disqualified from race two for failing to keep clear. The Greeks now hold a DNF and a DSQ...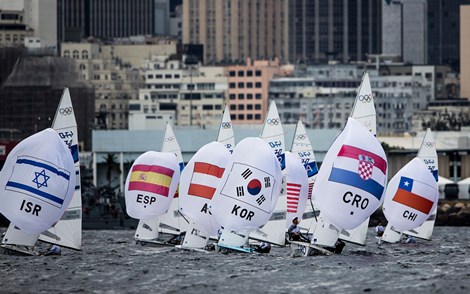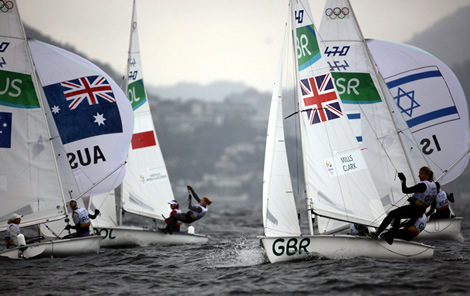 Men's 470

Through all the crazy unpredictability of the courses closer to shore somehow the reigning World Champions from Croatia picked their way through the melée. Sime Fantela and Igor Marenic (CRO) have notched up a 1,2 for their opening scores, and are living up to their billing as the main threat to Australia's defence of the Olympic title from London 2012.

That said, Mat Belcher and Will Ryan (AUS) had a very respectable day, bouncing back from some bad starts to record an 8,1 putting the Aussies in second overall. "This is what the Games are meant to be," said Belcher. "It's supposed to be challenging, to really test yourself. Today saw that. We were back in a lot of cases, got back up the front and posted two good races."

Paul Snow-Hansen and Daniel Willcox (NZL) lie in third overall. Snow-Hansen commented, "Just like all big regattas, we're getting conditions you don't normally expect. But we're happy to roll with it and enjoy the snakes and ladders out there."
Britain's Luke Patience and Chris Grube admitted they were sailing on instinct today. Patience, the London 2012 silver medallist, and Grube recovered from a challenging first race, in which they finished 21st, to sail to 5th place in race two and end the day 11th overall.

Despite 90-150 days training in Rio, Patience admitted to never having been confronted with the conditions they experienced inside Guanabara Bay today, and now the pair can't wait to start building on what they learned: "The wind was really coming from far round to the west it was. It really was coming out over the city and the hills and normally the high land funnels it, but it didn't seem to do that today.

"It was impossibly hard to predict what was next, you really had to go with what you saw and there was a bit of hoping what you've seen is going to establish and carry you through to where you need to be. All you can do is sail in the wind around you. It was heart in mouth for a lot of moments, for everyone."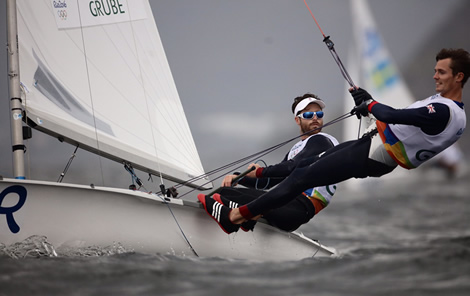 For Patience's crew Chris Grube, today marked his Olympic debut after Patience's previous crew, Elliot Willis, was diagnosed with cancer in late 2015. Grube said: "My first day at an Olympics is awesome, it's been a long time coming. We're in a good position, working hard and now is the time when all that hard work means you're able to relax and race as hard as you can. Luke's experience is helping us through, especially on days like today when it would be easy to panic."

Patience concluded: "It feels as though we've pulled this whole beast together just in time for day one and we're absolutely fine. I'm proud of what we did today, proud of how we've managed to come out after the short time available we've had available to do this. So it's all smiles and we're ready for tomorrow."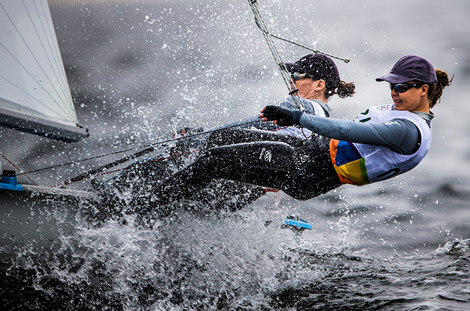 Women's 470

Ai Kondo Yoshida and Miho Yoshioka (JPN) put together a very good first day on the very fluky Escola Naval (Navy School) course, the Japanese ending the day with a two point lead over the defending Olympic Champions, Jo Aleh and Polly Powrie (NZL), however the Kiwis were later disqualified from race one for failing to keep clear of Austrian favourites, Lara Vadlau and Jolanta Ogar. Tina Mrak and Veronika Macarol (SLO) hold second place ahead of the Brazilians, Fernanda Oliveira and Ana Luiza Barbachan.

Annie Haeger and Briana Provancha (USA) were pleased with their opening day, the Americans in fourth overall. "It was a really tricky day," said Provancha, "Super cool to be racing out there. The goal of day one is to be consistent and not lose the regatta. We did our job today. It was about looking for the dark water and going for your hunches."
Unlike other classes, which have seen a big spread of results between races when racing on the inside courses, the 470 Women found much greater opening day consistency with every boat in the top seven finishing 12th or higher in each race.

With the 470 Women set to do battle tomorrow on the notoriously unpredictable Pão de Açúcar (Sugarloaf) course and the Ponte course, both inside Guanabara Bay, will prove a real test of concentration, skill execution and adaptability as the week progresses.

The London 2012 silver medallists Hannah Mills and Saskia Clark (GBR) would have hoped for a better first day, and are in fifth overall after fighting their way back from bad starts in both races. "Not much of an excuse for our poor first decisions off the start line in both races," admitted Clark. "From then on we were playing catch up and we did a reasonable job. Today might look like a good day at the end of this week."
Clark said: "It was a very tricky day. We made a poor first decision off the line in both races, we got the wrong side of the first wind shift and then we were just playing catch up, which we did a reasonable job of. That is our debrief point from today.

"A few of the girls put together two good races, but it's just the start and we are expecting much more of the same. The Sugarloaf course is going to be crazy so we just need to keep our heads and try to just tighten up. It might look like a good day at the end of this week. So far both of them are counters.

"Watching the two days already, there are some very good people struggling and really fighting in the pack, not pushing their noses out the front, and it's going to be a big, epic week so we are just going to need to keep fighting."

The 470 Women are set to resume at 1600 tomorrow (UTC). The 470 Women's class is scheduled to contest an 11 race series, with two races per day on 10, 11, 12, 14 and 15 August before the final one off medal race on Wednesday 17 August.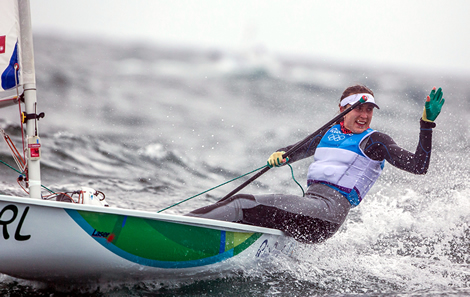 Laser Radial

Annalise Murphy (IRL) has always loved the strong breeze and big waves and the Irish sailor took full advantage with some good scores to move into the overall lead. After tricky unpredictable wind inside Guanabara Bay, the Laser Radials moved on to the Copacabana ocean course today, with consistent breeze over 20+ knots giving the sailors a chance to really stretch their sea legs. However, Anne-Marie Rindom (DEN) had an even better day with scores of 3,1 to move to within a point of Murphy. Just a point behind the Dane is the London 2012 silver medallist, Marit Bouwmeester (NED).

It wasn't such a good outing for the reigning Olympic Champion Lijia Xu (CHN), whose scores of 8,12 have dropped the Chinese sailor down to fifth overall. An even bigger casualty was Evi van Acker (BEL), whose scores of 16,15 have dropped the 2012 bronze medallist to tenth overall. With just four races before the Medal Race, time is running out for van Acker to get back in contention.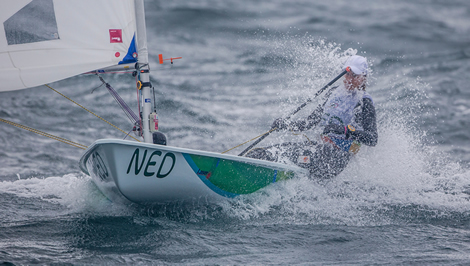 Alison Young insisted she is staying positive. Today's conditions clearly better suited Young who picked up a sixth and a ninth – to move into 13th at the midway point.

The Laser Radials now have a rest day tomorrow and 29-year-old Young admits she and her coach, Hugh Styles, will take advantage of the chance to see what can be learned from the first half of the regatta with four opening series races to come.

She said: "I was lacking a little bit of speed upwind today, but we've got a reserve day tomorrow so we can assess the last three days and see what we can do over the next four races. The conditions were different to what we expected. Normally we would expect a lighter breeze, but we know you can get anything here.

"Everyone in the team is staying positive and working hard on their processes. I hope to reflect on the last few days and see how we can move forward from here."

The Laser Radial class is scheduled to contest an 11 race series, with two races per day on 8, 9, 10, 12 and 13 August before the final one off medal race on Monday 15 August.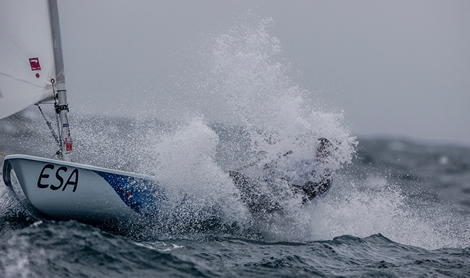 Laser

Tonci Stipanovic (CRO) is back in charge of the leaderboard after Julio Alsogaray (ARG) tumbled down the order with a 24th followed by a UFD disqualification for crossing the start line too early. The big winner of the day was reigning World Champion Nick Thompson (GBR) who charged up the rankings posting a 2,1 and now sits in second overall, two points in front of another star performer of the day, Rutger van Schaardenburg (NED). Brazilian Olympic legend Robert Scheidt is just four points off the podium, within striking distance of winning a record sixth Olympic medal.
Double World Champion Thompson endured a frustrating start to his regatta and went into racing today in 12th position after four races. But clearly reveling in a move for the Lasers on to the Copacabana ocean course outside of Guanabara Bay.

The Lasers now have a rest day tomorrow and Thompson admits it was important he made his move on the medal positions as the midway point of the regatta passed: "The biggest thing for me was just trying to knock in two decent results. I have been there and thereabouts in every race but today I have managed to show what I can do.

"It was nice to get out there, get some decent breeze and some good waves and Rio really delivered today, it was a fantastic conditions and thoroughly enjoyable. I've always favoured strong winds and big waves, I just enjoy sailing in that stuff. It is a physical battle and good fun downwind.

"We've had a lot of days like that in training. I've spent a lot of time out here and have seen those conditions a few times but I really wasn't expecting to see them at this time of year so it was really nice that Rio turned it on for us."

In today's opening race Thompson rounded the first mark in fourth before progressing up to second, while, after a short postponement ahead of race two, he moved up from sixth to hit the front of the fleet at the fourth mark and take line honours.

Thompson is now looking forward to a day's recovery before resuming his medal charge on Friday.

He added: "Today has put me in better shape now. I have really struggled to get round the windward mark in a decent position in the previous four races, and ended up just battling away in every race, so it's been really tough. To get round in a solid position today then pull through the fleet has just been so much more enjoyable and I think if I can keep plugging away and doing that we will be in good shape."
Last night Hungary's Benjamin Vadnai was disqualified from race five for colliding with Matias Del Solar.

The Laser class is scheduled to contest an 11 race series, with two races per day on 8, 9, 10, 12 and 13 August before the final one off medal race on Monday 15 August.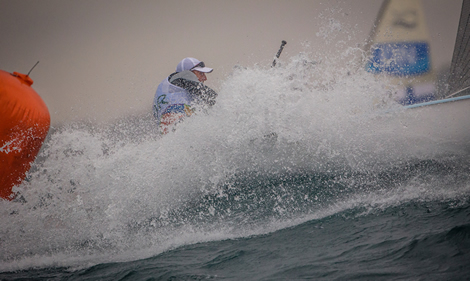 Finn by Robert Deaves
It was a big day in Rio on the second day of racing for Finns at Rio 2016. Racing on the Niteroi courses area out on the open ocean, the Finn fleet excelled in the huge waves in big winds. Giles Scott (GBR) put his worries from Tuesday behind him to record the performance of the day to move into the overall lead. Vasilij Zbogar (SLO) drops to second while Alican Kaynar (TUR) drops one place to third.

The conditions were full on in all regards. With darkened skies, a strong, cold wind straight from the Antarctic, and big, breaking waves catching out the unwary, the only bright points of the day were the lights coming on along Copacabana, shining through the murk across the rough Rio waters. It was definitely not the Rio in the brochure, but the Finn sailors loved it all the same.

Ioannis Mitakis (GRE) led round the top mark in the first race of the day. Zsombor Berecz (HUN) took the lead downwind, but then Jonathan Lobert, who had rounded third, moved ahead on the second upwind to lead into the finish from Scott and Mitakis.

Scott went one better in the next race, to lead at every mark to win by 50 seconds. Mitakis again produced an outstanding performance in the challenging conditions to cross second, while Caleb Paine (USA) made up for the first race with a third place finish.

Four sailors later requested redress after heading to a wrong set of windmark marks, which were laid nearby.

Compared with Tuesday, Scott was more upbeat about his day. "Much better than yesterday. It was incredibly windy, top end that we would be in, 20-25 knots, big seas, which made for really full on racing, but to come away with a second and a first is a lot more pleasing than my day yesterday for sure."

"It couldn't have been more different today. It was a big change in racing and approach and fortunately for me it came good today. The reason we race such long series is to do away with those particularly fickle races and tricky conditions."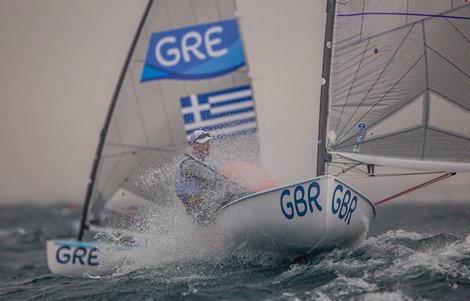 After a poor start to his first Olympics, he said it was important not to panic. "Going into the week you knew the difficult course would be Sugarloaf and if you get that southerly condition it is incredible tricky. I think I could have read too much into it, but it was nice to get into it today and have some different conditions and get away from the thoughts of yesterday. One of the things to remember is that the conditions inside the bay and outside were very different. Racing was a bit more predicable."

One of the other pre-regatta favourites who has struggled so far is Pieter-Jan Postma (NED), but he says he thinks he could be back "in the game."

"It was a bit better than yesterday. I had a 12th and a fourth. I was near the front in the first one, but I was struggling a bit with speed but also with placing. You need to be in the shift, and in the gust. With the last race I was in the game. I need to build on that.

"The results are all over the place. It is hard but it doesn't matter if it's hard, as if it's hard, it's challenging and that's good. But it was windy. Big waves. I even sailed three to one today. Most did I think. A tough day."

Mikakis's performance moves him up to fourth overall. "It was a nice breeze for the Finns, 20-25 knots, and I think we had better weather conditions than the guys on the inside courses. I had two really good races. I have two good starts so I tried to play the shifts and find the clouds. Normally I am not in the top three in these conditions but I knew that I had good speed, so I knew I had to have good starts and then you are out of the pack."

The 2012 bronze medallist Lobert was one of those struggling on Tuesday. Today he followed his race win with a seventh, but he was unhappy with himself: "I was happy with the first race, My speed was good and I managed to sail well and I won. The second race I was leading again and expecting wind from the right hand side, like happened in the first race. I had Giles behind me but I didn't look enough and a lot went to the left and we got this left shift and I lost everything. So a little mixed feelings today because I think I could have had a much better day. A seventh is not that good with the speed I had when you look at the beginning of the race. But it's part of the game and I look forward to tomorrow to try to come back."

Sailing in his first Olympics Jake Lilley (AUS) had a better day. "Two keepers. I didn't really have my best groove on and got a little bit of the phasing wrong early in both races but managed to grind away and get two keepers.

"I think the four races so far show two things, the level of the fleet and how difficult the conditions are here. It's pretty easy to make mistakes and then you lose 10-15 points. But it's a really long week and I liken it to racing the Tour de France as opposed to the 100 metres, and we're not even a third of the way through yet with a lot of racing to go, and a lot of things that can happen."

On his first Olympic experience, "It's been really good so far, a really enjoyable experience, but in terms of racing it's tough as everyone is on peak form and racing really well. That provides its challenges but it's really enjoyable and there's nothing else you'd rather be doing."

The Finns have two more races on Thursday, when more strong winds have been forecast, scheduled to take place on the Escola Naval course area inside Guanabara Bay, before a much needed lay day on Friday.
Add to Anti-Banner
Back to top
Results
Nacra 17
| | | | | | | |
| --- | --- | --- | --- | --- | --- | --- |
| Pos | Nat | Helm | Crew | R1 | R2 | Tot |
| 1 | SUI | Matías Bühler | Nathalie Brugger | 1 | 6 | 7 |
| 2 | GBR | Ben Saxton | Nicola Groves | 3 | 4 | 7 |
| 3 | ARG | Santiago Lange | Cecilia Carranza Saroli | 11 | 2 | 13 |
| 4 | AUS | Jason Waterhouse | Lisa Darmanin | 6 | 7 | 13 |
| 5 | AUT | Thomas Zajac | Tanja Frank | 12 | 3 | 15 |
| 6 | SIN | Justin Liu | Denise Lim | 2 | 14 | 16 |
| 7 | NED | Mandy Mulder | Coen de Koning | 5 | 11 | 16 |
| 8 | DEN | Allan Norregaard | Anette Viborg | 8 | 8 | 16 |
| 9 | BRA | Samuel Albrecht | Isabel Swan | 17 | 1 | 18 |
| 10 | CAN | Luke Ramsay | Nikola Girke | 4 | 15 | 19 |
| 11 | USA | Bora Gulari | Louisa Chafee | 13 | 9 | 22 |
| 12 | NZL | Gemma Jones | Jason Saunders | 9 | 13 | 22 |
| 13 | ITA | Vittorio Bissaro | Silvia Sicouri | 10 | 12 | 22 |
| 14 | URU | Pablo Defazio Abella | Mariana Foglia Costa | 19 | 5 | 24 |
| 15 | FRA | Billy Besson | Marie Riou | 7 | 17 | 24 |
| 16 | GER | Paul Kohlhoff | Carolina Werner | 14 | 10 | 24 |
| 17 | ARU | Nicole van der Velden | Thijs Visser | 15 | 16 | 31 |
| 18 | ESP | Fernando Echávarri Erasun | Tara Pacheco van Rijnsoever | 16 | 21 | 37 |
| 19 | TUN | Hedi Gharbi | Rihab Hammami | 18 | 21 | 39 |
| 20 | GRE | Sofia Bekatorou | Michalis Pateniotis | 21 | 21 | 42 |
470 Men
| | | | | | | | |
| --- | --- | --- | --- | --- | --- | --- | --- |
| Pos | Nat | Helm | Crew | R1 | R2 | Tot | Net |
| 1 | CRO | Sime Fantela | Igor Marenic | 1 | 2 | 3 | 3 |
| 2 | AUS | Mathew Belcher | William Ryan | 8 | 1 | 9 | 9 |
| 3 | NZL | Paul Snow-Hansen | Daniel Willcox | 2 | 10 | 12 | 12 |
| 4 | GRE | Panagiotis Mantis | Pavlos Kagialis | 9 | 3 | 12 | 12 |
| 5 | AUT | Matthias Schmid | Florian Reichstädter | 3 | 9 | 12 | 12 |
| 6 | FRA | Sofian Bouvet | Jeremie Mion | 6 | 6 | 12 | 12 |
| 7 | SUI | Yannick Brauchli | Romuald Hausser | 11 | 4 | 15 | 15 |
| 8 | USA | Stuart Mcnay | David Hughes | 10 | 7 | 17 | 17 |
| 9 | ESP | Jordi Xammar Hernandez | Joan Herp Morell | 4 | 16 | 20 | 20 |
| 10 | ISR | Eyal Levine | Dan Froyliche | 7 | 15 | 22 | 22 |
| 11 | GBR | Luke Patience | Chris Grube | 21 | 5 | 26 | 26 |
| 12 | RUS | Pavel Sozykin | Denis Gribanov | 12 | 17 | 29 | 29 |
| 13 | UKR | Borys Shvets | Pavlo Matsuyev | 16 | 13 | 29 | 29 |
| 14 | KOR | Chang ju Kim | ji-hoon kim | 5 | 25 | 30 | 30 |
| 15 | SWE | Anton Dahlberg | Fredrik Bergström | 22 | 8 | 30 | 30 |
| 16 | FIN | Joonas Lindgren | Niklas Lindgren | 20 | 11 | 31 | 31 |
| 17 | GER | Ferdinand Gerz | Oliver Szymanski | 13 | 18 | 31 | 31 |
| 18 | ARG | Lucas Calabrese | Juan de la Fuente | 17 | 14 | 31 | 31 |
| 19 | TUR | Deniz Cinar | Ates Cinar | 14 | 19 | 33 | 33 |
| 20 | CHN | Wei Wang | Zangjun Xu | 23 | 12 | 35 | 35 |
| 21 | JPN | Kazuto Doi | Kimihiko Imamura | 15 | 21 | 36 | 36 |
| 22 | RSA | Asenathi Jim | Roger Beresford Hudson | 18 | 24 | 42 | 42 |
| 23 | BRA | Henrique Haddad | Bruno Amorim | 19 | 23 | 42 | 42 |
| 24 | CAN | Jacob Chaplin-Saunders | Graeme Chaplin-Saunders | 26 | 20 | 46 | 46 |
| 25 | CHI | Andres Ducasse | Francisco Ducasse | 24 | 22 | 46 | 46 |
| 26 | ANG | Matias Montinho | Paixao Afonso | 25 | 26 | 51 | 51 |
470 Women

| | | | | | | |
| --- | --- | --- | --- | --- | --- | --- |
| Pos | Nat | Helm | Crew | R1 | R2 | Tot |
| 1 | JPN | Ai Kondo Yoshida | Miho Yoshioka | 1 | 4 | 5 |
| 2 | SLO | Tina Mrak | Veronika Macarol | 2 | 6 | 8 |
| 3 | USA | Anne Haeger | Briana Provancha | 8 | 3 | 10 |
| 4 | BRA | Fernanda Oliveira | Ana Luiza Barbachan | 5 | 5 | 10 |
| 5 | GBR | Hannah Mills | Saskia Clark | 4 | 7 | 11 |
| 6 | AUT | Lara Vadlau | Jolanta Ogar | 3 | 12 | 15 |
| 7 | NED | Afrodite Zegers | Anneloes van Veen | 16 | 2 | 17 |
| 8 | CHI | Nadja Horwitz | Sofia Middleton | 10 | 11 | 20 |
| 9 | CHN | Lizhu Huang | Xiaoli Wang | 12 | 10 | 21 |
| 10 | NZL | Jo Aleh | Polly Powrie | 6 | 1 | 22 |
| 11 | SUI | Linda Fahrni | Maja Siegenthaler | 9 | 15 | 23 |
| 12 | FRA | Camille Lecointre | Hélène Defrance | 7 | 18 | 24 |
| 13 | AUS | Carrie Smith | Jaime Ryan | 17 | 8 | 24 |
| 14 | POL | Agnieszka Skrzypulec | Irmina Gliszczynska | 11 | 14 | 24 |
| 15 | ESP | Bàrbara Cornudella Ravetllat | Sara López Ravetllat | 15 | 13 | 27 |
| 16 | GER | Annika Bochmann | Marlene Steinherr | 13 | 16 | 28 |
| 17 | ISR | Nina Amir | Nina Amir | 21 | 9 | 30 |
| 18 | ITA | Elena Berta | Alice Sinno | 14 | 19 | 32 |
| 19 | SIN | Jovina Choo | Amanda Ng | 18 | 17 | 34 |
| 20 | RUS | Alisa Kirilyuk | Liudmila Dmitrieva | 21 | 21 | 42 |
Laser Radial
| | | | | | | | | | | |
| --- | --- | --- | --- | --- | --- | --- | --- | --- | --- | --- |
| Pos | Nat | Helm | R1 | R2 | R3 | R4 | R5 | R6 | Tot | Net |
| 1 | IRL | Annalise Murphy | 1 | -13 | 4 | 7 | 5 | 2 | 32 | 19 |
| 2 | DEN | Anne-Marie Rindom | 5 | 8 | -38 | 3 | 3 | 1 | 58 | 20 |
| 3 | NED | Marit Bouwmeester | 6 | 4 | -14 | 4 | 1 | 6 | 35 | 21 |
| 4 | CHN | Lijia Xu | 3 | -38 | 3 | 1 | 8 | 12 | 65 | 27 |
| 5 | FIN | Tuula Tenkanen | 4 | -16 | 7.3 | 2 | 14 | 3 | 46.8 | 30.8 |
| 6 | LTU | Gintare Scheidt | -38 | 1 | 8 | 8 | 12 | 5 | 72 | 34 |
| 7 | USA | Paige Railey | 15 | 2 | 9 | -21 | 2 | 7 | 56 | 35 |
| 8 | SWE | Josefin Olsson | -17 | 5 | 7 | 17 | 7 | 4 | 57 | 40 |
| 9 | CRO | Tina Mihelic | -38 | 3 | 11 | 10 | 4 | 14 | 80 | 42 |
| 10 | BEL | Evi Van Acker | 2 | 12 | 2 | -29 | 16 | 15 | 76 | 47 |
| 11 | AUS | Ashley Stoddart | 8 | 6 | 16 | -28 | 11 | 11 | 80 | 52 |
| 12 | CZE | Veronika Kozelska Fenclova | 11 | 7 | 10 | -16 | 9 | 16 | 69 | 53 |
| 13 | GBR | Alison Young | 13 | 17 | 12 | -26 | 6 | 9 | 83 | 57 |
| 14 | TUR | Nazli Donertas | 16 | 20 | 6 | 9 | -22 | 10 | 83 | 61 |
| 15 | ESP | Alicia Cebrian | -27 | 9 | 24 | 12 | 13 | 8 | 93 | 66 |
| 16 | BLR | Tatiana Drozdovskaya | 22 | 10 | 5 | 13 | -25 | 17 | 92 | 67 |
| 17 | HUN | Mária Érdi | 20 | 22 | 1 | 5 | -26 | 20 | 94 | 68 |
| 18 | ARG | Lucía Falasca | 7 | 11 | 19 | 15 | 20 | -22 | 94 | 72 |
| 19 | CAN | Brenda Bowskill | 9 | -30 | 15 | 20 | 10 | 19 | 103 | 73 |
| 20 | NOR | Tiril Bue | 18 | 18 | 13 | 6 | 19 | -24 | 98 | 74 |
| 21 | ITA | Silvia Zennaro | 10 | -24 | 23 | 18 | 15 | 21 | 111 | 87 |
| 22 | FRA | Mathilde de Kerangat | 23 | 15 | -25 | 14 | 17 | 18 | 112 | 87 |
| 23 | BRA | Fernanda Decnop Coelho | 14 | 19 | 20 | 19 | -28 | 26 | 126 | 98 |
| 24 | JPN | Manami Doi | 21 | 14 | 18 | -24 | 24 | 23 | 124 | 100 |
| 25 | SIN | Elizabeth Yin | 19 | -29 | 26 | 11 | 23 | 25 | 133 | 104 |
| 26 | POR | Sara Carmo | -34 | 31 | 21 | 25 | 18 | 13 | 142 | 108 |
| 27 | URU | Dolores Moreira Fraschini | 12 | -32 | 22 | 22 | 31 | 28 | 147 | 115 |
| 28 | ARU | Philipine Van Aanholt | 24 | 21 | 17 | -32 | 27 | 27 | 148 | 116 |
| 29 | TUN | Ines Gmati | 28 | 23 | -31 | 23 | 21 | 31 | 157 | 126 |
| 30 | PER | Paloma Schmidt Gutiérrez | -31 | 26 | 28 | 27 | 29 | 30 | 171 | 140 |
| 31 | THA | Kamolwan Chanyim | 25 | 27 | 27 | 31 | 32 | -34 | 176 | 142 |
| 32 | LCA | Stephanie Devaux-Lovell | 29 | 25 | 29 | -33 | 30 | 29 | 175 | 142 |
| 33 | MAS | Nur Shazrin Mohamad Latif | 26 | 33 | 33 | 30 | 33 | -35 | 190 | 155 |
| 34 | BER | Cecilia Wollmann | 32 | 28 | 32 | -35 | 35 | 33 | 195 | 160 |
| 35 | COK | Teau Mckenzie | 30 | 36 | 34 | -37 | 34 | 32 | 203 | 166 |
| 36 | CAY | Florence Allan | 35 | 34 | 30 | 36 | -38 | 38 | 211 | 173 |
| 37 | ALG | Imen Cherif Sahraoui | 33 | 35 | 35 | 34 | -38 | 38 | 213 | 175 |
Laser
| | | | | | | | | | | |
| --- | --- | --- | --- | --- | --- | --- | --- | --- | --- | --- |
| Pos | Nat | Helm | R1 | R2 | R3 | R4 | R5 | R6 | Tot | Net |
| 1 | CRO | Tonci Stipanović | 1 | 5 | 7 | -12 | 6 | 7 | 38 | 26 |
| 2 | GBR | Nick Thompson | 8 | -17 | 9 | 15 | 2 | 1 | 52 | 35 |
| 3 | NED | Rutger van Schaardenburg | 3 | 21 | -24 | 8 | 1 | 4 | 61 | 37 |
| 4 | BRA | Robert Scheidt | 23 | 1 | -27 | 4 | 11 | 2 | 68 | 41 |
| 5 | AUS | Tom Burton | -17 | 8 | 2 | 10 | 9 | 14 | 60 | 43 |
| 6 | ARG | Julio Alsogaray | 4 | 2 | 14 | 1 | 24 | -47 | 92 | 45 |
| 7 | NZL | Sam Meech | -19 | 3 | 5 | 6 | 14 | 17 | 64 | 45 |
| 8 | RUS | Sergey Komissarov | 2 | 9 | 19 | -23 | 7 | 10 | 70 | 47 |
| 9 | FRA | Jean Baptiste Bernaz | 11 | 10 | 4 | 17 | 5 | -47 | 94 | 47 |
| 10 | CYP | Pavlos Kontides | 7 | -31 | 1 | 14 | 25 | 6 | 84 | 53 |
| 11 | KOR | Jeemin Ha | 26 | 6 | -38 | 3 | 12 | 9 | 94 | 56 |
| 12 | GUA | Juan Ignacio Maegli Aguero | 18 | 14 | 3 | 7 | 16 | -25 | 83 | 58 |
| 13 | GER | Philipp Buhl | 16 | 16 | 8 | 13 | -17 | 13 | 83 | 66 |
| 14 | ITA | Francesco Marrai | -39 | 11 | 18 | 5 | 22 | 11 | 106 | 67 |
| 15 | USA | Charlie Buckingham | 20 | 7 | 10 | 22 | 8 | -26 | 93 | 67 |
| 16 | POR | Gustavo Lima | 15 | 15 | 20 | -25 | 15 | 8 | 98 | 73 |
| 17 | POL | Kacper Ziemiński | 34 | 28 | 6 | -47 | 3 | 5 | 123 | 76 |
| 18 | SIN | Colin Cheng | 5 | 20 | 13 | 18 | 21 | -47 | 124 | 77 |
| 19 | SWE | Jesper Stalheim | 10 | 23 | 26 | -28 | 10 | 15 | 112 | 84 |
| 20 | BEL | Wannes Van Laer | 27 | -30 | 12 | 11 | 23 | 12 | 115 | 85 |
| 21 | NOR | Kristian Ruth | -47 | 13 | 32 | 2 | 29 | 16 | 139 | 92 |
| 22 | ISV | Cy Thompson | 13 | 4 | 11 | -35 | 32 | 33 | 128 | 93 |
| 23 | ESA | Enrique Jose Arathoon Pacas | -33 | 32 | 28 | 30 | 4 | 3 | 130 | 97 |
| 24 | IRL | Finn Lynch | 14 | 27 | 15 | -39 | 18 | 27 | 140 | 101 |
| 25 | CZE | Viktor Teply | 29 | 18 | -30 | 19 | 13 | 23 | 132 | 102 |
| 26 | DEN | Michael Hansen | 6 | 24 | 23 | 20 | -31 | 31 | 135 | 104 |
| 27 | MNE | Milivoj Dukic | 12 | 26 | -35 | 24 | 33 | 19 | 149 | 114 |
| 28 | FIN | Kaarle Tapper | -32 | 12 | 31 | 29 | 27 | 18 | 149 | 117 |
| 29 | CAN | Lee Parkhill | -43 | 37 | 33 | 9 | 19 | 20 | 161 | 118 |
| 30 | EST | Karl-Martin Rammo | 24 | 19 | 17 | -44 | 30 | 28 | 162 | 118 |
| 31 | PER | Stefano Peschiera | 37 | -40 | 16 | 16 | 28 | 22 | 159 | 119 |
| 32 | HUN | Benjamin Vadnai | 9 | 44 | 21 | 21 | -47 | 30 | 172 | 125 |
| 33 | CHI | Matias Del Solar | 22 | -35 | 22 | 32 | 35 | 24 | 170 | 135 |
| 34 | TUN | Youssef Akrout | 21 | 29 | 34 | 26 | -38 | 32 | 180 | 142 |
| 35 | MAS | Khairulnizam Mohd Afendy | 38 | 33 | -40 | 33 | 20 | 21 | 185 | 145 |
| 36 | ESP | Joaquín Blanco | 28 | -47 | 25 | 40 | 26 | 29 | 195 | 148 |
| 37 | THA | Keerati Bualong | 25 | 38 | 37 | 31 | 37 | -39 | 207 | 168 |
| 38 | RSA | Stefano Raffaele Marcia | 30 | 25 | 42 | 38 | -43 | 38 | 216 | 173 |
| 39 | EGY | Ahmed Ragab | 36 | 22 | -44 | 41 | 41 | 41 | 225 | 181 |
| 40 | VEN | Jose Gutierrez | 35 | 36 | 36 | -42 | 39 | 35 | 223 | 181 |
| 41 | MEX | Yanic Gentry | 41 | 42 | 29 | -43 | 34 | 36 | 225 | 182 |
| 42 | TTO | Andrew Lewis | -42 | 34 | 39 | 36 | 40 | 34 | 225 | 183 |
| 43 | BER | Cameron Pimentel | 31 | -45 | 41 | 27 | 44 | 42 | 230 | 185 |
| 44 | COK | Peter Elisa Henry | 40 | 39 | -43 | 34 | 36 | 40 | 232 | 189 |
| 45 | SEY | Rodney Govinden | 45 | 41 | -47 | 37 | 42 | 37 | 249 | 202 |
| 46 | ANG | Manuel Lelo | 44 | 43 | 45 | 45 | -47 | 43 | 267 | 220 |
Finn

| | | | | | | | | |
| --- | --- | --- | --- | --- | --- | --- | --- | --- |
| Pos | Nat | Helm | R1 | R2 | R3 | R4 | Tot | Net |
| 1 | GBR | Giles Scott | -17 | 3 | 2 | 1 | 23 | 6 |
| 2 | SLO | Vasilij Zbogar | 3 | 1 | 7 | -10 | 21 | 11 |
| 3 | TUR | Alican Kaynar | 2 | 5 | 6 | -19 | 32 | 13 |
| 4 | GRE | Ioannis Mitakis | 12 | -24 | 3 | 2 | 41 | 17 |
| 5 | FRA | Jonathan Lobert | 10 | -15 | 1 | 7 | 33 | 18 |
| 6 | DEN | Jonas Hogh-Christensen | 13 | 2 | 4 | -24 | 43 | 19 |
| 7 | USA | Caleb Paine | 7 | 10 | -21 | 3 | 41 | 20 |
| 8 | BRA | Jorge Zarif | 4 | 6 | 11 | -22 | 43 | 21 |
| 9 | CRO | Ivan Kljakovic Gaspic | 6 | 8 | 10 | -15 | 39 | 24 |
| 10 | ITA | Giorgio Poggi | 11 | 4 | -16 | 11 | 42 | 26 |
| 11 | HUN | Zsombor Berecz | 9 | -24 | 5 | 12 | 50 | 26 |
| 12 | FIN | Tapio Nirkko | -20 | 7 | 15 | 5 | 47 | 27 |
| 13 | ARG | Facundo Olezza | 1 | 9 | -19 | 18 | 47 | 28 |
| 14 | NED | Pieter-Jan Postma | -14 | 13 | 12 | 4 | 43 | 29 |
| 15 | AUS | Jake Lilley | 16 | -24 | 8 | 6 | 54 | 30 |
| 16 | NOR | Anders Pedersen | 8 | 16 | -18 | 8 | 50 | 32 |
| 17 | SWE | Max Salminen | -15 | 11 | 13 | 9 | 48 | 33 |
| 18 | EST | Deniss Karpak | 5 | 14 | 17 | -20 | 56 | 36 |
| 19 | CAN | Tom Ramshaw | 19 | 12 | -22 | 13 | 66 | 44 |
| 20 | NZL | Josh Junior | 18 | -24 | 14 | 14 | 70 | 46 |
| 21 | URU | Alejandro Foglia Costa | 21 | -24 | 9 | 17 | 71 | 47 |
| 22 | CHN | Lei Gong | 22 | -24 | 20 | 16 | 82 | 58 |
| 23 | SEY | Allan Julie | -23 | 17 | 23 | 21 | 84 | 61 |
Back to top