Golds secured with a day to spare
Gold medals in the Men's 470, 49er and the Nacra 17 have been confirmed at ISAF Sailing World Cup Hyères following commanding displays by the leading teams.
Dominant performances from Sime Fantela and Igor Marenic (CRO), Peter Burling and Blair Tuke (NZL) and Billy Besson and Marie Riou (FRA) have ensured they walk away with ISAF Sailing World Cup Hyères gold, a spot on the Abu Dhabi Final start line and a share of the €72,000 prize fund.
Giles Scott (GBR) has all but wrapped up gold in the Finn but for the remaining fleets, the competition is wide open ahead of Sunday's live Medal Races.
A medium breeze in the region of 9-11 knots ensured all fleets got on the water for their start times with a full complement of racing completed.
49er and 49erFX
Peter Burling and Blair Tuke (NZL) were dominant once again in the 49er, sealing the deal with even a race to spare in the fleet racing.
The Kiwis have been unstoppable since London 2012, winning every regatta they've attended. Their gains and margins have increased but Burling remained modest after racing, "It's pretty tough in the 49er in that big fleet. It's the first time we raced in light air in a big fleet. If you start badly you'll be in a tough place but if you get a good start and a good shift then you'll be in really good shape.
"We were stoked to get a couple of good solid ones to begin with and then have it done before the last race today. It's pleasing to see how our hard work has gone over the New Zealand summer. Everybody else has definitely improved as well. It's probably a lot tighter out there than the scoreboard shows."
The scoreboard shows the Kiwis 45 points clear of Nathan Outteridge and Iain Jensen (AUS) who also sealed silver with only the Medal Race to go.
Outteridge and Jensen won ISAF Sailing World Cup Melbourne to qualify for the World Cup Final. For Burling and Tuke, their victory in Hyères guarantees them a spot on the startline, "The Abu Dhabi final looks really good fun," added Burling, "It didn't fit in with our calendar last year as we had a lot on but we'll probably go this year."
Alongside World Cup glory and an Abu Dhabi spot the Kiwis also walk away with a share of the €72,000 prize pot. Burling concluded, "Hamish told us on the first day of the event that there's a little bit of prize money and the live coverage of the Medal Race.
"It's cool to see a bit of that in the sport now and the live coverage is awesome so people back home can see a bit of what we do. It's great to see the sport going that way."
The battle for bronze will be between Erik Heil and Thomas Ploessel (GER) and John Pink and Stuart Bithell (GBR). The Germans have the advantage on 132 points with the British team eight behind.
It'll go down to the wire in the 49erFX after ISAF Rolex World Sailors of the Year Martine Grael and Kahena Kunze (BRA) knocked Denmark's Ida Marie Nielsen and Marie Olsen off top spot for the first time.
The Danes had led from day one but the chasing pack chipped away as the week played out. Grael and Kunze recorded a 4-3-10-5 whilst the Danish team picked up a 8-1-19-12. As a result, the Brazilians lead by a single point.
Giulia Conti and Francesca Clapcich (ITA) were the stars of the day taking double bullets to move into third, seven points off the Brazilian leaders.
Laser and Laser Radial
Laser leader Tonci Stipanovic (CRO) had a clear plan for Saturday's racing, "I will try to sail the first race the best I can and finish in the top three and if possible, try and win it.
"After that, if everything is between me and him [Tom Burton] I will maybe try and to go on him because he's discarding 31 and I'm discarding just eight. I think I'm in a good position but we'll have to wait for the first race tomorrow."
Stipanovic knuckled down in the opening race picking up a sixth and duly punished Tom Burton (AUS) in the second, pushing him down the pack. Burton ended up 31st, which he now counts whilst Stipanovic discards his 33rd.
Stipanovic leads on 42 points with Nick Thompson (GBR) second on 47 points and Burton third on 55 points. It'll be full on in the Medal Race with Rutger van Schaardenburg (NED) and Nicholas Heiner (NED) on 57 points and Robert Scheidt (BRA) on 58 points.
Defending Hyères Laser Radial champion Evi Van Acker (BEL) controlled the day, putting in a professional performance. A fifth and a bullet has given her a 13 point lead over Gintare Scheidt (LTU).
"I could have done better today," commented Van Acker, "The first upwind wasn't so good, the first downwind also. But I caught up and finished fifth. The second race was much better and I stuck to the plan and had great speed and won with big distances.
"I'm happy about this week and looking forward to the Medal Race tomorrow. I think we will have great wind, a nice easterly breeze and I just want to win and that will be my main focus."
Van Acker has been a mainstay at the front of the Laser Radial pack and has enjoyed racing with the best of the best from day one, "It's not so crowded. It's tight racing and you're immediately into the finals so the pressure is a much higher. But for me, I see it as nothing different. It's just racing but I'm liking it."
Anne-Marie Rindom (DEN) had a mixed day with a fourth and a 15th. As a result she slips from second to third on 44 points. Josefin Olsson (SWE) is two points off the Dane in fourth.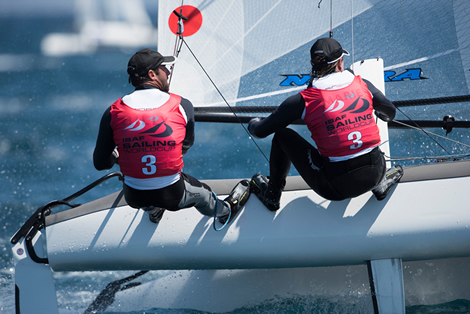 Nacra 17
France's Billy Besson and Marie Riou clinched an early gold in the Nacra 17 with another dominating display. The French team have been a class above the rest across the 11 race series, notching up three race victories and as a result, they have an unassailable 25 point lead.
From the day's four races Besson and Riou recorded a 1-(14)-9-5 scoreline which was enough for gold with only the Medal Race remaining.
The story on the Medal Race day will be on the silver and bronze medals. Mandy Mulder and Coen de Koning (NED) are six points clear of compatriots Renee Groeneveld and Steven Krol with Ben Saxton and Nicola Groves (GBR) three further points off in fourth.
Up first at 11:15, the Nacra 17 Medal Race will prove to be an interesting opener on the final day of competition.
Further race victories on the day went to Darren Bundock and Nina Curtis (AUS) who are seventh, Groeneveld and Krol, and Saxton and Groves.
Men's and Women's RS:X
The Men's RS:X has stirred up some interesting competition across the 11 race series. With the world's best male windsurfers in the fleet it's been an up and down week with multiple leaders and race winners.
Heading into the Medal Race atop of the pile is France's Pierre Le Coq. The Frenchman was in terrific form posting a 2-3-7 and has guaranteed himself a medal. With a 15 point lead over second place, a solid performance will ensure he walks away with gold.
Byron Kokkalanis (GRE) is second on 75 points followed by Piotr Myszka (POL) on 77 points. Julien Bontemps (FRA) is firmly in the running for a medal with 80 points in fourth.
Stealing the day in the Men's RS:X was Louis Giard with a 1-1-2 scoreline. The youngster's performance was a stark contrast to some larger numbers posted earlier on in the week but he pulled himself into the Medal Race to compete for another day.
Lilian De Geus (NED) will go into the Women's RS:X Medal Race with a nine point lead. The Dutch sailor is reaping the rewards of a good opening five races where she notched up a 15-3-2-4-4 to give her a solid cushion. A 13-11-8-(25)-19-9 has followed but she retains her overnight lead.
Charline Picon jumped into second overall following a final race bullet. With 97 points she is a point ahead of Patricia Freitas (BRA).
Men's and Women's 470
There have been some intense battles for the top spot in the Women's 470. Race wins have been spread across the fleet resulting in some big movements on the leader board. Six points separate first to fourth so it'll go down to the wire on Medal Race day.
A 4-7 score line ensures Fernanda Oliveira and Ana Barbachan (BRA) hang on to the leading position for two days running.
Hannah Mills and Saskia Clark (GBR) had an impressive day on the water, gaining a second and bullet in the light conditions. The pair will enter the Medal Race in second place, just two points behind the leaders.
Jo Aleh and Polly Powrie (NZL) piled on some pressure with a bullet and a third. As a result they sit in fourth, one point off Camille Lecointre and Hélène Defrance (FRA).
In contrast, the Men's 470 leader board is a little more set ahead of Sunday's Medal Race.
Sime Fantela and Igor Marenic (CRO) built on their lead posting a sixth and a bullet. They ended the day an 25 points clear of Luke Patience and Elliot Willis (GBR) to claim the gold medal and a share of the €72,000 prize money with only the Medal Race remaining.
After arriving ashore Marenic chirped, "We are thrilled with how our week went. We sailed really consistently so we are super happy we won before the Medal Race."
Even though the Croatians have gold sealed they won't be taking it easy on the final day, "We sail every Medal Race with a sharp mind and we will always try to do our best so that is what we plan to do tomorrow."
However, the story is still not over for the rest of the fleet. Patience and Willis, sit on 51 points in second, with Mat Belcher and Will Ryan (GBR) and Ferdinand Gerz and Oliver Szymanski (GER) hot on their heels.
Things were looking hopeful at the start of day for Matthias Schmid and Florian Reichstädter (AUT) who were straight out of the traps, claiming the first race win of the day moving them higher up the leader board. After claiming 21st place in the second race they were left 19th overall, missing out on a place in Sunday's Medal Race.
With only a few points between the top five teams at the top of the leader board, sailors will need to bring everything they have for the Medal Race if they want to join the Croatian sailors on the podium.
Finn
Great Britain's Giles Scott has all but won gold in the Finn following an eighth and a tenth. The Briton has a 19 point lead over Vasilij Zbogar (SLO) and simply needs to complete the Medal Race to take another World Cup gold.
The two race wins of the day went to ISAF Sailing World Cup Final winner Zbogar proving that the conditions on the water suited his racing style. With a strong performance Zbogar has climbed up into second place for the first time in the regatta, relegating Ed Wright (GBR) into third.
Slightly further down the fleet, Saturday's races provided many ups and downs for the sailors. The only other sailors to achieve a two top ten results were the fifth placed Milan Vujasinovic (CRO) and Andrew Murdoch (NZL), who narrowly missed a place in the Medal Race ending the regatta in 11th place.
Racing is scheduled to commence at 11:15 local time on Sunday 26 April where the medals will be decided.
Back to top
Back to top