Andrew Simpson Sailing Centre officially launched
The Andrew Simpson Sailing Centre was today officially launched at the Weymouth and Portland National Sailing Academy (WPNSA), with a poignant introduction by Andrew Simpson's close friends and Olympic sailing partners, Sir Ben Ainslie and Iain Percy OBE.
Peter Allam, Chief Executive of the Weymouth and Portland National Sailing Academy, sees the Andrew Simpson Sailing Centre (ASSC) as a perfect fit alongside the other on site partners at WPNSA, delivering grass roots tuition right through to advanced race coaching for all age groups. The ASSC will also work with The Chesil Trust to deliver the 'Rod Shipley Sail for a Fiver' scheme that has introduced over 12,000 young people to sailing and through the Andrew Simpson Sailing Foundation will provide additional support to help young people who are passionate about sailing to reach their potential.
"The Royal Yachting Association accredited centre will provide a focal point to remember Andrew Simpson's outstanding achievements. Andrew was passionate about inspiring people of all ages to take up sailing and the ASSC represents a tremendous opportunity to help provide a pathway from beginner through to whatever level individuals may aspire to, from recreational sailor to Olympic hopeful."
Honouring a member of the Olympic sailing team is particularly significant for Allam, having himself represented Great Britain twice at the Olympic Games, bringing home a Bronze medal in 1984. More recently, being the London 2012 Olympic Games Sailing Deputy Competition Manager and the Paralympic Games Sailing Competition Manager, Peter was present when Andrew won a second Olympic medal on home waters.
Sir Ben Ainslie commented: "Today is a very poignant day, but also a really exciting one to be opening the Andrew Simpson Sailing Centre. I would like to say a huge thanks to the Trustees of the Foundation, for all the efforts they have put in over the last 12 months, especially Leah and Iain for their vision and leadership to get us to this point; and all the volunteers that have helped us. We are starting our activity, including subsidising sailing sessions for children, on a local level, but want to partner with clubs from around the country with similar objectives; and ultimately do that on a global scale. It's fantastic to see what has been achieved in such a short space of time; and I'm sure the great man would be very proud."
Iain Percy added: "On behalf of the trustees of the Foundation, we're really overwhelmed by the turnout today from friends and colleagues who knew Andrew. It was a tough decision to launch the centre on the 9th May, being a year today that we lost the great man, but we felt that is was another great opportunity to celebrate him. Not a time to reflect and be sad, but a chance to continue the great things that he did in his life."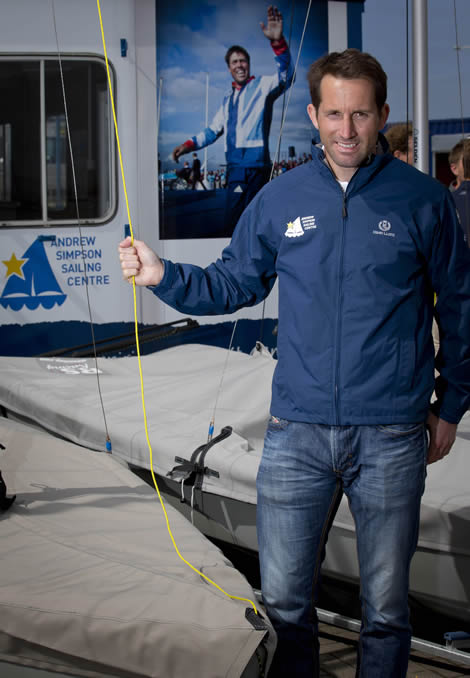 Back to top
Back to top