Olympic update part 2: Team GBR
This article follows on from Wednesday's Olympic update
Into year two of the Olympic cycle ramping up towards Rio 2016, Team GBR is looking in good shape, despite some of the big names such as Ben Ainslie and Iain Percy now fully immersed in their respective America's Cup campaigns.
Rolling through the 10 classes, Team GBR continues to rule the waves in the Finn, despite the departure of Ainslie. As Olympic Manager Stephen Park says of his squad in the heavyweight men's singlehander: "Giles Scott is back with a vengeance and we still have a relative embarrassment of riches."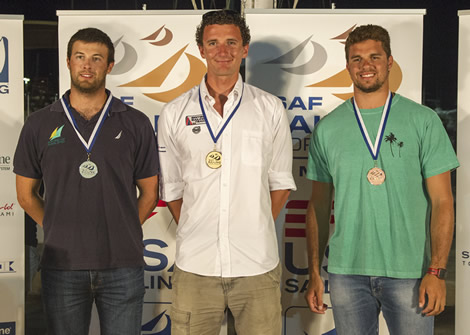 In a clear oversight on the part of the Brits, Brazil managed to win the Finn Gold Cup last year in Tallinn with young second generation Finn sailor Jorge Zarif coming out on top. However during the Copa Brasil de Vela held in Rio in January, the three top Brits – Giles Scott, Andrew Mills and Mark Andrews managed to occupy the entire podium beating Zarif on his home waters.
While Scott is now the dominant force in the Finn, back from America's Cup duty with Luna Rossa, Mills and Andrews are also both regularly podiuming in the class. "They are not along for the ride," as Park succinctly puts it.
In the Laser, Park is keeping his fingers crossed that Beijing 2008 gold medallist Paul Goodison decides to make a comeback after a devasting back injury put him out of the running at London 2012. "From my perspective it would be great if he did get back in a Laser and give himself the opportunity to have a serious campaign, particularly after his disappointment in 2012, to put that right in Rio. But the level of sacrifice and commitment is significant and he is doing a lot of sailing in a lot of other different classes."
However Nick Thompson continues to do sterling work in the singlehander. While he had a disappointing final result at the Worlds in Oman last November, he was leading after the first five races. He has since picked up the bronze at the ISAF Sailing World Cup event in Miami.
Even without London 2012 gold medallist Tom Slingsby (who seems unlikely to return to Laser sailing having resigned with Oracle Team USA), the Aussie and Kiwi sailors remain powerful, alongside Croat/Cypriot training partners Tonci Stipanovic, the present world no1 and London 2012 silver medallist Pavlos Kontides. However despite hitting 40 last year, Robert Schiedt is the big story in the class, having scored golds in Atlanta and Athens and a silver in Sydney before moving into the Star. Since his return he picked up the Laser Worlds title in Oman – incredibly his ninth Laser Worlds victory, since his first Laser Worlds in 1993.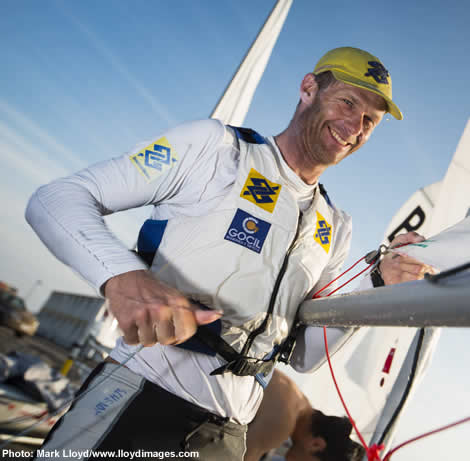 "It's a huge commitment from him," observes Park of the Brazilian legend. "We have seen lots of other sailors like him go into big boat sailing and the America's Cup and Volvo to try and reap some of the financial reward, but he has chosen not to do that and he is keen to try and win a Gold medal at his home Games."
In the Laser Radial, Ali Young, the sailor in the British sailing squad to show the greatest improvement going into London 2012, continues to do well, having claimed a bronze at last year's Europeans, although like Nick Thompson she had a disappointing Worlds in 2013 when she finished 17th. Also raising their game in the British Laser Radial squad, says Park, are Chloe Martin and Hannah Snellgrove, both capable of putting in top 10 results at major regattas. The Radial squad continues to have Hugh Styles as coach.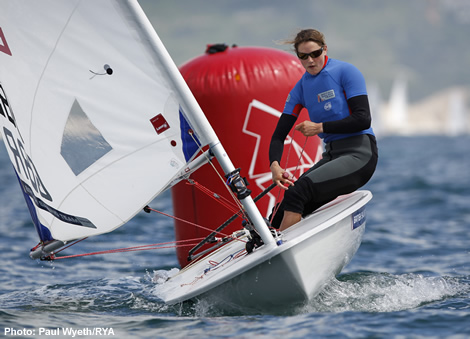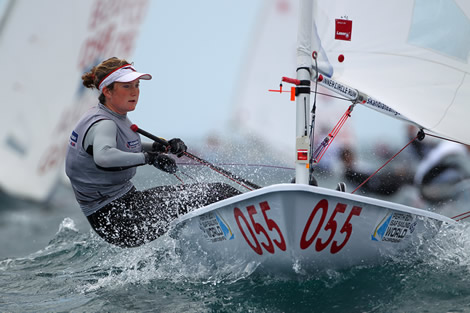 While China's London 2012 gold medallist Lijia Xu has announced her retirement from Olympic sailing, many others are continuing their campaigns with Marit Boumeester having finished second to Paige Railey in Miami, Railey having also come third at last year's Worlds in Rizhao City, China, behind Croat Tina Mihelic and Finland's Tuula Tenkanen. China will no doubt continue to be strong in the Radial with Dongshuang Zhang finishing fourth at last year's Worlds and Ireland's darling Annalise Murphy, who came so close to medalling at London 2012, will also be one to watch.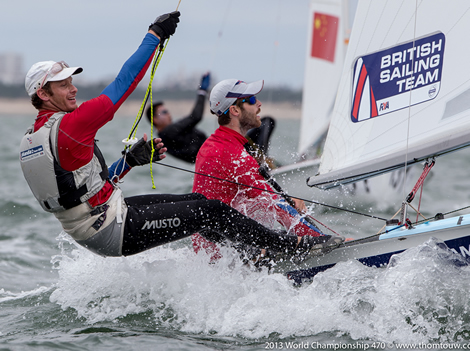 470 Men

Having scored the silver at London 2012, Luke Patience and Stu Bithell have gone their separate ways due to being potentially too heavy for Rio, given that the 2016 Olympic sailing venue is expected to be a light one. However if he wanted a replacement, Patience could not have got much better than Joe Glanfield (above), previously Nick Rogers' crew, the 470 silver medallist from Athens and Beijing. Only...yesterday Glanfield formally announced his retirement from 470 sailing, leaving Patience again on the hunt for a new wire man.
Missing from the British squad will be Nick Rogers, who was last year sailing with former World Champion Elliot Willis as crew, but he too has retired from the class (again...) However according to Park there are some good nippers coming through with potential for 2020 in particular Mike Wood and David Kohler, with Wood waiting to finish his studies before going full time.
Over the winter, the 470s have been training in the Canaries with the RS:Xes, under coach Steve Lovegrove.
The significant problem for the 470 crews is working out how to displace the Australians – Mat Belcher having had an unprecedented two year run of being unbeaten in every 470 regatta he sailed, including London 2012, despite class legend Malcolm Page having retired post London 2012 to be replaced by Will Ryan during this incredible winning streak, that only came to an end in Miami.
While Team GBR is blessed with having depth in almost all the Olympic classes, this can be something of a double-edged sword. As Park puts it: "Unlike any other nation, we have realistic top end sailors in every class. That means the scale and size and depth of the program is greater. But sometimes that doesn't help you." For example while the Aussie Olympic sailing team typically focuses all its resource on single teams in each class, Team GBR has to spread its resource more thinly across more sailors. But it is a nice problem to have.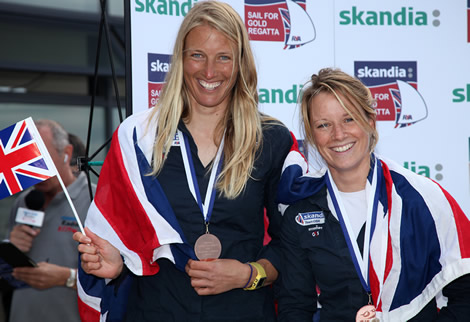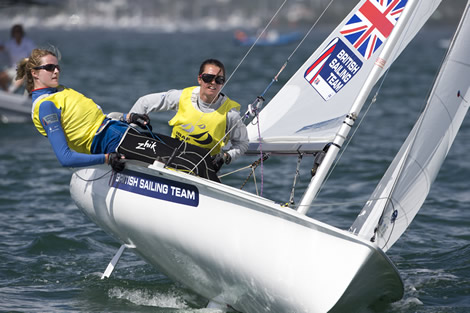 Compared to the Men, British prospects are looking more solid in the 470 Women where London 2012 silver medallist Hannah Mills and Saskia Clark (above top) are now facing a strong challenge, and may possibly have been eclipsed in the short term at least, by Sophie Weguelin and Eilidh McIntyre (above). While Mills and Clark have been taking their time to launching fully back into their campaign for Rio, Weguelin and McIntyre have been firing on all cylinders, finishing fifth at the Worlds in La Rochelle last year (where Mills and Clark were 12th) and most recently winning in Miami. They are current world no1, according to ISAF's ranking. Park observes that in 2013 'the nippers' replicated Mills and Clark's performance in 2011, getting themselves on the podium at every regatta.
Having two competitive teams in the British 470 Women's camp will be a good starting position from which to take on dominant Kiwis Jo Aleh and Olivia Powrie, the London 2012 gold medallists and also last year's run-away World Champions.
On the coaching side the girls are working with a number of different people, including Elliot Willis (2008 World Champion). According to Park, in a new initiative they are attempting to 'recycle' some of Team GBR's more experienced sailors into coaching roles.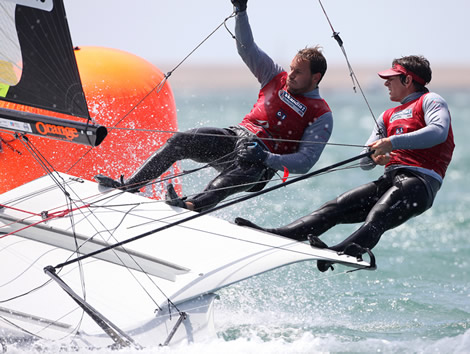 49er
Over the last couple of Olympic cycles the British 49er squad has enjoyed great depth and talent, with several crews capable of top 10 finishes, but, unlike the Aussies with London 2012 gold medallists Nathan Outteridge and Iain Jensen, has lacked one stand-out crew consistently capable of reaching the podium. Considering Park's comments about depth in Olympic classes, the 49er has been one of the worst/best examples – at one point last year there were seven British 49er teams competing. For 2013 this was culled to three and is now back up to four...
At present Dylan Fletcher and Alain Sign (above) seem to be nosing ahead in the British squad, and were top performers throughout 2013, winning in Hyeres, finishing fourth at the Europeans in Denmark and second at the Worlds in Marseille. However Dave Evans and Ed Powys (below) have not been far behind, podiuming at three events in 2013.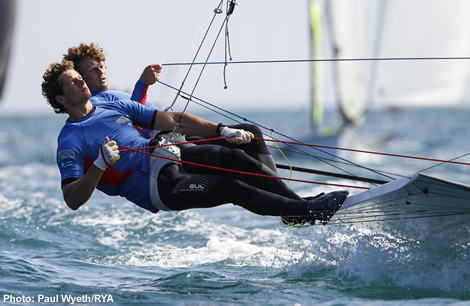 Elsewhere in the squad some more musical chairs has been going on. While 470 silver medallist crew Stuart Bithell was trying his hand at helming last year, according to Park, he wasn't making progress quickly enough and so he has returned to the forward position with John Pink now helming for him. With Team GBR's 49er representatives in Beijing and London, Stevie Morrison and Ben Rhodes going their separate way, Morrison has returned (the fourth team...), picking up Bithell's ex-crew, Chris Grube, while Rhodes is another sailor to be coaxed into the RYA's 'athlete coach transition program'.
The new partnerships showed they have potential in Miami recently with Pink/Bithell and Morrison/Grube coming home third and fifth respectively. The first time we'll see the four teams line up will be in Palma.
Coaching the 49ers currently are Ian Martin and Derek Clark. The squad has been training alongside the Nacra 17s in Lagos, Portugal over the winter.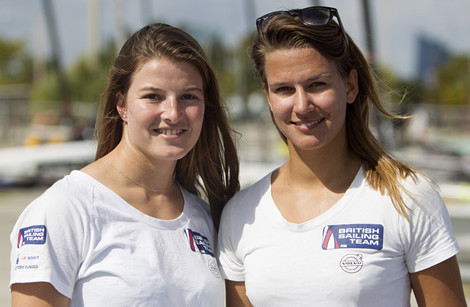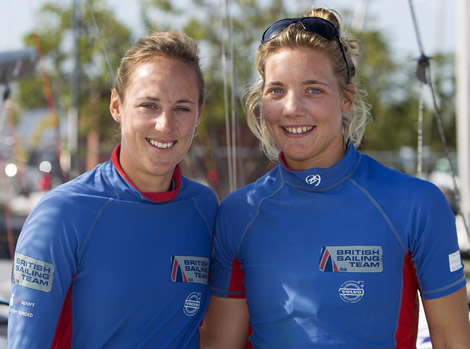 49erFX
First of the new classes for Rio 2016, the pecking order has yet to establish itself firmly in the 49erFX as the sailors continue to attempt to get to grips with the Women's Olympic skiff, the 49er with the cut-down rig developed by Mackay Boats in New Zealand.
To date Team GBR as been relatively strong with two teams both typically in the top 10 in Francis Peters/Nicola Groves (above top) and ex-Laser Radial sailor Charlotte Dobson who has teamed up with ex-470 crew Sophie Ainsworth (above bottom). Peters and Groves put in the top result at the Worlds last year, finishing eighth, and nearly won at the Copa Brasil (beaten on the final run of the medal race by the Grael daughter Martine) while in Miami mostly recently they came home with the bronze ahead of Dobson and Ainsworth in sixth.
Coaching the 49er FXes is Moth European champion Chris Rashley.
Behind the 49ers, the mixed Nacra 17 catamaran currently has the biggest squad. This includes ex-470 sailor Ben Saxton who's teamed with Hannah Diamond, Beijing Yngling gold medallist Pippa Wilson with ex-Star sailor John Gimson and former women's match racer Lucy Macgregor with ex-Tornado and Extreme 40 sailor Andrew Walsh. Also coming through the ranks, but in Team GBR's newly christened 'Podium potential' squad, is third generation White, Rupert, Youth Worlds winner in 2012, who is back with Nicola Boniface.
To date Saxton and Diamond (below) have been posting the top British Nacra 17 results, finishing second at the Worlds last year and most recently picking up the bronze in Miami, where Wilson/Gimson were ninth and Macgregor/Walsh 16th.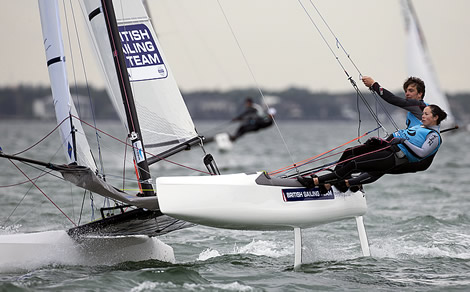 The school still remains out on whether it should be the man driving the Nacra 17 and the women crewing or vica versa, although in Miami eight of the top 10, had male helms, perhaps overturning the idea that the optimum is to have female brains and tactical prowess on the helm, leaving the male strength and brawn to be out on the wire dealing with the physical side of life...
Among the RS:Xes in Team GBR, the situation remains ever the same with Nick Dempsey and Bryony Shaw the stand-out British sailboarders in the men and women's classes respectively. Dempsey is the current World Champion while Shaw, perhaps spurred on by having talented youngster Izzy Hamilton breathing down her neck, throughout the last year has only been off the podium in two regattas and most recently won in Miami. That being said, some of the big guns from Spain and Israel in the Women's class have yet to get back on to the circuit, so the form might all change come Palma next month as Olympic sailing hots up ready for the first nations to be selected for Rio 2016 occurring at Santander 2014 in September.
Back to top
Back to top