Olympics update
Wednesday February 12th 2014, Author:
James Boyd
, Location: none selected
Boooo...no Star for Rio 2016While there is still no official line on this from ISAF or the IOC (which one imagines is a bit tied up with snow-related matters at present), collective opinion indicates that the Star class is not going to feature at Rio 2016.
The RYA has heard nothing official on the subject, and ISAF came back to us: "The IOC confirmed the ten events back in 2013 and recently approved the qualification system for those same events, as we published last week. These are the 'official communications' from the IOC at this point and it is clear that the Star is not included – there is nothing more than this on the subject right now."
Star Class President, Lars Grael told thedailysail that even he hadn't had confirmation of the Star's position, although he felt it not being included for Rio 2016 was accurate. Previously he told us: "The Star should come back as it represents keel boat sailors (more than 50% of sailors worldwide) at the highest level competition. It's traditional and at the same time technological. It attracts internationally famous sailors and gives a strong and healthy image of yachting to the media."
Even before the latest round of conjecture, RYA Olympic Manager Stephen Park felt that reinserting the Star as an 11th sailing event for Rio 2016, as a special dispensation to the Brazilian hosts, was extremely unlikely. "That would be something fairly exceptional, but from a sailing perspective, an additional medal - it is pretty hard to do anything other than support it." If there is to an extra medal added for the 2020 Olympic Games in Tokyo, it is most likely to be for kitesurfing - which was initially in for Rio 2016, until ISAF overturned their decision and reverted to the RS:X classes.
Obviously if the Star did make it back in, Team GBR would be in good shape, albeit with a substantial piece of the armoury missing following the sad loss of Iain Percy's crewman, two time Olympic medallist Andrew Simpson.
"We have got two or three old hands with gold medals," says Park of potential British Star crews. "Of all the classes there is an opportunity for them to come back in and get involved. Percy still owns Star boats, so he'd need to find the right crew, but we have some good crew in the program, so that is possible. And if Ben [Ainslie] thought it was realistic, you never know, you'd like to think he'd consider it. And Ed Wright has been doing some Star sailing recently too. So it is not a class where I am worried if they reintroduced it..." Laser gold medallist Paul Goodison has also previously expressed an interested in graduated up to the Star.
But it looks as though none of this is to be.
Rio

Over December-January a large part of the Team GBR sailing squad was in Rio, taking part in training camps, and regattas such as the Copa Brasil de Vela at the beginning of January, in which Team GBR scored eight medals, despite having entries in only five of the ten classes. These included the entire podium in the Finn and Dylan Fletcher and Alain Sign claiming gold in the 49er.
At present the Team GBR sailing team doesn't have a permanent base in Rio, and crews are operating out of either the Clube do Rio de Janeiro or the Clube Naval Charitas in Niteroi on the opposite (east) side of the bay. More recently they have been allowed access to Gloria Marina, slightly further into Rio's Guanabara Bay, the base for the sailing during Rio 2016.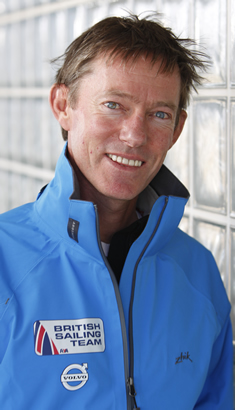 Marina da Glória is where the Volvo Ocean Race was located when it last visited Rio in 2008-9. It is from here that Aquece Rio, the 2014 Olympic Test Event, is scheduled to be held this summer over 2-9 August. However between now and then there is much work to be done with a substantial piece of land on the seaward side of the marina awaiting development where the administrative buildings will be located (currently Cercle du Soleil has use of this land where they are putting on their show in a marquee).
Work on the site has allegedly been held up as the marina was previously owned by a company controlled by Eike Batistas, who as recently as 2012 was the richest man in Brazil (and 7th in the world), but who's corporate interests, mostly in mining, energy, oil and shipbuilding suffered a catastrophic crash of record breaking proportions over the course of the following year.
Park comments: "The downside is that a lot of development plans for that area have been put on hold. There is discussion between the owner and Rio 2016 about what they are going to do, but whenever we speak to them, the plan seems to be changing. Everyone is working on the basis that this year's Test Event will run from that venue."
Marina da Glória is believed to be in the process of being acquired by BRM Holding de Investimento Glória.
While there is some demolition to be done followed by the construction of new buildings plus slipways, according to Park the amount of work required to create the sailing venue isn't as significant as it has been for the last two Games. For example there's no reclamation work that needs to be done.
Events
Most recently Team GBR has posted a solid set of results at the ISAF Sailing World Cup event in Miami with Giles Scott once again dominating the Finn, while Bryony Shaw returned with a gold in the RS:X, as did nippers Sophie Weguelin and Eilidh McIntyre in the 470 Women. Francis Peters and Nicola Groves in the 49erFX, Nacra 17 crew Ben Saxton and Hannah Diamond and Laser sailor Nick Thompson all came home with bronzes.
Currently Team GBR is gearing up for the European season, which kicks off with the Princess Sofia Trophy, now officially called the ISAF Sailing World Cup Majorca, on 29 March, followed soon after by the next ISAF Sailing World Cup event in Hyeres running over 19-26 April, the last event of the 2014 Sailing World Cup.
After this there is the opportunity for crews to take part of the EUROSAF Champions Sailing Cup circuit. This was first held last year in response to ISAF 'rationalising' and internationalising its roster of Sailing World Cup events, which in turn resulted in most of Europe's leading Olympic classes regattas being rudely dropped from it. The EUROSAF Champions Sailing Cup was created to rectify this situation.
For 2014, the EUROSAF circuit comprises Fraglia Vela Riva (Riva del Garda, 7-11 May), Delta Lloyd Regatta (Medemblik, 20-24 May), Sail for Gold (Weymouth, 7-12 June), Kieler Woche (Kiel, 21-25 June) and the Semaine Olympique Française (now held in La Rochelle, 22-25 September).
But the big events this year are due to take place in late summer with Aquece Rio, the 2014 Olympic Test Event in Rio in August, and the Santander 2014 ISAF Sailing World Championships being held over 12-21 September. The latter event is significant at it will be the first opportunity for countries (ie nations rather than sailors) to qualify for Rio 2016 – results at Santander 2014 will determine 50% of the nation spots up for grabs at Rio 2016. Significant too is that while the equivalent event in Perth during the last Olympic cycle was held one year out from London 2012, this time it is two years out from Rio 2016, allegedly to provide a 'high point' mid-way through the Olympic cycle. According to Park, sailing is the only Olympic discipline where country qualifying is taking place so early.
Aquece Rio will also be significant as it will allow sailors to race in anger on the Olympic waters, on courses both inside Guanabara Bay and out in the open water. Park believes that it will also be the first test event to be held in Rio across any Olympic sport.
"Obviously that is a big deal for Rio. One of the things that was very noticeable to us - almost a surprise - has been the level of media interest. When we went to the Copa Brasil [in January], the Brazilians were selecting the sailors who were going to be in their sailing team for the next 12 months, and that was almost a selection of the sailors for the first official test event. With two years to go that was quite something.
"Plus Rio will be full of World Cup action, which will happen over June-July with the final on 13 July. Then all the attention after that will switch to the Olympic Games. So the Test Event will be the first opportunity to get the public enthused about Rio 2016."
Sailing is obviously a huge deal in Brazil, bigger in fact than it is in the UK, since sailing is historically the host nation's most successful Olympic sport, having notched up a medal tally of six golds, three silvers and eight bronzes over the years. Brazil has earned more medals in judo, but only three of them have been gold. Brazil's top three Olympians of all time are also sailors with Robert Scheidt leading the charge on two golds, two silvers and one bronze, ahead of Torben Grael with two golds, one silver and two bronzes and Grael's Star crew Marcelo Ferreira on two golds and one bronze.
At Aquece Rio, two sailors/team per nation per event are allowed to compete. Santander 2014 will be an altogether bigger affair with the number of boats limited as below (there is a complex set of rules governing how these are divided up between countries).
| | |
| --- | --- |
| Class | Boats |
| RS:X Men | 120 |
| RS:X Women | 80 |
| Laser | 150 |
| Laser Radial | 120 |
| Finn | 80 |
| 470 Men | 120 |
| 470 Women | 80 |
| 49er | 100 |
| 49er FX | 80 |
| Nacra 17 | 80 |
Tomorrow we look at how Team GBR sailors are fairing across the Olympic classes

Back to top
Back to top