Besson and Lagarrigue the champions
Billy Besson and Jeremie Lagarrigue was the 2013 Formula 18 World Champions having won this year's racing at Marina di Grosseto, Italy. Hugh Styles/Richard Mason and father and son duo Mitch and Jordi Booth made the up the remaining spots on the podium.
Despite the final day's racing delivering less steady and significantly weaker wind than the rest of the week, the race committee still managed to lay on three last races.
In the Gold fleet, Besson and Lagarrigue did some fantastic tactical work and put on a massive show of power to become the new Formula 18 World Champions.
Besson, commetned: "We are really delighted. Jeremie did an excellent job today and his strategy was perfect. We are delighted with how the week went. The wind was perfect with thermals almost every day, a great course. Fantastic!"
Having dominated the first day of qualifying, the French sailors began today at the top of the standings and then proved more than capable of not only controlling their closest rivals Hugh Styles/Richard Mason but also of winning on race and finishing second in another. This was the perfect regatta end for the French duo.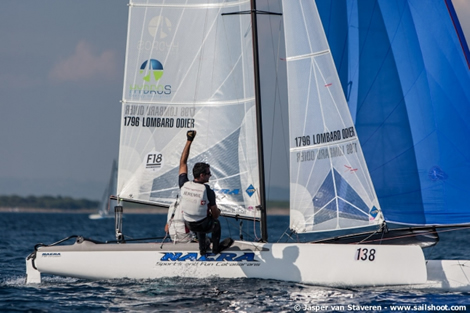 19 points behind them were Styles and Mason, who, nonetheless, proved their worth on the water, keeping the pressure on the French duo until the very last tack.
Styles said: "We've had a great week. Maybe we could have done a few things differently but we were always out in front so we're happy and really delighted with this second place."
Mitch Booth and his son Jordi also showed the same kind of consistency in their performances in the final two days' sailing. After a less than brilliant start in the qualifiers, which they finished in seventh place, they followed this with a strong string of results elevating them to third - a satisfying achievement for Mitch and his 16 year old son, who was competing in his first international event.
Booth senior said: "An excellent week for us with perfect conditions for the team. It was Jordi's first world event and making it to the podium first time is a fantastic experience for him."
Just off the podium was Vendee Globe winner Francois Gabart and his crew, Matthieu Vandame. They finished fourth on 88 points, two ahead of fellow Frenchmen Gurvan Bontemps and Benjamin Amio.
Gabart said: "In France, we say you get the 'chocolate medal' for fourth place. You always want to get to the podium but they were just better than us this time. Mitch had a great final and I won't talk about the first two because I didn't even think about trying to get near them in the standings today. But I'm happy. If when I decided to do this event six months ago, you'd have told me I'd be fourth, I'd have signed on the dotted line. I always dream of the podium but there was just nothing I could do about it today."
The F18 class is now already looking forward to the next edition of its World Championship to be held in Ireland in 2014.
Olivier Bovyn, President of the International Formula 18 Class said: "In all the photos I've seen, the sailors were smiling and enthusiastic, and I think that shows just how well this week went. Everyone did an incredible job – the committee, the measurers, the jury. They all gave their best. I couldn't have hoped for better from this splendid place and the Compagnia della Vela Grosseto."


Results:
| | | | | | | | | | | | | | |
| --- | --- | --- | --- | --- | --- | --- | --- | --- | --- | --- | --- | --- | --- |
| Pos | Sail no | Helm | | Crew | | F1 | F2 | F3 | F4 | F5 | F6 | F7 | NQ + NF |
| 1 | FRA 1796 | Billy | Besson | Jeremie | Lagarrigue | 1 | 1 | 5 | 5 | (17) | 1 | 2 | 26 |
| 2 | GBR 7 | Hugh | Styles | Richard | Mason | 3 | (12) | 1 | 2 | 9 | 5 | 9 | 45 |
| 3 | ESP 1910 | Mitch | Booth | Jordi | Booth | 7 | 6 | 2 | (27) | 5 | 9 | 5 | 61 |
| 4 | FRA 301 | Gabart | Francois | Vandame | Matthieu | 2 | 23 | 15 | 4 | 20 | 10 | (32) | 88 |
| 5 | AUS 222 | Jason | Waterhouse | Brett | Goodall | 9 | 4 | 9 | 8 | 2 | 26 | (59) | 111 |
| 6 | FRA 33 | Moana | Vaireaux | Manon | Audinet | 11 | 15 | 13 | 7 | (31) | 2 | 14 | 111 |
| 7 | NED 2 | Oscar | Zeekant | Sanne | Van Hek | 29 | 11 | 17 | 15 | 27 | (81 BFD) | 3 | 138 |
| 8 | FRA 004 | Gurvan | Bontemps | Benjamin | Amiot | 27 | 8 | 3 | 13 | 1 | (81 BFD) | 81 BFD | 143 |
| 9 | ITA 13 | Vittorio | Bissaro | Cesari | Lamberto | 25 | 21 | 12 | 19 | 18 | 18 | (42) | 148 |
| 10 | AUS 300 | Andrew | Macpherson | Olivier | Witteveen | 34 | 2 | (50) | 6 | 6 | 32 | 26 | 159 |
| 11 | NED 1 | Geijssen | Willem | Van Dooren | Celine | 4 | 20 | (27) | 20 | 25 | 6 | 23 | 161 |
| 12 | GRE 77 | Iordanis | Paschalidis | Gustaf | Dyrssen | 8 | 5 | (43) | 29 | 40 | 34 | 13 | 167 |
| 13 | NED 1910 | Taylor | Booth | De Munck | Mischa | 6 | 13 | 6 | 11 | 39 | 35 | (40) | 168 |
| 15 | OMA 1576 | Musab | Al Hadi | Alrashdi | Hashim | 14 | (26) | 11 | 16 | 15 | 12 | 6 | 169 |
| 14 | BEL 1 | Demesmaeker | Patrick | Cleeren | Koen | 15 | 10 | (59) | 9 | 38 | 16 | 12 | 169 |
| 16 | USA 888 | Taylor | Reiss | Matthew | Whitehead | 19 | (38) | 29 | 30 | 21 | 8 | 34 | 174 |
| 17 | ITA 3 | Carlo | de Paoli | Maurizio | Stella | 5 | 18 | 22 | 10 | (47) | 45 | 27 | 177 |
| 18 | ARG 21 | Sergio | Mehl | Nicolas | Aragones | 12 | 3 | 8 | 49 | 46 | (81 BFD) | 28 | 182 |
| 19 | ARG 11 | Cruz | Gonzalez Smith | Mariano | Heuser | 13 | 32 | 19 | 12 | 62 | 4 | (65) | 199 |
| 20 | FRA 1722 | Bellet | Romain | Bellet | Valentin | 26 | 9 | 24 | (37) | 29 | 24 | 24 | 200 |
| 21 | FRA 29 | Emmanuel | Le Chapelier | Paul | Noirot | 16 | 19 | (81 DSQ) | 35 | 36 | 40 | 11 | 206 |
| 22 | NED 1796 | Mischa | Heemskerk | Bastiaan | Tentij | 10 | 7 | (81 DNC) | 1 | 19 | 81 BFD | 81 DNC | 214 |
| 23 | ARG 666 | Ian | Rodger | Volker | Pablo | 41 | 17 | 20 | 39 | (68) | 37 | 16 | 217 |
| 24 | GBR 1588 | Grant | Piggott | Simon | Farren | (52) | 34 | 36 | 22 | 23 | 11 | 8 | 218 |
| 25 | NED 1978 | van Dijk | Jolbert | Kleijweg | Niels | 39 | 36 | 21 | (44) | 8 | 7 | 37 | 224 |
| 26 | FRA 2217 | Vincent | Domand | Francis | Ferrari | 28 | 53 | (67) | 32 | 12 | 15 | 1 | 237 |
| 27 | FRA 88 | Berrehar | Lo•s | Le pomellec | Hugo | 21 | 24 | (48) | 28 | 41 | 13 | 20 | 240 |
| 28 | ITA 400 | Ugo | Ferrari | Edward | Canepa | (64) | 35 | 30 | 25 | 7 | 21 | 10 | 249 |
| 29 | GBR 501 | William | Sunnucks | Freddie | White | (70) | 55 | 26 | 52 | 53 | 3 | 4 | 264 |
| 30 | NED 2010 | Jorden | Veenman | Frank | De Waard | 23 | 51 | 23 | 3 | 59 | (81 BFD) | 81 DNC | 267 |
| 31 | ITA 2 | Matteo | Ferraglia | Lorenzo | Bianchini | 62 | 22 | 10 | 14 | (69) | 49 | 22 | 268 |
| 32 | FRA 9 | Durand | Pierre-Yves | David | Fanouillere | (81 DNC) | 28 | 28 | 43 | 22 | 41 | 43 | 277 |
| 33 | FRA 5 | Emmanuel | Dodé | Frédéric | Moreau | 43 | 14 | 55 | (81 DSQ) | 24 | 30 | 81 BFD | 283 |
| 34 | FRA 2 | Yoann | Trécul | Paul | Melot | 47 | 42 | 45 | 47 | 3 | (81 BFD) | 56 | 285 |
| 35 | FRA 719 | Dary | Emeric | Cocaud | Joris | 49 | 31 | (60) | 50 | 13 | 31 | 50 | 305 |
| 36 | ITA 23 | Marco | Radman | Luca | Cioni | 36 | 60 | 4 | 31 | 64 | (81 BFD) | 62 | 319 |
| 37 | FRA 756 | Emmanuel | Boulogne | Jean | Boulogne | 20 | 57 | 44 | 18 | 32 | (81 BFD) | 49 | 320 |
| 38 | AUS 500 | Brett | Burvill | Oli | Egan | 40 | 29 | 14 | (58) | 52 | 27 | 19 | 321 |
| 39 | USA 70 | Steve | Stroebel | Matt | Morris | 46 | 45 | 7 | 59 | 10 | 14 | (81 BFD) | 323 |
| 40 | FRA 7 | Dutreux | Benjamin | Planson | Gatien | 32 | (68) | 32 | 66 | 4 | 28 | 21 | 329 |
| 41 | GBR 1581 | Simon | Northrop | Tom | Walker | 24 | 66 | 56 | (81 DSQ) | 54 | 44 | 18 | 331 |
| 42 | SUI 19 | Caviezel | Sandro | Moser | Sebastian | 33 | 40 | 42 | 41 | (58) | 38 | 52 | 351 |
| 43 | ITA 969 | Giovanni | Fantasia | Davide | Recalcati | 17 | (72) | 41 | 21 | 61 | 53 | 38 | 356 |
| 44 | FRA 226 | Martin | Orion | GatŽ | Charles | 22 | 27 | 53 | 56 | 66 | 19 | (67) | 362 |
| 45 | NED 8 | Breur | Hans | Everaars | Roel | 53 | 47 | (61) | 24 | 30 | 25 | 47 | 366 |
| 46 | NED 15 | Ad | Noordzij | Maarten | Noordzij | 18 | 44 | (57) | 53 | 44 | 36 | 41 | 372 |
| 47 | GER 276 | Schuetz | Robert | Kuehl | Rea | 45 | (76) | 31 | 33 | 63 | 33 | 51 | 374 |
| 48 | GER 277 | Sach | Helge | Sach | Christian | 38 | 25 | 33 | (81 DNC) | 81 DNC | 81 DNC | 81 DNC | 374 |
| 49 | ARG 1248 | Juan Pablo | Sucic | Esteban Luis | Daneri | (59) | 56 | 16 | 40 | 55 | 22 | 30 | 381 |
| 50 | ITA 24 | Daniele | Saragoni | Luca | Filippi | 66 | 49 | 35 | 23 | 45 | (81 BFD) | 31 | 381 |
| 51 | URU 355 | Chris | Schewe | Alberto | Viera | 56 | 43 | 34 | 17 | (72) | 46 | 36 | 382 |
| 53 | FRA 733 | Francois | Duborg | Thierry | Jenouvrier | 30 | 58 | 62 | 26 | 37 | 58 | (63) | 387 |
| 52 | BEL50 | Bosser | Thierry | Gramme | Alain | (68) | 61 | 52 | 61 RDG | 26 | 29 | 39 | 387 |
| 54 | GBR 1234 | David | White | Jon | Sweet | 48 | 65 | 47 | 36 | 51 | (81 BFD) | 55 | 390 |
| 55 | ITA 25 | Giulia | Bocca | Andrea | Lunz | (72) | 50 | 46 | 60 | 11 | 51 | 33 | 411 |
| 56 | FRA 444 | Tiffon | Antoine | Biardeau | Charlie | 61 | 62 | (70) | 63 | 56 | 17 | 29 | 412 |
| 57 | GER 211 | Gerd | SCHMITZER | Thomas | Landsbek | (71) | 67 | 25 | 62 | 28 | 39 | 25 | 420 |
| 58 | ITA 8 | Christian | Vettori | Riccardo | Pinter | 54 | 52 | 64 | 34 | 57 | (81 BFD) | 81 DNC | 421 |
| 59 | FRA 007 | Erik | Maris | Jean Christophe | Mourniac | (81 DSQ) | 16 | 68 | 81 DSQ | 43 | 60 | 81 DNC | 424 |
| 60 | NZL 28 | Drew | Carlyle | Miranda | Powrie | (65) | 64 | 18 | 48 | 49 | 42 | 54 | 426 |
| 61 | GER 17 | Ecki | Kaphengst | Sšnke | KŸhl | (67) | 30 | 39 | 51 | 60 | 62 | 60 | 429 |
| 62 | GBR 502 | Matthew | Young | An | Other | 31 | (71) | 69 | 38 | 71 | 47 | 7 | 430 |
| 63 | NED 20 | Remco | Remeijer | Ettore | Botticini | 42 | 63 | 51 | 46 | (65) | 50 | 57 | 446 |
| 64 | SWE 159 | Johan | Gnosspelius | Roger | BodŽn | 75 | 75 | 40 | 68 | 34 | (81 BFD) | 17 | 447 |
| 65 | ITA 200 | Riccardo | De Grenet | Claudio | Marzorati | 50 | 39 | 37 | 55 | (73) | 61 | 45 | 452 |
| 66 | DEN 233 | Bj¿rnholt | Daniel | Bj¿rnholt | Nicolaj | (76) | 54 | 71 | 67 | 50 | 55 | 48 | 454 |
| 67 | NED 69 | Thomas | Groen | Charlotte | Heijstek | 55 | (77) | 49 | 42 | 16 | 48 | 66 | 457 |
| 68 | NED 77 | Coert | Van Dam | Marius | Van Dam | 63 | 33 | 58 | 54 | 42 | (81 BFD) | 58 | 466 |
| 69 | ARG 27 | Federico | Ferioli | Lucas | Gonzalez Smith | 77 | 41 | 72 | 45 | 33 | 23 | (81 BFD) | 471 |
| 70 | FRA 117 | Roger | Cantin | Maquinghen | Hugues | 58 | 74 | 65 | 61 | 35 | (81 BFD) | 53 | 480 |
| 71 | NED 1616 | Rik | Duinmeijer | Corstiaan | Alessie | 35 | 48 | 63 | 57 | 48 | 52 | (68) | 481 |
| 72 | ARG 44 | Juan | Faustin | Juan Cruz | Benitez | 51 | 37 | 54 | (81 DNC) | 67 | 81 DNC | 81 DNC | 489 |
| 73 | HUN 8 | Janos | Varadi Szabo | Tamas | Petheo | 46 RDG | 46 RDG | 46 RDG | 46 RDG | (81 DNC) | 81 DNC | 81 DNC | 492 |
| 74 | FRA 539 | Ogereau | Audrey | Lebayon | Lucas | 81 DNE | 81 DNE | 81 DNE | 81 DNE | 14 | (20) | 15 | 503 |
| 75 | ESP 29 | Fijnheer | Robert | Stiebler | Peter | 60 | 70 | 38 | 70 | (75) | 57 | 64 | 524 |
| 76 | NED 512 | Jan-Willem | Harwijne | Gert-Jan | Kos | 69 | 73 | 73 | 64 | (77) | 43 | 35 | 539 |
| 77 | FRA 971 | LŽdŽe | Jeff | Jordil | Vincent | 73 | 69 | (74) | 65 | 70 | 56 | 44 | 555 |
| 78 | CHI 1708 | Nicolas | Kovacevic | Kovacevic | Lukas | (78) | 78 | 66 | 71 | 76 | 59 | 61 | 561 |
| 79 | GER 493 | Vogel | Stefan | Szasz | Kathrin | 74 | (79) | 75 | 69 | 74 | 54 | 46 | 573 |
| 80 | GER 292 | Gosche | Arne | Walther | Michael | 37 | (81 DNC) | 81 DNC | 81 DNC | 81 DNC | 81 DNC | 81 DNC | 577 |
| 81 | ITA 859 | Leonardo | Ruggeri | Luca | Pustina | 57 | 59 | 76 | 72 | (81 DNC) | 81 DNC | 81 DNC | 584 |
Back to top
Back to top