Light shifty opener
The Sail for Gold Regatta 2013 kicked off today at the Weymouth and Portland National Sailing Academy as light and shifty conditions greeted the 195 sailors from 22 nations at this third stage of the EUROSAF Champions Sailing Cup.
With the breeze veering in direction and speed decreasing throughout the day, race officials battled against Mother Nature to ensure racing was completed by as many classes as possible. The 2.4mR, Sonar and Nacra 17 classes all completed a full day of three races apiece while the RS:X 8.5 and 9.5 windsurfers, 49er and 49erFX completed three of their four scheduled races, the Finns finished two while the Lasers and Laser Radials only managed the one race.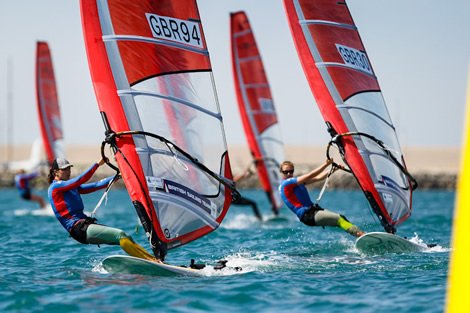 RS:X windsurfing
British Sailing Team's Bryony Shaw, who is competing in Weymouth and Portland for the first time since finishing seventh at last summer's Olympic Games, was in fine form from the word go picking up three race wins in the RS:X 8.5 fleet.

"Today was a great day for me, I managed to win all three races in the mixed conditions so a great start to the regatta. The wind started off Easterly with quite a bit of pressure, maybe enabling some planing at times, and then it made a big shift to the south which meant the course was rejigged, but we managed to get three good races so credit to the Race Management team. There was a lot of pumping out there and it was very tactical racing at times."

Shaw enters the event off the back of taking a silver and gold at the last two Sailing World Cup events in Hyeres and Palma, after also winning silver at the RS:X World Championships 2013 in Brazil, with the 30-year-old explaining that since then she has been spending time working on her fitness in preparation for this week's regatta.

"I started off the year doing a lot of regattas with race after race following the world tour so the last few weeks I have had a chance to spend more time in the gym, working on my fitness and also trying to lean down, so it's good to enter this regatta fresh and ready to go.

"This week is good preparation for the RS:X Europeans in a few weeks and it's also just nice to be back racing in Weymouth and Portland again. It's great to see all the youngsters coming up through the RYA ranks. Emma Wilson had a great race two today, I think she is only 14 and she was hot on my heels at one point rounding the mark in second which was fantastic to see!"

In the RS:X 9.5 event, Olympic silver medallist Nick Dempsey (GBR) started his regatta off with a DNF followed by two firsts but it's Elliot Carney (GBR) who tops the leaderboard after today's three races with 1-3-2.

"There is going to be a good little battle between me and Nick this week which is all I can ask for really," said the GBR windsurfer who trains with the Dutch 2012 Olympic champion Dorian van Rijsselberge.

"I have had a good start to the regatta and the fight is now on! There was a huge shift in the opening race which didn't go Nick's way leaving the door open for me to finish first. I haven't been in Weymouth since the Games so it's nice to be back amongst the GBR sailors, plus you couldn't really ask for much more when the sun is shining.

"It's a good event for me just to see where I'm at against my biggest rival. We have got along four years ahead of us and this is just the start of trying to compete against Nick and fighting for his spot at the Games in Rio," concluded Carney.

49er and 49erFX

In the Men's two person skiff event, one of the British Sailing Team's new 49er duos John Pink and Simon Wheeler top the billing after a 2-6-1 from today's efforts, giving them a two point cushion over Japan's Yukio Makino and Kenji Takahashi who sit second. London 2012 silver medallist Stuart Bithell currently lies in third with his crew Chris Grube.

"We've had a really good start to the regatta. We've put in three good solid consistent results which sets us up well for the rest of the week," said Wheeler.

"Before this event we'd kind of worked on our mindsets – we're a fairly new team so we're just trying to make sure we're in the right frame of mind for the regatta, that we were getting all our preparations correct, the routines etc, and clearly it's starting to work and pay off. The Brits and the Aussies are the two top nations in 49er sailing and they're all here, so it's going to be a tough week."

Out of the 20 strong 49er pack at this week's regatta Australia are making up a quarter of the fleet, with Will Phillips and Rhys Mara currently placed top Aussie boat in eighth after adding a 15-5-4 to their scorecard.

Helm Will Phillips said: "For Rhys and I it's a significant event because it's our first one as a team, so that's a big thing. As we prepare for the Europeans it'll be pretty important to get some good racing in, and that's why we're here really. We want to go well, learn a bit about each other and improve together."

The Aussies ended the day 15 points behind the Brits in first place and were quick to praise the 49er GBR Squad.

"From today and from what we've seen over the last couple of years in the 49ers, the British have been really strong. Today it was all British up the front, so if we can compete with them then we'll be really happy," admitted Phillips.

Mara continued: "The Brits have got a good mentality, they train really hard together, they push each other really hard. They've got this core group of guys that have just made them the best training group in the world really. Good speed, good tactics, and that's what makes 49er sailing!"
2013 Hyeres Sailing World Cup silver medallist Charlotte Dobson, who this week is sailing with Nicola Groves as part of the British Sailing Team's four-boat squad rotation system where the helms and crews have been rotating between events before deciding on the best-fit combinations, posted two firsts and fifth in the women's 49erFX class.

Dobson commented: "It was really light and tricky, a bit weird actually. We launched and went out on sort of 12-14 knots and it just steadily dropped throughout the whole day so I think the last race was a two-knot drifter for a little bit. So it was a really tricky day, all throughout the wind ranges and sea state, but really happy to come away with two bullets and a fifth."

"The main aims are really just to learn a little bit about what it's like to sail with each other, as this is the last event of our rotational squad so in our personal way that's our key goal. I think it's really good that the Aussies are over here. In the 49er they're really strong so it's going to be quite interesting to see how we're getting on against them in terms of our boat speed. In terms of goals for the rest of the regatta, we'll stick to what we've done before and see what happens. We have an epically long regatta so it's pretty early days right now," explained Dobson.

Joining the 49erFX in its Sail for Gold Regatta event debut is the mixed-multihull Nacra 17 class. Lucy Macgregor, the British Olympic sailor who campaigned London 2012 in the Elliott 6m Match Racing class, and her crew Tom Phipps, a two-time ISAF Youth Worlds Champion in the Hobie 16 class, started there regatta off with bang posting two bullets and a fourth to open up a four point lead over British Sailing Team's Podium Potential sailors Rupert White and Niki Boniface. Grant Piggott and Victoria Akhurst sit third after a 2-8-1.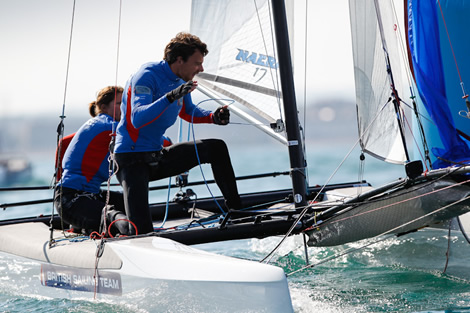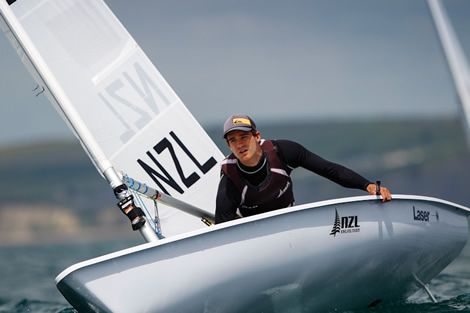 Singlehanders

The Laser and Laser Radials were the two classes to fall short today with only the once race being completed on Course Area E. In the Radial it was the Chinese who made their mark at the top of the fleet with Dongshuang Zhang fending off 2012 Olympic Champion Lijia Xu to take the only race win of the day, while Chloe Martin (GBR) finished third. New Zealand's Sam Meech finished top of the Laser pack in front of Nicholoas Heiner (NED) in second and Nick Thompson (GBR) in third.
Also racing on Course Area E was the heavyweight Finn class with Mark Andrews (GBR) continuing his momentum from the Dutch leg of the EUROSAF Champions Sailing Cup where he claimed his first ever senior podium finish. The Scotsman posted a first and third to top the leaderboard ahead of British Sailing Team's Andrew Mills who sits on join points in second. Paul Childs (GBR) is currently third.

Paralympic Classes

In the 2.4mR class Great Britain occupy first and second with Helena Lucas and Megan Pascoe's healthy battle blossoming once again as the pair jostle for top spot. London 2012 Paralympic champion Helena Lucas had the best of the day however, scoring a second in the opening race followed by two race wins, while Pascoe, who piped Lucas to the Delta Lloyd Regatta gold medal by a single point last month, finished the day with 1-3-2.

In the second Paralympic event , four-time SKUD world champion and London 2012 Paralympic bronze medallist, Niki Birrell, who is this week competing in the three person Sonar event with his able-bodied teammates Tom Peel and Richard Mason, takes the overnight lead with two firsts and a second, in front of Team GB representatives John Robertson, Hannah Stodel and Stephen Thomas.

Racing is scheduled to start at 11am tomorrow (Tuesday 10 June) with a light wind forecast in store.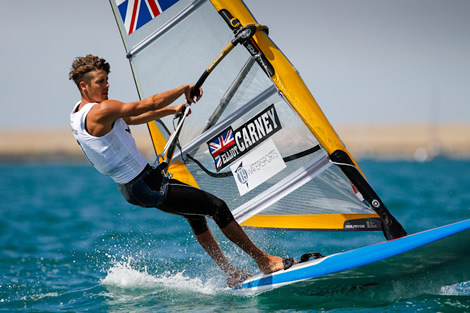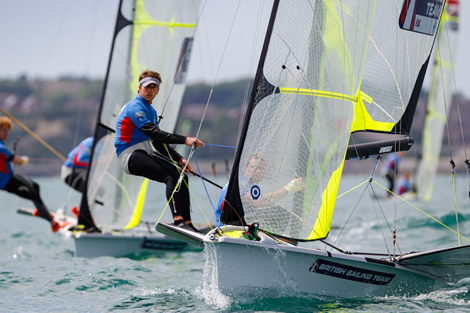 Back to top
Back to top